Fear Factory - Mechanize (2010)
- One of the first great albums to release this year, Mechanize was full of great things. It was in all aspects, the return of true Fear Factory. Heavier, harder and just as melodic as their classic albums, (I don't even think mentioning them is necessary) this is an unbelievable album, that will hold up for quite a while, or at least until their next album arrives.
Need I really explain great songs like " Powershifter" which was number 1 on Siruis Liquid Metal's Devil's Dozen for damn near 3 months before the album came out? What about "Fear Campaign" which was accompanied by a great and gritty video. There's also "Christploitation" , which is the heaviest FF has sounded in fucking YEARS.
But one of my personal favorites, which I could listen to about twenty times over is "Designing The Enemy". Something about that song just sets an eerie feeling in my bones. Perhaps it's due to the "All you are, I have been." It makes me think of some sort of robot that has all the pre-programmed experiences of humanity, and telling it's creators that they are pretty much obsolete, and there's no way that they could ever defeat the thing because it knows them perfectly. I'm not sure if you know or not, but many of the robots that are being created right now are already one-upping humans on a few levels. Just pointing that out.
Regardless of my rant there, this album is easily one of my picks for all around best metal album of 2010. Another thing, is that I was glad to see chains like Wal-Mart carrying an album like this, and the album selling well (I even checked to make sure people had been buying it) because compared to the Slipknot and such they sell, this is a TRUE metal album. Hopefully turned some of these emo youth into metalheads. One can only hope.
OVERALL: BEST FEAR FACTORY ALBUM IN YEARS. BELIEVE THE HYPE, AND GET IT. RECOMMENDED TO ANY, AND EVERY METAL FAN. A CONTENDER FOR SINGLE BEST METAL ALBUM OF THE YEAR,
Score 6/5
Ihsahn - After (2010)
- On this album, Ihsahn shows his true musical skills, mixing his trademark Emperial black metal with many other great things, including but not limited to the saxophone. As an appreciator of the sax in metal, (First time I heard it was Soledad's "In Harmonia Universali") I can soundly say that this album floored me.
While I really enjoyed it, I still heard some negative things about it, such as "WHY IS THERE SO MUCH SAXOPHONE IN THIS?"
God forbid, someone wants to do something different.
Other people say "IHSAHN HAS TERRIBLE CLEAN VOCALS!"
I disagree with this statement too, thinking that such songs like the single "Frozen Lakes On Mars" was damned great. I could sit back and play that one a couple times surely, due to the sheer emotion in Ihsahn's voice. Even thought I've listened to the album a few times, I still feel that I haven't fully absorbed it, and that's a good feeling.
Well. For all of you people that hated this album, it's supposed to be the final album in the trilogy and possibly of his solo work. People cry and complain about Emperor needing to come back, I think I saw it on a forum a few days ago…Yes, I know they're still young guys, but you can't just force them to come back and write a new album because you want it. Emperor are not slaves to the wills of other people, obviously.
Still, in retrospect - this album is far better than what Samoth put out this year, and we should at least think of it on that level. But, if you don't like, it - you don't like it.
OVERALL: BRILLIANT AVANT GARDE BLACK METAL, THAT WON'T APPEAL TO EVERYONE, DUE TO THE CLEAN VOCAL USAGE AND SAXOPHONE, APPARENTLY. STILL, IT'S BETTER THAN WHAT SAMOTH PUT OUT.
Score 5/5
Dream Evil - In The Night (2010)
- The bad thing about this power metal release is, that it's nothing really special. The previous double album, which included a live concert cd and a disc of rarities, was ten times better than this hunk of crap. There's a few decent tracks on it, but it's not quite what I expected from a respected band like Dream Evil. Power metal bands these days think they can basically shit on an album, and the fans will buy it, and that's ridiculous. Power metal has always had a bad name, but that's not to say that it was never good, as there were several monumental albums in the power metal era, which I do believe is slowly, but surely coming to an end. Sure, there will always be the greats out there, like Manowar, Blind Guardian, Saxon, Hammerfall, Helloween, Edguy, and others…but everyone else thinks they can slide easily by.
The bottom line here is, it's a decent power metal release, but little more. I expected much, much, more from this fucking band. These fellows and Firewind have both let me down this year. I'm about sick of 2010 power metal. Perhaps 2011 will be better.
OVERALL: MEDIOCRE POWER METAL, NOTHING SPECIAL.
Score 3/5
In Mourning - Monolith (2010)
- Another outstanding release, from another outstanding band. In Mourning play a type of melodic death / doom, that you haven't heard before. No, Swallow The Sun this is not. Think a little bit of Opeth progressive influence, and you've got the Swallow The Sun killer, right here.
Regrettably, there seems to be more core influence in this album than on the album prior, so I would have to recommend the older album over this one, since even though this a good album, they seem to be trying to reach a bigger audience by adding a core element to their music.
Still, there's no denying the powerful melodies, and well thought out progressive touches in this album. Opeth and Dark Tranquility have clearly inspired these men, and you can very much hear it in their music.
OVERALL: BRILLIANT DOOM METAL, WHILE THE FIRST ALBUM IS BETTER, THIS ONE IS STILL WORTH HEARING, IT'S JUST A FEW STEPS IN THE WRONG DIRECTION. (THE "CORE" DIRECTION.)
Score: 4/5 (Good, but grab the older release.)
Arsis - Starve For The Devil (2010)
- After Arsis's last album, I wanted to wipe them from out of my mind. There was so much technical shit, it bored me. Some of you may feel different, but I didn't like that one at all. Not even one track.
Here, Arsis is going back to their roots, and has succeeding in putting out a record that sounds to me like thrash metal with prog touches, flying solos, and black metal vocals.
(Let's face it here - take the vocals for this one and pop them on any black metal record, you won't know the difference. So I can't call it death metal due to the black metal vocal tones.)
Arsis basically put out a black thrash album this time, and it's still remains a jammer for me. I could pop this one in just about at any time and enjoy it. There's some core here and there, but the thing fucking kills from song to song. Granted, there have been other great releases of this nature, since the release of this album (The Adversary - Enemy Inside), but I still really enjoyed this one, and if you like black thrash with solos and everything that metal is supposed to be in my opinion (heavy music, blazing solos, killer vocals) pick this one up. There could be a couple tracks on here that would be considered filler to some, but as for me - I have yet to hear them.
I guess the only real complaint is that all it is, is a black thrash album. For those of you wanted something else from this band, look elsewhere.
OVERALL: GREAT BLACK THRASH. BLAZING SOLOS, GOOD DRUMMING, ALL THE THINGS THRASHERS LIKE, BUT WITH GRIM VOCALS. THAT MAKES IT ALL THE BETTER. YOU MAY HAVE HEARD THIS BEFORE, BUT THEY DID A GREAT JOB WITH THIS ONE. THE ONLY REASON YOU WOULDN'T LIKE IT, IS IF YOU WANTED SOMETHING LESS PRETENTIOUS.
Score: 5/5
Black Sun Aeon - Routa (2 Discs) (2010)
- If you don't know who BSA is, they are a melodic death / doom band. The last album they released was so dreadfully dark and evil, that I thought this two disc set would kill.
Well, it does do that. It does kill… my expectations.
So, is it a bad album? No. I don't think so. Just this day and age, I've heard plenty of albums that sound just like it, and they aren't half as long stretching across two discs. While some of you may feel that this monumental 2 disc set is one of the best things man ever gave to music, I don't really feel that way. Surely, I've heard this from other death doom bands, despite the melodies and the symphonics - which are indeed beautiful - I just found that the damn thing was entirely too long for my tastes.
I'll say it like this, if you have not heard of this band, and like melodic / death doom bands like Swallow The Sun, then go get this album as fast as you can, because you'll love it and call me an idiot. I'll be honest there.
But, if you think that you've grown tired of all the gloomy melodic death / doom stuff that's slow as hell, then don't grab this one. I will have to put myself on the side of the people who indeed "have grown tired of all the gloomy melodic death / doom stuff".
OVERALL: IF YOU LIKE MELODIC DEATH / DOOM METAL, GET IT. IT DIDN'T RESONATE WITH ME FOR SOME REASON, AND IT MIGHT RESONATE WELL FOR YOU. IF YOU'RE TIRED OF THE SLOW GLOOMY MELODIC DEATH / DOOM STUFF, THEN SKIP IT.
Score 3.5/5
Borknagar - Universal (2010)
- If I told you all that I hated this one, I'd be kidnapped, and stoned in some sort of abandoned warehouse. So, I'll be honest. I like this one just as much as their other releases. It's good, but it doesn't really do much of anything new. Yes, the guitar sounds great, yes the vocals are great, yes the drumming and the atmospheres are epic as living hell.
Yes, I need to go back and listen to this one again.
If you haven't heard it yet, should you pick it up? Of course. This is their best album since well…Epic, which was also a great album. There's everything that makes a good album here, and not one thing I have to complain about. Borknagar made a Borknagar album in the way that Borknagar makes their albums, which could be described as both great art and great music.
If you've been living under a rock and the name Borknagar sounds foreign to you, (no pun intended) then you need to pick up "Epic" and "Universal" and probably about ten billion other releases from them that I haven't mentioned. (People will ask me why I didn't mention the Vortex albums)
Regardless, this is simply a beautiful record, an amazing release - and just another day at the office for Borknagar. It also contains two bonus tracks "Coalition Of The Elements" and "Loci", which are both good enough to have been put on the album. In the mind of certain individuals, this is the single best album of the year. It just depends on your tastes. Some would say that your tastes are awful if you hate this one. I think it's just a matter of being.
OVERALL: SOLID BORKNAGAR, WHICH MEANS IT'S AWESOME. IS IT ANYTHING COMPLETELY DIFFERENT? NO, JUST A LITTLE BLACKER THAN THE LAST ONE. IT'S STILL GOING TO WIN YOU OVER. A CONTENDER FOR ALBUM OF THE YEAR.
Score 5/5 (Great!)
Burzum - Belus (2010)
- Well, I never thought I'd see this one. Varg is out of jail to make his Pagan atmospheric black metal once again. No finding Jesus in prison for him, that's for sure. So what kind of album does a convicted murderer make?
A damned good one, just like Jon Nodtveidt's final Dissection album. Belus is the spiritual successor to "Filosefem (sp)" in just about every way, shape and form. While I would still say that some of the songs are way too fucking long and drawn out, that's apparently just the way that Odin likes it, and Varg would surely know, since he's written more about Odin and read more about the guy then most Christians have read their Bible.
Believe it or not, this album sounds like it could have been made in 1997, and that's what they were trying to achieve. It's very melodic and just as good as any other Burzum album would've been, and there's also the Blut album which I haven't heard yet. Another album is releasing from the man next year, but surely he's had enough time to think of musical ideas being locked up in that pen.
Of course, a word of warning to you on this one. It sounds as raw as can be. The melodies can be heard, but they obviously didn't care about technology. I suppose Varg's beliefs would have to do with that.
OVERALL: VERY MELODIC AND ATMOSPHERIC BLACK METAL, THAT SOUNDS LIKE IT WAS RECORDED WAY BACK WHEN. SOME OF THE SONGS ARE TOO LONG, IN MY OPINION…BUT I'M NOT ODIN, SO I'D RATHER NOT OFFEND HIM, IF HE'S INDEED UP THERE. DATED A VIKING WOMAN BEFORE (SHE WAS ASATRU), (NO JOKE) AND THE BELIEFS OF THE HEATHEN ARE VERY STRICT.
IT'S A GOOD ALBUM, FROM A LEGENDARY BAND.
WHAT? YOU THOUGHT BURZUM WAS GOING TO USE PRO-TOOLS? FOOLISH MORTAL, DON'T YOU KNOW THAT VIKING WARRIORS NEVER USE PRO-TOOLS!
(Just to let you know, I do not mean to offend any Arkansas Asatru out there, and if I have, I apologize.)
Score 4/5
Charred Walls Of The Damned - Charred Walls Of The Damned (2010)
- I'm sorry, but after hearing this, I want to kick both Richard Christy and Tim Owens in the balls. What the fuck happened to the metal here?
Certainly, "Ghost Town" blew my mind, and images of "A New Iced Earth" flew through my mind like huge breasted women that normally reside there. Of course, my dreams were shattered like a blow-up doll that got popped with a pin.
This is some of the WORST shit, I have ever heard. What was the marketing strategy behind this? Let's make one good song, that really kills and use it as the single. Then, we'll just record a bunch of filler and call it a day. Was that it, gentlemen?
Tim Owens released a solo album a few years before this, and it kicked my ass. "Play My Game" (2007) made me really respect Tim's vocal styles once again. His last foray with Iced Earth before then, wasn't so good. (And he covered the fucking trilogy…BLASPHEMY!)
Although, upon hearing this, Tim better make the best goddamn album he can. I thought half of IE might, just might, be able to bring back that classic sound. Fuck, I was wrong, and you will be too, if you waste your money on this coaster. I am so glad that I downloaded this album, because I swear I would have sent it back to them with a "RETURN TO SENDER, ALBUM AWFUL" sticker on the front of it, had I wasted my hard earned money on it.
OVERALL: TRASH. PRETEND IT NEVER EXISTED, NO MATTER HOW MUCH YOU LIKE RICHARD CHRISTY OR TIM OWENS. WHAT IN THE HELL WERE THEY THINKING?
Score 1/5
Dark Tranquility - We Are The Void (2010)
- Another of this year's stinkers, Dark Tranquility put out a very bland album that for me only captures the style of their breakout album "Character".
I have heard from folks who have talked to Dark Tranquility, that their only mission is just to release albums, no matter how good they are. Well, congrats men…you've succeeded in creating mediocre crap with a few songs of promise. Sure, the clean vocals are used once again, for the first time in years, but "Projector" this is not. A simple verse chorus, verse chorus style pervades throughout the whole fucking thing. It's so corporate a release, I can't see why they didn't call it, "We Are The Sellouts".
Face it, Dark Tranquility didn't sound like this years ago.
While I thought "Fiction" was a great return to their old sound, this is a rehash of shit they've already done before. Why can't they just go ahead and rehash projector? At least it would make me happy, since they're in the business of making shit they've already made.
I'm tired of bitching about this album. Yet another reason why music downloading is a GOOD thing. If I bought this with my own money, I'd sent it right back to the label and put a sticker on it saying: "TAKE THIS CARDBOARD CRAP, AND SHOVE IT FAR UP YOUR FAT ASSES!"
OVERALL: BORING, MEDIOCRE CRAP, FROM A ONCE PROUD GIANT. BE THANKFUL YOU NEVER WASTED THE MONEY ON THIS, ABOUT AS ENJOYABLE AS THE NEWEST THING FROM NICKELBACK.
Score 1/5
Dark Fortress - Ylem (2010)
- I'm going to say this once. I love the first three songs on this album to sheer death. They could have put those three songs on one album, and I'd have bought it for sure. What's this other crap, Dark Fortress? Three masterpieces and the rest are a bunch of BS?
Have you seen the video for "Ylem", yet? Yes, it's a fucking great song. So is "As The World Keels Over" and my favorite song of them all is "Osiris". I have listened to that track at least over 40 times this year. I am in fact, listening to it right now.
I'm really started to think that this band was in the zone at some point in the recording process, and then the next day, they got completely out of it and started writing crap. I think their muse went on vacation and wound up sleeping in late, and the band had already finished the album before she could get back to inspire them.
I mean, there's a few good songs on here besides those, but they just seem weaker. They lack the power of the first three songs, and it makes them all feel like afterthoughts. You might disagree, but I think that something happened between those three songs and the rest of the album.
If I told you to get this album, it would be due to the fact that the first three black metal songs on this album are the best three black metal songs I've heard this entire year. There's also a bonus track, but it is also weak.
I wonder if it will be like this on the next album, and on the next? Eventually, I'll have a slew of songs I can put together and form one stupendous black metal album.
OVERALL: THE FIRST THREE SONGS ARE BEYOND WORDS, BUT EVERYTHING ELSE IS MEDIOCRE. I'D RECOMMEND IT FOR THE FIRST THREE SONGS, BUT THEN YOU'RE STUCK WITH THE REST OF THE ALBUM, WHICH SEEMS UNISPIRED. THIS COULD'VE BEEN GREAT…WHAT HAPPENED?
Score 3.5/5
Demonic Resurrection - The Return To Darkness (2010)
- Did you miss out on this? These guys kill. From India actually, they give a new name to Melodic Death Metal. If you saw the "Global Metal" Documentary, you got to hear some music from these guys, and it is as good as you've heard.
Yes, they use keyboards a lot - but the riffs are great and very beautiful - the clean vocals are angelic, and the death metal vocals are actual death metal, not deathcore. The atmospheres used this album work very well, and that's good because this album has some long songs. Also, keep in mind that while some of it might not sound that great, it sounds good considering these are some very young guys. While they like to play around with keyboards and might sound like power metal with a bit of core and death metal, and sometimes thrash, this is a very good effort for young Indian dudes like these guys.
Also, don't forget to check out the 11:02 "Lord Of Pestilence" which showcases this young band at all of their current skill levels. It'll make you mad.
OVERALL: INTERESTING EPIC MELODIC DEATH METAL FROM INDIA. THESE GUYS ARE REALLY YOUNG, AND HAVE SOME MAJOR TALENT. CHECK IT OUT IF YOU'RE CURIOUS…UNLESS, YOU DON'T CARE FOR KEYBOARDS.
Score: 4/5
The Dillinger Escape Plan - Option Paralysis (2010)
- I haven't heard much Dillinger actually, and this is only the second release I have heard from them. The other was their older album, which I can't remember the name for.
The biggest thing that I enjoyed on this album were the clean vocal choruses. Some of those choruses are so emotional and powerful that they really got me. Other than that, I enjoyed the experimentation throughout the whole thing, and thought the album was just as good as the other one I'd heard from them. I'm not that much into this kind of metal, so excuse me if this review isn't very long. At any rate, I thought it was a good album, even though it's not exactly my thing,
That should count for something.
OVERALL: PHENOMENAL RELEASE, BUT I DON'T LISTEN TO A LOT OF METAL LIKE THIS. SO TAKE IT AS THAT. IF YOU DON'T NORMALLY LIKE THIS KIND OF MUSIC, BUT ENJOY EXPERIMENTATION AND PROGRESSIVE MUSIC, YOU MIGHT JUST WANT TO GIVE THIS A SPIN.
Score 5/5
Finntroll - Nifelvind (2010)
- I've been a fan of Finntroll for years, but I more liked their older material than this. My favorite album will always remain "Nattfodd", but here sees them basically black metal.
So yeah, it sounds like black metal with a lot of accordions and an orchestra. If that's got you running for the hills, it's also not in one word English, and has some parts where people chant joyously in Finnish. It's quite good for them actually, but it's not going to be in many American play lists.
The bottom line is, that this is a good Finntroll release, it's probably just not going to appeal to many people out there. If you do like this band, you cannot go wrong with this good release with great production and the whole nine yards. If you've never heard Finntroll before, you can start here. It's worth checking out, just to say that you've tried something new.
OVERALL: SOLID FINNTROLL ALBUM, WHATEVER THAT ENTAILS TO YOU. PICK IT UP IF YOU'VE NEVER HEARD OF THEM. YOU MIGHT JUST LIKE IT. BUT, IF YOU'RE NOT INTO HUMPPA METAL, THEN JUST LEAVE IT BE. I'LL ALSO MENTION IT'S MUCH BLACKER THAN ANYTHING PREVIOUS, AND A VERY HEAVY ALBUM.
Score 5/5
SKIPPED THE "KERRANG, GETCHA PULL: A TRIBUTE TO DIMEBAG DARREL" COMPILATION. IF ANYONE WANTS ME TO REVIEW IT IN A LATER REVIEW SET, JUST ASK.
HIM - Screamworks (2010)
- Crap.
OVERALL: GO GET "VENUS DOOM" or "LOVE METAL". TEN TIMES BETTER.
Score -1/5
Ikuninen Kaamos - Fall of Icons (2010)
- Opeth fans…go get this as soon as you possibly can. It sounds just like all of the older Opeth albums.
Are there long songs? Yep. No song is under 7 minutes.
Are there progressive riffs which sound almost ripped from Opeth? Yep. Almost damn near plagiarizing Opeth's riffs.
What about the acoustic and clean vocals? Yep. But not as much, there are also two vocalists, one who does death metal, and the other who does more of a black metal scream.
Really great solos? Yep. Sounds just Opeth…same guitar tones too.
That should very well spell it out for you. If you're still listening to old Opeth albums and wishing that there was somebody who'd bring back that old sound, then you're going to fucking love this. Even if they might sound like an Opeth copy at times, they still are worth your money, trust me. There's even some black metal influence at times.
I know certain people in particular who might very much enjoy this album. You know who you are. It's a great piece of music indeed.
OVERALL: MUST FOR OPETH FANS, OR FANS OF THEIR STYLE OF MUSIC. THIS CONTAINS A LITTLE MORE OF THE BLACK METAL INFLUENCE THOUGH, AND SOMETIMES THAT'S ONLY VOCALLY. WORTH A SPIN TO ANYONE. THE GUITAR WORK IS INCREDIBLE STUFF THAT OPETH WOULD BE PROBABLY DOING, HAD THEY NOT MADE "WATERSHED".
Score 6/5
Kalmah - 12 Gauge (2010)
- Oddly enough, this isn't about shooting a fellow with a 12 gauge shotgun. I mean, you'd expect a barefoot man standing on his porch dressed in camouflage with a red pickup truck in the background, and he's pointing his 12 gauge shotgun at you, to be on the front cover. But, it's not.
Instead, there's some kind of armored warrior with a sword, and he's about to stab some sort of bird fish thing.
Regardless, this is arguably one of the best Kalmah albums I've heard in my damned life. For all those people who say that Kalmah is just a clone of Children Of Bodom, listen to this album. The thrash is great, fucking fantastic actually, and it's death metal with a very grim growl and a black metal scream at the same time. This damned thing is in your face from the beginning to the end.
Yes, there's still a big folk influence, but it's melodic death / folk metal, so that's going to be there. Did I mention that the damned solos on this thing kill, and I don't just mean the guitar. The keyboard works hand in hand with the guitar in a way that Bodom was hopefully listening to. But let's face it, Bodom hasn't done so well lately. The popularity has gotten to their heads.
Thankfully, Kalmah's still here to make a good melodic death / folk metal release that's going to rip you face off. If you haven't heard it yet, here's your invitation. It also includes a cover of Thin Lizzy's "Cold Sweat", which I'm sure will now get all the people who weren't going to buy it, to head over to their record store immediately.
Don't you just love sarcasm?
OVERALL: FUCKING GREAT MELODIC DEATH METAL / FOLK METAL. MAKES BODOM HEAD FOR THE HILLS. I DIDN'T THINK THEY HAD IT IN THEM TO MAKE THIS. GRAB THIS FLUKE BEFORE THEY FUCK IT UP WITH ANOTHER MEDIOCRE RELEASE. QUIT NOW KALMAH, AND SAVE YOUR REPUTATION FROM BEING TARNISHED!
ONLY IF YOU DON'T LIKE KEYBOARDS, WILL YOU NOT LIKE THIS.
Score 5/5
Living Sacrifice - The Infinite Order (2010)
- Now, I'm not crazy about Christian life metal, but these guys are local - so I'll be nice.
The single was definitely Pantera, but the rest of the album still sounded really good. Nothing really amazing, but still very fucking heavy. It's like Jesus at the moneychangers, except they gave him a guitar. Has some core influence, but that's to be expected. The guitar solos are great and the whole thing is in your face. It's a very heavy record, and it's going to appeal to people with heavy tastes.
Since this is a local band, I'm sure it got plenty of support from the people on this board, but if you haven't heard it, please check it out. It surprised me more than I thought it did, even though I don't really care for the message, sorry.
OVERALL: GREAT ARKANSAS LIFE METAL. DEFINITELY GOING TO APPEAL TO FANS OF THE STUFF, AND LOCAL PEOPLE WHO LIKE TO SUPPORT LEGENDARY LOCAL ACTS. LIVING SACRIFICE BEGAN THE LIFE METAL MOVEMENT, WHICH SPAWNED MANY BANDS OF THIS NATURE…AND I SAY, GOOD FOR THEM. STILL, GIVE IT A SPIN.
Score 4/5
Orphaned Land - The Never Ending Way Of Orwarrior (2010)
- Now we go from Christ in USA, to Mohammed in Israel. This Israeli metal band really blew the expectations of the follow up to their "Mabool" album (Which was based on Noah's Ark) right out of the water. It took forever to make, and that may be due to political unrest in that part of the world, but regardless…
This isn't something you're going to hear everyday. It's got all the Arabian touches that Progressive Melodic Death Metal in the style of Opeth never had. Not all of the songs are death metal, and not all of them are heavy. But there's a ton of them that are really good. The over the top solo in "The Warrior" is one aspect of this. If you have never gotten the chance to experience these unique individuals, then by all means, check them out.
Regardless of your faith, this music speaks the language of real talent, to all. This is actually another contender for best of the year. It would deserve it, since it took about seven years to make.
I also figured that I would add a picture of this band, in the most odd and probably hilarious to some, anti-black metal image:
As you see, the lead singer is dressed like Christ, I have no idea who the woman is supposed to be (Mary, perhaps?) and there's some Jewish guys on their knees. Perhaps this album is about religious oneness.
Even now that you've seen this, let the music do the talking…and for God sakes, don't judge it on "Separi"! The rest of the album sounds different, trust me on this one! There's progressive death metal here, and the producer of the album did Blackwater Park, so there's that.
OVERALL: UNIQUE ARABIAN PROGRESSIVE DEATH METAL, WITH OTHER ELEMENTS. NOTHING ELSE LIKE THIS ON THE PLANET! GREAT PRODUCTION AND INCREDIBLE MUSICIANSHIP! 7 YEARS IN THE MAKING. EVERYONE AT LEAST NEEDS TO CHECK THIS OUT, I DON'T CARE WHO YOU ARE. A VERY HIGH CONTENDER FOR BEST ALBUM OF 2010. MY FRIEND'S AN ATHEIST AND HE DIGS THIS STUFF, SO DON'T LET THE RELIGIOUS ASPECTS DETER YOU FROM THIS, IF YOU CAN EVEN FIND IT.
10/5
Overkill - Ironbound (2010)
- The kings of thrash are back, and upon hearing the track "Ironbound" on the Devil's Dozen - I knew I had to get this album.
I don't care about the vocals, the thrash is killer. Overkill do what they do best, track after track of great thrash, and the damned title track fits perfectly. Old heads…this is for you! It really reminded me of one of the classics. Now I know Kreator released an album also, but I haven't gotten it yet. Regardless, this stands as a testament that the legends will always one up the Triviums and other "wannabe thrash bands".
There's not much else to say regarding this one other then the fact that it's some of the best thrash you'll hear this year. So pick it up, you owe it to yourself.
OVERALL: GREAT THRASH FROM LEGENDS. PICK IT UP. IF YOU DON'T KNOW WHO OVERKILL IS, I THINK THERE MAY BE ANOTHER BOARD FOR YOU. ONE OF THIS YEAR'S BEST THRASH ALBUMS.
Rob Zombie - Hellbilly Deluxe 2 (2010)
- Look, I've been a Zombie fan for years. If you don't want to read this review, skip it. It's that simple.
First of all, this is a return to Rob Zombie's classic sound. I'm not talking about White Zombie, this is a little more experimental than that. John 5 is on guitar, so if you heard his solo album, you know the man can shred. Unfortunately he doesn't really play too many amazing riffs, but still shows some power.
The songs vary, and each one has it's own style. It's corporate metal sure, but it's still good corporate metal, if such a thing can exist. Think about it, only Rob Zombie can come of with weird shit like "Jesus Frankenstein", "Werewolf Women of The S.S." and others. It reminded me of listening to music like this when I was young on the twisted metal games, and thinking, that kind of music is cool. Maybe some other kids will get into metal from this. It's like a gateway drug to metal.
If you buy it now, you get 6 extra tracks and a DVD. But it's not a metal album per se, even if it kicks ass.
OVERALL: ROB ZOMBIE SOUNDING BETTER THAN EVER, AND IT'S ABOUT TIME. JOHN 5 ALSO A GREAT DECISION TO PLAY GUITAR HERE. HE DOES SOME GREAT ACROBATICS. STILL, IT'S TAME, BUT FUN. I'M SURE YOU'LL HEAR IT IN STRIP CLUBS ACROSS THE USA.
SPEAKING OF…AMERICAN MADE MUSIC TO STRIP BY PART II?
(Hopefully.)
Score 4/5
Rotting Christ - Aealo (2010)
- I have no idea what it means, but it's Greek for something. Apparently Rotting Christ decided to throw Greek elements and chanting and such, and the whole thing begins to sound very pagan. Compared to other albums, even the artwork is very tame. I believe that they had some sort of major belief change later in their career, like what happened to Samael.
It's still black metal, just like you haven't heard it before. You can imagine the warriors of 300 in a battle to this album. As a matter of fact, I wonder if when you play it during 300, if the thing syncs up like with Dark Side Of The Moon and The Wizard Of Oz.
I really don't care for the vocal change on this one much - but I guess he wanted to sound as much of a Greek warrior as possible. Did you know that Rotting Christ is the top selling Rock band in their native of Greece? Yes, I said Rock, not metal. Guess there aren't a lot of Christians in Greece, then.
If you can sync it up to 300, it's got to be epic, and it damned sure is. Very epic, even the Diamanda Glass Cover of "Orders From The Dead" which makes me think that the woman is in some sort of trance during the whole thing. It's hollered out with a ritual fury that can only be understood by someone who's actually attended one.
The guitars are great on the album, not differing much from 2007's "Thegonia" album. The solos are very powerful, and there's still a lot of metal to be had, it just sounds like the guys from 300 are making it. Yeah, I know - a lot of 300 jokes, but that's really what I think about when I hear this one. Except, for that cover.
There is however one other track I'd like to point out, and that is "Thou Art Lord", which is an epic doom metal track, which more bands should try.
The bottom line here is, this is the most epic thing I've heard in several years. If you want something which will make people turn their heads at ask "What in the hell are you listening to over there?" this will do that.
Also, try playing it during 300.
OVERALL: EPIC GREECIAN BLACK METAL, WITH LOTS OF CHANTING AND EVERYTHING ELSE YOU CAN IMAGINE THAT WOULD MAKE SOMETHING EARN THE TITLE OF EPIC. IF YOU BUY IT, TRY PLAYING IT DURING 300.
Score 5/5 (For Originality.)
Sigh - Scenes From Hell (2010)
- Damn, what a disappointment. Sigh, what in the hell did you do this time? "Hangman's Hymn" was great, but this is just way too damned much.
First of all, I just think it looses focus too easily. I've listened to it again, and again, and perhaps I don't like the mixing on the instruments, and perhaps I don't like the inclusion of death metal, and perhaps the symphonics and every other god damned thing TEND TO DROWN EVERYTHING!
Seriously, who mixed these instruments so high? I'm not talking about the guitars and drums, I'm talking about the GODDAMNED HORNS! Why do the horns have to be so loud, that the vocals are drowned out? Where's the happy medium? The drums are louder than the guitar, which you can barely fucking hear when the other non-metal instruments come into place.
SHIT! THIS IS JUST THE FIRST MAIN TRACK!
Again, those damned horns…why? Why in the hell are they so loud? Now cymbals? What the fuck is this, Star Wars?
The bottom line is, that this doesn't end. The band was mixed so low that you can barely fucking hear them, and the vocals were barely mixed over all the band, who is being drowned out by the instruments. Again, I am not talking about the band's instruments, I am referring to everything else. I wonder if there's a demo of this album I could listen to without all the fucking instruments! Perhaps that would sound better. Regardless, the album has some great playing (if you can discern it) and great solos.
So who was the jack-ass that mixed this album, anyway? Hold on, let me check the book…here we go…
"RECORDING AND MIXED AT: EARTH STUDIO
MASTERING: JAMES MURPHY"
Well, I'm assuming that Earth studio mixed the band, since they sound like they were mixed separate, so I bet it's this idiot who I've never heard of by the name of James Murphy. That idiot ruined the fucking album. If he should ever have the misfortune of running into me, he won't have to worry about having children if he hasn't already, because I will personally CUT HIS FUCKING BALLS OFF WITH A PAIR OF RUSTY SCISSORS SOAKED IN ALCOHOL, AND THEN COVERED IN SALT!
You'll have to excuse me for that.
OVERALL: BLECH! THIS IS AWFUL. WORST SIGH ALBUM EVER. THE MIXING IS RIDICULOUS. I DO NOT RECOMMEND YOU GET THIS ALBUM, NO MATTER HOW MUCH YOU LIKE SIGH. I SUPPOSE WE CAN ALL BLAME JAMES MURPHY… SUCH A GOOD CONCEPT TOO.
Score 2/5
Six Feet Under - Graveyard Classics 3 (2010)
- I don't have much to say about this one. It's really not that good. Chris Barnes bastardizes every song on this list, and even though the music on Anvil's "Metal On Metal" is heavier, it makes me want to vomit when I hear Chris Barnes's gone to hell growl. I mean, that his growling skills have literally gone to hell, down the shitter, exc. Stop growling, or stop smoking so much pot, for one thing. Apparently he's Rastafarian, and that means that weed is part of his religion, but that is also going to kill the man's vocal chords. As it has done already.
Hopefully, this will be the last thing he records, and I think that all concerned metalheads should go out and petition against the release of another Six Feet Under album. We just don't need them anymore, you've done enough for the community Mr. Barnes, now just retire and smoke your pot in peace.
OVERALL: FOR THE LOVE OF GOD, SKIP IT. IF YOU BOUGHT THIS, YOU MIGHT AS WELL HAVE TAKEN TWENTY DOLLARS AND FLUSHED IT DOWN THE TOILET. WORST METAL ALBUM OF THE YEAR!
Score 0/5 (AWFUL!)
Unleashed - As Yggdrasil Trembles (2010)
- Damn, here's another band I'm tiring of. While I thought that their last two albums were good, this was so mediocre, that I regretting listening to it. There was one or two good songs on the whole thing. Plus, there's the amount of Viking lyrics. We get it already, Hail Odin and such!
Perhaps it's time for Unleashed to throw in the towel too. They made so many great releases back in the day, along with Grave and others, but those days are gone. It's about 30 years after the fact. How much more anti-Christian, pro-Viking death metal lyrics do we need?
The music is decent, but the vocals would kill anything. It almost sounds like the vocalist is in the wrong band. It could be just a fluke, but Unleashed has a back catalog that's good enough for any newcomer. Why do so many bands these days want to have a billion albums?
It's just another damn drop in the bucket. There's also a Death cover for "Evil Death". Don't worry, it's not that good.
OVERALL: SOLID DEATH METAL, NOT GREAT, BUT SOLID. IF YOU REALLY LIKE UNLEASHED, YOU'LL PROBABLY LIKE IT, BUT I THOUGHT IT WAS KIND OF BORING MYSELF.
Score 3/5
Van Canto - Tribe Of Force (2010)
- Hahahahahaha! Seriously, Master Of Puppets in acapella? It's kind of a novelty thing, really.
Why would I want to hear power metal in acapella? (which is the rest of this album)
Yeah, that's it. Apparently they have two more albums and sold enough to make this one and that video. Heard about these guys from G4's Attack of The Show actually, and thought the Metallica thing was cool. Acapella metal must sound awesome, I thought to myself. Until I heard the album.
What a waste of time. Don't buy this. Just don't do it.
OVERALL: FRIENDS DON'T LET FRIENDS BUY BAD ALBUMS. THIS IS ONE OF THOSE ALBUMS. THE ACAPELLA DID NOT HUMOR ME, BUT IT DID KIND OF HUMOR ME, IN THAT ASPECT.
Score 1/5
Demon Hunter - The World Is A Thorn (2010)
- In all actuality, Christian Life Metal vets, Demon Hunter have actually crafted a fine metal album. Quite possibly one of their most metal albums yet, it was definitely beyond my expectations. Although it sounds modern, it's definitely worth listening to. There are three guests on this album, Bjorn Strid (Soilwork), Christian Ivenstam (Unmoored, Scar Symmetry), and Dave Peters. (Throwdown.)
Oddly enough, I found some of these odd guests for a Christian Life Metal band, especially, Dave Peters (The song "Holly Roller" ring any bells?) but what really makes this album good is the amount of actual metal that it contains. So many releases from these guys have been like deathcore, and it's good to hear something that actually brings the metal. You might be surprised to hear this album, actually. I was.
I will add that the clean vocals are still used on many of the songs, but they don't sound bad to me. Clearly, Demon Hunter is trying to shed their core roots, and on the next album I expect a full on metal-fest. But, this is damned close. Clearly I don't listen to much of this Christian Life Metal stuff, but I can absolutely respect the metal in this. Did I mention there's some really nice solos too? Yeah, there is. Watch out, Living Sacrifice…you're being one-upped.
OVERALL: IMPRESSIVE CHRISTIAN METAL. I'M SERIOUS. INCLUDES GUESTS FROM SOILWORK, (EX)SCAR SYMMETRY, AND THROWDOWN. GOOD RIFFS, GOOD CLEAN VOCALS, AND GREAT SOLOS MAKE THIS IS A CONTENDER FOR BEST CHRISTIAN METAL ALBUM OF THE YEAR. WHATEVER THAT MEANS TO YOU.
Score 5/5
Exodus - The Human Condition (2010)
- Right off the bat, I'm going to throw in that this is my pick for best overall thrash metal of the year. If you've got a better thrash album this year, let me hear it; yet I still don't think it will hold a candle to the amount of thrash power on this album. Exhibit A was great, but I had no idea they'd one-up it like this. You need to have this one in your collection, and it's single was requested by Sirius constantly when the thing debuted. It also stayed at number one on the devil's dozen for a good while. Slayer might have been great last year - but Exodus takes the thrash throne of 2010. Why?
Fuck, listen to the thing! There's insane riffs, ferocious vocals, and classic solos throughout each song. Also, I could not find one single stinker on the album. I thought the single wasn't as great as the rest, but even so, there's an awful lot of tracks on this album, and every damned one of them is a thrasher. In my opinion, they didn't need a song with clean vocals "Downfall". That's not thrash - but so much of this album is, that I can just skip the single and still consider this to be a masterpiece.
Many of the songs are pretty long, due to extensive solos - and that is also okay with me. I sometimes forget how good this album actually is, and realize that I should be listening to it more often - but if I did, I'd never get to reviewing everything.
One other thing, these lyrics are as vulgar as hell, and some of the most vulgar overall concepts I've heard in songs like the controversial "Class Dismissed (A Hate Primer)" (Based on school killings), which I thought was the first single, and I was wondering what the video was going to look like for this one. It would've really got the media attention though. This is one of those thrash albums that really capture what made thrash what it is, being overly heavy and vulgar as living hell.
OVERALL: AN EXCELLENT, AND VULGAR AS FUCKING HELL THRASH ALBUM, WITH GREAT RIFFS, FLYING SOLOS, AND SHIT THAT WILL PISS OFF MANY PEOPLE. A MUST HAVE ALBUM. BEST THRASH OF THE YEAR, HANDS DOWN.
Score 6/5
Godsmack -The Oracle (2010)
- Nope, still not metal. It's not a comeback either. This thing was kind of boring too. The only real metal track on here is the instrumental "The Oracle" which is an instrumental "Master Of Puppets" inspired thrasher. Maybe it's a sign of things to come. They have it in them to be heavy band. The corporate bastards that run the world won't let them…or maybe it's just the smell of money.
OVERALL: SKIP IT.
Score 1/5
High On Fire - Snakes For The Divine (2010)
- Many people really seemed to dig this album from the sludge metal masters, High On Fire. There's quite a lot of reasons why - if it's not for the proggy riffs, the soaring solos, or the all around muscle of the thing, then I'm not sure.
Possibly one of the band's best and strongest releases, even though I am not well informed with the rest of their albums. I have them, just haven't gotten around to them yet. Regardless, I found the thing a very heavy experience that will appeal to mainly only hardcore fans of their progressive / sludge / thrash style. I could complain about the vocals, but I might be hung for it, so I will say that they are tolerable.
Some people say that this album is one of 2010's best, and it's single "Frost Hammer" was the tug that made me decide to check this one out.
OVERALL: GREAT SLUDGE / PROGRESSIVE / THRASH. SOME SAY ONE OF THE BEST OF THE YEAR, BUT I SAY IT'S ALL A MATTER OF TASTE. I DID ENJOY PARTS OF IT THOUGH. WORTH MORE THAN A SPIN FOR SLUDGE FANS, IF THEY HAVEN'T ALREADY GOTTEN IT.
Score 4/5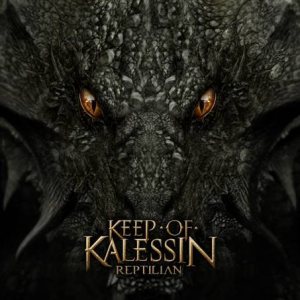 Keep Of Kalessin - Reptilian (2010)
- It's safe to say that these experimental black / death thrashers are once again experimenting. Tracks like "Dragon Tower" remind me a bit of Therion in the fact that they have these epic sort of choruses, while other songs contain a very different tone of blackened death metal, with excellent riffs. I feel that this album was overlooked this year, it's actually quite an interesting listening experience.
The tracks are very long on this release, and some people may not like that very much. While others might feel that long songs are epic, sometimes the blackened thrash just seems a bit boring and the some of the riffs don't sound that amazing. The drum work is phenomenal, and the solos are great, and yes - some riffs are phenomenal.
"Dark As Moonlit Night" is actually a standalone death metal track, just like "Dragon Tower" being a more epic and clean deal. My only complaint is why so much blackened death thrash? It's almost like some of it feels like filler. What kind of band do they want to be anymore?
The majority of this is blackened thrash (that sounds more like blackened death metal) with about three tracks that sound altogether different. As I said before, one track should have been blackened thrash, and the rest should have been different. If they wanted to make a Baskin Robbins album, then they should have. Throwing all that extra shit on there ruins the whole goddamned thing.
Previous albums from this band have been better…before they were famous, mind you.
OVERALL: BLACKENED THRASH (THAT SOUNDS LIKE BLACKENED DEATH METAL) WITH A FEW SONGS OF DIFFERENCE. IF YOU REALLY LIKE KEEP OF KALESSIN, YOU'LL GET IT ANYWAY AND THING IT'S MONUMENTAL BLACKENED THRASH. I SORT OF THOUGHT IT WAS A BIT MUCH. IT'S GLAD TO HEAR 3 SONGS WITH SOMETHING MORE THAN "BLACKENED THRASH".
Score 3.5/5
Lacrimas Profoundere - The Grandiose Nowhere (2010)
- First of all, I love good Goth metal. Not the type of Goth metal you're thinking of, but more like deep vocals and good dark melodies. I guess like older Type O Negative, who we'll never get a chance to hear again. (Rest In Peace, Pete.)
Nevertheless, Lacrimas has come out with a nice and dark Goth album, and while I've no problem with "Love Metal", some people do. Does everything have to be so goddamned brutal all of the time?
While some of you might holler "HIM! HIM! HIM!" You need to keep in mind that Lacrimas were doing this Goth stuff almost as long as HIM, and in those days it was more like Death / Doom. Yeah, this might apply to twi-hards and stuff as well, but you've got to remember there was a world before Twilight, and there are people who listened to this stuff before those days, when vampires were actually a hell of a lot more interesting. (Vampire: The Masquerade, For Example)
I'm sure this album sold well enough with the goth crowd and the vamp-crowd. (God forbid that shit - and now I'm hearing about teenage werewolves too) So you can get it for the vampi/goth/were/…Jesus Christ…kid that you have either in your family…or your significant other, since women seem to dig this stuff more than men, understandably.
About this release, while the melodies are good, I have noticed that their lead singer seems to have forgotten that he could go into those deep vocals that he used to go into on their older albums. Perhaps it's why I only liked "Be Mine In Tears".
OVERALL: DECENT GOTH METAL, BUT NOT AS POWERFUL AS THEIR OLDER RELEASES. PEOPLE WHO HATE LOVE METAL SHOULD CHECK OUT THEIR FIRST DOOM/DEATH ALBUM, "MEMORANDUM".
Score 2/5
Ludicra - The Tenant (2010)
- California black/ prog/ thrashers have put out an album that takes out bands like KOK, and makes them rethink their style. There's something about this band that's amazing, and I can't put my finger on it. It could be the sheer fact that they're great black metal musicians who know how to innovate, but also how to keep things true to the formula of black metal.
This album also includes female vocals in parts, but they don't deter it in anyway. The guitar solos are impressive, and the vocals sound very raw, while the production of the music is actually quite clear. This makes for some sort of polished raw sound to the thing. The songs are again, god awful long - but you're getting your minute's worth with each one, and I bet that you won't be able to just listen to this album once. Upon listening to all of this band's releases, I feel that should they stay together, they could be the future of black metal.
Also, this album may appear to fans of sludge and post-metal since it offers those elements. If you know someone who likes these genres, but has never heard this band and does not mind the scowl of black metal, get this album for them…they'll get so excited that they might just bust a…well, it'll be a nutcracker Christmas that's for sure.
OVERALL: ONE OF THE BEST OVERALL ALBUMS OF THE YEAR. WHEN A BAND CAN SO FLUIDLY MIX SLUDGE, PROG, BLACK METAL, AND ADD SOME FEMALE VOCALS IN IT, AND IT FUCKING WORKS…YOU KNOW YOU NEED TO GET IT.
ALSO: GET THE REST OF LUDICRA'S ALBUMS (SANS THE FIRST, UNLESS YOU REALLY LIKE RAW BLACK METAL)
Score 6/5
Nevermore - The Obsidian Conspiracy (2010)
- Being a hardcore fan of Nevermore, I feel that they have struck out with this release, it feels to me as if the band has went a step behind. I did not much care for "This Godless Endeavor" and I own it. Some of you may say that's blasphemy, since I've heard stories of folks playing that one so many times in their vehicles that the CD wore out.
It just feels like something is missing here, and only a few of the songs seem to really catch me. The rest of them seem kind of like pointless filler. I am extremely aggravated at this album, and thought they could come out with something better than this. It almost seems as if they took Sir Millard Mulch's advice "To Put out The Worst Record You Can As Soon As You Get Famous", like Dimmu Borgir did at the height of fame.
Well, does it all go downhill from here for these gentlemen, or will we have to wait for their "Death Magnetic"? Time will tell, but when reviews have stated that the covers are the best tracks on the album, something is seriously wrong. This isn't a bunch of young guys, these are grown men who know how to create masterpieces. "Dreaming Neon Black" or "Politics Of Ecstasy" (Which I do actually own "Politics") will make that clear to anyone.
I just have one question for these fellows, and that is…
"WHAT THE HELL HAPPENED? TAKE TOO MUCH TIME OFF?"
(Remember, it was 5 years since "This Godless Endeavor", which saw them right after another great release, the two versions of "Enemies Of Reality")
No matter how much you like Nevermore, it's not worth it to pay anymore than a used price for this disc.
OVERALL: NEVERMORE FUCKED UP. OKAY, SO IT HAPPENS. DON'T OVERPAY FOR IT, ALRIGHT?
Score 2/5 (You have no idea how much it pains me to give them a "2")
Order Of Ennead - An Examination Of Being (2010)
- One of the more incredible blackened death metal releases this year, this Cannibal Corpse side project kicks a lot of ass, in a very interesting way. Not only are the riffs interesting, but the wonderful scowl of the front man makes me say "This is music to my ears." It retains that wonderfully grim aura, and also manages to pull off some really great solos.
There's technicality in this album as well, but it's not so much that it sounds like Swiss cheese. The technical pieces work well with the thrash and black metal inspirations that made such a great album. In my opinion, Order of Ennead is a terrific band that needs more respect. Have you ever seen them on tour this year? I didn't think so. These guys are easily good enough to headline their own tour, and given the chance, I'd rather see them then this Dimmu tour, where only the artwork is appealing.
Ladies and gentlemen, this album is a real piece of fucking work in my opinion, and the only flaws you might find with it, is lack of differentiation. Some might say it's quite pretentious in some aspects, and there's also probably a little bit of core thrown in as well, (in very few portions of the album) and the only songs which deviate from the norm are the last track "A Portal To Rapture" and the track before that one, "Betrayal Of Self."
I think black metal fans, death metal fans, and tech geeks would probably like this one. If you're not one of those people, perhaps you should skip it. This would be the black metal sister to God Dethroned's more death metal release "Under The Sign Of The Iron Cross", since both records have the same vibe, except that this one is slightly more blackened than the other.
OVERALL: GREAT BLACKENED DEATH METAL, MORE ON THE BLACK SIDE OF THINGS, COULD BE CALLED THE "SISTER ALBUM" TO GOD DETHRONED'S NEW ALBUM. LITTLE BIT TECHINCAL, AND SOME CORE THINGS - BUT OTHER THAN THAT, IT'S A SOLID RELEASE.
Score: 4.5/5

Poisonblack - Of Rust And Bones (2010)
- It's been a while since we've heard Sentenced, and ever since they left us in 2005, with "The Funeral Album", we've been hearing more Poisonblack albums that sound more like Sentenced than anything Poisonblack did on their first, and true release. (when it really was a side project, Sentenced's guitarist did the vocals and vocalist did the guitars)
To be brutally honest, this album is a piece of shit compared to their last album, which sounded like Sentenced reborn. The riffs are basic, and it sounds like dark pop rock. I hate to say it, but these are Lordi riffs. Also, there's little ballads like "My World", which even though it's a good ballad, it's not as good as classic Sentenced songs like "Dead Moon Rising", and "The Suicider" (I've wanted to cover that one for years.)
Regardless, there's just a few things here that keep this from sounding like Nickelback. Too bad, it's not many. It's even tough to call this band metal anymore, because there's just not enough "umph" on it. Older Sentenced is much more preferred over what little this disc does do. It's just another damned drop in the bucket, really.
OVERALL: STRIIPED DOWN SENTENCED THAT SOUNDS LIKE MORE OF A DARKER NICKELBACK, WITH A LORDI-ISH SORT OF SOUND. IF YOU LIKE THIS BAND, YOU'LL FIND A FEW GOOD SONGS, BUT JUST NOT THAT MANY. WE'LL SEE WHAT NEXT YEAR BRINGS.
Score: 2.5/5
Sevendust - Cold Day Memory (2010)
- Sevendust has been around for years. Whether or not to call them metal has always been a sort of grey area, I remember the "Home" record being pretty heavy, despite a few other songs, but they've always felt like a metal guilty pleasure. Lajon Witherspoon, the band's only vocalist, has always been capable of good melodies, even though this makes them also radio friendly which for some unknown reason turns off some metal fans. I've heard Opeth on the radio, but that doesn't mean I won't stop liking them. I am a 25 year old man capable of making my own decisions when it comes to which music I barrage my own ears with.
The album itself is a very solid effort with some heavier riffs, some interesting ideas, but still a lot of that singing that pushes people away. Even though most of the songs in this album seem to be common Sevendust formula, there's a few heavier hits than normal, which gives them just a little more then bands like Nickelback for example.
Still, very catchy and easy to sell - so it's not the greatest thing you could be listening to. I'm still waiting for a blistering release to come out from these guys, since they seem to have the capability. It might just come when no one wants to buy their albums and they aren't chasing after the almighty dollar. I guess you could call this corporate metal. Heavier, but still corporate.
Skip it.
OVERALL: HEAVIER, BUT STILL PRETTY CORPORATE METAL. IF YOU'RE A FAN, GET IT - BUT IF NOT, YOU PROBABLY WON'T ANYWAY. SOME OF YOU PROBABLY JUST SKIPPED OVER THIS REVIEW, AND THAT'S FINE. YOU'RE NOT MISSING ANYTHING.
Score: 2.5/5
Soulfly - Omen (2010)
- Sepultura hasn't been good in years. Well, it's good to see that max realized this, and decided to add some Sepultura into his band Soulfly. The album is pretty thrashy, and doesn't sound anything like mide era "NU-METAL" Soulfly.
There ARE interesting riffs here, and good solos. Max's vocals sound like a pissed off Brazilian, and you WILL like this album.
Did you hear me?
Yes, YOU WILL LIKE THIS ALBUM. It's everything that a heavy metal record should be. Interesting riffs, good solos, and heavy vocals. There is a duet with the lead vocalist of Dillinger Escape Plan on "Rise Of The Fallen", with some interesting electronics, or is that a riff? Hard to tell.
Some of these songs really sound like they should be on classic Sepultura albums, or were ideas cast off from them. "Lethal Injection" as an example reminds me vocally of "Territory". "Kingdom" is by far my favorite track on this album, just because of the Amon Amarth style riffing that's used on it, and the almost death metal like growls coming out of Cavalera on some of the lines. Also, "Vulture" and closer "Counter Sabotage" are full blown Sepultura style thrashers. Like I said, could've been on any of the earlier records. Yes there's a Soulfly VII, but they always end their albums like that. You DON'T HAVE TO LISTEN TO IT, you know. (even though the riffs are good)
Yes, I have heard them. This isn't just a guess.
Sure, it may still be a bit basic for some, but it's a still a GOOD record. If you casted off Cavalera since early Soulfly, it may not be a bad idea to pick it back up. I was surprised by some of these songs.
Like I said before, this is good shit. Not very fast, but pummeling. There's no bullshit on this one. After that last one, this must've been a fluke. Go listen to it, and tell me what you think. At least they are trying to get back up there to the greatness of Sepultura.
OVERALL: GREAT RETURN TO FORM FOR SEPULTUR…I MEAN SOULFLY. STILL, EVER SINCE "ROORBACK" SEPULTURA'S BEEN AWFUL, AND AT LEAST MAX HAS NOTICED THAT. HOW CAN THOSE GUYS EVEN AFFORD TO MAKE MORE ALBUMS?
TRUST ME, THIS WILL KICK YOUR ASS. YOU'RE GONNA SWEAR THIS IS SEPULTURA. NOT RAW ENOUGH FOR YOU OR SOMETHING? THEN LISTEN TO IT AT 92 Kb. JUST BECAUSE THERE'S A PRODUCTION VALUE DOESN'T MEAN IT'S CRAP.
Score 6/5 (Very Impressed)
Triptykon - Episteria Daimones (2010)
- Well, (you'll have to forgive me, because I forgot the lead singer of ex-Celtic Frost but they changed their name to Triptykon's name.) the lead singer of Celtic Frost decided that he wanted to make more albums after Monotheist, but apparently the rest of the band didn't like that idea, so he made Triptykon, which as he says "Is the next Celtic Frost" album.
So, right out of the horse's mouth ladies and gentlemen. While not having heard anything from CF other than the single from Monotheist, and the entire "To Mega Therion" album, I can say that this album seems to be that next evolution from the slower style of songs on Monotheist.
Of course, that is just a guess. For all I know, there could be a thrasher or two on Monotheist.
First off…The songs are very fucking long. That doesn't mean they're not good, they just like to pound them into your head. Of course, many can say that "Goetia" sounds like the single for "Monotheist", except awful fucking long, and that's alright with me. Of course, I think that singing along with the sinner's plea "Lord, have mercy upon me." sounds like a bit of fun blasphemy.
Very doom influenced, and at times pretty thrashy, this album went over well with the whole of the metal community, and many people seem to like it, except some have had a problem with the vocals. Listening to it now, I don't hear that much of a problem. Of course, it can get droning after awhile, since I swear that "Goetia" and "Abyss Within My Soul" seem to sound the same.
Some of the songs are heavy though, and as I said thrashy, like "A Thousand Lies", which sounds pretty badass to me. Truthfully, there's a few more things going on in this album then I've said, like some piano work, and a few other melodic breaks. At it's core, it's very doom influenced, and almost to the point that it gets a little ridiculous, like on the finale, which is an 18:26 second track called "The Prolonging". I believe that track alone is longer than most television shows if you took the commercials out, and one single anime episode. I also believe that I could probably finish eating all of tomorrow's thanksgiving dinner in this amount of time.
The bottom line is, that this is a respectable album, that has gotten a lot of support, and I'm sure some of you have it, and enjoy it very much. If you like Celtic Frost's Monotheist album (and many people do), this is the next step. An EP has also been released, and I forgot to get it, along with Arson Anthem's debut album - so I shall have those later.)
OVERALL: IF YOU'RE A FAN OF CELTIC FROST, THIS IS YOUR NEXT ALBUM, EVEN IF IT DOESN'T NECESSARILY SAY SO. GO GET IT, IF YOU HAVEN'T ALREADY GOTTEN IT, AND PLAYED IT OUT. PLUS, I THINK IT'S GOT ONE OF THE YEAR'S BEST ALBUM COVERS.
----------------------------------------------------------------------------------------
COULD ANYONE TELL ME IF THAT IS AN ACTUAL H.R. GIGER PIECE? (I AM NOT SURE IF HE IS STILL ALIVE) OR IS IT JUST SOMEONE ELSE'S RENDITION OF HIS WORK? WHATEVER THE CASE, IT'S A GREAT REPRESENTATION OF SOCIETY.
YES, I KNOW WHAT IS GOING ON IN THE PICTURE. THE "CREATURE" ON THE RIGHT IS A WOMAN ACTUALLY, HER HAND IS ON HER HIPS AND THERE IS A DILDO GOING INTO HER NETHER REGIONS. ANYBODY SHOULD SEE THAT ONE. THE DUCK BILLED THING IS ALSO QUITE CLOSE THERE.
One other thing, I think Clive Barker should get a hold of this artist and have him design the cenobites for the next Hellraiser film, clearly these are like the old cenobite designs on crack, and since there is a remake being made in 2012, perhaps we should be going for things that look like this. It'll give people something that really might make them horrified, instead of this Paranormal Activity fake as hell bullshit.
Personally, I'd love to see this artist's take on "Pinhead", or as the Hellraiser geek that I am would say, "Xipe Toltec" (His real name.)
Still, if this isn't Giger and you do know who it is, link me to a site where I might see this fellow's artwork. I would appreciate it much, thanks.
Score 4/5 (A little too repetitive in some parts for me.)
1349 - Demonoir (2010)
- Let's just say, I've never been a fan of 1349. I thought they were very basic, and their production values were too low for me to give a damn. If I wanted to listen to something that sounds like it was made in 96, I'd rather listen to something that was made in 96.
But here, it's different. The band finally got some good production, and decided to go in a more experimental direction. This is a great thing for them, and a good thing for me - because I can now say that I'm a fan of these guys.
Why? Well, there's the use of black metal thrash of course, and somewhat interested if not also copied and pasted bm riffs, but it's the changes and effects and oddities here that work. Plus, I can understand the vocals. In some ways this reminds me of another great black metal band who you may not have heard of by the name of "Secrets Of The Moon". Except not near as experimental, which is this experimental album's downfall.
In between every song, there's a tunnel of Set interlude - but they really didn't need them there, this album would've been fine with six songs. The songs are pretty long though, and in some ways it's still quite basic black metal with a lot of blast beats, (so if that turns you off, then don't get it) and I feel that a little more experimentation could have been done, other than throwing a few things in here and there, and some interludes.
It is what it is really, black metal with very little experimentation, some interesting changes, and some useless interludes. That's it. The production is very sharp and blasts you in the face, great to play while you're driving down the road, or to piss off the neighbors if you're still that young.
OVERALL: BLACK METAL WITH GREAT PRODUCTION, LITTLE EXPERIMENTATION, AND A FEW BELLS AND WHISTLES. ALSO HAS SOME SHORT AND UNNECESSARY INTERLUDES. JUST SIX SONGS WOULD HAVE BEEN FINE.
Score 3/5 (Still very mediocre.)
In This Moment - A Star Crossed Wasteland (2010)
- The front woman of this band has turned into metal's whore, so to speak. A lot of metal dudes that I know want to fuck this chick, but what about musical quality?
Well, it's a hell of a lot heavier than the pop shit they put out last time. She's screaming ala Kittie or Otep, but I don't think it's going to appeal to old heads or anything like that. This is still very much for young metal women, not much for young metal men. Definitely not for us older heads, and definitely not for the heads that are older than the rest of us. They'd chunk this shit in the garbage.
There's an equal amount of heavy songs here, and an equal amount of songs geared for the more female listener who likes Evanescence, Lacuna Coil, and the like. I'm going to throw the tag "Corporate Rebel" on this, because if there's a real rebellious female fronted band out there that I'm going to say I really like, I'd have to say The Genitorturer's "120 Days Of Genitorture Album". Go get that shit, alright?
OVERALL: CORPORATE REBEL FEMALE FRONTED METAL AND ROCK BAND. SOMETIMES SHE IS SCREAMING IN YOUR FACE LIKE SOME SORT OF PISSED OFF WOMAN, AND I KNOW THERE ARE ALREADY GUYS THAT SAY, "I'LL HAVE TO SKIP THIS, BECAUSE IF I WANT TO HEAR A WOMAN HOLLER, I'LL GO HOME AND LISTEN TO MY WIFE."
OTHER TIMES, IT'S REALLY POPPY BALLADS WITH SOME HEAVY STUFF. LACUNA COIL'S EARLY DAYS WERE BETTER.
ALSO TRY - THE GENITORTURER'S - 120 DAYS OF GENITORTURE, AND LACUNA COIL - UNLEASHED MEMORIES, COMALIES (WHEN THEY ACTUALLY HAD THE DEATH METAL VOCALS IN IT.)
OR, YOUR WIFE.
Score 2.5/5 (Great for the young metal girls / women though.)
A Forest Of Stars - Thieves Of Spring (2010)
- Check this album out, for sure. It's one of the best black metal releases that I am going to list in this section. Their first was weak, but this experimental and raw powerhouse is pretty killer.
The violin work is really good, and accents things perfectly. There's actually a lot of non black metal instruments used in this album giving it an almost ritualistic feel. As a matter of fact, this whole thing sounds like some sort of occult music and black metal mix. It's a great thing to listen to in a dark room lit by a few candles. Unless you're actually performing some sort of ritual to it, which I guess it works there too. There's even some chanting by a female in a few of the tracks.
I'll put it this way - I know a friend of mine who talked about how good Nachtmystium was, and I'm urging you to hear this one as well, since these guys are pretty much nobodies in the scene, and could dominate it. I'm not saying any names here, "Kundalini".
But it's not what these guys do vocally that's amazing - it's the atmospheres that they create, some of them just reach out and envelop you like some sort of arcane thing wrapped up in the music.
There's many layers to this album, I'd be a fool to try to sit here and explain it all. The fucking thing is only six songs long and clocks in at about 72:06. The shortest track here is 8:03 seconds, so it's meant to be heard the whole way through, with many non-metal interludes mid-song. They are still black metal, but I daresay an interesting black metal evolution, and could be the best thing out there since Nachtmystium, or Deathspell Omega.
Also, I'm not sure if the video is included with the album or not, but a video was shot for this album, even though I have no idea where the money came from. It's one of my favorite videos of this year, looking like a sort of black and white recovered footage, of a séance that has gone wrong. The band sit at the table and things happen, to say the least. A hell of a lot more entertaining than the Paranormal Activity films.
The bottom line is, if you don't mind black metal with a little bit of raw, but purposely raw recording, and good production in other areas of the songs, with breathtaking atmospheres, and a sort of occult sensibility, (I'm sure Crowley himself would've probably loved this album) pick this rare gem up. After hearing this band, you'll be saying "Dimmu Who?"
They're black licorice, compared to these guys.
OVERALL: IF YOU DON'T LIKE BLACK METAL THAT SOUNDS DIFFERENT, INTERESTING, AND COULD POSSIBLY PUT YOU INTO A TRANCE OR TRANSCENDENTAL STATE OF SOME SORT, DON'T BUY THIS ALBUM. IF YOU LIKE BLACK METAL AT ALL, SKIPPING OUT ON THIS MAY BE ONE OF THE WORST MISTAKES YOU'LL MAKE ALL YEAR.
Score: 6/5
Animals As Leaders (2010)
- Basically, this is melodic progressive instrumental metal, with some very nice playing, and great acoustic melodies as well. Guitar heads already flocked to this album like sheep to some sort of metal messiah, but some thought it was too pretentious. True, it does stick to the same formula for most of the album, and even adding a few electronics here and there, doesn't really make it amazing.
Still some, would crucify me for this, saying that I should call this record extraordinary, which while it is a good album that may warrant a few listens, I just don't find it to be the best thing man ever gave to instrumental metal.
And still…there's those people that will say "Fuck him. What does he know?"
I've heard a lot of these bands, but I've never found one instrumental album I could put on and just listen to over and over again. Plus, if you don't already know, I like putting my vocals on instrumentals. Just not these guys.
OVERALL: SOLID INSTRUMENTAL PROG. MELODIC METAL, WITH SOME ELECTRONICS IN PLACES. A LITLLE "GAMEY" TO ME IN SOME ASPECTS. JRPG MUSIC ANYONE? STILL, I LIKE THAT KIND OF STUFF. STILL, IT'S A GOOD ALBUM, AND GUITAR HEADS SHOULD GRAB IT, A GREAT GIFT FOR METALHEADS WORLDWIDE…AS LONG AS THEY LIKE GUITARS. DRUMMERS ARE ALL ABOUT DRUMS, SO…AT LEAST MY OLD DRUMMER WAS. (AND HE WAS FUCKING GREAT TOO.)
Score 4.5/5 (It's good, but not perfect.)
Danzig - Deth Red Sabaoth
- He could have just called it "Death Red Sabbath", and no one would've cared. Still, this is supposedly (at least according to him in an interview with Revolver magazine) Danzig's final album. There's a very good reason for this, and I'm sure you all could agree with it, because it's very simple.
He has to fund everything out of his own pocket. He just doesn't have the money to keep going. Apparently the recession has hit the man as hard as everyone else. Either that, or nobody's buying the albums. He did say that Black Aria III is being worked on next, and that's it. He said the ritual has been done, full circle, something about black magic and what not, once it's been set into motion there's no undoing it. Something like that.
Anyway, besides all that bullshit; the album pretty much sounds like all their other albums. The production sounds a lot more raw, like the work they did in the 80's. The riff style is still basic, but thundering.
There doesn't appear to be any mixing at all. To tell you the truth, the vocals needed mixing badly. It really sounds like Danzig was in another room while the band played in another room. His voice overshoots the band by miles.
Some of the songs sound pretty good, but others are just completely destroyed by his vocal range. If the band isn't loud enough, it doesn't sound right. I know enough about mixing to know that it at least needs to sound like you recorded with the band, and it sounds here like he was hollering his vocals out of the window of an adjoining room in the studio.
The bottom line here, is that this sounds like classic Danzig. If that sounds good to you, then get it. You'll like it, and he'll probably not put out another Danzig album again. There's always the others. "Circle Of Snakes" was great.
Also, if you don't believe me about Danzig being broke - check out the very cheap video for "On A Wicked Night.".
OVERALL: CLEAR, BUT STILL RAW PRODUCTION VALUES, MAKE THESE GOLDEN AGE STYLE DANZIG SONGS, SOUND JUST LIKE THAT. A MUST FOR DANZIG FANS, SOME OF THE MIXING SOUNDS BETTER LATER ON IN THE ALBUM.THE FIRST COUPLE SONGS NEEDED A BIT MORE MIXING. THE BNAD SHOULD BE AS LOUD AS DANZING. HE FINALLY GOT THAT LATER ON IN THE ALBUM, BUT IT RUINED SOME GOOD SONGS, INCLUDING THE OPENER "HAMMER OF THE GODS." BUT, I STILL LIKE THAT SONG.
Score 4.8/5 (We can't fault him too much for two or three songs that weren't mixed right, and think of the budget.)
Divine Codex - Antimatter (2010)
- Well, this one's only going to appeal to fans of that 1349 album I just reviewed. It has the same basic black metal with few frills style, some electronic stuff, the dark grim vocals and the screams and blasts, blasts, and more blasts. Are there a few interludes here too?
Yep. I think there's 3 or 4, and they sound better than the ones that 1349 used. Still, I'd have preferred some different style songs, not interludes.
Do a lot of the songs sound the same? Yes, it might as well be one big song. "Neuro Sickness Frequency" is the only one that sounds different, and there's some interesting riff ideas at the end of "Lifeless Void."
Is it worth my money? Not hardly. There's so many better black metal albums this year, and Aborym's new album ATE this one.
OVERALL: SKIP IT, UNLESS YOU WANT AN ALBUM THAT SOUNDS LIKE 1349'S NEW ALBUM, WITH VERY FEW DIFFERENCES. VERY BLAND FOR THE MOST PART.
ALSO TRY: CODEX - RESPLENDENT GROTESQUE (2009) THAT ALBUM IS WAY BETTER THAN THIS ONE.
Hellyeah - Stampede (2010)
- Yes, Chad Gray is on vocals. It's not that bad, people. Vinnie Paul's on drums here, and a lot of people seem to like it. I for one have always been a fan of Hellyeah. (And I still like Mudvayne, so don't give me any fucking shit for it, alright.)
As you'd expect, there's a mix of heavy songs and light songs on this disc. That's how Vinnie wanted it, in fact I remember him saying something in an interview like "We've got six heavy songs, and now we're going to do some more melodic ones."
No problem with that. Some of the heavy songs are blistering, with Chad Gray's slightly black metal influenced screams, and the Pantera-esque thundering of the band. This is by no means Pantera II, and anyone can see that. But what it is, is a very corporate styled Pantera knock-off sort of thing, which isn't that bad. Of course, Pantera fans will probably want to pick up the reissued special edition of Cowboys From Hell instead.
It's alright, but there's a few songs on there which kind of recall Motley Crue, like "Pole Rider" Gee…I wonder what that could be about.
After reading that last statement, you're probably done hearing about this album, and so am I.
OVERALL: THIS IS CORPORATE PANTERA, PEOPLE…CAPITALISM SUCKS. IT'S NOT THAT GOOD EITHER, THE RIFFS ARE HEAVY BUT BASIC, AND SOME OF THE LYRICS ARE KIND OF IMMATURE.
THERE'S BETTER SHIT TO LISTEN TO BESIDES THIS ONE.
Impureza - La Iglesia Del Odio (2010)
- This flamenco death metal band is doing something interesting alright, when you can mix Cannibal Corpse style death metal (all in native tongue of course) with great flamenco, it makes for an interesting listen.
These guys will pummel you into the ground, and then play some nice acoustic melodies over it. I guess you could compare it to being beaten up by a bunch of angry Mexicans.
There's more to it then that, though. There's some interesting melodies, and some technicality to it as well. Of course, the kick pedals are firing a lot, but when you mix the acoustic flamenco with the death metal like that and it fucking works…
You just really have to hear this one. Gimmick? It's to be determined. Still, many people have seen these guys live, and say that they kick major ass, so check it out. It's different. Like Strawberry Ass Cream instead of Vanilla.
OVERALL: YOU NEED TO CHECK THIS ONE OUT, JUST SO THAT YOU CAN SAY YOU DID. THE FLAMENCO WORKS. THE BAND IS ALSO VERY SKILLED, SO THIS ISN'T JUST A BUNCH OF AMATUER MUSICIANS. THE QUALITY IS ALSO VERY GOOD. THIS IS TRUE SPANISH DEATH METAL. OLE!
Score 5/5 (Interesting Latin Death Metal.)
Heaven Shall Burn - Invictus (Iconoclast III) (2010)
- I guess these guys are considered deathcore to some people, but I have to admit that I really like them. My tag here says "Death Metal", and I can buy it. There's a lot of death metal things going on in this album, and there always has been throughout their career. Plenty of good melodies, and still crushing vocals. I've always thought their lead singer had the angriest vocals I've ever heard.
Some may say it's pretentious, but it's their style, and it's good that they haven't changed it. Every song will melt your face off, and some of them have solos. The female singer from Deadlock also joins vocals in one of the songs, "Given In Death".
I don't know much about the story, since I missed out on Iconoclast II, but I have the first Iconoclast, titled "Iconoclast". While not as good to me in some aspects as "Antigone", this is still a very solid album for them, and it's a must for fans of this band. I don't know how many more they'll make, since I fear that their lead vocalist might lose his ability to speak altogether screaming that fucking loud. At high levels, I'm sure this can deafen someone.
OVERALL: A VERY HEAVY ALBUM THAT MIGHT DEAFEN SOMEONE AT HIGH VOLUMES. GREAT MELODIES, AND BLISTERING ALL THE WAY THROUGH TO THE END. THIS GUY IS PISSED. I MEAN, REALLY PISSED. WHAT DID I EVER DO TO HIM?
A BIT PRETENTIOUS THOUGH, EVERY SONG ALMOST SOUNDS ALIKE. BUT SOME PEOPLE REALLY DON'T CARE.
Score 4/5 (Good.)
Kingdom Of Sorrow - Behind The Blackest Tears (2010)
- Many people have really enjoyed this sludge album. Their single, "God's Law In The Devil's Land" was on Sirius Liquid Metal's "The Devil's Dozen", for quite a while. Apparently their last album was also quite good.
Many of you might not like Hatebreed, (even though their last couple of albums have been good) or their vocalist Jamie Jasta. (Who hosted MTV2's Headbanger's Ball for the longest time.) Though I am sure that the majority of you know who Crowbar is, and how important their sludge metal was to the scene. So, here we have one ahrdcore and one sludge legend teaming up to make hardcore / sludge metal, for the second time - and it works. The album thumps along like any old hardcore album, but has great solos, sludgy riffs, and some catchy choruses. Corporate sludge? Possibly, but even still - it's worth listening to.
If you don't like hardcore, sludge, or Jamie Jasta's vocals, (Since he is mostly on it more than anything.) skip it. That simple.
OVERALL: HARDCORE / SLUDGE MIX THAT WORKS GOOD ON SOME LEVELS. MIGHT BE A BIT CORPORATE, BUT NOT THE WORST THING I'VE EVER HEARD. IF YOU DON'T LIKE HATEBREED, JAMIE JASTA, OR CROWBAR, YOU WON'T LIKE IT.
Score 3.5/5 (A little more then mediocre, for me.)