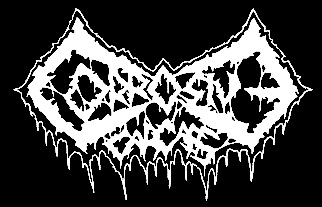 Corrosive CarcassCountry of origin:
Sweden
Location:
Hofors / Storvik
Status:
Active
Year of creation:
2004
Genre:
Death Metal
Lyrical themes:
Death, Gore
Current label:
Abyss Records
P. Koistinaho:
Bass
M. Janis:
Drums
C. Kanto:
Guitars
M. Lindorf:
Guitars
J. Sjöblom:
Vocals THE INTERVIEWIf you could, describe the process in making this album. What was the toughest part of that process?
-The songs on this albums are songs that we been working on since about 2009 so we had a lot of time for the wrighting process.
In studio things went pretty good, maybe we should had a little more time for recording but thinks turned out great anyway.
What albums/bands are the most influential to your sound?
-Our biggest influenses must be the early albums with Autopsy and Death, but also from swedish bands like dismember entombed, grave and so on.
How do you feel about the state of death metal in 2012?
-There is starting to pop up some great bands, the last good album I bought with a new great band was Morbus Chron debut album.
Do you think that there are too many core and technical elements in death metal these days?
-Yes, we are not into that kind of stuff. Don't really understand what so good about that.
Be honest. What did you guys think of Morbid Angel's last album, "Illud Divinum Insanus"?
-It suck to be honest haha.
What do you think of sites like bandcamp and others that allow users to "name their own price" on albums? Do you think this is the future, especially for lesser known bands?
-Never heard about Bandcamp, but we have some songs online so people can listen to our music and if they like it they can buy our CD´s from our label or directly from us!
If they want our CD they just have to accept the price we decided, there is a lot of work behind our music, artwork, promotion ect.
With all this talk of apocalypse, what's the first thing that you would do "after the shit went down?
- If we survive? Never though about that before, make our selves leaders of the world is a good idea dont you think?
Thank you for your questions, gentlemen.THE REVIEW
Corrosive Carcass - Composition Of Flesh (PR 2012)
- Corrosive Carcass has the right idea about death metal. They've got some intriguing riffs that manage to make their way into the songs. There's definitely some atmosphere in their music that also keeps them from being too boring. But, I will honestly say that I wasn't overall impressed with the entire package.
According to my PR Info, the band seemed to switch back and forth between members and styles. They started out doing death metal, and then decided to do something else - I have no idea what I could've been - but then they came back and decided to do death metal again, as well as change things up a bit on the musician end.
You can hear the sound of a band attempting to come back into their own on this disc. I've no idea what their previous albums/bands sounded like, but this has definitely achieved that death metal sound that they had been looking for. My biggest problem with this disc isn't the music however, there's everything from speedy thrashers to Swedish grooves to all out pummeling - it's the vocals. Many of them feel extremely rushed and don't even fit in with the melodies. I'm not really hearing any direction there, and that's a bad sign.
But perhaps these guys need more time to mold together. The effort seems slightly polished, but slightly green in some areas; and I guess that's to be expected of a debut. Death metal fans will enjoy the slightly raw quality of the disc, and there are plenty of interesting ideas on these tracks. The album also seems to go on much longer than it needs to in some aspects. Out of thirteen tracks, there's about nine of them that I liked. That's not too bad.
If you're curious, you can give these guys a spin. You might even really come to enjoy them. I'm still a bigger fan of bands in the same genre like Paganizer and Revolting, but this is certainly not a bad album. Give it a shot at least!
Highlights: The Flesh Is Not Enough, Butchershop, Born In A Casket, Awesome Nuclear Power, Twist Of A Knife, Collector, Dawning Death, Hunger, The End Of Us All (13 Tracks, 41:00)
7/10