In Disgrace - Demon (2010 Free Album, Get Yours NOW!)
- This is a FREE Album, but if you buy it, you'll get a nice 8 page booklet, and a thank you from the band. Call me crazy, but I'm wracking my head around the fact that a band who produced such an amazing masterpiece of Progressive Black Metal / Death Doom, did not get signed. This is the kind of music that I myself rather enjoy, and I feel that anyone who is looking for something a bit dark, but still very interesting to say the least - should go check out.
"DEMON" is actually available for you to listen at their myspace page. I'll provide a link to it, and you can check it out for yourself. The riffing sold me, among everything else. This is the kind of band I would like to see live, and the kind of music that I would want to do myself.
http://www.myspace.com/indisgrace
and
http://www.indisgrace.de/
"If you want to buy the deluxe edition of DEMON featuring
an 8 pages booklet simply write an email to
info@indisgrace.de
"
Before I go further into brown nosing these chaps, I'd have to say that I've give a few albums the boot here lately, because I haven't found something that really clicks so to speak. Well, this is a favorite of mine, and it's free from the band online (you can also buy it if you want) so you have not damned thing to lose. What an incredible release.
OVERALL: BLEW MY MIND SO WIDELY OPEN, THAT I'M STILL COLLECTING PIECES OF IT AS I'M WRITING THIS. ONE OF MY TOP OVERALL BEST OF 2010 PICKS, AND IT'S NOT EVEN SIGNED! IF YOU LIKE PROG. BLACK / DEATH DOOM, CHECK THIS ONE OUT.
Score: 10/5 (A REMARKABLE EFFORT)
Destroyer 666 - To The Devil His Due (2010)
- Destroyer 666 have yet to disappoint, and even though it's only 35 minutes, long - this little thing is one of my favorite black metal releases this year. Much more on the thrashy side than their 2009 album, this latest release sees Destroyer letting lose a little, and just having some fun. Guitar solos are wicked and wild, that great mindblowing stuff I seldom here from black metal these days.
While the first song is live, the rest are not - and every song is a keeper. Although, my favorite song is "Through The Broken Pentagram". I could play that track alone a good five or six times, I guess it has that modern age black metal style that just rubs me the right way. Fuck, I don't know.
The bottom line is simple - GO GET THIS! Sure it's short, but this is a legendary super group that kills with damn near every release. If a new 2011 is coming out, from the sounds of this little guy, it's going to be a GODDAMNED MONSTER.
And…If you have no idea who Destroyer 666 is…
GET YOUR HEAD OUT OF YOUR ASS, AND CHECK THIS ONE OUT! GREAT PLACE TO START!
OVERALL: GREAT FUCKING BLACK METAL. SHORT ALBUM, BUT WHO CARES? WILL WARRANT A FEW PLAYS. DAMN THESE GUYS ARE GREAT, ALWAYS WILLING TO EXPERIMENT, JUST LIKE NACHTMYSTIUM.
Score 6/5
Manowar - Battle Hymns MMXI (2011)
- Well, this is certainly a blast from the past. For some odd and unknowable reason that only Odin knows, Manowar decided to re-record one of their legendary albums, "Battle Hymns". Compared to the original, the quality is much better, and I can actually understand the vocals a bit more, which makes serious songs like "Shell Shock" which still has an impact during this day and age, and epics like "Battle Hymns" and "Dark Avenger", sound better than they've ever been. Also, there's a special guest actor who does the vocal piece on "Dark Avenger" this time, and I'm not revealing who!
It also comes with two live bonus tracks of "Death Tone, and "Fast Taker", which are your run of the mill live bonus tracks. The serious point of this album, is that it sounds just as good as it did then, and then some. If you liked their old albums, and think that Manowar is better left sticking to those old songs, then this one is for you.
There are no bonus promos or anything for their upcoming 2011 release "Hammer Of The Gods", but as for that ridiculous single the released of one song being sung in just about every language there is….hopefully it'll be more in the style of this.
OVERALL: CLASSIC MANOWAR DONE RIGHT. GO GET IT, IF YOU REALLY LIKED THE OLD ALBUM - OR ANY OLD RELEASES.
Score: 5/5
Adrift For Days - The Lunar Maria (2010)
- This debut album from Australian doom/drone/sludge/stoner-rock/post-metal/psychedelic band Adrift For Days, is a must to check out, for fans of any of the genres I've named here. While just starting to make a name for themselves in the scene, I think that they are going to blow fans of this style of metal completely away. The album itself clocks in at about 70 minutes spread through 7 tracks, with each one having a different vibe than the last, but still managing to sew each track together with the same tapestry, so nothing feels too out of place.
I'll be honest, psychedelic drugs might make this experience even greater. Probably any sort of mind altering substance would greatly enhance the trip factor that one could get from listening to this album.
The band is sometimes heavy, and at other times very light and shoe gazes a bit, with a very Acid Bath sounding crooner, and some really great guitar atmospheres. I honestly cannot fully describe this piece in words, and I suggest that fans of this type of music check this one out. It should be listened to from start to finish to get the full experience - don't judge it on one track, or you're not giving the band the proper attention they deserve. This album is by far one of the most interesting I've heard in recent times, and sets up a healthy competition with other bands of this style.
I will mention again, that even though I do not personally use any sort of mind altering substances (sans marijuana and alcohol which is on very rare occasions) I could feel myself kind of floating through some of these tracks, particularly the closer, which I think would have better effect in a dark room with your eyes and closed during the process of visualization. Can that track "Waveform Collapse" help one to astral project, or to lift off, to some extent? That has yet to be known, but I do believe it could serve as a tool, like other bands have used in the past.
If all of this sounds good to you, you can buy the album for about 15.00 from these places:
[url]Big Cartel:
http://adriftfordays.bigcartel.com/
[/url]
[url]65 Degrees Music Café:
http://www.65degrees.com.au/catalog
[/url]
[url]iTunes:
http://itunes.apple.com/au/album/the-lunar-maria/id384561735
($16.99)[/url]
Also keep in mind that they are currently on tour. God only knows what's being passed around at those shows…
OVERALL: ASTOUNDING METAL ACT, PURE DOOM PSYCHEDELIC GREATNESS. CLOSER MIGHT BE GREAT FOR ASTRAL PROJECTION, AND MANY LAYERS TO THE MUSIC. HIGHLY RECOMMENDED FOR FANS OF THE GENRES THESE GUYS ENCOMPASS. (WHICH WERE LISTED IN MY REVIEW)
Score: 5/5
Arson Anthem - Insecurity Notoriety (2010)
- What we've got here, from Phil Anselmo's latest project is a certainly interesting slab of music. Think of it as progressive punk metal, with maybe a little bit of hardcore, but it's clearer to me that the sound they were trying to capture was that of a more modernized version of classic hard punk music. I'll be brutally honest here - If the vocals in some of the songs were switched to black metal scowls, this WOULD BE BLACK METAL.
Try imagining "Death Of An Idiot" with black metal vocals. It would sound almost exactly like some of the efforts I've heard from "kvlt" bm bands. So historically, one can tell that; like all great truths in metal, (and even from the days of Bathory) BLACK METAL'S ROOTS WERE HEAVILY INFLUENCED BY PUNK.
Alright, enough of the history lesson. Should you buy this album?
Yes, you should. Here's why:
There are some very interesting riffs thrown in this album to make the thing sound a little better than just plain old punk. As I said in the genre description, "progressive" licks are played in places, and it sounds great. This is something that I hadn't personally heard before. The vocalist got on my nerves in the beginning, but as the album went on, he began to scream with an unhinged fervor that just made me grin from ear to ear. Not only that, but there's some top-notch guitar work here in many of the places, even though not a whole great deal of deviation. This is to be expected, since it seems like an attempt to bring punk back into the limelight, and too much deviation would kill the concept of the band and album.
This being said, some of you looking for more than modernized hard punk with a great deal of extra frills thrown in, should definitely look elsewhere. The songs are also incredibly short, with the longest song being the length of an average commercial pop song. (About 3:24, and it's the closer.)
Some of you might hear a resemblance to Superjoint Ritual riff wise, I surely did.
Hey! Don't call me Shirley. (RIP Leslie Nielsen)
All in all, I feel the whole thing, while short (30 minutes spread out over 17 tracks) was quite satisfying. While not as brutal as some genres of metal, this album is certainly a kick in the teeth, and some people might get a kick out of that.
OVERALL: HARD PUNK METAL WITH DECENT PRODUCTION VALUE, HAS SOME PROGGY LICKS, AND GREAT GUITAR WORK IN GENERAL. THE VOCALIST WILL GROW ON YOU. WORTH A SPIN, BUT THERE'S HEAVIER MUSIC OUT THERE. PLUS, IT'S PRETTY SHORT. OF COURSE, IT'S NOT ABOUT THE LENGTH OF THE ALBUM, IT'S ABOUT THE QUALITY OF THE MUSIC.
Score: 4/5 (Refreshing.)
Blindead - Affliction XXIX MXMV (2010)
- As far as post metal goes, these gentlemen seem to have taken their own unique touch to it. That touch involves a lot more melody and clean vocals being incorporated into the usually very sludgy nature of this genre. That is not to say however, that this album does not contain the trademark sludge which popularized this genre all the way back to Neruosis, but it does contain a great deal more in the way of atmosphere and soft melodies. An ADD album as it were, it doesn't stay in one shape for long - at least until the experience has ended, making you want to listen to it again, just to make sure that you truly understood it.
This album has a great deal of layers, which like watching the film Inception; one must experience again, in order to get the whole story or vibe of the album. It is not an easy release to get into, and is by no means a heavy record. It is truly a plethora of things, which like many great post metal albums are - and it will require re-listening.
OVERALL: SOLID POST METAL WITH MORE EMPHASIS ON THE ATMOSPHERES AND CLEAN VOCALS. HAS SLUDGY BITS, BUT IS NOT A HEAVY ALBUM. AN EXPERIENCE WHICH MUST BE LISTENED TO MORE THAN ONCE TO SOAK IN. IF THIS DOESN'T INTEREST YOU, LOOK ELSEWHERE.
Score 4/5
Consummatum Est - Hypnagogia (2010)
- Well, this is certainly an interesting experience. Think black metal monks, and you've got it. The music sounds rather doomy and ethereal for the most part, it has a sort of dark lilithian sort of beauty. The vocals are exactly as I've described though, which remind me of much darker Gregorian monk chants. There's a first for everything, and I suppose monks can be black metal just as well as everything else monks have been thrown into these days.
Of course, the scowl does appear in the album, and then at times it begins to remind me of early Graveworm. I would have to consider this more along the lines of so called "funeral black metal", as by listening to it, you can clearly hear the sadness and the beauty all at the same time. Four tracks spread over 50 minutes make up the entire recording, and the production is also very good here, as it's not as hard as it used to be to master an album of this nature. I am sure that some of remember the older "funeral doom" albums, which one could barely hear.
Bottom line is this - if you don't feel like getting all "beautifully depressed" (Down pun not intended) you might as well just pass this one on by. On the other hand, if tonight seems like a good night for a funeral, this will definitely work. Personally, I liked the album due to it's gothic black metal nature. Though not everyone has the same tastes as myself, which is a good thing - because it would certainly be a rather droll sort of world if everyone did, don't you think?
OVERALL: RECOMMENDED FOR THE MORE GOTHIC AND DARK NATURED METAL HEADS. LOTS OF SORROW AND GRIEF HERE. PLANNING A FUNERAL? NEEDING TO MOURN THE DEAD? THIS MAY HELP. THIS PROBABLY SOUNDS GOOD COMING OUT OF A HEARSE. YEAH, IT'S THAT DREARY.
Score: 4/5
Cynthia Witthoft - The Mortal Fishzilla (2010 FREE ALBUM!)
- For those of you who have no idea of the legacy of Cynthia Witthoft, let me explain. Cynthia and her bandmates are all, from as far as image goes - lesbian feminists who produce very interesting metal music spanning several genres, even if some of it isn't quite their own. "Iced Earth - 1776, The Enslaved instrumental from ISA, The instrumental from Lamb Of God's 4th album, and countless more acts of thievery (some of the bands very old and obscure as hell) are just some of the music they've renamed, added intro's and slapped a new name on. There was even an instrumental demo version of Samael's "Telepath" single, from "Reign Of Light". Where the hell they got that, I'll never know.
Yet on this, their 50 something album (Check Wikipedia for the FULL LIST) - The Cynthia's are seen doing something new. One thing that is noticeable from the start is that this album is 100% pure Cynthia and her bandmates. There's no stealing attempts here - and I think Cynthia is trying to shed her title of 'The Thief Woman".
While not as heavy as some of (what might be their songs?) their songs on the older albums, (Take your pick - there's plenty of them!) it is certainly refreshing to hear something that isn't someone else's, despite the copyright laws in Poland.
Anyway, this album is phenomenal. Not a very old release, as it features the first track "Ronnie James Dio Is Dead", and features an intro by him on the track and some really awesome progressives, especially in the drum area.
Baskin Robbins albums are pretty much everything this band has ever done, (minus the polish zombies stuff) so expect every track to be different. Of course, this album isn't very heavy, and I won't be putting any vocals on these tracks - since, they really don't warrant vocal touches like older albums have.
I'll tell it to you like this though - this album is a proggy dream. There is so much experimentation going on (and it all has the same production value, same instruments and all that - no stolen tracks) that it's mind-boggling. Some parts of this album have a melodic splendor which has to be heard to be believed. The Cynthia's really put their best efforts into a musical piece, which they are once again, just giving away. As you would expect, so are their other albums completely free, with all the book pages and such, and a bunch of naked and erotic pictures of the band. (who is all females, as I've said before)
Of course, this isn't about free porn. Any idiot can go onto the internet and type in "boobs" and find about a thousand pages of uncensored filth. This is about the music. I've heard tracks before from this band which really do sound like the ones on this 2010 album, particularly "The Bird Of Paradise" (Of which many of my vocals have been added onto for my Bootleg Blitzkrieg hobby project) which featured some amazing work, and was done not too long ago, in "2006".
All of this band's albums are free, and this one can also be downloaded if you know the sites, and where to get it. Unfortunately, there is no other way. I don't even believe the Cynthia's have a website.
Oddly enough, I've seen people with physical copies of these albums which I assume were made with booklet printing software and empty cases. Also, not one CD image (Picture of the CD itself) of any of their albums has ever been shown, which leads me to thinking that the physical copies are just burned cd's with a retail case, that people made because they really like the band which does incredible music, whether or not all of it is theirs, or not.
If anyone knows more information on this, (more than I do) let me know. I'd hate to know that these were being sold, or are being sold for a cash profit when clearly some of the songs this band does are stolen.
Yes, I download albums. But I would not use another band's music and call it mine, for a PROFIT. I did that for free, as a hobby - to show off vocals and what not. I'd rather you come over to my home and shoot me in the forehead, than to even think about offering someone's else music as my own and then charging for it. Hobbies are hobbies, free is free, but when it's not yours - don't sell it as yours. Very simple, I think.
Back to the album though - this is one of the best I've heard from them in a long time. I still think that "The Bird Of Paradise" is way better, which it's stolen (or maybe not, not sure) intros.
OVERALL: PROGGY CYNTHIA'S SOUNDING GOOD, NOT AS HEAVY - BUT GOOD. SOME TRACKS HERE ARE DOWNRIGHT STAGGERING. "COSMIC SIGNALS PT.1 & 2" FOR EXAMPLE. THAT IS A "WORK OF ART" , RIGHT THERE…
IT'S ALSO A FREE ALBUM, THAT YOU CAN LISTEN TO OVER AND OVER AGAIN.
Score 5/5
Tristwood - Dystopia Et Disturbia (2010)
- Technical death metal. There's not a great deal to say about this one, other than the fact that if you like this genre of death metal, the "swiss cheese metal" as I've called it, you will like Tristwood. AT first listen, I thought they were doing something interesting - but after listening to a few of the tracks again, I'm hearing nothing in the way of amazing. The release is just a short debut with a bonus track they made in 2004, and ends with a great instrumental which I might add vocals to.
Other than that, I'm more than sure that you have technical death metal which would blow thus band away. That isn't to say that you shouldn't listen to this one, just don't expect to take anything away from it. Personally, I have just listened to a technical death metal band called "Sol Asunder" (Review Coming Soon), which combines their meshuggic tech style with the greatness of melodic death metal.(which in my humble opinion, is what this genre has lacked. Beethoven himself said that, "Music is melody." and no melody and all force just sounds like pure grade noise to me.)
As for this release though…don't lose sleep over it. It's really nothing special.
OVERALL: YOU PROBABLY HAVE HEARD BETTER TECH DEATH THAN THIS. IT'S NOT BAD, BUT NOT GREAT EITHER. LISTEN TO IT IF YOU WANT, BUT THERE'S BETTER BANDS OUT THERE DOING THIS TYPE OF METAL.
Score: 3/5 (Mediocre.)
Demolition Hammer - Necrology - A Complete Anthology (2008)
- While this anthology may have been released in 2008, I grabbed it because I had little knowledge of this band. Thankfully, the two disc set showcases the band's best tracks from their catalog, with the second disc (the death metal era) being clearly better than the first disc. (which sounds like run of the mill thrash metal)
Sure, there are some good songs from their early thrash days, but the death metal stuff truly shows a more brutal and more focused side of the band. The thrash is still there of course, but it's just much more violent and in your face. This disc actually really got me pumped while playing Shank on the PC. (which is a bloodbath, if you haven't played it)
That being said, it's heavy and it's brutal. Not many people know this of Demolition Hammer, but those death metal albums sound pretty tasty. I know that they just followed in Testament's footsteps with the release of those albums, but they're good albums. Even the demo tracks sound good.
The bottom line is, grab these discs if you want to inform yourself a little more about an older and more obscure thrash metal band that changed to death metal It's a ton of good songs, and probably bargain priced.
OVERALL: THRASH FANS, DEATH METAL FANS, CHECK THIS 2 DISC SET OUT, THERE'S THE BEST OF BOTH WORLDS ON IT. RECOMMENDED TO METAL FANS WHO LIKE THEIR MUSIC BRUTAL AND UNCOMPROMISED.
Score 4/5
Demonoid - Riders Of The Apocalypse (2004)
- No, I am not talking about the famous torrent site either. What I am talking about is one of the most finely crafted death metal albums I've heard in the last ten years. Demonoid is death metal at it's core, but the great mix of styles that they add makes the experience that much more satisfying - and an overall satisfying experience, it is. I could not find one flaw in any of the albums nine great tracks. This might very well be one of the best overall albums of the past decade, and if you have not heard this wonderful fucking album, GO GET IT NOW!
This is more than recommended, and almost canonical to the metal scripture, so to speak. Apparently, this was a classic album that has resurfaced. I cannot say anything of the bands later albums, and for all I know, this could've been a mighty fluke. Either way, it's a gem that should be discovered by every metal listener out there. Great fucking shit, and you don't need to listen to it twice to figure that out.
OVERALL: ONE OF THE BEST DEATH METAL ALBUMS I'VE EVER HEARD, AND I'VE HEARD MANY OF THEM. THIS HAS EVERYTHING YOU WANT TO HEAR, AND MORE. HIGHLY RECOMMENDED ALBUM FOR METALHEADS THROUGHOUT THE WORLD. WHERE IN THE HELL WAS I WHEN THIS CAME OUT?
Score: 5/5
Desultory - Counting Our Scars (2010)
- At first, I thought these guys were doing something special. It's melodic death metal with really great guitar work, and it sounds gloomy at times….
Then again, a little band by the name of Insomnium appeared into my mind, and I changed my mind on these guys doing something unique. It is very good metal, and I think a lot of melodic death metal fans will enjoy it. (There's no clean vocals or anything like that.)
Even if they do sort of sound like Insomnuim, there are still subtle differences, like a lot of guitar ferocity. The guitar player/s in this band want/s you to believe he's/they're good at what he/they do/does, and hearing him/them play is really great at times. Of course, some of the riffs are really simple - yet in some of the music, I was reminded of a little mid-era Death. (Sounds Of Perseverance) I think it was only one song that did that for me. Of course, if I want to hear Death, I'll put on a Death album. It's that fucking simple.
OVERALL: INSOMNIUM SOUND ALIKE, WITH SLIGHT DIFFERENCES NOTED IN THE PLAYING. VERY GRIM, BUT ALSO VERY CRAZY ON THE GUITAR. I ENJOYED IT, BUT WON'T BE EVERYONE'S THING. RECOMMENDED FOR INSOMNIUM FANS, AND OTHER FANS OF MELODIC DEATH METAL.
Score: 3.5/5
Druid Lord - Hymns For The Wicked (2010)
- Next we have Druid Lord, which sounds like a grim sort of death metal. I'd have to say that this is a solid effort from the band, with 9 tracks spread across 35 minutes. Granted, it's short - but you can listen to it again, and again, if you wish.
It's certainly not as groove influenced as Revolting per say, and it's not very fast either. I'd have to say that Druid Lord is mainly just slow and doomy death metal with some good guitar work here and there, and some good solos. Are the anything to write home about? Well, no. They are what they are. Doom/Death, but more on the death side of things than doom.
This isn't sorrowful at all, so don't think this has any goth elements to it, because it doesn't. Think Acid Witch, but not as psychedelic. The lyrics are pretty pointless, but the songs are good. It is what it is. If you like it, then fine. If you don't, then don't listen to it. Try before you buy.
OVERALL: SOLID DOOM/DEATH, NOT DEPRESSING - MORE LIKE ACID WITCH. GOOD GUITARWORK IN SOME AREAS, SOME NICE SOLOS, AND VERY GRIM ALL OF THE WAY THROUGH. LOOKING FOR SOMETHING TO LISTEN TO WHILE YOU TRAVERSE THAT NEXT DUNGEON?
THIS MIGHT WORK FOR YOU.
Score: 4/5
Ebonillumni - The Ebon Channel (2008)
- This rare side project featuring the front man of Meads, (The Metatron) was a pain in the ass to track down, and wasn't worth all of the trouble. There was actually only one working link on the internet for this album, (I'm talking about THE ENTIRE INTERNET, MIND YOU) as most of them were dead or deleted. The reason for that might be that this album isn't really all that great or special.
Just a little under EP length, this obscure project sounded interesting enough, with elements of black metal and some experimental touches, but it turns out that this is pretty much dominated by a female vocalist, who in all honesty doesn't sound that very good. The Metatron scowls a little here and there, but it's nothing like I thought from the beginning, and is scarcely metal at all. It's more dark goth music with a not so good female vocalist, and very un-entertaining experimental things. Plus, it's only 4 songs and 21 minutes long, so it's not even a full album so to speak.
I cannot believe this is one of the reasons we had to wait so long for the (2010) Meads album. The guy wanted to fuck off and do something with this female vocalist, I guess - who knows the full spectrum of what went on there - after all, I myself have had the whole "I fell in love with the female vocalist" (DON'T MAKE THAT MISTAKE!) thing before.
Anyway, it's a bit of a waste in all honesty, and I don't recommend it to anyone.
OVERALL: SKIP IT, NOTHING REALLY TO TALK ABOUT HERE. BARELY EVEN METAL MUSIC.
Score: 1/5
Exciter - Death Machine (2010)
- Well, if you really like the 80's thrash metal scene, then this one will be a blast from the past. Some of it sounds a little like Priest, but it's better than anything Priest have put out in the last couple of years. Sometimes the vocals almost sound like a parody attempt at classic metal, but you can hear from the riffs and melodies that Exciter really wants to evolve that thrash era Priest into something more. The album itself even sounds like it was recorded in the 80's, to no surprise.
It's not going to "blow your mind" (Jesse Ventura) but, it will remind you of a time when metal wasn't quite as complex, and was just a little faster, and more upbeat. Many albums these days are written in times of major distress, so very few of them lack the entertaining factor that some of the classic artists had.
Another thing, if you will - People complain because of bands that they proclaim to be "knock-offs", when in reality, they're just trying to do something a little better; or a little more than their predecessors are doing now. Between this and Nostradamus, (I've still never listened to the second disc, and I own it) I'm going to pick this one.
OVERALL:CLASSIC PRIEST-LIKE THRASH. RECOMMENDED FOR OLD HEADS, AND NEW HEADS ALIKE. JUST DON'T EXPECT ANYTHING MONUMENTOUS.
Score: 4/5
Forbidden - Omega Wave (2010)
- Who are these gentlemen, and where did they come from? How were they able to produce such an amazing album as this one?
There's so much metal to this album, it's ridiculous. Fuck the Peta Potatoes, I want the Meat of Manly Might, or something rather like that. Regardless, song after song is just staggering with riffs melodies, and vocals that make me think Iced Earth might not be one of my favorite power/thrash bands anymore. Yes, you can argue that it is thrash, but it's not always thrash here. Not anymore. Power metal creeps in, death metal creeps in, progressive metal creeps in, and everything song is like a sandwich made to the specifications of each individual metal listener.
The opener, "Alpha Century", is hands down, one of my favorite intros of all fucking time. It is one of the most epic intros I think I've ever heard. Keep in mind, I usually pay very little attention to the intros of albums, so this should come as a shock.
"Forsaken At The Gates", is hands down, one of my favorite standalone metal tracks this year. This introduced me to the band, hence the reason why I have not reviewed them, and thank you fellow metal head for asking me to review them. I believe I will be checking out all of their work, hoping that this might have been topped earlier, but strongly doubting it.
Yes, it's that good. If I were standing in your house right now, I would tell you that you need to hear the new "Forbidden" album, because it's just fucking amazing. These guys replaced my need to hear new Iced Earth, because even with Barlow at the helm, the songs lacked quite a bit of metal.
Of course, most of the songs in the album have to deal with conspiracies and such, like "Swine", which is now one of my favorite tracks of all time, and "Chatter" which is a various amalgamate of clips from Fox News, and in the middle of it is talk of a Solar Storm, which could surely occur. Though, I feel we shouldn't worry about it.
"Those who tend to worry about all of the ways that they could die, will end up missing out on all of the ways that they could live." (My quote)
So yes, "this is gonna blow your mind" , in the vein of Ventura's usual Friday night claims. (Is it just me, or does it seem like there's a few well trained actors on that show? Some of the dialogue seems scripted)
Conspiracies aside, you will succumb to this one, with it's impeccable, staggering, and downright inhuman musicianship. That means the guitars sound amazing, the drums are top-notch, the vocals soar and growl with a great presence, and the melodies will wrap you up in their brilliance. I was listening to this album while pulling weeds, and it made the job a hell of a lot more enjoyable.
Alright, so there may be one or two songs that don't quite sound as good as the rest, but that's very little to gripe about on such a damn near perfect album as this. Which in turn, deserves a perfect score. I'd feel bad about giving this a 4.9/5, and thought about giving it a 1000, which would be criminal.
OVERALL: GET THIS ALBUM RIGHT NOW, ESPECIALLY IF YOU LIKE POWER THRASH, WITH UNPARALLELED MUSICIANSHIP. IT ALSO CONTAINS SOME DEATH METAL ELEMENTS. IT'S VERY HEAVY, AND MINDBLOWING. IF YOU DON'T HAVE IT, YOU REALLY NEED TO HEAR IT, AND GIVE IT A SHOT. THE GUITAR WORK ALONE, IS KILLER.
Score 5/5
Haarp - The Filth (2010)
- Well, here we have Haarp - The band who probably named themselves after that weather machine thing that the government wants to use to control us. It's in Alaska by the way, and isn't that where Palin lives? Hmm…The plot thickens.
Anyway, Haarp is a very good sludge band. They're recommended for fans of sludge metal, and should not disappoint. I thought that for me it was a little one sided, and that the songs went on for far too long in some instances. (It began to bore me after a while, since all the songs sounded about the same.)
Regardless of my thoughts, I still think that sludge fans who enjoy this style, and this type of music will love this record for many reasons which I cannot name myself. It's not a bad album, it's just an album which doesn't want to be any more than what it is. There's no differentiation in it, and that killed it for me. Yet, the production values are good while still keeping the feelings of a raw atmosphere.
I'm pretty sure they'll be playing live here soon - if they haven't already. Not really my thing, but I'm sure there's fans.
OVERALL: IF YOU LIKE SLUDGE, GET IT. IF YOU DON'T LIKE SLUDGE, THEN PASS IT. IT'S THAT SIMPLE.
Score: 3/5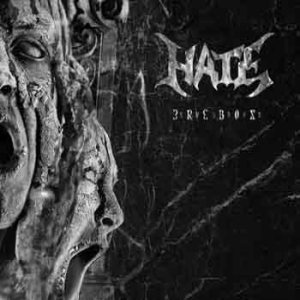 Hate - Erebos (2010)
- Well, since Behemoth is on hold until further notice, (I know Nergal / Adam can beat this thing!) death metal natives Hate decided to release what I'd like to think of as Behemoth tribute album.
Did they rip off the band's style just about completely? Yes, they did.
If you like Behemoth, will you like this album and not even notice a difference? Yes.
Does it still kick ass? Yes, a lot of ass, and it's pretty technical too. This isn't just a complete rip off. It's like the Behemoth album that hadn't gotten the chance to come out this year. Are the song titles and ideas also similar? Yes…let's see:
Genesis (The intro)
Lux Aeterna
Erebos
Trinity Moons
Hexagony
Luminous Horizon
Those are a few of the titles. Sounding very Behemoth, right? Yeah, I thought you'd say that. But seriously, there are some deviations from the Behemoth style here, and I've mentioned some of them. I still think you're going to like this album, and play it while you think of Adam/Nergal in the hospital, and in hopes that he can release another great album someday. I think most of us share those same hopes.
(My old drummer berated me with the new Behemoth album all of the time in his car, so it did get on my nerves after a while.)
Until that time though, this nice little offering will hold you. It's a little different, but the same style - so Behemoth fans will really like it. I also think that fans of any kind of death metal or technical death metal will like this album. It's a good one to unwrap under the tree. If you actually get metal albums under the tree. Being that I'm 25, the whole tree thing doesn't really excite me as much as it did when I was young for obvious reasons - but still. It'd be a great stocking stuffer for "metal families." (THEY DO EXIST!)
OVERALL: MUCH MORE TECHNICAL VERSION OF BEHEMOTH. THIS IS NOT A BAD THING! IF YOU'RE MISSING NERGAL AND THE BOYS, GO GRAB THIS ONE, YOU'LL LOVE IT. WORTH EVERY PENNY TO FANS OF THAT POLISH STYLE. WORTH A SPIN TO EVERYONE ELSE. DON'T LET THIS ONE GO UNNOTICED.
Score: 5/5 (It's actually a really great Polish death metal album.)
Impaled Nazarene - Road To The Octagon (2010)
- If this is just the road to the octagon, then where is the Octagon itself? Seriously, this album is only 24 minutes of music. This isn't an EP either, but should've been. It's a waste of money, unless you play it over and over, and over again.
Immediately, when I hear "Road To The Octagon" I'm thinking MMA. Although, I strongly doubt this album is about MMA, and is more about some dark satanic stuff. Whatever the case, it's pretty thrashy and very fast. This is the kind of thing that should've been free. Who in their right mind would pay for 24 minutes of music from an obscure band like Impaled Nazarene?
Alright, so maybe they're not that obscure - but still - this is a really weak attempt at my money, band. Come on now, I'm a musician myself. I would kick myself in the ass if I even thought about selling 24 minutes of music and calling it a full album.
Not only that, but these lyrics are almost cheesy. "Satan is Coming After You!" What in the hell? Is it the 80's again? That stuff was scary back when Slayer did it…for some people. By the way, every song sounds the same.
Alright, for what it's worth, this album is a good blackened thrash album. But that's about it. How many times are you gonna listen to this thing? Hell, I don't know ? But I'll bet you could listen to it 48 times in 24 hours. That's almost 60 if you played it all day long. I wonder if this is even a possible feat.
I challenge whoever buys this album to turn it on from the start, and keep it on repeat for 24 hours. How long can you stand it?
OVERALL: GOOD BLACKENED THRASH METAL WITH CORNY LYRICS. YOU CAN GET THROUGH THE ALBUM TWICE IN ONE HOUR, BUT DO YOU THINK YOU COULD PUT IT ON REPEAT FOR A FULL 24 HOURS? TALK ABOUT PRETENTIOUS, EVERY SONG SOUNDS THE FUCKING SAME.
Score 2/5 (Good blackened thrash, but too short, and too damned monotonous.)
Inquisition - Doctrines Of The Perpetual Mystical Macrocosm (2010)
- This Canadian black metal band has some great melodies, and good drum work. Some of you may not care for the vocalist at all, since he sounds like a frog (let's be entirely honest here) but I couldn't find one song that I didn't like from this band.
The band has a modern black metal sound, with progressive riffs, and some doom/ sludge here and there, somewhat satyricon-ning things a bit, but they also have a great deal of inspiration from Immortal. People really seem to like this album, despite it's vocals; which some people might actually like as well.
The bottom line on this one is that these guys are a new band, but certainly don't sound green. I expect to hear some greater things from these guys in the future, and I damned sure hope I do. This album is one of those albums that you don't really expect is going to sound as good as it actually does.
I will state that some of the songs are slower than one would like, and even sound somewhat sludgy and a bit doomy in some areas. If that's going to be a problem, you should skip this one, but even still - this is one of those albums that grabs you and pulls you in. You'll be wanting to play this one a good couple of times.
OVERALL: IMPRESSIVE CANADIAN BLACK METAL, WITH "DIFFERENT" VOCALS, SO MAY NOT BE FOR EVERYONE, BUT EVERYONE WHO LIKES BLACK METAL AND DOOM SHOULD TRY IT.
Score: 5/5
Jesu - Heartache & Dethroned (2010) - I'll be brutally honest here. I'm not the best reviewer for the band Jesu, because I usually use this band's music to get to sleep. I've always found it quite soothing, and easy to relax to. What I do know for certain, is that this album is a mix of two releases, one being "Heartache", which is an older release, and "Dethroned", which I believe is a brand new set of material from the band.
Heartache itself sounds rather old, with some very 80's drum hits, and a nice electronic feel. There is guitar on this release, but it is not overbearing. Obviously, atmospheres play a lot into this particular album, (and band for that matter) yet the music is a tad bit heavier in parts than on other albums in the band's catalog, almost reminding me of Godflesh in some areas - which wouldn't be all that surprising, since this album would in a way be the transitory record from Godflesh into Jesu, being that this is more than likely a remastered debut.
Since I have no earthly idea what the original Heartache sounded like, I'm going to go out on a whim, and say that this version is much finer, and well produced. What probably used to sound like it was recorded in the 80's, now sounds like it was heavily mastered, and still retains that old flare of "ancient electronic" music. The vocals kick in at about the 9:00 mark, and they sound great. The vocals have always been very soothing to me alone, and help me to go to sleep when I just can't. Even though this song is 20 minutes long, it honestly doesn't feel that long when you listen to it.
The album has a spacey vibe to it, which some would say is better during mind altered states. I've never tried astral projection during Jesu, and don't think it would particularly be effective unless I wasn't already seeing things on some sort of LSD trip. Of course, that would vary on the user and in this case, the listener. As for the whole of Heartache, the song produces some great melodies, and the trademark "repeating of a vocal line over and over in a hypnotic sense", makes both this song, and the original album still a great experience.
Ruined, which I'm not sure whether or not it is a part of Heartache or Dethroned - starts out with a piano, and is a tad longer than Heartache. The piano continues for a while, very soothing - and then it goes into electronic drone metal with vocals that don't sound as good as they should. Speaking of, and I mean no offense - but who is in this project anyway? Is it just one man, his guitar and his computer? The drums sound digital, and so do many of the effects. The only thing that sounds like a real instrument here is the guitar. Of course, I could be wrong, but I've used a great deal of digital hits on my albums. There's nothing wrong with it if it is just a man, his guitar, and a computer. I doubt I could've made the kind of albums I did with others, since not everyone shares your vision in a group.
Toward the end of Ruined, comes in a very heavy tone, with screaming vocals which remind me of Fear Factory's Burton C. Bell. Of course, that gets later thrown out the window for some more guitar atmospheres. The track ends with a little bit of folky acoustics and a high pitched sound which ends out the song.
Dethroned begins that same Jesu style as their other albums, and it features the same sort of guitar atmospherics and light vocals. I believe it's a welcome addition to the rest of their works. This one however sounds like a full band, unlike the previous two tracks. The drum hits sound real this time, as well.
The rest of the album sounds just like all of their previous albums. There's not much else to say here, except that if you are a Jesu fan, you will probably be buying this, even if I heated it, but I thought it was a good release. Not amazing, but great.
OVERALL: IT'S JESU. IF YOU DON'T KNOW WHO THEY ARE, CHECK ONE RELEASE OUT. THIS ONE IS AS GOOD AS ANY OTHER. IF IT AIN'T BROKE…
Score: 4/5
Macabre - Grim Scary Tales (2011)
- Um…Yeah this is a 2011 advance that hasn't quite come out yet, but you won't buy it anyway. Trust me, you won't. Apparently, this is a new band that likes to write songs about grim legends and such. If you don't know much history, they'll teach you, since most of it is like a story being sung to you. (ala Iron Maiden) The band sounds good musically, lots of good guitar work and great fucking solos.
I honestly don't know what to classify this as, but it features some heavy stuff with light vocals. If you like it, get it - but not too many people are going to like this, or think it's a fucking joke.
It's not that bad, but during the chorus of "The Black Knight", my mind wound up replacing it with something about Superman that sounded like a 1950's Spiderman theme. Weird, I know. "Here he comes, the superman - fighting evil with his own hand, no one can stop the superman, the most powerful of any man…"
Alright, so it thrashes, and the guy screams a bit, though I can hear people laughing at these vocals now, since he sounds like an evil mouse. Remember what I said about that Virgin Steele being this year's "Best Worst Metal Album?", well… it ain't even next year yet, and I already have to give the award to Macabre to making the best worst album I've heard next year. If that made any sense.
Come to think of it, this guy's screaming sounds like Brian Posehn when he's doing the geek voice in his stand-up. It's quite similar.
Oh, there's a Venom cover of "Countess Bathory". Stick to the original for God's sake.
I honestly don't know if I can make it through this album.
OVERALL: HAHAHAHAHA!
Score: Whatever you think is best.
Motorhead - The World Is Yours (2011)
- First and foremost, this is still Motorhead. It's the same thrash and rock mix they've done for years now. Except with such a nice sounding title, which is actually sarcastic, if you listen to the album, which is full of grim lyrics about how the world's gone downhill. (So I've heard…)
One of the most grim I've ever heard Lemmy, is on the first song I played from the album, because I knew it was bound to be the most sarcastic. "Brotherhood Of Men", actually reminds me of Satyricon's current style of black metal. Lemmy's trademark vocal style is even different on this one. I've never heard the man sounding this upset, and frustrated on a Motorhead album. This coming from the man who brought us such sleazy tracks like "Eat The Rich", and "Orgasmatron", for example. Yet, damn near all of the songs here are full of dreary lyrics, with the trademark Motorhead sound.
Let me tell you something ladies and gentlemen - and I want you to take it to heart. Metal music has always been the voice of reason in troubling times, and from the look of things, we're in very troubling times. There was the Bush era, and now the universe only knows what's next for the almost seven million carbon based life forms on this planet. It doesn't look good though. So enjoy it while you can, I guess.
The bottom line is, that even a sexually charged thrash band like Motorhead has started to think about our world as a whole, and that ,means something to me. The album is killer, and it's everything you want to hear from them. With a whole lot of sarcasm, and a great deal of truth too. It's a serious one, that's for sure.
Of course, there's always "Rock N Roll Music", which is just a really good rock anthem to balance things out. As well as "Outlaw" which would make a good single for this album, and It's catchy as hell. (Is it based on the Dark Tower? I heard Lemmy mention "the man in black" ?) There's also another one called "I Know What You Need", which is kind of grim, but not about the end of the world. It's about murder. Lastly, there's an anti-love song, called "Bye Bye Bitch Bye Bye", which is the album's closer.
But, out of all 10 songs on the record - most of them are dreary as hell, but you'd never know it if you didn't listen to the lyrics, sans "Brotherhood Of Men", which is sung in a very dark style that I have never heard from Lemmy before. Motorhead fans must hear this one to believe it.
OVERALL: SOLID MOTORHEAD SOUND, WITH VERY DREARY LYRICS (AND A VERY DREARY SONG "BROTHERHOOD OF MAN" REMINDED ME OF BLACK METAL, NO JOKE) SERIOUSLY, SOME OF THIS IS DEPRESSING, BUT SOUNDS STILL VERY ROCK AND METAL-ISH. THINK OF IT AS HAPPY THRASH MUSIC, WITH VERY GRIM LYRICS.
Score: 5/5
Phobia - Unrelenting EP (2010)
- Whatever in the hell this is, it's not worth listening to. Not only is it short, but it's so badly put together, that any band could've made this EP in a day. If you gave my old band 24 hours, we could've easily made this.
I find this albums incessant screaming and growling over simple riffs, to be an insult to my intelligence. I never got grind core, sans a few bands - and this band seems to be one of those scream a bunch of incoherent, and not understandable nonsense for about -well, I've deleted the EP, so I'm not sure of the exact time of it, although I do know that it is 17 songs and I got through it in the amount of time it takes to shower, which is what I was doing while I was listening to this album.
That being said, there are some people that actually liked this. To them I say, give me fifteen minutes, and I know I can make something just as good, maybe better. You like screaming and growling on basic riffs with no fucking point, and lyrics that you just don't even care to understand after a while?
Grow up.
OVERALL: THIS IS THE KIND OF CRAP THE KIDS THINK IS GOOD THESE DAYS. SUICIDE SILENCE AND THE LIKE. I WOULDN'T SEE THOSE GUYS IF YOU PAID ME A MILLION DOLLARS AND GAVE ME MY OWN FUCKING HAREM OF WHORES FROM AROUND THE WORLD.
I'M SERIOUS ON THIS TOO. I HATE, HATE, HATE SUICIDE SILENCE AND THE LIKE. I JUST DON'T GET IT. GIVE THE GUY A CHILL PILL OR SOMETHING. YOU KNOW THEIR VOCALIST ACTUALLY HAS MENTAL ISSUES ALSO, RIGHT? GUESS THAT MAKES THINGS EVEN MORE ENTERTAINING FOR DISENFRANCHISED YOUTH.
AS FAR AS PHOBIA IS CONCERNED, I'VE DEVELOPED A PHOBIA OF THEM. PIECE OF TRASH. GOOSE EGGS ON THIS ONE. NO REDEEMING QUALITY ON THIS WHATSOEVER.
Score: 0/5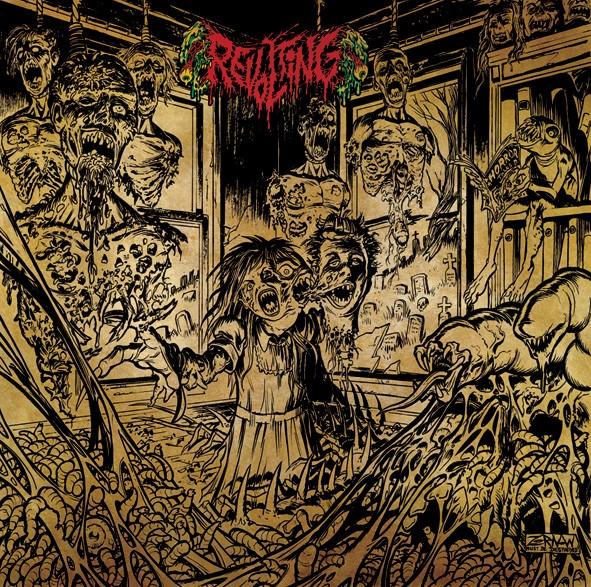 Revolting - The Terror Threshold (2010)
- I'm going to tell the lot of you straight out. I absolutely detested the last bloodbath record. It just began to sound like some of the less inspired death metal that any band thinks they can put out nowadays. It's bands like those, that have deterred me from death metal. "Nightmares Made Flesh" is probably one of my top favorite death metal albums of all time. So, you can already assume that I was a big fan of Swedish death metal, and was horribly disappointed in 2008.
Fast forward to now, and it was about 2 or 3 in the morning - I'm playing Shank on the PC (Which is excruciatingly difficult at times), and I'm looking for something to match the bloodbath atmosphere of the game. I start up this album from Revolting, and I can't believe what I'm hearing.
First of all, Revolting sounds like classic death metal - classic Swedish death metal to be more precise, so you can figure what the riffs and melodies sound like. There are a great deal of songs on here (17), and an instrumental that I have considered putting some vocals on called "Rise Of The Revolter", which sounds a like a heavier version of the "Halloween Theme" and is now by far, my favorite rendition of it.
As for the rest of the album, the vocalist reminds me of Akerfeldt quite a fucking bit. It's like the bloodbath album we should've fucking got in 2008. The riffs are great, the solos are good, and the band just kills in a way that I'd never thought I'd hear from this kind of metal again. I'll put it to you this way - 17 songs and not a filler to be found. Play this one while you're killing shit in a game, or driving down the road.
I'd have to recommend this to fans of Swedish melodic death metal everywhere, because it's a great slab of music that sets out to accomplish one goal, and succeeds at it greatly.
OVERALL: GREAT SWEDISH DEATH METAL, I RECOMMEND THIS TO ANYONE, EXCEPT FOR PEOPLE THAT DON'T LIKE DEATH METAL. SOUNDS LIKE THE BLOODBATH WE SHOULD'VE GOTTEN 2 YEARS AGO.
Score: 5/5
Satanochio - From Beyond (2008)
- As weird as this band's name is, you would expect a weird album too. Well, they certainly don't disappoint by giving us a black metal baskin robbins mix of all sorts of different things. Every song here sounds different, with some being thrash, others being dreary old tunes, and others being psychedelic riff plays. I think this was the kind of album, where anything went - and that's a good thing.
Hell, it's not for everyone, but it's worth checking out despite all that. Some of the songs are hit and some are miss, but the hits are quite good on this album, and the band has a good bit of musical skill. There are some good solos and guitar work within, and everything sounds decent enough to consider this one a "rare gem" so to speak. It doesn't shine as brightly as some other "gems", but it's still worth checking out, at least.
OVERALL: BLACK METAL BASKIN ROBBINS, EVERY TRACK IS DIFFERENT, HITS AND MISSES, GOOD SKILL AND SUCH. CHECK IT OUT, WHAT HAVE YOU GOT TO LOSE? IT'S ONLY 40 MINUTES LONG.
Score: 4/5
Seamount - Sacrifice (2010)
- This sounds a lot like The Sword with Ozzy on vocals. So, you can expect just that from every song. Some of the songs are more melancholy than others, and some of the songs on here can get monotonous. There are some really great ones though, and you'll notice them - "The Mountains Will Know My Name", and "Getting Through" are some examples.
This is a great musical album, and many people have been talking it up. I'm not sure how popular this band is, but they have a rather catchy quality that might appeal to a great deal of people, especially fans of bands like The Sword.
I think that everyone here should at least try this one out. Well worth a spin, and you'll know why after you've heard it once, or find that you can't stop listening to "The Mountains Will Know My Name."
A lot of potential here, and I hope that future releases will be just as good. Check it out.
OVERALL: STONER ROCK/DOOM FOR FANS OF THE SWORD. THE SINGER SOUNDS LIKE OZZY A BIT, AND IT KEEPS THAT VIBE THROUGHOUT. CHECK IT OUT, GOOD STUFF.
Score: 4/5
Sodom - The Art Of Killing Poetry (2010)
- This disc is only offered in Metal Hammer magazine, which isn't available in the states, unless you import. I have an issue of it, and it's pretty good, but this special edition disc can only be found within the mag's latest issue. Trust me, you'd probably rather download this, unless you live close to a place that sells it. (not where I'm at, since they got rid of the Waldenbooks here) So I'm going to put that link up for you. I don't normally, and won't normally do this - but seeing as you have to import an English Metal Magazine for this, here's the link to this rather small 39:00, 9 track album:
http://www.mediafire.com/?gau3yckqx4wc0ia
or
http://www.mediafire.com/?saluvxyxcl5p8d8
Now, nobody start bitching about this, if you want to support them, buy "In War And Pieces 2 Disc Set (2010)". This is just promo shit for a magazine.
The Tracklist:
1. In War and Pieces
2. The Art Of Killing Poetry
3. Feigned Death Throes
4. Die Stumme Ursel
5. Stalinorgel
6. Mantelmann
7. Ausgebombt (German Version With Bela B.)
8. Wachtturm
9. Verrecke
10. Bombenhagel (Live In Wacken 2007)
A couple of the songs here are already on the band's new album, so you already know what they sound like. The rest of the tracks are in German. Of course, you didn't need me to tell you that. Most of the German tracks sound really sort of punk, but they sound a lot better vocally than the entire new album does. Perhaps German lyrics just sound better in metal.
Die Stumme Ursel has a part where you hear somebody snorting coke or something in a bathroom. It's just thrown in the middle of the song and kind of ruins it.
Stalinorgel is just a punk track with good guitar work and nice solos.
Mantelmann sounds like a mess really. It sounds like a demo or something that wasn't quite finished. The guitar solo is good though.
The German version of Ausgebombt just sounds like a German punk track with a good solo also.
Wachtturm is just another German punk track with another good solo. Beginning to see another pattern here? A bunch of mediocre German punk tracks with good solos? Yep. By the way, it's edited, and it's German - so I have no idea what words were taken out.
Verrecke - The final actual song here is another punk track, this one raw, and kind of boring. It's a good thing the band decided not to sell this, no one would've bought it. What a bunch of shit.
The closing track is a live version of "Bombenhagel", but the live CD that comes with the real album offers you a full great concert from these guys. Get that instead.
Honestly, just click the link and download this mess. What a waste of a plastic disc. The only reason you might want this is for collector's reasons, and it might appreciate in value, but I doubt it. It's probably not that rare.
OVERALL: JUST DOWNLOAD THIS, IT'S NOT REALLY GOING TO HURT THEM, BUT NOT BUYING THE NEW ALBUM MIGHT. THIS AFTER ALL, IS JUST A PROMO THINGY FOR A MAGAZINE. IF YOU WANT TO BUY THE MAGAZINE, YOU CAN - BUT YOU CAN PAY THOSE IMPORT COSTS, NOT ME.
Score 2/5 (That's being lenient.)
Tryptikon - Shatter EP (2010)
- Let's be honest. This is a mere cash grab and nothing more. It contains 3 new songs, and two live tracks.
1. Shatter - This song (which also has a good video) changes things a bit for the band with the addition of female vocals. I have no idea who she is, so don't ask. It also features a pretty decent solo, and is probably the standout track on this EP.
2. I Am The Twilight - Obviously not about love hungry vampires, this run of the mill song which sounds just like several tracks on the band's earlier released LP, (Little early for an EP, I think) features nothing that you haven't heard before.
3. Crucifixus - This drone experiment kind of fails for me, because it's nothing special at all. It's short and weak. Just like this EP.
4. Circle Of The Tyrants (Live) - The song sounds like it's being played at a slower doomier pace. Other than that, good production quality.
5. Dethroned Emperor (Live) - The song is also slow, and has good quality. Nothing more can really be said.
The bottom line here, is that this is just a waste of money. It's 25 mediocre minutes of utter crap, to tell you the truth - and I cannot recommend it. This was "bonus disc material" and that's how it should've been released to begin with.
OVERALL: EVEN IF YOU REALLY LIKE CELTIC FROST, DO NOT BUY THIS ALBUM. I CANNOT RECOMMEND THIS TO ANYONE.
Score: 1/5
Worms Of Sabnock - Dark Harmonies (2006)
- A rather old release, but this explains the gap in Mead's 2006 - 2010 album cycle. To tell you the honest fucking truth, this is one of the best black metal albums that I've ever heard. Yes, the quality is raw - and this is much more along the terms of black metal than Meads ever were, but there are some great melodies and some great folk sections, which make this album "folk black metal" or, the slightly more comical, "black folk metal". There's actually some prog work in it, and some acoustics in addition to the folky elements. I'm wanting to say it's Emperor "Prometheus" era's darker, heavier cousin.
I'm telling you the truth though, this is great raw beautiful shit, and even though it's short at 43 minutes, it's worth tracking down. I'll also add that the clean vocals are absolutely great. I mean, as good as Vortex great. Who is this guy? I'd like him to do clean vocals for my band. No, I'm serious. These are really great vocal harmonies. Also, a woman joins in on a few vocal parts of this album. I hope that didn't kill it for you.
Better listened to on your headphones than anything else, due to the raw quality of this release - you'll enjoy it myriads more if the sound is coming right into your ears. As I've said, the guitar work is great - especially on standout track (which you should hear if you hear nothing else) "In The Shadow Of A Dark Genius."
You remember when people would say; "Oh, you gotta hear "Godhead's Lament!"
Well, this one's like that. You gotta hear "In The Shadow Of A Dark Genius!"
For those of you who don't like black metal that sounds like black metal, this does sound still a lot like raw black metal with some extra frills to keep things entertaining. I enjoyed it rather heavily, and will enjoy it again rather heavily. Again, this one was hard to even find on the internet, so I don't even know if you can really get it without paying a fortune, seeing as it's got to be something of a rarity. It's probably the only album they'll make.
OVERALL: IMPECCABLE (SOMEWHAT FOLKY AND SLIGHTLY RAW) MELODIC BLACK METAL. HAS A LOT OF FRILLS AND GREAT MELODIES, AS WELL AS GREAT CLEAN VOCALS. THERE'S NOTHING WRONG WITH THAT, I HOPE. GO LISTEN TO "IN THE SHADOW OF A DARK GENIUS." TELL ME WHAT YOU THINK OF IT.
6/5 (A RARE GEM.)
Catacombs - In The Depths Of R'Yleh (2006)
- This album was a task for me to get through. At times it began to seem longer than it was. Catacombs is a funeral doom band that really knows how to create very dark atmospheres, and they seem to really like what they do, being that the songs are so god-awful long, and aren't anything you can really "enjoy", unless you're playing some sort of game where you need a dark atmosphere.
As for vocals, I swear they must have threw the tablets into the water, and got Cthulu himself to roar on this album. Yes, that's what it sounds like. There are no discernible vocals, and no discernible lyrics. I've tried to hear anything that might sound like a word, but it literally sounds like they got Cthulu himself to roar throughout each track on the album. If there are really lyrics to this album, I'd have to find them pointless, because no one could understand them!
I'm a big fan of the Lovecraftian mythos, but I literally felt like (and this is going to kill it for you) I was listening to the big guy roaring in delight as he was sexually penetrated by each member of this band. It literally sounded like "Are they fucking Cthulu here?!"
Don't get me wrong, the melodies are very grim, and very great - but the amount of senseless roaring in it, as if it's an hour long sex session with Cthulu is just a bit much. Being an octopod of some sort, I'd imagine he'd have a good many holes…but this is just fucking ridiculous. There should have been no vocals here, and it would've made a good album. In fact, I think I might be able to take the vocals out myself with a program, just to see if it would sound better as an instrumental piece.
OVERALL: GREAT MELODIES, AND VERY GRIM FEELINGS MAKE YOU THINK YOU'RE THERE WITH THE DREAD LORD HIMSELF…EXCEPT THE AMOUNT OF SENSELESS "ROARING" IN THE ALBUM MAKES ME THINK I'M ALSO THERE WITH HIM AT A VERY INOPPORTUNE TIME. CLOSE THE DOORS NEXT TIME, CTHULU?
Score: 3.5/5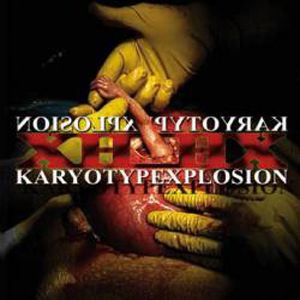 XhohX - Karyotypexplosion
- Only the real tech heads need to get this one. It's really technical experimental math metal in a foreign language. To me, this sounds like the musical equivalent of a Jackson Pollick painting. Some people will really like it, but I can't see how. There's really not much for me to say about this one, because it left me confused. I wonder what you'd have to be on to get into this?
I wonder what they were on when they wrote this?
OVERALL: IF YOU LIKE VERY, VERY, VERY EXPERIMENTAL METAL, WHICH IS SO TECHINCAL THAT IT MAKES MESHUGGAH SOUND LIKE METALLICA, THEN LISTEN TO THIS. IT'S VERY FUCKING WEIRD, AND MADE LITTLE SENSE TO ME. I HATED IT.
Score 1.5/5 (WTF?)