Cruentus - In Myself (1996) -
The year 1996 came and passed, and while many of us know it to be the year that black metal came to be, it is also the year that several great metal albums were released back before capitalism meant so much, and before corporations hadn't had such a tight grip on us with their trends. It was the year before Slipknot, Limp Bizkit, and Korn came along to stab most of the people who had been listening to metal since the days of slayer, right in the fucking face.
So, upon downloading this old classic, I hadn't expected the greatness of it. Sure, it's not as well produced as some albums are today, but that doesn't mean that this pre-Mercenary mix of death metal, power metal, and thrash metal isn't something worth hearing these days. If anything, it could be taken as a reminder of what we have lost in originality.
When Cruentus made this type of music back in 1996, they weren't trying to be anybody, they weren't obsessed with trends, or styles. They just wanted to make metal in the most interesting way that they knew how.
You may even notice that the intro to this album contains a saxophone solo. This was something completely unheard of back in those days, and it's long before Solefald, Ihsahn, Ulver, and other such bands even though about the sax as an instrument that would work with metal music.
10 tracks and 64 minutes later, you'll be glad that you picked up this forgotten piece of history. There were so may well known bands during this time, that forgotten albums like this have gone unnoticed - and thanks to the internet, we once again have the ability to hear them once again.
This album is a progressive death metal masterpiece, which hearkens back to Death, who was actually due to release their final album at this point in time. If you have not heard it, you need to. Just trust me on this one. You're going to say the same thing I said, "Fuck that's good. Why haven't I heard of this shit before?"
Some could say that this band is a Death clone, and I could agree there in some aspects, but still - have you heard anything else like this lately? This could be like that missing Death album that you never got to hear, but always wanted to.
OVERALL: MANDATORY LISTENING FOR ALL METALHEADS. DON'T FORGET WHERE YOU CAME FROM. SOME MAY SAY THAT THIS IS A DEATH CLONE, BUT IT IS SO MUCH MORE THAN THAT. SUCH A CLASSIC PIECE OF METAL SHOULD NOT GO SHAMEFULLY UNHEARD.
Score: 10/5 (A Priceless Classic. Be Thankful that You Can Still Hear It, Because It's Probably No Longer In Print. )
Cruentus - Event Horizon (2003) -
Somewhere along the span of time, Cruentus must have gotten a hold of a black metal album, and some industrial stuff. This is what they regurgitated out. As you would expect, it's a monumental fucking classic.
The album starts out with an small 38 seconds of industrial noise, but goes into blaring black metal with good production, some electronic influence, symphonics, death metal growls in places, and anything else they wanted to throw in.
I feel sort of confused, because 1996 - this? I need to listen to how things became this way, because In Myself and this album, are like two people who shouldn't marry. People who have not heard this album, have not heard the full potential of symphonic black metal. Everything else just sort of pales compared to this masterpiece.
I would be an idiot not to recommend this. It should've been a goddamned game changer, but no one had gotten the chance to hear it. There are so many good things about this album, and this band, so many layers of music, and so much originality in the way that everything mixes together better than anyone else that I've heard…and I don't think I'll ever hear better. If I do, I may not be able to comprehend it.
OVERALL: YET AGAIN, ANOTHER MANDATORY CLASSIC. IF YOU STILL THINK THAT THESE NEW SYMPH. BLACK METAL BANDS ARE SOMETHING, OR THAT INDUSTRIAL BLACK METAL BANDS GET NO BETTER THAN DHG, YOU'D BETTER FUCKING LISTEN TO THIS.
Score: 10/5 (Priceless Metal, That You Might Still Be Able To Purchase.)
Cacharoth- From The Cavern Come (2008) -
Slightly raw, one man band Cacharoth, is an impressive feat in itself. I'm only going to assume that this is a one man band, because there's only one man standing in the spot where the whole band should be.
I know how it is being a one man band, but having to either play or program all those instruments is still one hell of a task, plus the progressive blackened death metal that he produces is something else, indeed. What you're going to hear are great melodic riffs, good drumming, even though it sounds mechanical. (Hey, what do you expect? It's one guy. It's not easy as one might think to do it all yourself!)
Yes, the album is short - but the album consists of five tracks each one over the five minute mark, and the last one is over 10 minutes. Plus, the guy is really young. I mean, really young. He might not even be 20 yet! What in the hell? This sort of thing makes me want to put a big dunce hat on my head and walk around for a week with it. I've heard of a kid that can beat my ass in guitar hero, but now we've got a kid that can do everything it usually takes four fucking people to do.
The guy's also got to be some sort of computer whiz to make this shit sound much better than me and FL Studio can do. I mean, this sounds really well in the production area for the most part. Plus, the guy makes me want to shoot myself in the face like Dead, when I hear the fucking seamless transition this guy uses to switch from black to death and death to black, and then sing, and…This isn't bloody fucking possible.
There's no way on earth that one man, well not even a man - one young buck, made this whole fucking album. It makes me want to stick my head in the toilet after I've just shat, and flush it a few times. You ever heard the phrase, there's always someone who's better?
Well, this kid is that phrase embodied. You know what? I'm not even going to tell you how great this album is, because it's not humanly possible. It shouldn't be possible. I know that Wintersun was a one man band, but that man was much older and more experienced than this kid should be. Should be, would have to be the key words, there.
Bottom line - it's fucking impossible, so you should hear it. I bet this kid goes around during high school in Austria, or whatever cold frosty land he's from, and with the most arrogant attitude, he goes up to some of these bands and says "You guys sounded good, but I made this in like a week." Then they immediately go and hang themselves, in Viking tradition.
OVERALL: WHAT THE FUCK?! THIS IS GOING TO MAKE ABOUT A THOUSAND BANDS FEEL LIKE SHIT. HOW CAN ONE KID DO THIS? HOW IN THE LIVING HELL IS IT POSSIBLE? HE'S GOT TO HAVE A GODDAMNED STUDIO IN HIS HOUSE OR SOMETHING. THIS KID'S A METAL PRODIGY!
IT'S A HARD LESSON IN HUMILITY, IF YOU WISH TO TAKE IT.
Score: 5/5 (A one man band like this - fuck! The world really is about to end, isn't it?)
Khors - Mysticism (2008)
- The term "beautiful black metal" comes to mind, when I talk about this one. It's not very long of an album, only about 38:00 to be exact - but it doesn't take a lot of time to grow on you. Or maybe it, does. It just depends on the kind of mood that you are in. For those looking for heavy and brutal black metal, you won't find it here. There are only two songs which I would consider heavy, and in the spectrum of things they make this album fall short - because it seems as if they weren't really needed.
Some of the songs feature whispered vocals, or clean vocals, and most of the feature beautiful symphonics, and even some violins. There is one instrumental, "Pagan Scars" which is nothing more than a sorrowful piece of music I guess in which one is supposed to mourn for something. I am not sure what, exactly.
Nonetheless, this release is a nice little addition to your collection in the fact that it isn't so damned heavy as most releases, and is rather very melodic, and very beautiful.
OVERALL: A MELODIC AND BEAUTIFUL BLACK METAL ALBUM, HARDLY HEAVY, AND A BIT SORROWFUL. NOT FOR EVERYONE.
Score: 4/5
Kekal - Audible Minority (2008) -
Here we have the Christian Ulver, something I hadn't expected to hear, but a very mid-era Ulver influenced band, nonetheless. The only other track I've heard from this (I'm guessing Japanese Christian band? That's what it sounds like.) band was on "A Brutal Christmas: The Year In Chaos" which was a 2001 collection of Christian Christmas metal. (which I didn't know at the time, but figured I would listen to nonetheless. It was quite comical in areas, especially the track from these fellows.)
After listening to that track, and many others on there from bands that I thought would probably go nowhere else, I see this album posted, and it being classified as experimental metal. The curious man that I am, I decided to check it out, and it's much different and a little better than the track I heard a few years ago.
First of all, this is barely metal, and more experimental electronic music with metal tinges. That being said, there's still some metal in it, just not as much as I'd hoped. The vocals can get on my nerves, since few Japanese men can actually sing well, and the women who don't use that cutesy J-Pop vocal, (I have a Jap. metal tribute to Detroit Metal City - It's J-Pop with metal influence, some of the tracks being pretty good.) are few and far between (I'll cite "The Real Folk Blues" from "The Seatbelts".)
I didn't hear much about Jesus on this album, but to tell you the truth, I couldn't understand too much of anything. The emotion was there, but it sounded very J-Pop Ulver, which might make some of you cringe, and shit yourselves. That release date is right however, this was indeed released in the year 2008, and is still quite a new album. This is also around the same time that Dethklok was popular with the mainstream metal heads, and that Detroit Metal City was popular in Japan.
For the most part, it can be test of patience. There is so much experimentation on this album, that it is more of an experiment than anything else. The Japanese love to experiment, (and I will be reviewing Japanese experimental black metallers Gonin-Ish, in a later review set) and here it is just like one would expect.
Personally, this shouldn't have been in English. Call me whatever you like, but when Jap songs get translated, they sound awful, nine times out of ten.
Regardless, Kekal's experimentation is only going to be acceptable to those who aren't looking for a heavy album. It's metal, but only in a sense. On that note, I've been ripping Anime to my hard drive for the past few hours now. J
OVERALL: JAPANESE JESUS METAL (IN A SENSE) AND LOTS OF WEIRDNESS WITHIN. MAKES ME THINK OF A J-POP ULVER. IF YOU THINK YOU CAN HANDLE IT, TRY IT. IT'S FAIRLY DECENT.
THREE KEKAL ALBUMS ARE FREE DOWNLOADS FROM THE BAND. JUST CLICK HERE:
http://www.kekal.org/freedownloads.php
Score: 3.5/5
Sol Asunder - Mechanize (2009) -
One year before Fear Factory thought it was a good title, Sol Asunder released their "Mechanize" album, which was a monster of an album, clocking in at 73:00 of technical death and melody that just isn't done these days. So many bands get caught up in the technicality of it, that they forget about everything else. It becomes more of an endurance test, than an actual performance.
As for Sol Asunder however, the major difference is that much more melody, and some breaks are being thrown in, so that your blood pressure doesn't skyrocket. There are two vocalists featured in the band, and one of the sounds just like the Meshuggah front man. The other sounds a little more deathcore, but I won't hold that against him. Although, it does place the core label more tightly on this metal act, even though they break that label with a few more interesting than most core bands are capable of these days.
The melodies are what separate this band from so many others out there, and they do a great job in defining their sound. Sometimes a robot vocal is used, and other times there's a nice solo. Fusing two genres together like this seems like madness at first - mixing something so sporadic and insane with something a little less compromising and much smoother - but it works well for them, and this being their 3rd album, they've certainly developed into something noteworthy.
The only real problem that I have with this future Meshuggah, is that they still sound just a little green in some areas. Of course, those areas are too few to complain about, but when you consider the mis-match of genres here, it certainly takes a great deal of effort to produce something of this nature. I would find it rather tough to be both technical and melodic at the same time, to be both all over the place, and then subtle. That's not to say that this album is light, because it's definitely a death metal album.
Give these guys a listen. There's some potential to be found here, in this mix of both a spa, and an insane asylum.
OVERALL: A MIX OF THE TECHNICAL, AND THE NOT SO TECHNICAL. MESHUGGAH, LOOK OUT. DEFINITELY A BAND TO WATCH IN THE NEXT FEW YEARS. THIS IS THEIR THIRD RELEASE, SO THEY'RE NOT NEW BY ANY MEANS. MELODY AND CHAOS MEET AT THE BRIDGE THAT IS SOL ASUNDER.
Score 4.5/5
Tombstones - II (2010) -
You know, after hearing Seamount - this was just as good. It wasn't better, and it wasn't worse. If you liked my Seamount recommend, then check this one out. Sure there are differences here and there, but the music is generally the same stoner metal.
It's not incredible, but it's probably good with a joint or two, I'd imagine. Maybe drink a beer a listen to it. One of those sort of things. It's a chill out record. There's nothing more stoner than Tombstones. I'm wondering if the name was a pun.
Anyway, not a whole big deal to say here. This was a solid stoner rock/metal album, which I thought was just as good as any other stoner rock/metal album. Sure, there's better albums out there, but this one's still worth listening to.
OVERALL: SOLID STONER METAL. NOTHING AMAZING, BUT NOTHING TO REALLY COMPLAIN ABOUT. SOUNDS JUST LIKE MANY OTHER STONER METAL ALBUMS OUT THERE.
Score: 4/5 (Good.)
Elitaria - New Galaxies Catalog 666 (NGC 666) (2010) -
Unfortunately, here we have yet another black metal band trying to add industrial elements, and failing miserably. It's not that bad, it's just very mediocre. The idea works in some ways, but this sounds less like industrial black metal and more like plain old black metal with very few industrial touches. It's difficult to call your band "industrial black metal", when there's about enough industrial in this album as there is in the new 1349.
Is it still worth listening to? Obviously these two guys put a great deal of hard work into making this album, so it's got to be at least halfway decent, right?
Well, it's halfway decent. There's some good songs near the end, the intro is interesting enough, and the cover of Ministry's "Stigmata", is passable. The quality of the album is also better than you might expect.
It's worth a listen anyway, and some people might really enjoy it. I however, found it quite repetitive. It often felt like a 1996 black metal basic, with half assed industrial influence. Some of the chorus sections were good though, since we all know that black metal should most excel in it's choruses, right?
Alright, seriously - it's not the best thing you'll hear this year. But, there were worse. I'm not really selling this one well, am I?
Good. Remember that I'm a reviewer, not a marketer.
OVERALL: BASIC BLACK METAL WITH A LITTLE INDUSTRIAL HERE AND THERE, MAYBE SOME ROBOT VOCALS…WANT REAL INDUSTRIAL BM? TRY CRUENTUS. MONUMENTOUSLY BETTER THAN THIS. WONDERING WHAT ELSE COULD COMPETE WITH THAT ONE! MINISTRY COVER ON THE ALBUM DOES NOT HELP IT MUCH.
Score 3/5 (Definitely BM. Whatever those two letters represent to you, will work either way.)
Exsickator - Beyond This World (2010) -
These gentlemen are incredible. Just read that statement a few more times, and you'll get the feeling I felt when listening to a release that I thought was not only interesting, but epic as well. Exsickator, which I hope gains some popularity, because I think they deserve some recognition for this rare gem - are a progressive melodic symphonic black /death metal band.
Dimmu did great symphonics for years, but this sounds like evolution to me. Dimmu were heavy, but not heavy enough. Also, as far as prog goes, their new album was a disaster. I'd be ready to hand the torch to Exsickator for sure. I don't know where these guys came from, but I know that they have the full capability to headline shows with the best of them.
This is one of the most refreshing albums I've heard in a good while. It has so many layers, and I like that. The same goddamn riffs are not being played over and over, and if you think that doesn't get tiring to hear, then try listening to as many albums as I do when I do these reviews. Some of these bands just don't realize that riffs can even be transitioned.
There's so much ground covered on this Exsickator, I'd have to recommend it to goddamned everyone. 7 songs make up this 51 minute release, and it doesn't get boring to me. There's great riffs, good symphonics (notice I didn't say great, but with an orchestra these guys could really do something.)
I said earlier that Carach Angren was the one to one up Dimmu, and now I have to take that comment back, because I'd rather see these gentlemen than Shagrath and the guys, personally. While I'm not sure if we'll hear more from this band, I sure as hell hope this isn't some kind of fluke. They mix death metal and black metal together so seamlessly with the non metal instruments, and the piano work is great, as well as the violins, and whatever else was used on this album.
Many albums out there I can tell you about, but I'd really rather that you get this one, and hear it for yourself. I'd like to have a personal copy of the thing for no more than to support good music. This to me, is like a scrumptious fucking black metal feast. In all honesty, I could go on for about five or six more paragraphs, talking about just how good this release is, and how much potential Exsickator have as a band.
Of course, I'll spare you that needless praise and just say that I will be keeping my eye on this band, and if this can be topped, my head may explode in wonder.
OVERALL: MY MIND HAS BEEN BLOWN. I AM LISTENING TO THIS ALBUM AGAIN. TAKE NOTE OF THAT, IT DOES NOT HAPPEN OFTEN. IF YOU HAVE EARS, AND THEY ARE EARS FOR METAL…BY ALL MEANS, GO LISTEN TO THIS ALBUM.
Score: 10/5
Grave Desecrator - Insult (2010) -
This is a solid mix of death metal and Slayer-esque thrash. From that sentence, you should already know what to expect. The formula works far better than bands like Demiricious, who bore me to tears with this style.
However, there is more death metal to this album which makes it more listenable than some knock-off band. The quality is of the album is fair, but the solos remind me far too much of Kerry King, so there's no surprise that the lead guitarist is a fan of King's work. This is my only real complaint, because it makes the album seem just a tad too much like Slayer worship, and less like an "Original Attempt".
Nonetheless, Insult is a swell album, but may be a bit too generic in some areas for some. It sounds a little too classic sometimes, and even though it's a good and deathy thrasher, I can also name about a thousand other good albums out there that might leave this one in the dust.
OVERALL: SOLID DEATH THRASH, LOTS OF SLAYER AND KERRY KING INFLUENCE. FACE IT, IF THESE GUYS DON'T DO SOMETHING MORE THAN THIS, THEY'LL NEVER GO ANYWHERE. I CAN NAME ABOUT A THOUSAND BANDS THAT DO THIS STUFF.
Score: 3.5/5
Kosmophobia - Kosmophobia EP (2010) -
A very short, but good introduction to this band, who has one of the most interesting band logos I've seen so far. It's been a while since I've looked at a band's logo, and said "Hey, that's actually a pretty cool design."
Now for the music. These guys are basically technical death metal, with a good bit of melody and a very "Spacial" feel. It sounds like they're playing in space, and that's not a bad thing. No, they are not an Obscura rip-off actually; and that's the first thing I thought when I listened to their short, but sweet album.
What you're going to get is nothing really mind blowing, but it's a refreshing sound for tech death, and I think it has some potential. As this is only a debut EP, I hope to hear even better in the future. Definitely worth a spin for techies.
OVERALL: INTERESTING TECHNICAL DEATH METAL, WITH A SPACIAL FEEL. HAS SOME MAJOR POTENTIAL. WITH A LOGO LIKE THAT, THEY'D FUCKING BETTER HAVE SOME POTENTIAL!
BUT SERIOUSLY, THIS LITTLE EP IS WORTH A SPIN FOR THOSE OF YOU WHO ARE MUCH MORE TECHNICAL THAN THE REST OF US.
Score: 4/5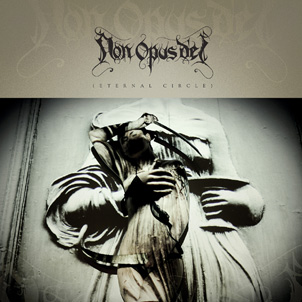 Non Opus Dei - Eternal Circle (2010) -
Non Opus Dei might sound interesting enough in the beginning, but in the end; it's just black metal with too few frills, and some good melodies here and there. Just about every song is a carbon copy of the last, and vice-versa. You may find one or two that appeal to you, but other than that - it's mediocre.
Oh, there's a little girl on several parts of this album. She isn't on vocals, but is in the intro, and a few other non musical parts.
See, what it should have been is the little girl on vocals. Could you imagine black metal like that? Speaking of, has anyone heard of any extreme metal with children on vocals? It can't be that out of the ordinary, could it?
OVERALL: DECENT BLACK METAL WITH FEW FRILLS, GOOD MELODIES HERE AND THERE, CARBON COPY, BLAH, BLAH, BLAH….THERE'S A LITTLE GIRL THAT SPEAKS A LOT ON THE ALBUM, BUT SHE SHOULD'VE BEEN ON VOCALS.
Score: 2.5/5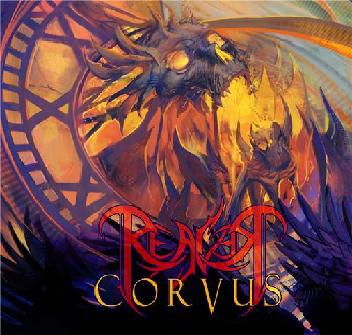 Reaver - Corvus (2010) -
Reaver is a melodic death metal band with some real potential. This album showcases great riffs and solos, while being slightly core in places. It's only downfall is the fact that the vocals were mixed far too high, and it kills the effect that the guitars should have had. Yes, you can still hear them, but I hate, hate, hate, when the vocals are so bloody loud that I can't hear anything else. I try to tone that down on the hobby stuff that I release, so I would expect that other vocalists would not be so damned egotistical and realize that their vocals should not be the forefront. Whoever mixed this album needs a kick to the fucking head.
A great release was ruined due to poor mixing. There's nothing more that can be said here. Listen to this album, but buy it only if you really like the music, because this album was completely trashed by once again…the absurdly high vocals.
It's supposed to be a nice happy medium, people. This isn't a pop record, it's a metal album, when people actually care about the music side of things. It personally wouldn't take much work to remix this. I have a few mixing programs that I could probably do something or other with…maybe I'll test it out, and see how it works.
OVERALL: GREAT RELEASE KILLED BY THE MIXING. THE VOCALS ARE WAY TOO HIGH, AND THIS COULD'VE BEEN EASILY FIXED. AS A MATTER OF FACT, I'M GOING TO FOOLA ROUND WITH SOME LEVELS RIGHT NOW, AND SEE WHAT I GET.
Score: 2.5/5 (For bad mixing)
NOTE: Without the actual masters used on the album, this is very difficult task. I've been able to remove the vocals completely sans the back up track - but as for actually lowering the volume of the vocals, it would be better if I had the actual vocal tracks, which are not going to be possible to get, because as everyone is more than happy to give away the album, the vocal tracks probably haven't been leaked. Plus, I would probably need a better program to mix it with, since Adobe Audition doesn't seem to be doing that good of a job, and I took it in FL just to see what I could do, but those mixing programs really aren't worth a shit in retrospect.
I really need to find a good mixing program, does anyone know of one? It's not just to mix this album either, it's for other musical work. Oh, shit. That reminds me. I've got Reaper around here somewhere.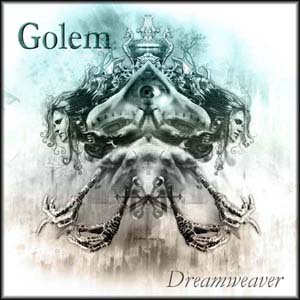 Golem - Dreamweaver (2004) -
Have you ever heard of Golem? I'm not talking about some giant stone creature, either. I'm talking about a very solid, pretty rare death metal band. The technicality in this album really shows, but what makes it great is the amount of melody in it. The vocals switch between screams and growls, but it works pretty well, and as I've said before, the proggy-ness and the technicality are increased in effectiveness, by the use of great melodic riffs.
I have no idea what on earth happened to this band, and for all I know they may have made another couple albums after this release, but I will say that this one stands on it's own against anything else they might have done later.
Yes, it's an older release - but I feel it was looked down upon due to the birth of core around this time. You should do yourself a favor and pick this one up. There's a lot of brutality here, but mixing it so well with the melody and technicality is something that bands just don't seem to do as well as these gentlemen did.
These guys could been something, but there's no telling what happened to them. Bands come and go, just like people in one's life.
OVERALL: GREAT BRUTAL/TECHNICAL DEATH METAL WITH SOME GREAT SOLOS AND NICE MELODIES. THE VOCALS SOUND MORE BLACK THAN THEY DO DEATH, AND THE PRODUCTION ISN'T AMAZING, BUT IT'S STILL A GREAT ALBUM TO CHECK OUT.
Score: 5/5
Shining - IV: Klagospalmer (2009) -
Maybe not so unheard of, if you don't know who Shining is, you need to hear them. There's a lot of people who talk about them, and even though they refuse to sing in any language other than their own, it seems they've got a hell of a cult following.
As for the sound of the band, I would call it traditional black metal with a little bit of a modern touch. Maybe a bit more melody, and not as much speed. A little more groovy sort of thing, which I've always really liked. If you are looking for great sounding black metal with a little more finesse, and a hell of a lot less speed, as well as more emotion - and let's just say it sounds a bit more dark and brooding too.
Did I mention the most important part of this band? No? Well, I'll tell you something else about Shining. Their guitarist can really fucking shred, and he wants you to know it. A lot of the guitar has been lost in black metal here lately, (The new Dimmu anyone?) and it's good to hear that there a re still bands out there that say: "Well this, this is where the solo needs to go."
I'll also mention that they have that whole symphonic thing going on for them on certain tracks, and it works. You'll want to listen to this one a good couple times more after you've heard it once, and you should. There's some acoustic work as well on it, as well as other things.
The bottom line of this release, is that it fucking kills. It really fucking slaughters, and if you haven't heard it, then get your head out of your ass. This is what's kvlt, what's cool, and whatever else will get you to check this one out. You're going to like what you've heard, I guarantee it.
OVERALL: RECOMMENDED AND CANONICAL BLACK METAL THAT WILL BLOW YOUR HEAD OFF. THE GUITARIST CAN SHRED, IT'S INTERESTING, AND IT'S SO MUCH MORE…IF YOU THOUGHT SO AND SO WAS GOOD…WELL, YOU'VE NEVER HEARD SHINING.
Score: 6...6...6/5