Belphegor - Black Magick Necromance (2011)
- Already, I'm about to declare this monumental release from Belphegor to be the best metal album of the year thus far. Why? Simply listen to one of the 8 tracks on this 40 minute release, and you'll see that all of the little inklings of potential that Belphegor showed from "Lucifer Incestus" era forward, have now come to complete 100% fruition.
The bottom line is that this is the BEST Belphegor album that they have ever released, and I strongly believe that they cannot top this almost inhuman effort of black metal mastery. Notice that I said "black metal", meaning that the death metal you know from Belphegor has been stripped in favor of a many layered black metal style that is every bit what a black metal album should be. This album is so fucking great, that I've said to myself, "Hell, I want to hear that track again." I've wanted to listen to this thing about 3 or 4 or 5 or 10 more fucking times, yet I've got so much else to review that it'll have to wait.
I am so surprised and amazed by this fucking masterpiece of an album which has to be one of the best black metal albums I've heard in the past ten years. This album is better than my pick for 2010's best album, and it's better than the Nachtmystium and Agalloch before it. These gentlemen must have really sold themselves to the devil to make this release, which is a downright must buy, and probably the band's best era to see them on tour with.
Belphegor has made their bland albums, and they've made their weird albums, and they've made death metal albums that sound good in their own right, but this one is incredible.
OVERALL: GO GET THIS ALBUM NOW, AND LISTEN TO IT FOR YOURSELF. I WON'T EVEN BOTHER TELLING YOU WHAT TO EXPECT HERE, BECAUSE THAT WOULD RUIN THE WHOLE FUCKING SURPRISE. JUST GET IT!
Score: 666/5 (INHUMAN PERFECTION)
1000 Odios - 1000 Odios (2008)
- Sometimes, when I've just downloaded a mass collection of metal, I feel as though I've come back from a trip around the world, and have all of the souvenirs to prove that I was there. One such band is Argentina's 1000 Odios, a female fronted Thrash/ Melodic Death Metal band, that gives Gossow a run for her money, so to speak.
There's a great deal of thrash here, and some nice progressives. The formula works very well across these four songs. While unsigned, it doesn't take a fucking label to make music of a good quality, and this has that. Just goes to prove what you can do by your own damned self. Fuck labels. Metal is the only music that I feel can do just fine without them.
Not a word of it is in English, but it doesn't matter. This is great heavy shit, that keeps you on your tones, and sparkles a good bit with the riffs and solos within. The drum work is great, and Bestia belts it out in a way that I didn't even know she was a woman.
That's fucking hot, actually. More women need to growl and scream, I think. It shows that aggressive brutal side of a female that I guess people don't think exists.
All of that aside, it's a great album that I'll link you to. They're just giving it away, I believe.
1000 Odios - Volumen 2 (2009)
- So, Round II sees the band even better. Harder, faster, louder, and more fucking brutal. There are still great solos and riffs, some nice proggy areas, and it's just great metal with good SELF PRODUCTION. (and they're from Argentina, a country that's a hell of a lot poorer than here - more proof that you don't honestly need a label to make a good metal album. I used to want to get signed, but I don't like people telling me how to sound. I'll end up killing them and torching the company, and I don't want to wind up in jail - so I like making indie stuff.)
Bottom line for this one is the same as the second. Listen to these four tracks. Sure you can't understand them. Is it that big a deal? I hope not. This band is badass. I'm sure you'll enjoy them, and everyone will be like "WTF did you get this?"
OVERALL: TWO GREAT SELF PRODUCED ALBUMS THAT WILL KNOCK YOU ON YOUR ASS! ARCH ENEMY, WHO?!
Score: 5/5
Lazarus A.D. - Black Rivers Flow (2011)
- Listen… Can you hear that?
It's the sound of corporate thrash. Hooky choruses, and some of the worst metal scream growl things I've ever heard permeate and destroy the good playing on this album. They can play, sure - but the vocal work is atrocious, laughable, ridiculous.
Yet, the doors of Wal-Mart, K- Mart, Best Buy, Target, and other fine conglomerates will open wide their doors to this album, and popular metal magazines will declare it "The best thrash ever" or something of that nature.
Don't buy the hype. The playing is excellent at times, but I want to literally strangle the vocalist. I literally want to squeeze and squeeze until he can't make such horrible noises anymore. Somebody get this guy a fucking vocal lesson. Whoever thought that this would sound good?
So if the playing does interest you, if won't for long. Quite possibly some of the worst vocal recordings ever. To tell you the complete truth, it makes me think of a situation where someone shit all over Beethoven. The music is very good, great solos and such, would have been better without these goddamned hooky hardcore metal core whatever the fuck pop slather they want to call these insults to metal vocals these days…
I HATE IT.
I JUST REALLY FUCKING HATE IT.
OVERALL: GREAT THRASH THAT WAS RUINED BY THE SHIT THAT REGURGITATED OUT OF THE MOUTH OF THE VOCALIST. THIS IS SO FAR FROM METAL, AND IT MIXES THE HARD ROCK STYLE IN, VERY COMMERCIAL, BUT ABOUT AS METAL AS A PILLOW.
Score:1/5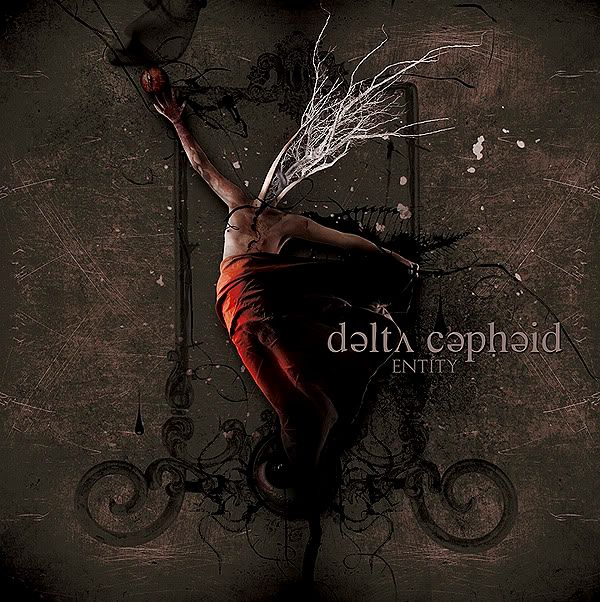 Delta Cepheid - Entity (2010)
- I know a good band when I hear one, and Delta Cepheid is a good one. Possibly as hard to spell as it is to say, this technical progressive death metal band with core elements and some experimentation is certainly more than just a little interesting. In the album's short 42 minute play time, you will hear what at first sounds quite normal, but as the album goes on, things mutate and change in so many different ways that your head will spin.
The riffs are really great, and the solos can seem magical at times. The acoustics on this album kill. They have a sort of sullen beauty about them, being a little depressive and a little beautiful at the same time. The drum work is definitely not something out of the ordinary here, either - since this band likes to change tempo whenever they damn well please.
Some people might think it sounds like a fish out of water, and sometimes the guitars can sound a bit out of tune, but it reminds me of that ISA era Enslaved influence many bands have picked up on in past years.
Yes, there's some things here that could be described as a little bit core, but I see it as just another influence, rather than a complete genre definition. I hope it's not too much of a horrible thing, because I wouldn't want to deter anyone away from such an interesting release as this one.
Chances are, you'll be listening to this one again, and again. Delta Cepheid has more than just a little potential. They've got major talent, and I hope that we'll hear more from them in years to come. Let's all hope this star doesn't go out all too soon. Bands such as Gojira might have a little competition here, and that's good for them, I think.
Delta Cepheid = Fourth Star
OVERALL: ABOVER AVERAGE METAL THAT USES ALL OF IT'S INFLUENCES WELL. YOU'LL BE PLAYING THIS ONE MORE THAN ONCE, AND IT WAS GOOD ENOUGH TO MAKE LAST YEAR'S TOP 10, HAD I HEARD IT EARLIER.
Score: 6/10 (Inhuman)
Sargeist - Let The Devil In (2010)
- This black metal band would be nothing short of ordinary, if not for their melodies and slower pace. Closer to what some call "depressive black metal" than anything else, this 46 minute collection of songs showcases the band's ability to make very grim black metal with a vocalist who's shrieks sound like they've got the epitome of hopelessness inside of them.
The melodies work together well enough, recalling a great deal of other black metal bands of this nature, or particular black metal albums in general that I've heard surely, but cannot remember who performed any of them. So yes, you may have heard this sort of thing before - but it's done just as well as always.
The amount of sheer emotion in the melodies and the vocals makes this an absolute must for me. As for vocals, I love this shit. This is the shit I've done myself, and will continue to do. There's no black metal vocal quite like this style of shriek. If you think there's no difference, then listen to Immortal, Satyricon's later material, and a few others. The shrieks are definitely different.
Although, there's some death metal vocals creeping in on track 6, and they sort of ruin the experience for me. As for the lyrical approach, it might sound like Agalloch style melody, but their lyrics aren't about nature, with track titles being "From The Black Coffin Lair", "Sanguine Rituals", the title track "Let The Devil In" (I suppose he's outside in the cold snow and wants someone to let him in, apparently.) and my personal favorite track title, which is far too comical… 'Twilight Breath Of Satan" (I wonder if it's minty fresh, too?)
This isn't going to be for everyone, and Sargeist knows that. They also probably made this record for a certain type of audience, and don't give a shit about anyone else. Let's be honest, the band made the record so that Satan himself could play it for the damned in hell, while they're all sitting on hot coals and such. (If you believe such fairytales.)
Personally, I think that music this depressive should revolve around sad instances of the world, and echo the cries of the actual people who are pretty much "damned" in the sense of the word. For instance, the poor in Columbia who are forced to live in sewers because the rich shoot them for sport, the 173 prisoners who are still being held and tortured in Guantanamo bay, the child soldiers in Sri Lanka who are forced to kill each other at young ages, learning nothing but war, and knowing nothing of happiness. I could go on and on, talking about the drug cartels who cut those who betray them into pieces and mail them back to their families. I could talk about all of the prisoners in North Korea who are sent to concentration camps where three years of family members are purged, (if you do something wrong, your father and grandfather will also be jailed) and experimented on in horrible medical procedures among other things.
These things are far more horrifying and grim than just plain old Satan. He's just not what he used to be. Not compared to man, anyway.
OVERALL: VERY EMOTIONAL BLACK METAL (AND LITTLE DEATH METAL PIECES) WITH GREAT MELODIES. MIGHT REMIND YOU OF AGALLOCH, BUT IT'S ABOUT THE GUY WITH THE HORNS INSTEAD OF NATURE. YOU'D BETTER LET THE DEVIL IN, BECAUSE HE'S FREEZING IN THE SNOW. IT'S PRETTY DESPICABLE THAT YOU HAVE TO WAIT FOR A BAND TO TELL YOU TO DO SO. OFFER THE GUY SOME COFFEE WHILE YOU'RE AT IT.
Score: 4/5 (Good, but will only really appeal to certain people.)
Birch Mountain - Silence Is Complete (2010)
- Now here's a great progressive death metal band that's NOT in the vein of Opeth. As that may be great news to many of you, I'll have to break it down:
The cover looks like the cover of a country album, as does the band's name seem like the name of a country group. Whether or not this is meant to be a joke, I have no idea. The music on the other hand, is of course quite evident being death metal with progressive melodies and riffs. There is some very good playing on this album, and some of it you just need to hear, despite the album's shoddy production, with the vocals taking over everything. The riffs seem to flow in that middle eastern style, but there are some really great ones like on "Silent Shriek", easily the best song on the album.
Now, I'm not sure if this band is even signed or not, or just two guys got together and made some music. Either way, it's a good listen. I don't know where you can find it, but it's definitely something a bit more refreshing than for say Ikuinen Kaamos, and other Opeth mimics.
OVERALL: PROGRESSIVE DEATH METAL OF A DIFFERENT TYPE. NOT SO GREAT PRODUCTION WITH OVERBEARING VOCALS, BUT GOOD MIDDLE EASTERN MELODIES. A WORTHWHILE ALBUM, IF YOU CAN FIND IT.
Score: 4/5
Blasphemer - Devouring Deception EP (2010)
- There's a reason why I hate this kind of metal. It's so fucking basic. In these five tracks, every track sounds like technical death metal with what sounds like the sound that a sink makes after you've filled it up to wash your hands, and then pulled the plug.
If I wanted, to, I'd cut the vocals from these songs, and replace the vocals with the actual sounds of a sink being drained. I'm sure there's barely any difference.
Who ever thought this was brutal? Comical, yes. Ridiculous, yes. This is about as ridiculous to me as Justin Bieber. I'd have to say pass on this awfully ridiculous metal. Or, you can listen to your sink drain.
I bet it would sound even better if I replaced the vocals with the sound of my toilet flushing.
Absolutely brainless.
OVERALL: HORRIBLE, AWFUL NOISE. WHEN I WAS YOUNGER, THIS WOULD'VE BEEN INTERESTING ONLY BECAUSE IT SOUNDED REBELLIOUS. ALTHOUGH, I DARESAY THAT THE TEENAGE REBELLION YEARS ARE OVER.
Score: 0/5 (AWFUL!)
Calm Hatchery - Sacrilege Of Humanity (2010)
- Now this is more like it. Polish death metal inspired by Behemoth of course, but in their own way as well. The intro starts out a little middle eastern, but the album thrashes about like good death metal should. The guitar work is notable, and the solos are really good. It's a very solid album from a band that looks like they can kick some real ass, and hopefully they'll go somewhere. The band uses a lot of middle eastern influence, and it makes sense, being that there's a large pyramid on the cover.
The lyrics of the album are pretty much esoteric stuff, which is my bag - but the music portion of this one is pretty great, especially the solo portion on "We Are The Universe." This just goes to show us that there's more to Polish Death Metal than Behemoth. As for the production on the album, it's quite good. I thought that I would throw that in.
I'd have to recommend this album to fans of Behemoth, and Hate. It's just as good, and it needs some more support here in the states.
OVERALL: SOLID POLISH DEATH METAL IN THE VEIN OF BEHEMOTH AND HATE. YOU CAN'T GO WRONG WITH IT, IF YOU LIKE EITHER OF THOSE BANDS.
Score: 4/5 (Solid.)
Chaosweaver - Puppet Master Of Pandemonium (2008)
- Chaosweaver is experimental death metal in the way that I've always liked. It's much slower paced, with few blast beats and mostly just overall weirdness. There's also a little bit of black metal influence as well.
Being groove oriented rather than speed oriented, it's got quite a bit of catchy little rhythms, in addition to the orchestra, weird sounds, and other things that they use. It reminds me a lot of some of my favorites like The Kovenant especially, and anything that reminds me of them is a good thing in my book. They could also be comparable to current era Septic Flesh. I could pretty much refer to them as "The Kovenant of Death Metal."
The solos are also really good in the album, but the riffs may seem a bit basic for some. Of course, the effects are what matters here, since they change the whole mood of the album. If you're looking for something different and "cool", you might want to check this one out. I'm not sure whether or not this is their first album, or just their latest - but I'd sure like to find out. It was worth more than a spin for me, but for some folks this kind of thing can be a bit too much. The closer "Son Of The Moon" features the band at possibly their best on the album, being that it's one of those long epic tracks. It features quite of bit of interesting things, like flute playing, and horns and clean vocals in addition to what appear to be hardcore vocals at one point. Regardless, this was a great way to end a very interesting album, from yet another great band - of which I've never heard until now.
OVERALL: WEIRD AND BRILLIANT EXPERIMENTAL DEATH METAL. REMINDS ME OF THE KOVENANT. GREAT SHIT FOR ME, BUT NOT FOR EVERYONE. ONE OF THE BANDS I'D LIVE TO SEE LIVE, FOR SURE.
Score:5/5 (For me.) For everyone else : 3.5/5
Crackdust - Dented Reality (2007)
- This is going to be a bit of a culture shock to you, but hopefully not too much, as the world is changing for (arguably) the better in some aspects. Crackdust is a solid death metal band composed of all black members. When it was posted on the forum I usually get my metal from, people couldn't believe it. It's almost like someone wanted to say "Those "niggers" have no place playing our music." which I think is an awful statement in itself. Of course, after listening to it, people were amazed at how much they liked it. I suppose they thought like Varg, "That African Americans are "lower" than some of us."
Crackdust does what they do quite well. It's nothing ground breaking, but the vocals are killer, and the drum work is pretty decent. There's also some good riffs here and there. The sound quality is raw, but these metal brothers prove that black folks just don't listen to the "hip hop." There are sixteen tracks spread out over 41 minutes, and they're all brutal and sometimes a bit technical.
Give it a listen, if you get a chance. Quality isn't so great, because the instruments aren't so audible, sans the good solos. Yep, I said "good solos." Again, nothing mind blowing, but pretty damned good nonetheless.
Metal music should know no color. (Unless we're talking black metal.)
OVERALL: IT'S SOME BLACK GUYS MAKING SOME KILLER DEATH METAL. VOCALS DROWN OUT SOME OF THE INSTRUMENTS, BUT THE SOLOS ARE GOOD (AND ALWAYS AUDIBLE), AND THE DRUMWORK IS ALSO PRETTY STRAIGHT. NOTHING AMAZING, BUT STILL GOOD ENOUGH TO CHECK OUT.
Score: 3.5/5
Dawn of Silence - Wicked Saint Or Righteous Sinner (2010)
- I want to say that this is the front man of Avantasia/Edguy Tobias Sammet, but I doubt even he has that much time. That would mean the man's done both a double album, and a side project in one year. Jesus Christ, that's a lot of work for one man.
No matter who in the hell it is on vocals, this band sounds like a blast from the past. At first it came off as power metal, but things can get a little "hairy" sometimes. If you know what I mean. That last statement alone would turn a great deal of metal heads on this forum who know nothing of the 80's, completely away.
"Daddy, what was hair metal?"
"Nothing son, it's just something that came and passed…like Disco. And don't you worry, because it's never going to return."
All jokes aside, if this is hair metal and not power metal, it's certainly good hair metal. Of course Power Metal is one of the remainders left over from hair metal that still exists today, and that's unlikely to change.
That's not to say there's no heavy hitters here:
"Chasing A Ghost", "Crucifire", and a few more songs on here are great power/thrashers. Not early-mid era Iced Earth, or mid era Brainstorm, but still good. It's definitely worth a listen, but don't expect anything amazing. I cannot count how many albums I have heard that sound comparable to this one. I cannot also count how many albums of this nature I've enjoyed more than this one, but that is not to say that this is a bad album. The solos are standard classic/power metal fare, and the riffs are very classic/power metal fare. There's no real surprises here, but it's catchy.
Fans of Edguy, Avantasia, Nocturnal Rites, Hammerfall, Jag Panzer, and other bands of that nature will like this band.
OVERALL: CLASSIC METAL WITH A BIT OF POWER. NOT BRUTAL, BUT DECENT. THE NEW HELLOWEEN IS STILL MYRIADS BETTER, BUT THIS IS WORTH A LISTEN. IT'S VERY CATCHY AND DOESN'T REALLY FEATURE ANY FILLER TRACKS. EVERY SONG FEATURES A SING ALONG CHORUS AS WELL.
Score: 4/5
Horrid - Rising From The Hidden Spheres (2006)
- There's something about this obscure death metal band that I like. I just can't really put my finger on it. The quality is a little raw, and it's a short 42 minute album, but I think it's got (or had) some potential.
There are some really interesting riffs on the album, as well as the vocal approach which seems to just follow the whole groove of things. It's hard to explain these things sometimes. It does change tempo quite a bit, and that is interesting.
You know, I want to say that there's some progressive work going on here, but I can't. It's just a very slick type of riffing. Sometimes it sounds like there might be Amon Amarth influence, but that's probably not right. I also hear what might be some punk influence, but punk influence can be found in most thrash riffs. Perhaps some of the riffs sound a little more technical or proggy than others. Whatever the case, the thing's worth a listen. It's not the most original or well sounding album you've heard, so I can't give it a perfect score.
Still, not bad.
OVERALL: PROGRESSIVE DRUMMING AND INTERESTING RIFF USAGE AS WELL AS A GOOD VOCAL RANGE, MAKE THIS ALBUM AN INTERESTING LISTEN. STILL NOT AS POLISHED AS A BIG NAME ALBUM, BUT WHO CARES, RIGHT? IT'S STILL GREAT METAL. GO GET IT, IT'S DEFINITELY DIFFERENT.
Score: 4.5/5
Jumalhamara - Resignaatio (2010)
- This band, who's name I'd rather not have to type again, is a Finnish semi-atmospheric black metal band with hypnotic elements. I must emphasize the word raw, when I describe the quality of this thing, which starts the first few seconds at "garage demo" quality and then works it's way to production quality value, which isn't bad. You can tell that the album is made to sound the way that it does. I suppose it's the whole kvlt thing.
The band is interesting, recalling some parts of Deathspell Omega, although not quite as good. It has a lot of transcendental moments, and might be useful for a trip towards the end of the short 40 minute listen. To me, it sounds like something that lasts far too short to have any long lasting effects. I've heard much better of this type of metal this year, and do not wholly recommend it. But you can check it out, if you're curious.
OVERALL: RAW, DEATHSPELL OMEGA INSPIRED FINNISH BLACK METAL. GETS REALLY TRANSCENDENTAL NEAR THE END, BEING LESS MUSIC AND MORE ATMOSPHERES. NOT GREAT, BUT SOME PEOPLE SHOULD LIKE IT.
Score: 2.5/5 (Mediocre atmospheres with raw production. There are better bands that do this. But it's not bad.)
Mors In Tabula - Blemish (2006)
- This album didn't impress me at all. It was electronic death metal with a lot of voice clips and some fake orchestral sampling. It wasn't very heavy, and lacked that electronic groove too. This band struck out on both levels, and I believe that the electronic stuff that I created on Fruity was better than this. At least it had more layers! This whole thing sounded like the same fucking song with a small difference every time.
It was a nice idea, but in the end it just lacked…everything.
Paganizer - Scandinavian War Machine (2009)
- Paganizer might remind you of death metal's golden days, and that's a good thing. The riffs are very Amon Amarth styled, but the drumming is much better than they would do, plus there's a lot less Viking, and a much more groove to the process. It's a good album that can be played again and again. The riffs are catchy, it's going to make you bang your head, and the solos are decent.
As far as originality, there's none to be found here. Neither is there any experimenting. It's pretty much plain old death metal, but it's plain old death metal that I could jam to whenever I wanted to listen to just plain old death metal. I could write a laundry list of "Man's (and woman's) Uses For Death Metal", but I can see that it won't be necessary.
Sure it sounds like the old days, but every song doesn't sound the same either. That I'm thankful for. There's just a lot of good metal here, for anybody really. Give it to that kid that thinks emocore is heavy. Or that employee you work with who's into Avenged Sevenfold. Whoever gets their metal from MTV2, give em this one. Got any birthdays coming up? Wrap it up, and give the gift that keeps on giving…TRUE METAL.
OVERALL: AS GOOD AS A SEXY WOMAN WITH BIG T&A, AND AS VIOLENT AS SOME MUSCULAR DOMINATRIX CHICK. IT'S BRUTAL, IT'S SEXY, AND IT'S GOING TO KICK YOUR FUCKING ASS. THEN YOU CAN JUST LISTEN TO THE WHOLE THING AGAIN. THIS IS GREAT FUCKING DEATH METAL, THAT'S FUN FOR THE WHOLE FAMILY! MAKE SURE THAT GRANDMA GETS A COPY OF THIS 55 MINUTES OF BRUTALITY!
Score: 5/5 (Perfect. Nothing more to say
Serial Butcher - A Crash Course In Cranium Crushing (2010 REQUEST)
- Serial Butcher is a rather interesting band. Instead of the standard brutal death metal style, they have decided to change their tempo about a million times, which is good. It keeps things fresh. There's also some really interesting riffing, even though the vocals aren't anything special.
The solos in the album are also really great, despite the fact that they're few and very short. Fans of Decapitated and other such technical death metal bands will like this album a great deal. For me personally, I'm not big on brutal death metal, (sans the very weird experimental brutal death metal bands) but even with that said, I still really think that this band has a major degree of potential in the fact that they display a certain originality that has been lost in the Job For A Cowboy's and Suicide Silence's of our time.
I'm not saying every song is perfect, but it's better than what I've heard in a while from this genre - and remember, this is someone who cares little for grind core, and very fast paced brutal death metal with little inspiration. This band fortunately, is not one of those bands, and could very well revolutionize the whole genre. They'd better - because I'm sick of people thinking that bands like Suicide/Job have actual musical talent. I've heard both Job For A Cowboy albums, and they bored the hell out of me. I cannot get through one of Suicide Silence's albums. I've tried.
Ah, there's a good name for a band if it hasn't been taken. Suicide Job. You know, I couldn't believe that Unholy Sacrifice wasn't taken either. It's really interesting as to what names haven't actually been taken yet.
OVERALL: Very technical and interesting BDM. Recommended for fans of Decapitated, Nile, and other such brutal death metal bands. (Why is it that I can only remember the famous ones? I have so much damned metal, I should be able to remember more.) 34 minutes of cranium crushing fun.
Score: 4/5 (Good for me, but might be mind-blowing to some. With that said…you might want to get yourself a copy!)
Mitochondrion - Parasignosis (2011)
- Mitochondrion has done something that people have been drooling over. I personally don't think it's that amazing, but it certainly seems to work in their favor, and is building them immense underground popularity. What they've done is combine brutal (black/death) metal with drone and post metal elements.
What do you know? It works…somewhat.
What happens is, some of the tracks wind up being straight up bdm thrashers, and the rest turn out to be the kind of tracks that you need to be in some sort of altered state to fully enjoy. The guitar riffs are very interesting, as is the drum work, and the drummer seems to take the militaristic approach in places. It's kind of that same drum rhythm that plays when the fox logo opens up on a film. Very march-like, indeed. Oh, by the way - I think he growls the name Satan about a thousand times throughout the third track. Got on my nerves. I almost expected that the devil would call him up and ask, "What do you want?"
This odd and interesting mix already seems to have appealed to many metalheads out there, and surely you don't want to miss out - right?
It really is a good album, with a very original sound. I haven't heard anything else quite like it, and that should say something. With all of the albums that I have reviewed, I would hope that this statement will stick in your brains. At least myspace them, seems to be all that site's good for nowadays. Just wondering what'll happen to the bands when it shuts down. They'll all be fucked I guess.
Nevertheless, it's a 55 minute release that you'll either profusely enjoy and swear that the darkest secrets of the underworld have opened themselves out into a path before you, which will lead to the floating crimson hourglass…
Or, you'll think it would've been better as just a black/death album, because that guy's got a killer voice, and the drumming is really brutal, not to mention some of the guitar work.
Either way, check out this odd opener to 2011...amongst other odd things that have happened to open this year. Not even but a few weeks into 2011, and we've already got a hell of an opening to it. If this is the start, I'm wondering if we'll all make the end in one piece.
Ignore my blabbering, and check out the album. They also put out a split in 2010 with some band whose name is also probably as hard to say as it is to spell: Gyibaaw (Gi-Ih-bawh?) It'll be reviewed next week.
OVERALL: An odd, but interesting mix of brutal death metal (Black/death) and post/metal drone. It works in some areas, and the atmospheres can be really profound to listen to, if that floats your boat. The metal in the album is also pretty decent too, but I'll be honest when I say that there is little to interest me in their straightforward brutal death metal moments.
4/5 (Good, but not good enough.)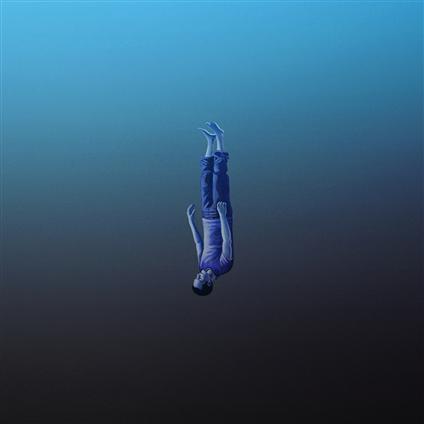 Todtgelichter - Angst (2010)
- Why did this have to come out after I'd done the fucking list? Now I feel like a goddamned idiot. This interesting progressive black metal band is very fucking interesting. The female vocals also do a great job. She's a very good vocalist whoever she is, reminds me of Anneke. The male vocalist's screams and yells are filled with pure fucking emotion. He is really in each and every song. This must be a man who really feels these words.
The guitar playing is extremely beautiful. The solos are short, but it's not about them. The proggy riffs sell the whole concept very well. This is on par with Agalloch and A Forest Of Stars, and that should be saying something. I have to recommend this to fans that enjoyed the new Agalloch, and Enslaved albums. You've never heard of these guys, but neither have I. I'm glad that I have now.
Remember, the female vocalist is also present. If your black metal can't have a female vocalist….well, then don't pick this one up. I personally think it adds flavor. There are however, two other guest vocalists from band's that I've never heard of: Nihilaz of Vulvark (My, how original sir…) and Eike Freese of Dark Age.
(BUT HOPEFULLY, IT WON'T START A TREND.)
OVERALL: Extremely beautiful, very emotional progressive black metal, with absolutely gorgeous fucking riffing. I mean, this is some fucking great playing. I really mean it, if you liked that new Agalloch, check this one out. It came like a sucker punch right to the fucking face. A sucker punch from a beautiful woman dressed in tight black leather, for sure.
Score: 5/5 (FUCKING BEAUTIFUL!)