Abysmal Dawn - Leveling The Plane Of Existence (2011)
- Abysmal Dawn is not a new band by any means, and this new album is another great addition to their catalog. It's still influenced by black metal, and offers a great deal of technicality; despite the not so amazing production value. It's decent enough, but should be louder. It could just be my computer though.
This is death metal that works best as loud as hell. Everything that one can possibly like about the genre is done well here. There's interesting melodies, with a little bit of progressive touch, well produced gravelly death metal vocals, and some really awesome solo work. Seriously, give this guy a medal. The solo in "Rapture Renowned" is goddamned incredible. That's the kind of solos I like to hear.
Let's not give the guitarist all the credit though, because the drummer is fully capable as well, and he really gives these tracks that extra oomph. This is some solid as hell death metal that might not be the best of the whole year, but it's well worth a listen. Especially for those fucking solos.
There's a lot here to like, and it's a great way to open a review set. Let's hope the rest of these go as smoothly. I'd rather not have another Lazarus A.D. moment, if at all possible. I'll say it again…I hate that fucking album.
But this one I like. So check it out, for sure.
OVERALL: 38:00 OF SOLID DEATH METAL THAT OFFERS EVERYTHING THERE IS TO LIKE ABOUT THE GENRE. SOME BLACK METAL INFLUENCE, BUT IT MAKES THE WHOLE THING A HELL OF A LOT DARKER. THE LEADS, DRUMMING, VOCALS, AND SOLO WORK KILLS ON THIS ONE. FUCKING GET IT!
Score: 666/5
Architects - The Here And Now (2011)
- Now there's a reason why I don't listen to much hardcore. This is one of those reasons. Labeled as hardcore/post made me think that this band might have some post metal influence, and it seems that I was wrong.
The riffs are interesting every once in a while, but I want to strangle the MTV2 emo-ish vocals. I'm more than sure that all the high school kids are really jamming out to this one. I should put my entire leg into my mouth, because inserting my foot wouldn't have done the irony enough justice. I just got done saying "I'd rather have another Lazarus A.D. moment, and here I am with screaming kids on the vocals."
Alright, so there is a little post-metal influence, and the band does experiment here and there, so I will give them props for not sounding quite as awful as they could have. Plus, there's actually some decent riffs and solos on the album, and it's kind of catchy in places. I will say that I get tired of the hardcore screaming in places, and that is a big downfall for not only this band, but for modern hardcore.
Also, the drum fills are not exactly bad, even though the band seems to have more of a punk influence than anything else.
Am I really doing this right now? Am I really going to review this band?
No. But I can only say that fans of this genre looking for something a little more to their high-school-esque mad-emo screaming will love this shit.
Notice I said, "shit."
I'm just hoping that Gallows comes out with a new one this year. That's hardcore that I don't mind, especially on "Grey Britain" Played that album a lot.
Battlelore - Doombound (2011)
- Battlelore used to be a pretty decent band, but after
Evernight, I didn't feel like there was anymore they could do. The Last Alliance was decent, but I had hoped maybe this one would return them to their folk/death symphonic metal roots.
To tell you the truth, there is a lot more death metal on this release. Not so much in the beginning, but as the 53:00 album continues, there's a lot of heavy riffs, and drumming which are accompanied by their trademark "orc vocal" that sounds like a gravelly death metal vocal. However, it hits with mediocre riffs, and focuses more on great symphonics. There are some interesting things in the songs in certain places, and it doesn't sound as straight forward as it could've been, which is a plus. Clearly, this band is trying to do anything in their power to keep their sound interesting. Also, there are some good guitar melodies on some of the tracks, actually.
The female vocalist doesn't own the band this time either. That's good. We have enough female fronted goth metal bands as it is. Instead, ala Deadlock - (Which is coincidentally below this review) the two or three vocalists trade between death and female vocals which work well for the most part. She's a great vocalist, and her voice doesn't seem to show any wear.
As for whether or not there are two death metal vocalists, or one who likes to double track his vocals, I'm not sure. I haven't checked the "history" of this band in a long damned time. Didn't care, honestly.
By this time, I'm sure they've shed the "Lord Of The Rings" band mentality, and probably sing about other Finnish myths these days. I used to really like these guys back in the Wicca days, and if you ask anyone from the old MS Metal board, they'll tell you how deep into that stuff I was at one time... Back when I was "Lord Metal Pepsi."
This band did great things with their first album, "Where The Shadows Lie", and "Sword's Song" was also very impressive. So, if you are interested in this band, those two albums are worth getting as well. Even though this album has a rough start, and isn't brutal, but rather more like "enchanted folk death metal" it's pretty solid. If you like symphonics and folk instruments that is. If you don't, DO NOT PICK THIS UP!
As it stands, it's Finnish metal that's way better than Lordi. There's actually a full length solo on "Last Of The Lords" and that's a first for this band. I'll also add that the band's longest recorded full song ("Ride With Dragons" does not count because of the empty portion that leads into that album's bonus track.) is this album's title track. It clocks in at 8:01.
OVERALL: BATTLELORE HAS ALWAYS BEEN KNOWN FOR GREAT FOLK METAL AND SYMPHONICS, AND THEY DO NOT DISAPPOINT. SOME SONGS OFFER MORE DEATH METAL, WHILE OTHERS OFFER MORE FEMALE VOCALS. THE FORMULA DOES NOT SEEM TO GET OLD HOWEVER, AND IS WORTH CHECKING OUT. IT'S THEIR BEST ALBUM IN A GOOD WHILE.
Score: 4/5
Deadlock - Bizarro World (2011)
- Deadlock, (who hates that you eat meat) has just come out with their follow up to Pro-Vegan powerhouse "Manifesto." I've been waiting on this one, because this band is fully capable of great things, for example "Wolves" their masterpiece.
This time sees the band just as solid as they were before, with catchy as hell choruses from the female vocalist, and erratic death metal/core vocals, as well as the killer solo work that the band is known for….(record skips)
HOLD THE BOAT!
Seriously, what happened here? Every time I think I'm going to hear a good solo, it sounds like someone must've pulled the plug on the lead guitarist's amp, and that could be the reason why every one of these fucking solos seems "cut off."
There seems to be a lot of experimentation on this, and sometimes it sounds like something I might have gotten a hold of. There's some weird effects that are there just because they seemed like good ideas, I guess. The electronics are full force in some of these songs, and there is the use of African drumming in one track, and no rapping this time, fortunately. The female vocalist even has a few songs that she does by herself. I knew that was coming. The riffs sound like throwaways. How many goddamn times do I have to hear the same fucking riffs? This is what sells? Man, I've got a get a band together do this kind of shit, be a millionaire, buy my own label, and then sign only interesting bands to it who'll do their own music with no label input, or input from the mass media. Real music by real people, not by machines who spit out their ideas of "interesting music."
Then I think we need to get rid of American Idol, so that people will stop buying the tunes of the corporations, and start listening to real art. Sometimes, Beethoven might be best.
If you're fond of the mix of death metal and female vocals, ala Battlelore, (who is coincidentally right above this review) you might also like this album, despite it's obvious core influence. It's really odd how both of those releases came out around the same time. I still haven't gotten to the Sirenia yet, so there's one more like this.
Sure to please high schoolers and angry but emotional dudes and women alike.
OVERALL: EXPERIMENTAL DEATH METAL WITH HUGE EMPHASIS ON FEMALE VOCALS. VERY MAINSTREAM THIS TIME, WITH TRIMMED SOLOS. (EXCEPT ON "BRUTAL ROMANCE" WHICH MUST BE THE SINGLE.) IT DOES HAVE SOME INTERESTING THINGS HERE AND THERE, BUT I DARESAY THEY'RE BECOMING MIGHTY COMMERCIAL. I GUESS THEY WANT TO MAKE MONEY. CAN'T MAKE GOOD ART FOREVER NOW, CAN WE?
HONESTLY, IT SOUNDS LIKE IT WAS MORE OR LESS JUST THROWN TOGETHER.
Score: 2.5/5 (.5 for experimenting, other than that it's MEDIOCRE.)
Impiety - Worshipers Of The Seventh Tyranny (2011)
- Finally, something FRESH. Black/thrash stalwarts Impiety make some of the best black/thrash along with The Chasm. This release is just one 38:00 track. Sounds epic, so let's see what we've got here…
Someone give the members of Deadlock and Lazarus A.D. a copy of this album, because this what real METAL sounds like, just in case they've forgotten, and it seems that they might have. The vocals are hellish, the drums are blazing, the goddamn guitar is fucking insane, and the whole damn thing just sounds GOOD. Yeah, it's one song, but it's more than some bands these days can do with one song.
These guys must've literally gotten together and said "Let's make one epic as hell and fucking badass song." Because that's what happened…One epic as hell, and fucking badass song. There's tempo changes to keep it fresh, as well as drum variations. (it's not just double bass all the time) Plus, it has some good symphonics, and some really epic vocals…
Damn, I'm only 6 minutes into it!
…Upon listening to this track in it's entirety, it consists of many parts which include slow and psychedelic moments, in addition to great blackened thrash metal. It is a great track, but I felt that maybe splitting it into separate songs wouldn't have hurt. These long epic's are okay to listen to, but few of them will be heard more than once. This band should've taken a more humble approach and made it a little easier to digest.
It's a great effort, and at times it may feel a little too over the top, but it's decent enough to check out. I won't give it a perfect score, because it's not a perfect song/album; but I will give it a 4.2 for a very good effort, that should have not been quite so long. Although, I could recommend this album for long trips, unless it might give you road rage or something of that nature.
OVERALL: GREAT, BUT MUCH TOO LONG AND OVER THE TOP. SHOULD'VE BEEN SPLIT INTO SEPARATE TRACKS. ONE LONG EPIC SONG MIGHT SOUND LIKE A GOOD IDEA, UNTIL YOU ACTUALLY GO BACK AND LISTEN TO IT. A TAD PRETENTIOUS AT TIMES, AND CONTAINS SLOW AND PSYCHEDELIC MOMENTS. STILL REMAINS TRUE TO IT'S BLACK THRASH NATURE, AND WORTH A LISTEN ANYWAY. REMEMBER, IT IS JUST ONE LONG TRACK.
Score: 4.2/5
Iskald - The Sun I Carried Alone (2011)
- Somewhere buried beneath Norwegian mounds of frost and snow, comes a ridiculously great black metal act by the name of Iskald. I know this is not their first, and I will be ready to review the other album next week. This week, I will review their sophomore effort - which makes other Norwegian stalwarts like Emperor smile, and big headed black metal sellouts like Dimmu Borgir, cringe.
Tagline Sticker On The Album:
"THIS MASTERPIECE THROWS YOU INTO A DARK AND EPIC JOURNEY FILLED WITH SORROW, ANGER, AND DESPAIR. IT'S ICE COLD AND CRYSTAL CLEAR EXTREME METAL FROM THE VERY NORTH OF NORWAY. FOR FANS OF IMMORTAL AND EMPEROR."
This is "True Norwegian Black Metal" in every sense of the fucking word. It definitely has that Emperor influence, and does many good things with it. The riffs are dreary, melodic, and interesting, the drumming is superb, and does a hell of a lot more than just blast. There's thrash influence here and there, and the vocals scream of great black metal . I only wish that I had a black metal vocal range like this.
For some, it might be too much of the same thing; but for others, this is going to be one of the best damned black metal albums you've heard in a long time. I can guarantee it. Whether it be the badassery of "Natt Utover Havet", the killer opener "Under The Black Moon", or even the wrathful "Forged By Wolves", you're going to fucking love this one. I haven't heard black metal sound like this since it was black metal, and not progressive black metal.
So, if you're sick of knockoffs and bands who tread the same territory as Enslaved for example, and you just want to hear some real Norwegian black metal that doesn't sound like it was made in somebody's garage, than this is the album for you. There is so much riff-wise to like on this album, I wish I could take the vocals out and just listen to the pure musicality of the thing. It's that fucking good, and a hell of a lot better than what the media calls black metal these days. You can listen to it while you burn your copy of Abrahadabra.
Listening to great black metal like this has restored my faith in man. There is not one filler track on here, and I think it would be foolish to think a band like this would be capable of such a folly, at least thus far in their career.
The final track is a good long, 11:02 seconds, and it's an epic way to end an album that I think is very epic, true, and kvlt, if we want to use such high school terms. As a musician, I'm fascinated by it, and it may end up on this year's best of 2011 list.
Rest assured, you'll be coming back for more. Make sure that Iskald stays in your roster of great black metal bands, because they truly deserve it. I just can't get over what can really be done with the classic black metal sound… guitar, drums, and vocals. No keyboards, no sound effects or orchestras. Just metal.
If you're a fan of black metal, and don't find yourself salivating over this one, I really don't know what to say.
OVERALL: GREAT BLACK METAL THAT SOUNDS THE WAY GREAT BLACK METAL SHOULD. I URGE EVERY BLACK METAL FAN TO HEAR THIS ONE. EVEN IF YOU'RE IN A BLACK METAL BAND, LISTEN TO THIS. IT'S AN INCREDIBLE EFFORT THAT WILL BLOW YOUR FUCKING MIND RIGHT FROM THE START. NOT ONE BAD TRACK, NO KEYBOARDS, NO SOUND EFFECTS, OR ORCHESTRAS. JUST BLACK FUCKING METAL THAT DOESN'T SOUND LIKE IT WAS MADE IN SOMEONE'S GARAGE.
I would be an absolute goddamned idiot if I even though about giving this masterpiece of our time anything less than a big devil-horny 666. I would compare it to classics like Emperor's "In The Nightside Eclipse." Yes, I went there. Oh, I went there.
Score: 666/5 (REQUIRED LISTENING FOR BM FANS!)
Mescalin Massacre - Liquid, Soma, Death LP (2011)
- This 20 minute instrumental black metal / psychedelic trip made by one man (Dr. Psy. Soma) who's got more money than me, starts off with a very nice introduction. Does anyone know who that is? It sounds like it was taken from a wax recording.
As for the rest of the album, it sounds like psychedelic black metal that I might record some intentionally raw vocals on. I have to admit, it sounds a little bland in some areas, but you have to assume that he recording the drumming and guitar in separate tracks along with the weird psychedelic effects.
(I thought about the possibility of maybe recording some vocals on a few tracks with audition and sending them his way. If the guy likes them, we could possibly collaborate between countries, which would be interesting. Of course, now that I know Asturm Tespestas is an underground label, I won't be doing this. I have since gotten into the idea of recording vocals on tracks for albums if people would send them to me. I will pm my email address if you are interested. I have a metric ton of lyrics, and could write special lyrics for the song/s if asked. So, if you want to collaborate, don't be afraid to send something, and I will see what I can do with it. I'm not in it to make money, just music - and this digital age seems to make it easier to record onto tracks and mix yourself.)
As for this album, it contains as I've said; black metal bits mixed along with psychedelic and transitive pieces. There are only 4 songs with music, and it's decent enough to listen to, but I do feel like the guy who put this up there, that it would have been better with vocals. I'm thinking about trying it, so I'll let you all know. Personally, recording the vocals on these tracks would be painfully easy. There's not a great deal of layers.
This thing is going to be very hard to come by, and I doubt that many people are going to be able to buy it, since only 100 were made.
By the way, the guy lost his mind when he decided to do the outroduction, as he calls it. I cannot help but to laugh and smile, and shit myself, when I hear that song.
OVERALL: IT'S DECENT, BUT STILL NEEDS WORK. HOW THIS GUY GOT SIGNED, (PERSONALLY, I DON'T THINK HE IS.) IS BEYOND ME. YEAH, HE DID IT ALL HIMSELF, BUT IT'S NOT AMAZING. NACHTMYSTIUM IS WAY BETTER FOR THOSE LSD MOMENTS.
Score: 2.8/5
No Hand Path - An Existence Regained (2010)
- This black metal band is quite odd, if not a bit funny. Here is the track list, because some of it I can't help but chuckle at:
To Be Reborn:
1.Birth Of Consciousness
2.Birth Of Decision
3.Birth Of A King
To Be Awake:
4.Quest Of The Traitors
5.Quest Of The Deceived
6.Quest Of The Noble
To Be Complete:
7.The Deepest Journey
8.The Darkest Journey
9.The Longest Journey
The three last songs on this album seem to have some very silly titles. I mean, it shouldn't get much more black metal than having to take the deepest, darkest, and longest journey, eh?
But seriously, No Hand Path is no ordinary black metal band. Think of them as black metal with very soft portions and clean vocals akin to Opeth's quieter moments. I've heard better harsh vocals, but these are okay. They tend to be rather basic in the drum section, with blasts and riffs consisting of the black portion of the songs, although the guitarist is definitely able to put some sweet melodies in as well.
Somewhere, someone is really digging this.
Yes, there's some interesting clean vocal and black metal dual vocal on here as well, sure to get many people to take notice of this progressive black metal band that wouldn't deny that Opeth sort of influenced them. It's good metal though, and definitely as good as the cover and amazing epic artwork and design would suggest.
Is it as good as Iskald? That all depends on your style. I'm not going to pit the two against each other, since each band appears to be brilliant in their own right. For the proggy opethy black metal heads, I would have to bend over backwards and say "GET THIS FUCKING ALBUM!" but if you're more for Emperor and the like, than Iskald you may enjoy more.
As I said before, there are sure to be amazing moments on here, but I don't think that there are going to be too many amazing things throughout your listen. Here and there you might say, "Hey, that's awesome." They do some really great prog stuff, but so do many other bands these days.
I can honestly end this review by stating in plain English that this album is worth a shot for someone who wants to hear some proggy black metal with some clean vocals and a few new riffs. (Most of these I've heard 1000 times by other bands.) As I said before, and again, you WILL hear some interesting moments, but they are in between moments of mediocre black metal.
I don't think I could listen to this many times because of the vocal touches, and mediocre black metal with too few interesting moments. But, as I said before:
Somewhere, someone is really digging this.
OVERALL: SOLID PROGRESSIVE BLACK METAL WITH RIFFS I'VE HEARD A MILLION TIMES, AND SOME INTERESTING MOMENTS LIKE SOFT PARTS WITH CLEAN VOCALS, A SITAR, SOME CHANTING, AND OTHER SUCH THINGS. THERE'S ALSO SOME GOOD RIFFS EVERY SO OFTEN.
3.5/5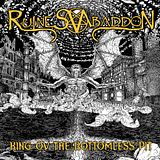 Ruines Ov Abaddon - King Ov The Bottomless Pit (2011)
- Here is some American black metal, from some guys that look really funny in paint. Seriously, I know what that's like. Here's an old pic of me in corpse paint:
As for the album, it's quite enjoyable. I think it's a far better American attempt at Dimmu Borgir class black metal than Sothis, which is such a blatant rip off. Another thing that I like about this band, is their use of death metal drumming, and their very light use of symphonics, very heavy on the metal, approach. Sometimes black metal gets so much on the symphonics that it can't really be considered heavy. This album however is an absolute stellar American release of black metal that doesn't stay in one place. Their ability to seamlessly transition from one thing to the next makes the thing interesting.
It just really has that feel of an album that you could play again and again for at least a few weeks or months, and really enjoy. To tell you the truth, this probably one of the best American symphonic black metal attempts that I've ever heard in my entire life. Yes, it is that good. No clean vocals, no bullshit slowdowns, just very black metal with some great death metal influence. If Dimmu Borgir came out with this instead of Abrahadabra, I'd have bought it. I cannot honestly get over how good this one is.
Yes, it's kind of raw - but these guys have something really great going on here. They really need some support too, so pick it up if you can get it. I'm hoping like hell they'll play a show in Little Rock, I may try to find a way to come down and see it for myself.
Track by track, it's 40 minutes of great American black metal.
OVERALL: SUPERB AMERICAN BLACK METAL IN THE VEIN OF DIMMU / OLD MAN'S CHILD , BUT WITHOUT ALL THE SOFT PARTS. THERE'S MORE HEAVINESS HERE, AND LESS OF THAT "SWIMMING WITH SWANS" STUFF. INFLUENCED BY DEATH METAL AND FAST BLACK METAL, WITH SOME GREAT RIFFS AND GREAT TEMPO CHANGES, THIS BAND IS FUCKING GREAT.
SCORE: 666/5
Seventh Wonder - The Great Escape (2010)
- This power / progressive metal band in the vein of Pagan's Mind, Andromeda, (whose last album was inhuman) and Symphony X, is an interesting disc to listen to while you're waiting for the next release from any of those other bands.
The disc is 7 tracks, and 67:00 long, so you can already tell that this release is quite bombastic. It very much is just that, with it's final track "The Great Escape," being a 30:22 monster. The riffs are great, as well as the progressive nature of the band, which doesn't pull any punches. The only thing that you really need to know about this album is that it has an almost "hair metal" catchiness - not to mention the vocals, which you'll either really like, or really won't like. I personally think the singer's not as high pitched as some that I've heard in this metal genre, and he works well with the music.
As you can expect - progressive over the top solos, progressive drumming and riff styles, and everything else that you like in a prog metal album. They didn't make a death metal album, that's for sure. Let's not forget about keyboards, which people these days seem to hate, except for me. I like the solo, keyboard, solo, keyboard, solo, kind of solos.
Bottom line - If you liked ANY of the bands that I mentioned at the beginning of this review, there is no reason you won't like this album…unless you like things thrashy, because there's not a lot of that on here. Shit, I should've mentioned that earlier. I mean, it's not very heavy at all. Very sing-along. If play this going down the road at a hundred miles an hour, people might wonder things about you.
Not the heaviest thing in the world, but not the worst either. Great for it's genre, and it's fans.
OVERALL: CLASSIC SOUNDING PROG METAL, FOR PEOPLE THAT LIKE THEIR PROG METAL NOT VERY THRASHY, AND VERY SING-ALONG. GREAT PROGGY RIFFS, OVER THE TOP KEYBOARD / GUITAR SOLOS, AND A 30:22 MONSTER CLOSER TRACK.
IT'S PROG METAL, PLAIN AND SIMPLE.
SCORE: 4/5 (Good, but nothing I haven't already heard.)
Also Recommend: Andromeda - The Immunity Zone (2008)
Sirenia - The Enigma Of Life (2011)
- For some odd reason, goth metal gets such a bad rap, and I blame Amy Lee and crew for it. Sirenia, the once side project of Tristania mastermind (whose name escapes me) has now released their 5th album, is definitely not a side project anymore. Obviously their selling albums, because if they weren't they wouldn't be on their 5th release.
Unfortunately, "At Sixes and Sevens" and "An Elixir For Existence", which were some of the best goth/death metal and even goth/black metal albums that I think I've heard in my many years of listening to metal; are long gone memories. There's still some heavy parts in the formula, and yes this band has a definite formula now - and those main things are the adding of (like on 13th floor) the black/death vocals, and solo sections.
Except unlike on 13th floor, there are some added experimentations, like industrial tinges for example. The riffs are still quite basic, and that might be what cuts off most metal heads from this genre. Also, it is completely dominated by the female vocalist.
If anyone knows of a decent goth metal band that actually sounds like a mix of death metal/ black metal/ female vocals that isn't completely dominated by female vocals, let me know. But, I doubt that one still exists these days. Again, thanks Amy lee, for that.
-------------------------------------------------------------------------------------------------------------
Still, I'm bound and determined to eventually put together some sort of heavy project that mixes female vocals, along with black metal and death metal vocals together, and music as heavy as literal hell where the female vocalist would have to both sing and scream her fucking head off. I tried it with Shadowed Sun, but I will try it again with a more stable set of musicians. I really liked one portion of a Battlelore song where the female was singing during double bass hits, and have not been able to find anything quite that heavy. Believe it or not, my female vocalist was complaining because she said she couldn't sing during the heavy parts of the song, which I just couldn't understand . She said that she had to sing during the light parts and scream during the heavier parts, but I guess that's because we're used to this formula, I guess.
Until then, I'm hoping the new Anaal Nathrakh with Demi Lovato on backup female vocals might fill that void. I cannot wait for that fucking album. June is just too fucking far away, damn it. Not to mention the new The Project Hate record - Bleeding The New Apocalypse, even though it would be impossible to top HDCE, and Armageddon March Eternal. Although, I wish that Lord K. would write lyrics about something else. Isn't he tired of the Jesus bashing yet? There's so many other shit out there to bash these days.
-------------------------------------------------------------------------------------------------------------
Basically, this album is as I've said, completely dominated with female vocals. When you hear death/black vocals, it's very short bursts, same with solos. There's lots of orchestra influence, and lots of pianos and such, so it's really nothing major. There's some good tracks, but not really amazing - nothing they haven't done before. Plus, their latest vocalist doesn't really sound that great. She's decent. The vocalist they had on "Nine Destinies and A Downfall" was great. This is the same qualm I have with the new Nightwish, of course few could replace Tarja.
If you like this stuff, you'll like this album. I think it's too catchy, and there's too much orchestral and piano stuff going on, and not enough metal. Sure, you have a few grunts and great black metal scowls, but apparently the guy likes doing this kind of metal instead. (If you want to hear him do black metal, grab "An Elixir For Existence") On some of the songs he sings clean, but it's really no big deal, since the female vocalist takes over everything. Apparently, money smells quite good these days, and creativity really doesn't.
Art doesn't pay the bills, sadly.
BONUS TRACKS:
Oscura Realidad - Just another boring track in their native language.
The Enigma Of Life (Acoustic) - Ridiculously long ballad with great solo, but in acoustic format.
OVERALL: RUN OF THE MILL GOTH METAL, DOMINATED BY FEMALE VOCALS. THERE ARE SOME RASPY VOCALS, AND SOME SOLOS, BUT NOT WORTH THE PRICE OF THIS ONE. YOU ARE GETTING A WELL PRODUCED BUT UNORIGINAL GOTH METAL ALBUM HERE. FANS WILL LOVE IT, BUT I'M SICK OF IT. HOW MUCH LONGER WILL THEY MAKE THESE ALBUMS WHICH SOUND THE FUCKING SAME?
IT'S JUST ANOTHER FUCKING DROP IN THE BUCKET.
Score:2/5 (MEDIOCRE GOTH METAL)
Ulcerate - The Destroyers of All (2011)
- This post-metal / technical death metal band is nothing short of amazing. They are one of a kind, and I really mean it. Think of a hybrid mix between Neurosis and tech. death of any flavor, and you've got it. You could also compare them to Meshuggah at their most down-tuned, and drone-like.
The vocals approach is that of a traditional death metal growl, but the music is what sells here because this band has flawlessly, and seamlessly, mixed technical death and post/drone together in a way that works. Unlike Mitochondrion, this is actually not bland, and quite well…the word "cognitive" comes to mind, actually. Some might say it's metal for the brain.
Whatever it is, this is one album that you should not miss out on if you've ever wanted to hear a flawless mix of post and technical death, even though it is mostly post. I hope I'm making sense of all this, being as I'm a big fan of post/gaze/drone whatever you want to call it.
That statement right there should tell you that this is one hell of an album. The very fact that I myself am really into this kind of music, and can actually tolerate the mix of it, and tech. death, which is a genre I'm not as fond of, (but there are certain bands I particularly enjoy from the genre as well, such as the legendary Decapitated. The first time I heard "Spheres Of Madness", I was convinced that I had to play that song at least once a day for a few months. I still never tire of that one, and many others from the genre) should be reason enough to grab this one.
I can say with full knowledge though, that this album is not going to be for the kind of person who expects something fast, because the only fast about this album is the double bass. Everything else kind of drones along, and that's fine by me. It might not be for you though, so I figured I'd throw that tid-bit in. Most of the songs on the album are also quite long - Nothing is under 6:16, and the final track is 10:30 long.
Still, it's a new path for metal, and worth a listen for everyone out there. There's not too much interesting shit out there anymore, and this is interesting shit. I will definitely keep my eye on this band, as they have the possibility to become something massive, and groundbreaking in the next few years. (They'll also spawn plenty of knock-offs.)
OVERALL: A 52 MINUTE PERFECT MIX OF POST AND DEATH METAL. STILL NOT VERY FAST, AND TECHNICALITY IS THERE, BUT MORE POST THAN DRONE. THE BAND IS STAGGERINGLY GOOD THOUGH, AND WORTH A LISTEN FOR ANYONE. EVERYONE SHOULD FIND SOMETHING GOOD ABOUT THIS DISC, EVEN IF IT'S THE MERE FACT THAT THEY ARE ATTEMPTING AT ORIGINALITY.
Score: 666/5 (Definitely not your average post-metal album.)
Unconsecrated - Unconsecrated Cemetery (2008)
- What we've got here is very simple. It's classic death metal with nothing else really to say other than the fact that it's highly recommended for classic death metal heads. Entombed, Cannibal Corpse, Grave, Early Kataklysm, and other such bands definitely inspired these guys.
They do a very good job of perfectly emulating these bands, and incorporating Sabbath riffing, which works extremely well here. Those classic doom crunches really help to make their death metal sound a whole lot more grim.
It's not the best death metal you've ever heard, but it's certainly not the worst. If you get a chance, you should check it out. It's been out quite a few years already, so it'll still be there.
OVERALL: CLASSIC DEATH METAL WITH SABBATH RIFFS. IT WORKS WELL, AND IS WORTH CHECKING OUT. NOTHING YOU HAVEN'T HEARD BEFORE, THOUGH.
3.5/5
Witchburner - Demons (2010)
- Finally, we have Witchburner - who oddly enough, or ironically enough, sounds just like Skeletonwitch. While I'm not sure if this is an American band, like Skeletonwitch, it sure doesn't sound like it. It sounds more like the European answer to the question of how can we one-up classic sounding death-thrash/almost black metal, and not sound like we're copying directly?
Well, that's where Witchburner comes into play. While I know little about the band, I can tell you that the songs on this album have a very "classic" quality to them, and remind me a hell of a lot of Destruction. The solos are mad, the vocals are fierce, and the whole thing thrashes left and right until the abrupt 37:00 end. Of course, you could always just play the disc again, but that isn't the point.
The point is, that people are going to compare this European band to Skeletonwitch, and while they are good; I hate it when uneducated upstarts proclaim only the bands that reach the popularity hype of their era. Just because all the others are listening to it, doesn't mean that it's the best. Witchburner came out and has turned the tables on Skeletonwitch, and when they did - everything came crashing down.
This album is ten times superior to SW's last offering, and doesn't offer us any core portions, thankfully. I can however say, that despite the awfully corny lyrics, this is a great album that mixes black/death vocals, with Destruction-esque thrash.
The only downside to this release might be the proclamation that you're getting exactly what you pay for. Some people these days buy death metal and expect a polka track or two, I guess. I remember when I bought albums and would be upset when there was some awful track that deviated from the nature of the release. At least with this one, you know what you're getting, and what you're getting will stand the test of time. No one's going to bitch about a classic, and if they do…well, that's their shitty sandbox. Let them wallow in it.
OVERALL: CLASSIC THRASH METAL WITH DEATH/BLACK OVERTONES. LIKE SKELETONWITCH, EXCEPT WITHOUT THE CORE. SOME OF MISS THE OLD DAYS OF METAL, WHEN THERE WASN'T ANY CORE, OR TECHNICALITY, OR EVEN PROG. THIS IS FOR THOSE PEOPLE.
Score: 5/5 (Definitely getting what you pay for, but not at all mind-blowing. For the modest heads out there.)
Times Of Grace - The Hymn Of A Broken Man (2011)
- Alright, open mouth - insert foot. This is a metal-core album from the two vocalists of probably one of this country's better metal core bands, at least riff-wise. The former vocalist of Killswitch Engage, "Jesse Leach" and their current guitarist, Adam D.; who is battling rough back pains to continue playing music, even after the man said his back was just too bad to continue in KSE. I know of back pain myself, and it can really break a man.
This album however is not about back pain. It's more than likely about a man who's lived a rough life, and seen the darkest things, and found Jesus, I believe.
More rock than metal, I would consider this another gateway drug to heavier metal, but heavier Christian Metal. Stryper is coming out with a new one this month, so maybe that album…
I'm kidding.
Regardless, Adam D. has always had some rather great melodies, it wouldn't matter if there were vocals or not, and this makes this album quite interesting. So,. It's actually pretty decent. A mix between singing and screaming, and really soft songs thrown into the mix, there's much heavier stuff on the list than this.
Still, not awful by any means. If you buy the thing, you get a DVD that I guess has a video version of the album, with a video for each song. That's 13 songs at 52 minutes. Anything to sell an album I guess. It's not like those videos won't end up on you tube or Jehoshaphat's video blogspot somewhere.
There's also a nice little country diddy on here, for ya'll. It's called "The Forgotten One." Probably will be on the radio in a few days, or weeks. (SARCASM)
OVERALL: A GREAT GATEWAY DRUG TO HEAVIER METAL. OF COURSE I MUST EMPHASIS THE "JESUS" IN THIS METAL, SO IT WON'T BRING ONE INTO BELPHEGOR, FOR EXAMPLE.
Score: 3.5/5 (Decent Riffs, but very mainstream. As I said, great gateway drug for the young heads. Yeah, it might help them find God, but it'll help them find metal also.)