8 Foot Sativa - Poison Of Ages (2007)
- The first thing I'll say about this band is that they're currently on hiatus. I'm not even certain if this melodic death thrash outfit which sounds like it is being fronted by the screamer of Heaven Shall Burn, for instance; is going to ever release any more music.
This album is their latest, and it's still a few years old, but it still manages to stand the test of time. The band's pure mix of melody and brutality shine throughout every song, and there isn't a bad track to be found on this one. Their screamer embodies an almost unbridled passion as he belts out some of the best melodic death thrash I've ever heard. Definitely worth a listen.
OVERALL: GREAT MELODIC DEATH METAL, THAT'S WELL WORTH A LISTEN. FOR FANS OF HEAVEN SHALL BURN, THE CROWN, AND OTHERS OF THIS NATURE.
Score: 5/5
Aardvarks - Conglomerate (2002)
- In some weird turn of events, these brilliant German melodic death thrashers (but in a different vein than 8 Foot Sativa) decided to name themselves after one of the least brutal and frightening things out there, the aardvark.
Don't let their name fool you, though. Even though it's been quite a few years, this album contains plenty if interesting melodic riffs and has a very gloomy edge. However, the disc contains two entrustment covers, which are well known movie themes. The first is "Terminate", which is a better cover of the T2 theme than the one done by Austrian Death Machine. The second is a cover of the "Phantasm" theme, and it's also quite good. Just don't laugh too awful hard at the cover for Primus's "Too Many Puppies"
All in all, it's gloomy melodic death metal with great solos, drum work, vocals, and melodies, (most of all) and I'd recommend it to anyone.
OVERALL: GREAT GLOOMY MELODIC DEATH METAL, WITH COVERS OF TWO MOVIE THEMES. MOST OF THE SONGS ARE HEAVY AND FEATURE GREAT PLAYING THROUGHOUT. THIS BAND STILL OPERATES AND HAS RECENTLY RELEASED A TOUGH TO TRACK DOWN 4 TRACK DEMO, CALLED "PRO-VICTORIAN."
Score: 4/5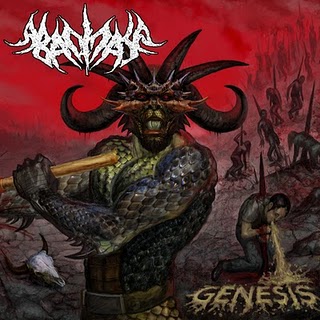 Abacinate - Genesis (2011)
- This American Renovation on the term death core, will have fans of Job For Cowboy turning their heads quick, fast, and in a hurry. As good as Job was, I felt that the band was rather bland. Abcinate does so much more on this album, with the ability to change styles forty million times throughout the course of the album. The vocals range from death metal growls, to hardcore hollers, to death core vocals, and even some death metal screams are featured.
These gentlemen know how to play their instruments, and will show you what real core music can, and should be. I thought I was going to hate this when I first started to play it, and now I can thing nothing but great things about this band. There are two instrumental tracks on the album as well, such as "Left In The Dark Pt.1 and 2", and those tracks are much more than standard instrumentals.
The band actually uses full solos which actually are worth a damn, and even though there are some breakdowns, they are few and far between. It's so tough to classify these guys because of the sporadity of their music. Northing stays the same for too long on this album, and for some this could be too overbearing. The bottom line though, is that it is heavy through and through, and you'll roughly fucking enjoy it. I recommend it to anyone who's into American death metal/core. It's not to be missed!
OVERALL: SPORADIC, MELODIC, AND COMPLETELY IN YOUR FACE, AMERICAN DEATH METAL/CORE. MIXES SEVERAL STYLES TOGETHER TO CREATE ONE HELL OF A HYBRID. GET THIS ONE, IF YOU DON'T ALREADY HAVE IT. MAYBE THIS BAND COULD CHANGE THE FACE OF BORING DEATHCORE AS WE KNOW IT.
Score: 666
Abgott - Godfather In Black (2009)
- Abgott is a black metal band that seems to pride themselves on both progressive and over the top guitar riffing. The band is really quite amazing in the fact that the guitar work is so out there and different from what I've heard from this genre. I guess I could compare some of the riffing to late Emperor, to do it justice.
The band mixes these progressive tones and a much more traditional black metal style together in a way that clearly works for them. The production of the album is also much higher than one would expect, with all the vocals and instruments audible. The only downside to the album was the fact that a short instrumental or noise followed in the track after each track, except for the third. I think it would have been better if those short filler tracks were completely non-existent. They were clearly not needed, and I recommend deleting them off.
OVERALL: BLACK METAL BAND WITH PROGRESSIVE TONES AND GREAT, IF NOT TOO OVER THE TOP, RIFFING. PRODUCTION IS VERY GOOD, BUT SUFFERS FROM RIDICULOUS AMOUNT OF BORING SHORT FILLER TRACKS, NONE OF WHICH ARE VERY INTERESTING OR UNIQUE. WOW, YOU CAN DO AN EERIE SOUNDSCAPE, OR A SHORT ACOUSTIC…BIG FUCKING DEAL!
Score: 4/5
Ajattara - Murhat (2011)
- This 31 minute black metal album from mastermind of Amorphis, will make you insane. Amorphis had their good days, but I feel that their current style is not near as heavy as it used to be.
Ajattara is a much more blistering act, with all foreign lyrics. This is one hell of an album really… It's fierce as hell, but still very melodic. One listen from this, and you'll be hooked. I cannot get over how each song manages to sound as good as the previous one, and it might even make you forget all about Amorphis. In a way, it sounds like a more brutal and evil version of Soulfly.
As this album is much fiercer, don't expect any happy moments within. The bloodcurdling vocals and dark riffing style is just the kind of thing that black metal needs right now, and it doesn't get more dark and bloodcurdling than this one. Yes, it's short - and there's no solos to speak of, as well as riffs that sound tight, but a little basic. But, the performance and sheer anger on this album shine through. "Ihmisen Luku", and "H.A.I." is an example of this.
I'll put it to you this way, people…Nobody is doing black metal that sounds like this. It's slow, violent, and ridiculously fierce…just like a long torture session. You'd be a fucking idiot not to check this one out. Never knew this guy had it in him. I have NEVER in my life, heard vocals that sound so demonic.
OVERALL: POSSIBLY THE MOST EVIL SOUNDING BLACK METAL THAT I'VE EVER HEARD. RIFFS ARE KIND OF BASIC, BUT MUSIC IS TIGHT, AND VERY MURDEROUS. IT REALLY SOUNDS LIKE BLACK METAL, AND EVEN WHEN THEY ADD OTHER INSTRUMENTS, IT'S STILL RATHER BRUTAL. JUST KEEP IN MIND THAT THIS ISN'T FOR SPEED FANS. IT'S SLOW AND BLOODCURTLING BLACK METAL, WITH FOREIGN LYRICS THAT MAKE MY SKIN CRAWL, AND MAKE ME SMILE LIKE A SCHOOLGIRL.
Score: 666
Alghazanth - Vinum Intus (2011)
- Alghazanth is a symphonic melodic black metal band with decent production, who seems to remind me of earlier Rotting Christ. The melodies are great, the screams are as good as can be expected, and the symphonics don't become too overbearing. There's no orchestra or anything here, just keyboard synth, and it works. I'd have to recommend this to fans of melodic black metal, because it's really good. Being a major fan of melo-black, as one would call it, the melodies matter more than anything else, and a great deal of black metal bands forget that the drums can do more than just blast through a song.
Here, we don't have that problem. Songs like "Under The Arrow Star" have a beautiful chorus section, that while repeated enough as any pop song, it works much better than any pop song. So yes, the album is quite catchy, and has a sullen melody that works just perfect for black metal. This can also be said for "For Thirteen Moons."
Some of the songs are faster than others, and may remind you of many other black metal bands of the past, but the great use of melodies from both the guitar and the keyboards makes this disc both an enjoyable, and majestic listen. I'm sure that there will be a great deal more melodic black metal releases this year, but as for now, this one is worth picking up. Many of you might listen to this album, and come upon the notion that "this is what melodic black metal should be."
I too, will agree with this statement. These gentlemen have done a fine job of making depressing, beautiful, and still quite black…metal.
OVERALL: RECOMMENDED MELODIC BLACK METAL WITH NOT SO OVERBEARING SYNTHS, AND A GREAT DEAL OF SORROW. IF YOU'RE IN A GOOD MOOD, DON'T PLAY THIS ONE. REMINDS ME OF EARLY ROTTING CHRIST, AND THAT'S A GOOD THING. DEFINITELY CHECK THIS ONE OUT IF YOU'RE INTO MELO-BLACK. MIGHT BE A BIT ON THE GOTH SIDE THOUGH FOR SOME.
Score: 5/5
Autolatry - The Hill (2011)
- I actually previewed this CT black metal band's myspace page before I grabbed the album, and even told them how much I liked it. They responded back, and thanked me for the praise. See? There are nice people in the world. Autolatry sounds like American black metal with an injection of Primordial and Agalloch. It's a little raw, but it's extremely fierce, and has plenty of great guitar solos and progressive riffs. I also contains the acoustic pieces in a few tracks, hence the Agalloch comparison. There are also a few epic spoken word portions.
The band relies on double bass; except when they do something much more technical or proggy, and the screaming is extremely erratic. The amount of rage in the vocals really adds some meat to the music. Death metal growls also creep up, making this not completely black metal. I think the vocals compliment each other rather well. I might also add that a very goblin style of vocals show up which work fucking great for this band, and this music.
The album is 46:00 long, and it's certainly worth hearing. The band still has some work honing their sound, but what's presented here is a good direction, and really lays an imprint for their style of black metal. The riffing is a little different from the norm in some sections, but it is always rather gloomy, which is a good thing. Plus the solos are really great on this release, and it's not what I expected. Be sure to check this one out.
OVERALL: GLOOMY AND FIERCE BLACK METAL WITH A LITTLE MORE, FROM CT. YEAH, CONNECTICUT. I HIGHLY RECOMMEND THIS TO FANS OF AMERICAN BLACK METAL, BECAUSE IT'S FULL OF PROMISE. YOU OWE IT TO YOURSELF TO SPIN THIS ONE. DEFINITELY NOT SOTHIS…
5/5 (A very worthy black metal release)
Burzum - Fallen (2011)
- Ah, yes…Here we have another album from Varg and company. As you might imagine, this album sounds in the same vein of the previous one, and the previous albums before that. The man's motto is quite clear…"Who cares if it's 2011?! I didn't get to make any black metal albums in the late nineties, because I was in fucking prison!"
I will say that the production of this record is much clearer than anything he has released before, and the guitars, drums, and vocals are clear as a bell. There is no muddy sound to be heard here, which is a good thing. This is Burzum's first good production album, and it's very good. Burzum is still at the very roots of the genre, and is as respectable as Emperor, Darkthrone, Dissection, and other such black metal stalwarts. The experimenting continues on this album, as in the vein of the previous two metal albums (Belus, Filosofem) and it's just as good as ever, with some amazing melody and progressive notions. The metal isn't very fast here, but it's definitely artful.
"Jeg Faller" actually features Varg's clean vocal attempt, but with just the two words of that song as a chorus, followed by a bit of "ahs", and I mean ahs, as in the kind that sound pleasing, rather than the ahhhs! Which adorn most of the heavier side of this album. "Budstikken" also contains some great clean vocal work, and some almost rock-ish riffs. To tell the truth, there's clean vocals on a great deal of songs on this album, which is a sheer mix of rage and calm. There are heavier things on the market, but this will make Enslaved fans very happy.
There are 7 tracks here, at a total of 47:00, so the majority of them are over the five minute mark. (every track except for the 1 minute intro) The lyrics are still foreign, but I strongly doubt that that is about to change. Even so, Burzum has not disappointed, making yet another great album to add to Belus, which came out last year. Apparently, the man feels that he should record enough albums to take the place of the time that he was in jail. I have yet to hear the Varg albums though, myself. As for his work in Burzum, it continues to be strong, mighty, and still experimental. It's something that most of these modern black metal bands should take a listen to as well. It doesn't have to be all about the double bass!
Who cares if he killed a man? Many die in wars everyday. The man still can go out and make good black metal albums, in that old Norwegian farmhouse he wants to live in for the rest of his days, so I've heard.
The bottom line for this album is simple. Burzum has not changed, sans some clean vocals. Other than that, it's still the same Burzum that you remember. If you liked Belus, If you liked Filosofem, you're going to like this album. I fucking love it, personally. I'm telling you - murderers seem to make the best metal albums. Diessection (RIP), and Burzum still stand as some of my personal favorite black metal acts.
If you don't mind the clean vocals and the spoken vocals in accompaniment to the progressive black metal melodies, you'll love this album too. It's one of his best, hands down, and the best I've heard since Filosofem.
Did you really think that Burzum was going to disappoint?
Alright, so some of the clean vocals aren't as clear as a bell. "Budstikken" is an example of where the guitars are just too much louder. But it's really not that big of a deal. The song still kills. Also, the last song is basically some sort of pagan drumming soundscape deal, so I figured I'd mention that. The last metal track is the 6th one.
OVERALL: BURZUM STILL MAKING ARTSY PROGRESSIVE BLACK METAL. A SLOW ALBUM WITH BEAUTIFUL MELODIES, THAT WILL APPEAL MUCH TO ENSLAVED FANS. I PERSONALLY THOUGHT IT WAS GREAT, AND THE MAN HAS YET TO MAKE A BAD ALBUM.
THAT'S A GOOD THING.
Score: 666/5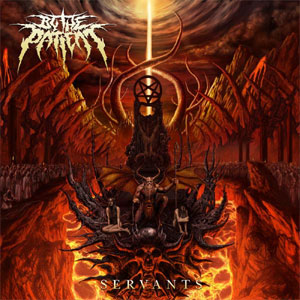 By The Patient - Servants (2010-11?)
- At first, what I thought I was hearing was some boring old death metal laden with core elements, and from that first track, it was quite apparent. Although, when the second track "Dehumanized" cut in, I was surprised. The band even managed to pull off one of those ending portions that remind me of the end of Opeth's Deliverance. (The song, not the album)
In 39:00, there are definitely signs of promise. The band doesn't stay in one place, and both vocalists seem to bring the raw emotions pretty hard on this album. Of course, when the melodies kick in, your ears start picking up something good, and that continues on with the drumming, and vocal placement. I know good vocal placement when I hear it, and these two vocalists definitely balance themselves together as well as band I used to listen to by the name of "Watch Them Die." Seriously, this is good death metal. There's some core influence, but it's not enough to turn death heads from it. Personally, I think it's got something special, and time will tell if this band gets any farther from a solid release like this. This is the kind of album that I can recommend to someone that just wants to hear a "good death metal album."
The solos are also far and few between, but pretty damned good when they come in. You're definitely getting a brutal record here, and these guys aren't so crazy about Jesus either. I think that's the whole basis behind the lyrics for this album. Still, this is some really stellar stuff. Yeah, the first track's a skipper, but just keep listening. I feel in doing these reviews that it's tough sometimes to explain how good I think that an album really is, and I want you all to know that even though the first track rubbed me wrong, I found a lot to like further on the disc, for death metal heads and people that like their music technical and brutal rather than artsy.
This is, as to say is bluntly…"A Good Swedish Death Metal Album." So check it out. It can't hurt. By the way, the last track is apparently a death metal reading of Luke 18: 15-17. I myself, have always wanted to do the entire book of Revelations in black and death metal for respective pieces.
OVERALL: SOLID SWEDISH DEATH METAL THAT STARTED OUT BAD, BUT GOT REALLY FUCKING STELLAR AFTER THE FIRST TRACK FINISHED. THERE'S SOME GREAT MELODIES, GREAT GUITARWORK, AND GREAT DUAL VOCAL WORK. THE DRUMMING IS ALSO FEROCIOUS, AND WELL WORTH THE PRICE OF THIS THING…WHO IN THE HELL IS THAT GUY?
Score: 5/5 (About this--fucking close from 666)
Clash With Reality - Every Time You Die, Die Fightin' (2011) - This um...EP, I guess - is from an American instrumental group. Again, I could just throw this stuff into Mugen, or throw vocals on it.
The music is groovy, and it's melodic, with odd time signatures and everything else you already would expect from this kind of metal. It really is the kind of stuff you might hear in a video game these days, and if you don't believe me, check out some modern shooter soundtracks. At 22 minutes, I don't recommend buying this one, unless you want to support the band. Honestly though, there are so many instrumental bands out there, these guys are honestly just another one. If there's a shooter looking for fight music, here's a good band for that.
As I explained before, this album is pretty run of the mill instrumental. It really is the kind of music I'd have pictured in a Doom, or Duke Nukem reboot. To be blunt, if you need some music to play in place of your game's music, (mute music volume) this will do nicely.
Crowbar - Sever The Wicked Hand (2011)
- This is actually the first Crowbar album I've ever heard. Honestly. To tell you the truth, I actually like this one a lot. It's got that crusty sludge sound, and has a hell of a thrash to it. The vocals work well for the most part as well. There's a great deal of Pantera influence on this album, but that's not a bad thing. It works for them.
There's actually some clean vocals on this album too, and they're not bad actually. Sometimes their lead singer looks and sounds like an angry old man, but the man has some worthwhile pipes in a few areas.
The band is quite ecstatic about this album, claiming that it was a very relaxed recording process, working on it only during the weekends when they had free time. I cannot say much about their old releases, but I am certain that this album is one of their best. It's certainly much better than I expected. I'm really not a fan of this band, and the single off their last record made me point and laugh a little. Although, I have to say there's some definite musicality on this album, and it's much more than just a bunch of guys getting together and throwing some riffs together on the weekends.
I could say more about it, but let's just leave it at the fact that I'm enjoying this record, which may or may not be a major change for the band. Besides the cover that looks like it could've been a Brainstorm album, the disc is extremely solid. It's not perfect, but it's damn good. I wonder if Jesus has it on his headphones right now?
OVERALL: A GREAT SLUDGY RELEASE FROM CROWBAR. SOME LIGHTER PARTS AND CLEAN VOCALS HERE, BUT THEY WON'T DETER ONE FROM THE ALBUM. IF YOU WANT GOOD AND HEAVY SLUDGE, YOU'RE STILL GOING TO GET IT. THE BEST USES OF SLUDGE WOULD BE ON "LIQUID SKY, AND COLD BLACK EARTH", AS WELL AS "ECHO AN ETERNITY" AND CLOSER, "SYMBIOSIS."
Score: 4.5/5
De Magia Veterum - The Divine Antithesis (2011)
- AGGH! What in the hell is this? Seriously, whose great idea was it to make chaos out of music?
I think the production on my FL albums is better than this. It sounds like it was recorded in a static storm. The black metal vocals are barely audible, and they sound like they were recorded inside of a box. Yet the thing's so loud it'll blow your eardrums out. It's just a sonic flurry of noise and confusion!
Of course, that's just the first 2 minutes of the album.
I find myself corrected. It appears that there are breaks from the chaos and confusion, but then one is literally thrown back into the abyss again. As a matter of fact, the chaos of a black hole would probably encompass this album quite well.
I believe that if Lovecraft's great old ones were to listen to a metal album, this would be one of their favorites. The atmospheres are definitely strong against the screaming and spoken word vocals, but the thing literally seems like a Herculean task to listen to. I actually feel a little nauseated from this one.
But, they certainly are doing something I haven't heard before. Making complete and total chaos, even though this could be compared to throwing paint on a canvas as well. I honestly can't listen to this thing anymore at moment, I think I'm going to be quite ill.
OVERALL: IF YOU LIKE CHAOS, CONFUSION, AND THE POSSIBILITY OF LOSING WHAT YOU JUST ATE BEFORE YOU TURNED ON THIS ALBUM, THEN CHECK IT OUT. IT SOUNDS LIKE A 2 DISC ALBUM WAS RECORDED, AND MIXED OVER A THOUSAND TIMES TO WHERE THERE'S JUST STATIC, AND THEN THEY TRIED TO JUST MIX EVERYTHING TOGETHER INTO ONE 35 MINUTE VOMIT FEST. I'VE HEARD ATMOSPHERIC BLACK METAL BEFORE, AND PLENTY OF ARTSY STUFF, BUT I FEEL LIKE MY HEAD IS GOING TO EXPLODE.
Although, I suppose that people who liked "The Work Which Transforms God" from Blut Aus Nord might like this one. It has that weird trippy atmospheric feeling, even though it can make you sick, at least that's what it did to me.
Score: 4/5 (Different, and one of the most challenging albums I have ever heard.)
Deicide - To Hell With God (2011)
- If you like your death metal guitar-laden, with thousands of solos flying around each and every track, you're going to eat this one up, and ask for more. Not only is this one of the strongest Deicide albums in their career, it's also one of my personal favorites.
The disc clocks in at about 35 minutes, which is good, because you'll be playing it again, and again, and again. If not for the interesting riff usage, but for the amount of sheer "guitar jizz" that this album is covered in. Solo after solo after solo after solo. Man, what a record. They don't make them like that anymore.
Also, I might add that this album is a little slower paced than their last, which was so brutal and fast, that I couldn't see myself really getting into it. At least here, the melody and finesse of the guitars are shown in an wondrous display. As for the lyrics, it really doesn't matter what comes out of Benton's mouth in my opinion, because the music is all that will matter in the end. The man could be singing about cheese, and it would still make a heavy album.
Now, one could say that Deicide played it safe, overloading this album with solos. The God Dethroned album we got last year also used a lot of solos and was just as brutal. But, I'm still going to have to say that this album takes the cake, because it sounds so legendary with those magnificent solos. I mean, these are the kind of solos that you hear in classic metal songs, not to mention that most of the riffs are also basically thrash riffs. God Dethroned's album was more modern death metal, while this one is truly classic. As I said…"They don't make them like this anymore."
The bottom line here, is that this isn't really a brutal death metal album. It's more of a classic death metal album, in a very classic death metal style. As I said, thrash riffs, over the top solos, standard death metal drumming fare, no sign of clean or female vocals, and no core, death core, or whatever the hell kids think qualifies for death metal these days.
JESUS CHRIST! IT'S A FUCKING DEATH METAL ALBUM!
What else do I need to say about it? The disc speaks for itself. IMHO, the best track is the first one, "To Hell With God."
OVERALL: CLASSIC DEATH METAL, WITH OVER THE TOP GUITAR SOLOS, AND THRASH RIFFS. (SOMETIMES ALMOST PROGGY IN A FEW SONGS) IT'S ONLY 35 MINUTES, BUT YOU'LL BE PLAYING IT MORE THAN ONCE. DEICIDE'S STRONGEST ALBUM IN A LONG TIME. GET THIS NOW.
Score: 666/5
Devildriver - Beast (2011)
- First of all, this is Devildriver's 5th album. The band started in 2000, and has been going strong, and getting arguably better since. This album is much better than 2009's "Pray For Villains", because not only is it much more fierce, it's also got a great deal of musicality, and riffage that I didn't know the band was capable of. Dez is as bad as I am with never shutting up on vocals, and without his vocals in the mix, you might hear some rather intriguing guitar riffs, some of them progressive notes, and some of them definitely non conventional.
When solos are used on this album, they are used quite well, and are long enough to count as 100% metal solos. I'll also add that not every song comes in at full force. Some of them have nice atmospheric, or other such lead-ins. The first couple songs sound really awful, and that's probably why the band put them online. Some of the greater songs, like "Black Soul Choir", "Coldblooded", and "You Make Me Sick", are much better than these straightforward tracks.
There's no clean vocals or soft songs here, and it's more or less a return to the heavy style that Devildriver is known for. It's definitely the band's fiercest album to date, and packs a hell of a punch. I was quite surprised.
OVERALL: THE FIERCEST RELEASE IN THE BAND'S HISTORY. DEZ MUST BE PISSED ABOUT SOMETHING, BECAUSE HE SURE DOES SEEM TO COME OFF THAT WAY. GREAT SOLOS, AND NON-CONVENTIONAL RIFFING IN SOME AREAS MAKES THIS ONE A KEEPER. SOME OF THEIR SONGS I'VE JUST HATED, BUT THIS ONE SEEMS TO MAKE UP FOR SOME OF THOSE BAD SONGS. IT DOESN'T STRAY FROM THE FORMULA THOUGH, AND A FEW SONGS DO SEEM TO SOUND THE SAME.
Score: 4/5
Dope - No Regrets (2009)
- Dope is one of the most ballsy and brutal hard rock bands out there, and since I'm not just one to review metal in general, but all heavy types of music, I have elected to change this to TFA HEAVY REVIEWS, to accompany both the hard rock, metal, and other heavy forms of music that people listen to. Let's face it - every big metalhead still has some rock bands that they like, and this is one of mine. Having actually purchased all of the band's albums sans this particular release, I'm quite the reviewer for these guys.
Bottom line is that Edsel Dope and crew show no signs of stopping. While not as brilliant as felons, it's not near as poppy as Life was. (which I actually though was decent) The last album wasn't much in the way of interesting for me, even if it was a two disc album, and the EP following this record was awfully boring. I thought the end was definitely near for these guys, and I am glad to say that I don't see it being over yet.
First of all, this is a very heavy and metal influenced hard rock disc, and it's a hell of a lot more brutal than anything Disturbed has done lately, that's for sure. I do respect those guys as hard rock musicians, but as for being completely profane, reckless, and willing to channel as much anger and brutality as possible through their music, I'd have to give the most brutal rock band crown to Dope. This is quite simple, as the thing is blazing from track to track with only a few melodic parts. It also features Axe-man extraordinaire himself; Mr. Zakk Wylde in a rare appearance, on "Addicted."
Even when Zakk is not in the band, whoever in the hell they've got playing guitar absolutely fucking slays. The riffs are flying throughout each track, and the multiple solos the accompany the album are as worthy as any I've heard on metal albums, even more so than core albums; which would be saying that this band is heavier than the majority of metal core bands…and they're not even metal!
Yes, there's a definite formula for Dope, and it seems like they might be playing it safe with this release, bringing back a lot of the sound from "Group Therapy." As for the listening experience as a whole, I just grabbed a copy of Painkiller for my PC, craving that old school Doom & Quake style gameplay, and this was the background music for the slaying of a multitude of evil monks and various other demon spawn. Hell, I almost felt like I was on Phobos base again…
Bonus Tracks:
Rebel Yell - I've wanted Edsel to cover this for years, being dissatisfied with the Bodom version, and only partly liking the HIM version. He does not disappoint, and there is even a hell of a solo that Idol himself should've added to the song years ago.
I Don't Give A… - A very weak and edited track, even on the unedited version. What the fuck is this? Yeah, so what it if's a mockery of censorship. It sends the opposite message when you censor the fucking song, idiot.
Die Boom Bang Burn Fuck - This is actually much better than it sounds. This is a medley of all of Dope's past "hits" as it were, starting with infamous anthem of my high school hatred "Die Motherfucker Die", and going though the gamut of their more recognizable and anthemic material. It's definitely good music to play when killing things on a screen, and is one of the best songs on this album, at 8:27.
Nothing For Me Here - In Guitar Hero 3, this was an unlockable track, citing to be on the new album. Unfortunately, this song was far too light for the new album, and is nothing more than filler. It was good on the game, showcasing the band's inclusion of soloing, but other than that…There was nothing for me here.
I realize this is a long review for a rock band, and I apologize; but I need to lay that the fault in this material is that there are really only 9 tracks on the album without the bonus songs. (unless there is only one version of this album) Besides the intro at 38 seconds, there are two short filler tracks being under 11 seconds each. This can give the false impression that there are 12 tracks when you are only paying for 9 at 29:00 of music (The same amount as an EP.) With the bonus, you are upgraded to 13 tracks at around 45:00 minus the intros. It's still pretty short, but worth listening to, especially if you weren't fond of the band's last album.
OVERALL: WORTHY HARD ROCK, MORE BALLSY AND ROUGH AROUND THE EDGES THAN DISTURBED. ABOUT THIS CLOSE -- TO BEING METAL. A GREAT GATEWAY DRUG FOR HEAVIER MUSIC, BUT WILL NOT DISAPPOINT METAL FANS, DUE TO SOLID GUITARWORK, AND SOLOS. LIKE IT OR NOT, DOPE IS STILL ONE OF THE HEAVIEST ROCK BANDS OUT THERE TODAY. GOOD FOR KILLING SHIT IN A VIDEO GAME. BUT…SO IS MOST DEATH METAL.
4/5
Dragged Into Sunlight - Hatred For Mankind (2009)
- I wouldn't have even noticed that this album existed, if someone hadn't requested it on the board I usually grab my music from. The guy said it was damn near impossible to find, so it must be good, right?
Well…It's blackened doom metal with a very raw feel. Perhaps too raw. I feel the band has some major talent, I just think they might have recorded it in a small room somewhere. I can hear a lot of amp feedback, and I do think that the amps might be so loud that they cause a rippling effect in the recording.
Most of the songs on this 51:00 album are quite long, 3 of the seven tracks being longer than 10 minutes. At first preview of this album, I hated it. But as I kept listening I noticed that it's not as inaudible as I thought. I can hear the vocals, drums, guitars, and voice clips perfectly. I just don't care for the mix at all.
I'm not saying you're going to hate it, because it's a really great blackened doom album with good guitar work, worthwhile drumming, a shared black and death metal vocal scheme with inaudible lyrics, (just sounds like screaming and growling) and a very heavy experience all around. I think these guys would be better to see live, and I say that about few bands. Give this album a try, (if you can find it) and let me know what you think. I'll also throw in the fact that technicality and out of the box playing is a major part of this album…Hopefully, that sounds good to someone.
OVERALL: INTERESTING AND BRUTAL BLACKENED DOOM METAL, WITH MUCH MORE EMPHASIS ON THRASH AND BLACK, THAN ON DOOM. BUT, IT'S THERE. THE GENERAL RECORDING ISN'T PERFECT, SO THERE IS SOME RAWNESS THERE. EVERYTHING IS AUDIBLE, BUT THE VOCALS ARE NOT UNDERSTANDABLE, BY ANY MEANS. STILL…IT'S WORTH A SHOT, AND IT'S PRETTY DAMN HEAVY. IT'S VERY CHAOTIC, BUT A CHAOS THAT I CAN GET BEHIND. I THINK THAT PEOPLE LOOKING FOR UNCONVENTIONAL METAL MIGHT FIND HOPE IN THE TECHNICALITY PRESENTED HERE. IT'S UNGODLY BRUTAL AS WELL.
Score: 4.5/5
Endless Noise - Metal -
This is a free metal album, that is mostly instrumental and somewhat trash, courtesy of the Endless Noise website. It's alright, and it's musicians were used to make Youtube's famous metal pop mixes. The band certainly can play, but they throw some crap tracks on there like "Hideous Corn Burrito", and "Cookie", which is probably why this is free. Most of Rehfeldt's work can be seen on you tube, but it can also be downloaded via Firefox Video Downloader or other web apps, and then converted to a wav file from Video Lan Player, which can then be converted to an 320 kbps mp3 from Xilisoft Audio Converter. See? That wasn't hard. (If you need help with how to do this to your favorite you tube or other streaming media, ask me, and I will run you through it.)
The album itself is only 38 minutes. It's also free along with many of their other mixes.
Excommunion - Superion (2001)
- Excommunion is solid death metal that would've been influenced by Behemoth's later era, if it had been released around that time. But, it wasn't. As we all know, the Demigod era Behemoth didn't start till about 2004, even though the predecessor, Zos Kia Cultus, and even earlier predecessor "Thelema.6" could've shaped the sound of this band as well.
Hailing from the US, I'm not so sure if this band has made any material since this album, which is a short 36:00 (EP Length) album, with 6 tracks with most of them clocking in a little over average. The music is basically brutal death metal in the vein of Behemoth, with blazing solos and a great deal of technicality. I didn't find all that much on this album that I haven't heard before, and better - but it's a great attempt, nonetheless.
OVERALL: SOLID US BRUTAL DEATH METAL IN THE VEIN OF BEHEMOTH. IT'S DECENT ENOUGH, BUT I'VE HEARD FAR BETTER IN THE LAST 10 YEARS SINCE IT WAS RELEASED. THERE ARE BETTER ALBUMS FROM HATE, AND CALM HATCHERY IN THE SAME VEIN, CHECK THOSE OUT INSTEAD.
Score : 2.5/5 (.5 added for great soloing in some of the tracks)
Haeresiarchs Of Dis - Denuniatus Cinis (2010)
- In this 67 minute Viking? black metal album with an unpronounceable fucking name, (and I'm a writer, for God's sake!) there consists a talented band that incorporates choirs, clean vocals, and yet again unconventional riffing to what would be a rather normal sounding black metal album. Yes, the music isn't as well produced as we'd all like, but it's certainly not bad either; and the symphonic touches to a black metal of this caliber would make most of the artier black metal bands cringe.
If I could compare these gentlemen to someone more mainstream like Enslaved, I would say that these men are the Enslaved for the insane individual. They're most certainly heavy, well thought-out, and a hell of a lot more original than those classy well-known black metal acts like Dimmu and crew, plus they really can make a 67 minute album like this, something worth listening to. Apparently some bands think they can defecate all over a release, and it's gold because they are well known, but this band, who come from nothing - has made magnificent alchemy with such an interesting and unconventional release.
The thirteen tracks on this album are more than enough to give one a proper representation of the music, and they show the band's much more ravenous side of symphonic black metal. Most of the tracks on this release are of a relatively long size as well. You'll be surprised as to just how you hear the guitar riffs in this piece. Some of these riffs are beyond unconventional, and I can't honestly believe that they fucking work.
The screamer could get on one's nerves though, since he is a screecher, and his vocals never change. However, there are plenty of other non-metallic parts, like acoustics, piano pieces, and other such atmospherics used in this album as well. It's pretty standard-fare in that context. I'll also add that most of the tracks on this release are in fact atmospheric or light acoustic pieces. There's only about 6 actual metal tracks on here, but each one of them range from 6 to 8 minutes or so. Which is quite enough metal. I just don't feel it was in the band's best interest to add so many of these filler tracks. Some of these small tracks just go into each other, rather than a break before each song. (which I'm glad they didn't do either)
There's also some of the weirdest guitar solos I've ever heard. If this band is progressive, then they're acid progressive. I mean, beyond what you would normally think as being artful. This is artful if you're on a high dose of mescaline. Nonetheless, it is still worth a listen for fans of unconventional black metal that still like their metal black. There's also a little folky 1:54 piece with sung vocals if you're interested! Yes, if this is Viking black metal, then it is definitely the more sinister side of Enslaved, Falkenbach, Turisas, and many, many, more.
OVERALL: SYMPHONIC BLACK METAL THAT DOESN'T STAY IN THE LINES, AND VENTURES OUT OF THE BOX. IT MIGHT START OUT NORMAL RAAGH! STYLE, BUT IT CERTAINLY ADVENTURES PAST THAT NOTION. IF THIS IS VIKING METAL, AND IT APPEARS TO BE…THEN, I'M PRETTY SURE THAT THIS EXPERIENCE WOULD HAVE CONVENTIONAL VIKING METAL BAND MEMBERS MERELY SHAKING THEIR HEADS AND SAYING…"IT MUST TAKE MANY PEOPLE TO MAKE A LAND."
Score: 4.8/5