Korpiklaani - Ukon Wacka (2011)
- Every time I hear these guys, I want to get out a beer, and have a party. It's very happy folk metal, that I always find compelling. People might poke and laugh at the fact that this is even metal, but these guys have like seven albums now, so surely someone is buying them.
This album is no different, with the same amount of happy folk metal that you're used to. Korpiklaani isn't changing their sound to be brutal, we'll leave that Finntroll. Korpiklaani is all about getting drunk and running around in the woods naked, and giving thanks to the gods of nature. If one chooses to see it as such.
As for this album, it's pretty easy to describe. It's much more metal or rock, than folk this time around; and that's okay. It's a decent release, not as good as Tervaskanto, but alright. If you liked their other albums, they haven't really changed. Unless they start playing another kind of metal, I am pretty sure the review for their next album will be the same.
"Tequila" is the only really new thing here, with the band singing in Spanish, and adding Latin instruments in a few sections. It's nothing really special though.
There's also a hilarious cover of Motorhead's "Iron Fist." It's just not the kind of thing you think to hear in polka-metal.
I will mention that I heard a few heavy parts and some screams actually, but I can't even remember where I heard them, and it may only be in just one of the songs.
OVERALL: SOLID POLKA-METAL, CONTAINS SPANISH TRACK, AND MOTORHEAD COVER. I HEARD SOME HEVAY PARTS AND SOME SCREAMS, BUT IN ONE TRACK, I BELIEVE. IF YOU LIKED THEIR OTHER ALBUMS, YOU'LL LIKE THIS ONE, WHICH HAS A MORE METAL/ROCK EDGE.
3/5 (Nothing really new.)
Lifelover - Sjukdom (2011)
- What we have here is something that severely pisses me off. This blackened doom metal band would be better without the douche bag they've got singing for them. The music is so fucking melodic, and sorrowful at times - some of the best stuff I've heard in a while, but this jackass seems to shit all over every song. He sings off key throughout the whole album, and then he makes all these stupid noises. If I ever see this gentlemen, make no mistake, I'll punch him in his fucking face.
The keyboards and piano work in the album are great, and the riffs are decent enough. There's no solos, and no real reason to get this album, unless you're a glutton for punishment. I wish they had made an instrumental version of this album, because I would've enjoyed it more. Songs like "Instrumental Asylum" are perfect examples of how well this band can do without that idiot in their band. Absolutely fucking awful, and I cannot recommend this due to vocal butchering.
OVERALL: BLACKENED DOOM METAL WITH GREAT PIANO PIECES AND KEYBOARD PARTS, AMONG OTHER THINGS - BUT GETS RUINED BY THEIR SINGER. THE GUY SINGS OFF KEY, AND MAKES TOO MANY INCESSANT PRIMAL NOISES. HE RUINED THE ALBUM, AND NEEDS TO SHUT HIS MOUTH. SOME PEOPLE JUST CANNOT SING/GROWL/SCREAM.
Score: 2/5 (2 for the band, BUT DO NOT GET THIS ALBUM!)
Monster Magnet - Mastermind (Limited Edition) (2010)
- In a better world, this would be the best rock album of the year. I was quite surprised with this band, being one of those people that acquainted this band with only one song, "Spacelord."
Upon looking at their discography, it appears they've released a great deal of albums since then, and this would be their latest. There's a video for "Gods and Punks", and upon seeing it, I thought about giving them a try. I'm personally glad that I did, because this is exactly what an American rock record needs to be. There's no annoying emo vocals, or anything like that here. There's real solos, and a band that sounds like they just wanted to make good and thought provoking music. This is what's going to fill that White Zombie "Sexorcisto Era" hole pretty well, since the music on this album can be compared to that, but I think it's much better.
The album isn't generally heavy, but it's a got a good sound to it. It's not really something you headbang to, but it doesn't mean that there aren't parts. (Of course I rarely do that anymore due to neck and back problems)
Bonus tracks:
"Watch Me Fade" is a solid track, and "Fuzz Pig" is a very trippy little track that's a must for fans of this band, and cannabis in general. It's a love song in a way that I've never heard a love song before. Only increases the album time by about 6 minutes. But it's an hour long, so it's plenty long without these bonus tracks.
OVERALL: SOLID ROCK ALBUM WITH GOOD SOLOS, VOCALS, AND JUST GOOD ROCK RIFFS. SOMETIMES TRIPPY AND STONERY, MIGHT GIVE A COPY OF THIS TO A STONER FRIEND OF MINE. YOU DON'T NEED TO BE HIGH TO ENJOY IT, BUT I IMAGINE IT HELPS.
Score: 5/5
Neuraxis - Asylon (2011)
- Neuraxis is a melodic technical death metal band with some definite talent, and major brutality. This new album showcases that notion perfectly, with machine gun drumming, plenty of technicality, and jumping around like Mario on steroids.
The band mixes melody well in a few of the tracks, and they come on with a metallic fist to the face combination throughout this entire release. If you are looking for an album that is both brain and brawn, this one will wet your palette quite nicely. I've heard plenty of technicality from bands, but this band has really got something when they mix the melody with it, unlike Job, Decapitated, (yes, even though I really like them) and quite a few others in this genre. Apparently, people who like technicality don't care much for melody.
You can expect many great things on this release if you are a tech-death head, and many are. You'll be shitting your pants at the time signature usage on this thing, and their ability to make an album both catchy and extremely complicated at the same time. Creating this thing would've been the equivalent to a scientific experiment.
I must also mention that there are a few solos on the album, but it isn't decorated with them, like the new Deicide was. But the new Deicide wasn't very technical, and much more progressive than this album. Fans of all types of Tech-death bands would do well to check this release out. Neuraxis has something here, if you're willing to listen. Remember, I'm not a big fan of tech-death, but this one had me listening.
OVERALL: SOLID MELODIC TECH-DEATH THAT MOST TECH-DEATH FANS SHOULD ENJOY. JUST BECAUSE IT HAS MELODY DOES NOT MEAN THAT IT IS NOT BRUTAL, BECAUSE IT WILL KNOCK YOU ON YOUR FUCKING ASS, AND WILL SOUND GOOD GOING DOWN THE ROAD AT A 100 MILES AN HOUR.
Score: 4/5
Omnium Gatherum - New World Shadows (2011)
- Right now, I am picking up pieces of my brain, because it's just been completely blown. I've heard one other album from this band, and it was I believe a 99' release. I haven't heard anything from them in a very long time, and thought I'd give this melodic death band another whirl.
I am so fucking glad I did that. Omnium Gatherum is the reason why melodic death metal should still matter. There are nine incredible songs on this album, which mix the most demonic growls with some of the most bru-tiful metal I've heard in years. Not only that, but the clean vocals are downright angelic when they are used.
The band has more than just impressive guitar work, and I'm going to let you hear it yourself and make your own decision. The keyboards and pianos are used flawlessly, and when they use electronics, the electronics parts fit in with no problem. The acoustic and majestic pieces that this band uses reminds me that there still is something in metal music these days which is not dominated by being evil, and having the darkest sounding riffs.
Some of the thought provoking songs are entitled, "Soul Journey", "An Infinite Mind", and the two that you most need to take note of are "Everfields", and the fantastic closer, "Deep Cold."
There is not one filler track on this album, and I'm going to throw some vocals on "Watcher Of The Skies", just to see how the band would sound with a screamer. (Expect to hear that in a few weeks.)
The bottom line for this masterpiece of metal, is that it's 51 minutes that you'll want to play much more than a few times, and they honestly don't make albums that sound both this fucking beautiful and brutal. As for musicality, it is top notch - and I will let you all hear that for yourself when you get the album.
I also state that on my 2011, best metal of the year list, this album will most definitely be included. Soilwork, Mercenary, Insomnium, and other Melo-death bands may be coming out with new albums this year (and maybe even Sybreed (crosses fingers) but this album might just be better than anything they've come out with in years. If I had the money, I would buy each and every member of the board a copy of this amazing release.
OVERALL: FANTASTIC MELODIC DEATH METAL, WITH MORE THAN AMAZING MUSICALITY, VOCALS, AND EVERYTHING ELSE. IT MIXES BRUTALITY AND BEAUTY TOGETHER IN A WAY THAT ONLY THE BEST BANDS CAN. OPETH BETTER MAKE SOMETHING THAT MAKES MY HEAD EXPLODE, BEFORE THEY CAN COMPETE WITH THIS.
Score: 777/5
Onslaught - Sounds Of Violence (2011)
- Whew… When's the new Destruction coming out? Soon? Ok. Well, I guess this will have to do until then.
Believe it or not, this thing actually sounds a lot like Destruction, and sounds more like the era when they used both thrash and death metal vocals, which I believe was "The Antichrist", one of the band's best albums.
This style is continued throughout, with everything that you would expect from Destruction, but with the added fierceness of the death metal vocals. The guitar solos are great, the riffs are fierce, and there's really no filler tracks, sans the intro and outro. It's a solid thrash album with plenty of death metal moments and some dark riffing in areas.
Includes a cover of "Bomber", with Phil Cambell & Tom Angelripper.
OVERALL: THRASH WITH DEATH METAL INFLUENCE. SOUNDS A LOT LIKE DESTRUCTION EVEN DOWN TO THE THRASH VOCAL TONES. IF YOU CAN'T WAIT FOR THE NEW DESTRUCTION, OR IF FOR SOME REASON THAT ALBUM IS NO GOOD…THEN CHECK THIS ONE OUT.
Score: 4.5/5
Oremus - Popioly (2011)
- The translation for the title of this 35 minute black metal album is actually "Ashes", to give you an idea of what to expect here. There are certainly not songs about daffodils. (Although I'd like to hear a black metal album with happy songs like that, because it would be very different.)
As for this album, it's basically a well produced solid black metal album. There's nothing amazing about it, I've personally heard the same types or riffs with worse production. The vocals are more of a scowl than a scream, and I like that much more. The riffs are slow and dark, except when they're fast and dark. It's got a little bit of symphonic soundscape, like the choir sounds in the title track.
This is a black metal album with good melodies and well production. It's fairly short, but is composed of four long songs, and for the most part it's a good listen.
OVERALL: SHORT WELL PRODUCED BLACK METAL WITH GOOD MELODIES. IT'S ONLY 35 MINUTES LONG, BUT CONISTS OF FOUR LONG SONGS. IT'S NOTHING SPECIAL, BUT IF YOU'RE THAT BLACK METAL FAN THAT HAS TO HEAR EVERY BIT OF THE STUFF, YOU COULD CERTAINLY DO MUCH WORSE THAN THIS.
Score: 3.5/5
Rev 16:8 - Grand Tidal Rave (2009)
- This oddly named band is actually a well produced black metal act, which contains a very fierce style of scream, and incredibly fast paced drumming. You might compare the sound and style to more popular and well known black metal bands, ala Dimmu, and Old Man's Child.
They kill throughout each and every song, bringing a fury that I haven't heard since Naglfar's "Pariah." If you're looking for black metal that isn't all about the keyboards, and the symphonics, and is rather all about the sheer brutality, and thrash aspects - this band will wet your palette. They are one of the fiercest black metal bands I've ever heard, that sounds as well produced as those other big name black metal bands.
OVERALL: FIERCE, THRASHY, AND BRUTAL BLACK METAL WITH A HELL OF A SCREAMER. IT'S ALL ABOUT THE THRASH HERE, NO SOLOS OR ANYTHING LIKE THAT. IT'S A CRUSHER FROM BEGINNING TO END. THERE ARE TWO SHORT FILLER TRACKS, BUT OTHER THAN THAT, THE PRODUCTION VALUE IS GOING TO APPEAL TO BLACK METAL FANS THAT LIKE THEIR MUSIC TO SOUND KIND OF LIKE DIMMU AND NAGLFAR'S THRASHIER EFFORTS, WITHOUT THE RAW QUALITY SOUND.
Score: 4/5
Rossomahaar - The Reign Of Terror (2010)
- I probably would've enjoyed this Russian black/death metal band's album if I could get a version of it that had the tracks in a language that 7zip could understand. WinAce also has problems opening the folder also, so I only can get four of the songs.
The band has talent, with every song sounding in a different style than the other. Keeping this in mind, you really don't know what to expect. It's basically a Baskin Robbins black/death flavored album with many different variations on the theme, and Russian vocals.
Since I can't literally get this album to unzip properly, I can't give this album a proper review. You may see it up again when I can get a file that works. I need to hear them all, especially on an album like this, where every track is different and experimental. Your media playing devices might also have problems with the tracks here, since they are thick Russian titles.
It might not be worth it in the end. But if you can find this album, and you can play it, check it out - because it's different, for sure.
Solstafir - Masterpiece Of Bitterness (2005)
- Yes, I realize I did their latest album a while ago, but this is their debut album, so I thought I would also give it a spin as well.
I'm going to tell you, I love this album to death. It's one I could play at just about anytime to just calm the senses, and enjoy the music. It's got a very hypnotic sense about it, and some incredible riffs. (especially on "Lux Fare") If anyone at all is not 70's progressive music, and really trippy music in general, you might really find yourself enjoying this album. Their other album was also good, but not near as good as this one. There's just something about it that I can't place.
The album consists of fairly long musical pieces, the first track being a full 20:00 minutes, which starts out with a woman harmonizing. Don't think this is anything like the album though, it's just an intro and nothing more.
I will say that this album would more than likely be rather enjoyable with a bowl, or something else that suits your fancy. But you don't necessarily need anything to enjoy this album. Just find a spot, light some candles or incense or whatever, and meditate. Of course, it's also pretty heavy on the vocals, with a not quite black metal approach to screaming.
The bottom line is that this album, like their newer one; is a trip. You can take it once if you want. But you'll want to take it again.
OVERALL: TRIPPY METAL, WITH VERY LONG TRACKS AT 70:00. WORTH LISTENING TO MORE THAN ONCE, AND ONE OF THE MOST INTERESTING METAL ALBUMS I'VE HEARD. FOR FANS OF TRIPPY 60'S AND 70'S PROG MUSIC, AS WELL AS FANS OF POST-METAL, METALGAZE, OR WHATEVER YOU CALL IT.
666/5
Strings Of Ares - Temple To Mars (2010)
- This interesting; but still too modern for my tastes, (the hardcore influence) technical deathcore band is probably the world's first "300" band. The lyrics are all about the film, as are the sound clips. Honestly, we didn't need this - but we've got it.
The band mixes core, death metal, and a great deal of technicality together in a way that mostly works, and sometimes doesn't. In one of the tracks, we even get clean vocals that sound too much like a Burton C. Bell rip-off to be considered genuine.
The lyrics are atrocious, most of them talking about "I need your head", and other battle talk. If the music weren't good enough to hold this album up, I would say it's crap. But that isn't the case here. Expect to hear some interesting riffs, melodies and time signatures as this 38:00 album berates you with a rather experimental version of what could've been a rather blatant death core album. (ala Winds Of Plague's last album - The Great Stone Bore)
All in all, it's not going to appeal to everyone. There's a lot of Jamie Jasta style vocals on this album, and that's already going to turn a shit load of you away from it. There's other vocal styles used that sound much better, but the Jasta style stuff is definitely there.
OVERALL: INTERESTING MODERN TECHNICAL DEATHCORE, WITH JAMIE JASTA ESQUE VOCALS AND DEATH METAL VOCALS IN ACCOMPANIMENT TO THE NORMAL DEATHCORE GROWLS. THE LYRICS ARE ALL ABOUT 300, AS ARE THE SOUND CLIPS. BUT, THE BAND IS DOING SOME INTERESTING THINGS WITH THE MUSIC HERE, AND THAT IS WHY YOU SHOULD CHECK IT OUT. IT ISN'T A BLAND OLD DEATHCORE RECORD, AND HAS SOME PROMISE. THIS IS COMING FROM A MAN WHO DOESN'T REALLY CARE FOR CORE AT ALL.
Score: 4/5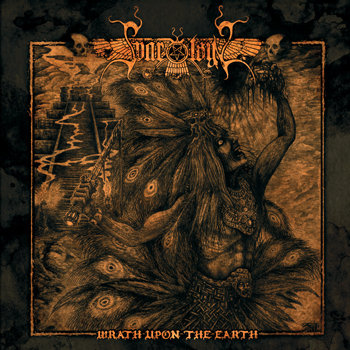 Svartsyn - Wrath Upon The Earth (2011)
- This black metal band doesn't sound amazing by any means. There's some Egyptian influence, but other than that, it's just really bland, and only for the hardcore black metal fan that must listen to every black metal album they can. The album came in a nice box with great album art, but it sold a worthless product. The songs are short and offer little in the way of innovation. It's only 36:00 long, as well.
I've honestly heard this sort of thing done before, and much better (Iskald). Even if you like this band, this isn't their best album in any sense of the word. It is very heavy though; and pretty technical, so you might like that. Still, there's plenty heavier albums out there, like the Rev 16 I reviewed. This band draws so much influence of Immortal that it's pathetic. I'll also mention that I can't hear the melodies over the drums with are constantly blasting. Blasts and blasts and blasts, that's all the drummer seems capable of.
I'm not saying that this is a bad album, it's just not something I haven't already heard before. If you are into technical black metal with a traditional sense still intact, you will like this album.
OVERALL: TECHNICAL AND VERY HEAVY BLACK METAL IN THE VEIN OF IMMORTAL. THERE IS LITTLE INNOVATION ON THESE VERY SHORT SONGS. I'VE HEARD FAR BETTER, AND CAN RECOMMEND A GREAT NUMBER OF OTHER BANDS. THE DRUMMER BLASTS A HELL OF A LOT, AND THE MELODIES ON THE GUITARS CAN BARELY BE HEARD. YOU STILL MIGHT LIKE IT, BUT I THOUGHT ISKALD WAS TEN TIMES BETTER.
Score: 3.5/5 (For little interesting bits here and there, and one of the most ridiculous song titles I've ever heard…"My Mountain." )
The Project Hate MCMXCIX - Bleeding The New Apocalypse (2011)
- Well, here we are at album number 7 from The Project Hate. Lord K has always been rather ambitious with his releases, and being that this is a 6 song album with songs the same length as on an Opeth album, we'll have to say that it's just as ambitious as any of their other albums.
I would go song by song, but much of the album sounds generally the same as they've always sounded. There is indeed a formula to TPH now, whether you want to hear it or not. The band has always mixed death metal with electronics, pianos, symphonics, and female vocals. That's nothing new. Thankfully, there's a lot more interesting riffage here, and some great solos which are rather frequent in some of the songs, and damn near absent in others.
The only thing which really makes this album a bit of a chore is the sheer amount of over the top female vocals. This female vocalist has decided that she must drag out every god damn note in a sentence. It sounds like "youuuuuu areeeee theeeeeeeee" and has a bunch of harmonizing, which is too damned much for me. What's wrong with that woman? She reminds me of Christina Aguillera's long note national anthem at the Super Bowl. We don't need syllables and vowels to be word length. It's fucking ridiculous. If there's one thing I hate about this album, it's that. Also her vocals are so fucking loud they pierce my eardrums, and divert attention away from the music.
Not to mention that there's hardly any death metal vocals, and there's even two death metal vocalists this time. (One of them I am assuming is Lord K.)
The album is worth hearing, but it's not the best thing you will ever hear from the Death Metal genre, and there still might be some that think that this music may have too much of a "poppy vocal" to be considered death metal. That is your choice though, not mine.
On another note, I thought about asking Lord K if he could provide me with a mix of the album sans female vocals just to see if they really mattered, and whether or not the music showed more. Believe it or not, he's quite the internet savvy guy, and I've even caught him on torrent sites downloading music from other bands. But, since Season Of Mist finally took a chance on these guys (they've been battling labels for years since they won't tour) the band probably doesn't actually own the mixes, like they used to on previous efforts.
Believe it or not, the band used to just give away their first album (Pre-Cyber Christ, and not even I have it now) - but now you have to buy it, and it's really just a bunch of unused demo like stuff. It was good, but it's all about money now, I guess. This was a band that actually let their fans decide the album titles as well, myself even giving some input on what was to become "In Hora Mortis Nostrae." Which to our disappointment (the loyal fans of the old TPH boards) was the idea of their obnoxious female vocalist.
OVERALL: INTERESTING DEATH METAL/ELECTRONIC ALBUM WITH OVER THE TOP FEMALE VOCALS WHICH GET ON MY NERVES THIS TIME AROUND, AND DON'T GIVE ENOUGH VOCAL ROOM TO THE DEATH METAL VOCALISTS. THERE ARE GREAT SOLOS IN PLACES, AND MANY OTHER INTERESTING THINGS, BUT HER VOCALS HAVE RUINED IT FOR ME.
BEST TRACKS : "THEY SHALL ALL BE WITNESSES" 11:27, "THE SERPENT CROWNING RITUAL" 10:22, AND "BRING FORTH PURGATORY" 13:01
Score: 4.5/5
Transmission0 - Memory Of A Dream (2006)
- Transmission0 is a great post metal band that focuses on the slow Isis/neurosis style of post metal/metal gaze that I've always enjoyed. Some of the songs are heavy with gritty vocals, while other are lighter with clean vocals. The melodies shine greatly on every song, and it's a very relaxing listen for the most part. Even the heaviest songs have a great deal of melody, and that's awful rare.
Even though it's rather old, this album is worth seeking out, especially if you really like post metal, and music that is really melodic or trippy in general.
OVERALL: GREAT MELODIC POST METAL THAT IS BOTH HEAVY, LIGHT, AND SLOW PACED. FOR FANS OF ISIS AND NEUROSIS. YOU CAN'T GO WRONG WITH IT, IF YOU'RE INTO THESE BANDS.
YOU'RE WELCOME, BY THE WAY.
Score: 5/5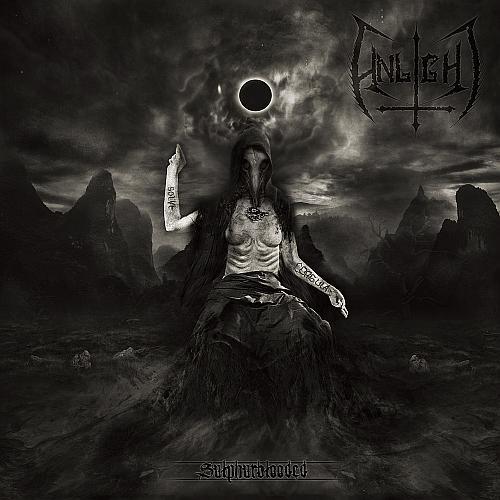 Unlight - Sulphurblooded (2010)
- Unlight is an interesting German black metal band in the fact that they sometimes derive their style away from a traditional black metal form. Instead, the band relies on guitar theatrics and a great amount of solos to get the album feeling as thrashy and as "classic metal spirited" as they possibly can.
Sure, there are some dreadful sounding tracks, with dark riffs that we've all heard before; as well as some atmospherics and everything else you'd expect from black metal, but the sheer fact that the guitars actually get a chance to shine in this album makes it worth while. For some, the added "guitar jizz" might make the thing seem too "fun", and not so dreary or "evil" as people expect this music to be. But what's the problem with that, I ask? Do we really get up in the morning and say, "I want to listen to evil music and dreadful things because the world is a horrible place, and I'd like to suffer with it?"
Of course there are things in life we hate to do and hate to see, and can't believe goes on - but in the greater spectrum of a universe with no real explanation as to it's birth, or ours; which some might say is clearly fucking miraculous - the very idea of one's existence should give them the ability to enjoy music for music's sake, rather than the fact that it sounds dark and dreadful.
OVERALL: FUN AND THRASHY BLACK METAL BAND. NICE MELODIES, AND SATISFACTORY RIFFS. GUITAR SOLOS ALL ABOUT THIS ALBUM GIVE IT A CLASSIC FEEL. SURE, IT'S A DARK ALBUM - BUT IT'S NOT RIDICULOUSLY BLEAK. IT'S A FINE PIECE OF MUSIC, AND I RECOMMEND IT.
Score: 4/5
Vried - V (2011 REQUEST)
- The label sticker on this album reads:
"V IS FOR VICTORY! FEATURING NINE IMMACULATELY RECORDED TRACKS, THE BAND HAVE WIDEDNED THEIR MUSICAL SCOPE FURTHER THAN EVER BEFORE…"
-METAL HAMMER
So, is it true?
Fuck yes, it's true. This album sounds like a clusterfuck of Enslaved, current era Satyricon, and Immortal, among others. The musicality on this thing is pristine. This by far one of the best single black metal albums I've heard in my entire life. There are so many different styles used in each track, and so many interesting riff methods used, not to mention the entirely audible scowls from the front man.
This is right up there with last year's Agalloch album, and that should be good news. If you listen to black metal at all, you must find a way to obtain this album, digitally or physically - because it's beyond what's being done these days. I cannot believe how refreshing, and just how damned good this album sounds.
I really don't know how much more I can say about this inhuman effort, and if the solos, clean vocals, jazzy riff experimentation, drum solos, avant-garde sensibility and sheer fucking brilliant melodies don't work for you…then I really don't know what to say. This easily one of the best albums of the year, and it has the ability to be the best black metal album of 2011.
I'd be an idiot to not give this a 666, but it might even deserve a 777. Calling it timeless might shake heads, and I don't want to overuse such a rare rating as the 777.
So, while it may not be timeless - it's certainly a must for those who enjoy melodic black metal with prog elements, and plenty of experimentation. (Enslaved fans - this is a MUST!)
I fucking loved it, and I urge you to hear it as well. I also must thank the individual who asked me to review this album, as while I'd known who Vried was, (and how it actually translates to "Wrath") and how their original lead vocalist died because he left his home in the mountains during a blizzard and froze to death; I'd never heard any of their music until now. The band is certainly keeping the Nordic sound and the memory of their old singer's legacy with this legendary release. I won't tell you again…GET IT AS SOON AS POSSIBLE!
OVERALL: BLACK METAL FANS GET IT. PEOPLE WHO THINK BLACK METAL IS ALL THE SAME, GET IT. IT'S THAT SIMPLE. IF YOU DON'T LIKE THIS ALBUM, I CAN'T SEE HOW.
Score: 666/5
Widowland - Self Titled (2011)
- As for this album…It sounds like stoner indie rock. I only like a few indie bands and most of them are electronic.
I'll be honest. I want to strangle the lead singer. He sounds like he's singing through his nose. I cannot recommend this album to stoner metal fans because the gruff and might vocals you'd expect, or even something a little more tolerable; is not to be found here. There's 35 minutes of a nasally guy that sings during what are some good riffs and melodies, but it's very hard to get into. There's also some really trippy bits in the album too, that make it less challenging of a listen. I probably should've listened it while stoned, or drunk.
Musically, it's good. If you can get by those vocals. Honestly…The more I hear this guy, the more I'd like to strangle him. I just can't get into these vocals at all. You can try it if you want. Don't bitch at me about this stuff, we all have our limits. Nasally singers are mine.
OVERALL: GOOD STONER METAL WITH NASALLY VOCALIST WHOM I CAN'T STAND. PROBABLY GREAT WHEN YOU'RE HIGH, BUT I'M NOT. I STILL THINK IT WILL DO WELL AMONG THE MAJORITY. IF YOU LIKE STONER METAL, AND DON'T CARE WHO'S SINGING, THEN GET IT.
Score: 3.5/ 5
Wolves Under Sail - Grave Before Slave (2010)
- Albeit a bit raw, the debut EP from this US Viking Folk / Black Metal band sounds rather promising. Not everyone can play folk instruments, and not everyone can mix them with great metal riffs and gritty black metal vocals. (which is what the vocal style is here, very gritty)
I must also mention that this album is rather anthemic, which is the bread and butter of most folk metal fans. The melodies are really great, and I do mean guitar melodies - and it's pretty damned heavy too, with the double bass being hit a few times. This is a great album from a new band, which I hope gets some recognition.
It's only 5 songs at 35:00, but it's an EP with great potential. It reminds me a lot of old Ensiferum, and that's a good thing. I will also say that this bands "pounds" a little more than most folk metal bands, with a definite emphasis on the metal. If you like Folk Metal at all, (Page, I am talking to you) you should really be able to get into this album. I haven't heard folk metal this good in a while, and can't wait to see what a full album from these gentlemen might bring.
OVERALL: GREAT BLACK/ FOLK METAL, WITH THE EMPHASIS ON THE METAL. SHORT, BUT VERY GOOD STUFF. RECOMMENDED FOR ALL FOLK METAL FANS. MIGHT BE A LITTLE RAW THOUGH.
Score: 5/5