A Dream Of Poe - The Mirror Of Deliverance (2011)
- A Dream Of Poe is a doom/death band that sounds pretty run of the mill if you ask me. The songs go on for quite a bit, like in a normal doom/death album, (Nox Aurea for example) and the music is generally slow and depressive. There is some My Dying Bride influence here, and some ideas in the album that make a few songs more listenable than others, but as far as I'm concerned - there's not a whole hell of a lot here to make an impression except for the great guitar solos, and overall tremendous riffs.
Death/Doom fans, especially of My Dying Bride will more than likely enjoy this album, but I've heard far better in previous review sets. This one's up to you. The vocal style is much deeper than the vocalist for My Dying Bride, but the riffing is very similar, sans those great guitar solos. Not saying that MDB never had good solos, because they did - just these are really great. I'm not saying it's a bad album, because it has it's merits.
OVERALL: DOOM/DEATH INSPIRED BY MY DYING BRIDE. THE SOLOS ARE REALLY GREAT, DESPITE THE LONG LENGTH OF THE SONGS. I WOULD RECOMMEND THIS TO DEPRESSIVE DOOM FANS, BUT IT'S NOT PERFECT. THERE ARE HOWEVER SOME GOOD TRACKS, SO IT'S UP TO YOU. STILL WORTH A SPIN FOR THE GOTHIC DOOMY FOLKS OUT THERE.
Score: 4/5
Al Lat - Arabian Myths (2011)
- This short 16 minute release mixes black metal with middle eastern influences. I'm not one to judge much, but the quality of this is pretty raw, and sometimes hard to hear. I don't recommend getting this one unless it's cheap. It's only 16 minutes and 4 songs.
I suppose the band has a decent sound, but it's a sound that I've heard before. The only thing that makes this stand out is their use of non-metal instruments. I'd guess you could equate the metal portions of the album with any other black metal band that has a use of symphonics and decent riffs. The band has promise, but these 4 tracks won't be able to do enough to show the world.
OVERALL: TOO SHORT, BUT A FEW INTERESTING THINGS HERE AND THERE. DEFINITELY DIFFERENT, BUT A LITTLE LOW ON THE RECORDING. NOT MUDDY, BUT DEFINITELY NEEDS TO BE TURNED UP. FUTURE RELEASES FROM AL LAT MIGHT SHOW MAJOR PROMISE THOUGH. THIS IS MORE OR LESS A DEMO. 2014 MIGHT SEE THEM WITH A BETTER QUALITY SOUND.
Score: 3.5/5
Allfader - Black Blood Flux (2011)
- Ah, now here's something interesting. Imagine Amon Amarth (in riffage) if they were a little more black metal influenced. The same tight sound that Amon Amarth has used, coupled with dare I say, close to the same guitar riffs - have worked together to make one of the best Viking metal albums I've ever heard.
This band took what made Amon Amarth so popular, and added some experimental touches to it, evolving the sound of an already worn out Viking Metal stalwart. Allfader is definitely a band to watch closely, as this is one of the best there is right now. If you don't believe me, just take your pick. Any cut off this 50 minute disc (which you should really get by the way) will show you the sheer power, performance, and originality that this band possesses. I've heard a lot of Viking bands, but nothing really stood out like this. It's much heavier than the new Vried album, even though that's still a tremendous release in itself.
If you haven't heard this yet, you really need to get on it. It's a phenomenal album with plenty to like, whether you're a fan of Viking metal or not. The death metal influence coupled with the progressive black / thrash that this band has seamlessly mixed together is unreal. I've said many times "this album is great to play when going down the road at a hundred miles an hour." This would be the album that I myself would do that to. I believe everyone should check this out, especially those of you who are still under the assumption that there really aren't any good metal bands these days.
We have a new Amon Amarth now, and I don't even think that Surtur Rising can compete with this. What an incredible album.
OVERALL: ONE OF THE BEST VIKING BLACK/PROG/DEATH/THRASH/TECHNICAL ALBUMS THAT I'VE EVER HEARD. I HIGHLY RECOMMEND THIS, AND BELIEVE YOU WOULD HAVE TO BE AN IDIOT TO PASS ON A RELEASE OF SUCH A CALIBER.
I STILL CANNOT GET OVER HOW GOOD THIS ONE WAS.
Score: 666/5
Avatar - Millenia (2011)
- While brand new, this album sounds like it was recorded back in 96-98 era of melodic death/gothic metal. You could compare it with early Tristania, (and I mean early Tristania) and even early Graveworm. Nonetheless, it sounds like something that I would've thought came out a long time ago.
This isn't a bad thing. The band had a great guitarist who plays a couple killer solos, and the melodies really make this thing. The vocals are standard gothic death fare, and there's a woman in a few of the songs, but make no mistake - she's backup every once in a while, not like Sirenia "sing through the whole goddamned album" style.
I would have to recommend this to those people who liked those early gothic death metal albums, because this seriously sounds like it came from that era. I don't know much about now, but gothic death metal with melodic elements sounded better in the old days, and this one is proof, even though it's come out in 2011. Confusing? Most certainly. Worth hearing though? Yes, if you can get over the crappy synths.
OVERALL: GOTHIC MELODIC DEATH METAL THAT SOUNDS LIKE IT CAME OUT A LONG TIME AGO. THIS WORKS FOR THE BAND, AND THEY CERTAINLY DO WELL TO BRING BACK THE SOUNDS OF OLD SCHOOL TRISTANIA, THEATRE OF TRAGEDY, AND THE LIKE - WHEN THEY WERE STILL METAL. DEFINITELY WORTH A SPIN. JUST TURN THE VOLUME UP A LITTLE BIT.
Score: 4/5
Blaspherian - Infernal Warriors Of Death (2011)
- Blaspherian comes along quite refreshing, delivering a very solid slab of death metal, that's worth mentioning. Instead of drilling the same tired old blasts through every song, the band balances it out with songs that sound much more meaty, and a hell of a lot more put together than most bands I've heard. Deicide influence is there, but it was a lot more interesting than Deicide's 2008 release. Instead of death metal with no real point but to be both fast and heavy, Blaspherian shows us why death metal should still matter.
It's still very heavy, and there's still a great deal of brutality, plus the drumming in this album kills and makes it all the more worth listening to. Even if the riffs don't seem to be amazing, (mostly a lot of the same basslines) the drumming and vocals give it enough form to not get too old too quickly. Deathcore bands really need to take some more influence from death metal bands, if you ask me. Most of these death core bands seem to sound like off-brand death metal. But then they wouldn't be death core bands then, would they?
OVERALL: SLOW, BUT PUMMELING AND GRUELING DEATH METAL (DOOM INFLEUNCE); WITH PLENTY OF FORM AND FUNCTION. SATAN NEVER SOUNDED SO GOOD. CERTAINLY ONE OF THE BETTER DEATH METAL BANDS TO COME AROUND FROM THE STATES. WORTH A SPIN.
Score: 4.5/5
Comity - You Left Us Here (2009)
- Comity is a killer band for fans of hardcore influenced post metal. They are both very brutal, and technical at the same time, being able to bludgeon and create soundscapes with their music in the way that early Neurosis and other such post metal bands have done previously.
This only consists of one song which is 17:10 long, and is much shorter than a full EP. The band has two other releases, and while this is newer; I only recommend it as a sort of "test-run" for the band. If you like this recording, then you should probably grab the other records as well. Definitely something worthwhile for fans of heavier post metal, even though there are better bands.
OVERALL: SOLID POST METAL, MORE FOCUSED ON THE HEAVY SIDE OF THINGS. COMPARE IT TO EARLIER NERUOSIS, OR CULT OF LUNA. THERE'S VERY FEW SLOW AND MELODIC PARTS. THIS ALBUM PUMMELS YOU, UNTIL IT FINALLY ENDS. BUT, IT'S SHORT. VERY SHORT.
COMITY, "YOU LEFT US" TOO SOON.
Score: 3.5/5 (SOLID)
Crushing Sun - Tao (2010)
- This album sounds like a sort of post-metal experiment. It was labeled death/thrash, but I heard much more core influence than anything else. There are some double bass moments, and some general groove parts that only add to the grandeur of this album.
It's hard to place this one, and I like that. The band goes every which way throughout each song, and nothing stays the same for too long. The vocal style is reminiscent of an angrier Anselmo, and the force that is displayed on this album is uncanny. It's probably recommended to listen to this one at a high volume, due to the sheer amount of power that it holds.
Melodies strike from out of dark corners, and tempos are constantly mutating in what I would call a absolutely beautiful fucking mess. Yes, I think I even heard a breakdown portion; but do not be alarmed, because it was only once. I also need to add that some of you might be able to call this "progressive technical sludge with groove elements" and that works too.
OVERALL: POST METAL, PROGRESSIVE TECH. SLUDGE WITH GROOVE ELEMENTS, AND SOME BLAST BEATS IN A FEW PLACES. A MUTATING ALBUM, IT NEVER STAYS THE SAME - YET IT IS A FORCE TO BE RECKONED WITH. THESE GENTLEMEN MUST KILL LIVE.
Score: 5/5
Dam - The Difference Engine (2007)
- It's actually not pronounced as it's said by the way. The band did not name themselves after a an apparatus or buckling of objects wherein which a river is prevented flow. It's actually pronounced "Dahm."
However in the damn world that Dam is pronounced, the band comes on with a full force of rage and progressive tinkering which make for an awesome listen. Seriously folks, this is one of the heaviest and fastest progressive death metal bands I've ever heard. This is one band who has little to nothing in common with Opeth, and much more in common with blackened and even brutal death metal bands.
It's an oddity at times, with some sections being overly brutal, and others just overly progressive, even a bit beautiful. But don't expect any soft acoustics or even clean vocals. This is pure out and out rage, with a little more art throw in. I could compare it's sound to that of a pissed off artist.
If you are a fan of progressive death metal at all, and are sick and fucking tired of Opeth-wannabe bands, then by all means check out Dam. In just a few minutes of hearing this 50 minutes of beautiful rage, you'll probably add an extra "n." (Dam-n)
Yes, it is that fucking good.
OVERALL: A MUST FOR PROG DEATH METAL FANS. THIS MIGHT KNOCK YOU ON YOUR ASSES. I WAS EXTREMELY IMPRESSED WITH THIS ALBUM, AND I BELIEVE THAT A GREAT DEAL OF POSTERS ON THIS BOARD WILL ALSO BE. DO NOT LET THIS ONE GO UNNOTICED!
Score: 666/5 (Damn near a 777)
Darkest Hour - The Human Romance (2011)
- This is the first Darkest Hour album I've ever heard all of the way through. I was never a big fan, but I actually like this one. Sure, you'll hear the inflames/at the gates/soil work riffs and melodies with their signature blend of core elements; but this time things just sound a little less generic. The guitar solos are meaningful, the melodies beautiful, and the vocals are pretty brutal. I was quite surprised actually.
I will also add that the 8:41 instrumental, "Terra Solaris" is probably one of the best musical pieces that this band has ever done. It clearly shows that this band has matured in their many years of playing American Swedish melo-death.
Some of it's punk influenced, and some of it does get to be redundant. What you hear on the first track will be the same thing as on the rest of the tracks. It's heavy, and it's screamy, but it's actually pretty solid. A good gateway drug to better Swedish melo-death.
OVERALL: SOLID AMERICAN SWEDISH MELO-DEATH. LOTS OF DECENT MELODIES, AND GOOD SOLOS. A GREAT DEAL OF SCREAMING, AND CORE INFLUENCE, BUT REALLY NOT AS BAD AS I THOUGHT. I'D GO SEE THESE GUYS LIVE IF GIVEN THE CHANCE.
Score: 4/5
Deleterious - Highly Recommended EP (2010)
- First of all, that is the real name for this EP. Somebody feels very confident in their work. This is a good thing for them, because the work warrants the confidence of the band, who mixes technical prog black metal together with some old school thrash riffs, and other such tinkering.
It's a short little release at 21:00, but the quality is really great, and the music is long lasting. It's also good if you like to hear bands that just like to show off and do a million different things in one song. That may also be it's downfall, because it feels like an album's worth of music went into this little EP. There's also some flute work.
It's free from the band at:
http://www.myspace.com/deleteriousnl
OVERALL: GREAT LITTLE EP, FULL OF PROMISE. BAND MIXES TOGETHER BLACK METAL, PROG, TECHNICALITY, AND EVERYTHING ELSE. IT'S DEFINITELY BRAINY BLACK METAL.
OH…NO CORPSE PAINT EITHER!
Score: 5/5 (It's phenomenal music, and it's free. HIGHLY RECOMMENDED!)
Deschain - Upon The Oaken Throne (2011)
- First off, this band's music is not based off Stephen King's "The Dark Tower." I mean, if you google Deschain, the first set of links you get are for the good old gunslinger.
But all of that aside, Deschain is a progressive black metal band from the united states, which has a great deal of melody similar to New York's Krallice. Similar, but not quite the same band, the group puts out a slightly raw musical effort with inaudible vocals and all the techy and proggy stuff that one would expect. The six songs are very long, with the shortest being 6:40.
Some hardcore-esque vocal screams turn up in a few areas of this album, but not enough that they'll deter you from this. The band is more about musicality than anything else. There's also about a couple thousand different riffs and transitions in these songs. Not to mention that the guitar solos are fucking excellent. This band has a great deal of promise.
Listen to this album. The band sells it themselves, and you can name your price.
http://deschainmetal.bandcamp.com/
OVERALL: GREAT RELEASE OF MELODIC PROGRESSIVE BLACK METAL. FOR FANS OF KRALLICE AND WOLVES IN THE THRONE ROOM, DEFINITELY. AMAZING PLAYING ON THIS ONE. GO GET IT FROM THE BAND!
Score: 666/5 (For The Playing)
Destruction - Day Of Reckoning (2011)
- Destruction shows no signs of slowing down. If you still think that Metallica's better, you can fuck off. Ever since I've heard Destruction's brand of thrash and put it next to Metallica's current efforts, I find myself disappointed by Metallica.
Destruction comes on full force, with a no holds barred effort, as heavy and technical, and bombastic as you would expect. There's no ballads or crappy hard rock tunes here, just full force metal the way you want it, with blazing solos and uncompromising vocals that mix from a thrash approach, to a Priesty approach, to an almost black/death metal approach.
These songs are not only catchy, they are heavy as all hell. Destruction put out a solid thrash album that's not going to blow your literal mind, but you'll enjoy it nonetheless. It's worth checking out for sure. If you've been overlooking Destruction, it's time to get back on board. Start with 2001, and I'll meet you in 2011. Chances are, you'll still be amazed. After as many releases as they've had, it's surprising that they are still kicking as much ass with this one.
This album comes with a bonus track, which is a cover of "Stand Up and Shout." It's decent enough, but not better than the original, of course.
OVERALL: NOT JUST ANOTHER DROP IN THE BUCKET, DESTRUCTION PROVE WHY THEY CAN FILL THE VOID METALLICA LEFT TOO LONG AGO, AND STAND UP TO CLASSICS LIKE "MASTER OF PUPPETS", "RIDE THE LIGHTNING", and even the proggier "…AND JUSTICE FOR ALL." GRAB IT, THRASH FANS.
Score: 5/5 (Not one thing to complain about. It's solid Destruction.)
Dodsengel - Mirium Occultum (2010)
- At first, I was going to just cast this 5 track black metal effort off as being basic. After listening to the entire 55 minutes though, I was enamored by the effort on this disc. The band plays a classic style of black metal, which can only be described as very doom laden, and somewhat experimental. I heard clean vocals in one song, a great deal of chants in another, and in one of the tracks, "Evocation Of Amezarak" I could've sworn that they summoned the demonic bastard right then and there, and he started gurgling and growling in demonic tongues. This is one of the most evil black metal albums I've ever heard.
Which I like. A lot of bands try to sound evil, but this band succeeds in being evil. I was playing Painkiller on PC, and was listening to this when I was in the Asylum level (which the music worked perfectly with, because the level is practically in the dark, and all the other occult stuff in the level also added to the experience.
The band offers a great use of atmospheres, both musically and effects-wise. The songs are very long, but they don't get boring, because the drumming, vocals, and doom laden guitar are all very stellar, very evil. The drumming hits with classic sound and great precision. This is one hell of an album, and I rather enjoyed it. It's deliciously evil.
OVERALL: EVIL DOOM LADEN BLACK METAL WITH SOME EXPERIMENTING. WHATEVER EVIL BAND YOU THINK IS EVIL, IS NOT AS EVIL AS THESE GUYS. IT SOMETIMES SOUNDS LIKE THE GURGLING OF DEMONS ON VOCALS, AND OTHER WEIRD OTHERWORLDLY NOISES. I LIKED THIS ONE A TON. IT REMINDED ME OF A GREAT DEMONIC HORROR FILM. CHECK IT OUT.
Score: 666/5 (It might actually be inhuman!)
Drudkh - Slavonic Chronicles EP (2011)
- Drudkh released an EP of two covers. Knew about it? Yeah, neither did I. They just released a great album earlier, and these covers still manage to hold their weight. As I've not heard the originals, I can't say whether or not they hold up, or are better, or worse than the originals.
The two songs featured on this EP are:
Tam Gdzie Gasnie Dzien (Sacreligium cover) 10:24
Indianska Pisen Hruzy (Master's Hammer cover) 5:34
That's it. The covers sound good, with the second one sounding a little trippy at times. It's solid, but probably only for the fans, or the fans of the band's being covered. It's not bad, but it's not enough to give a full review.
Evergrey - Glorious Collision (2011)
- Evergrey is upon us once again, with their next release after 2008's "Torn." I really liked "Torn," especially the parts that sounded very dark and heavy. I hadn't expected riffs like that from a band like them, but the riffs themselves were very brutal on that particular release.
Here we see the band with more of a power metal riff style, and some electronic usage, in addition to the piano. There are still good riffs to talk about, and the vocals are as good as they've always been. I've always been a fan of the vocals and have sung this stuff in the shower, so they get stuck in your fucking head.
There's still some interesting parts in each of these songs, and you'll only hear them for a small amount of time. There's a short stint of female backing vocals in "You," and some great drum pieces in "Frozen." There's definitely a lot to like here, and Evergrey remains as strong as they've ever been.
Even the ballads are great on this album. I honestly just don't know how they fucking do it. Three years later, and while not as heavy as Torn, it's still good in it's own right. A solid album through and through.
OVERALL: A VERY POWERFUL AND SOLID PROGRESSIVE METAL ALBUM. IT IS VERY MELODIC, WITH POWERFUL BALLADS, AND GREAT RIFFS, AND TREMENDOUS GUITAR SOLOS. IN A BETTER WORLD, EVERGREY WOULD BE MORE POPULAR. I WILL BE SINGING THIS ONE IN MY HEAD FOR DAYS.
Score: 5/5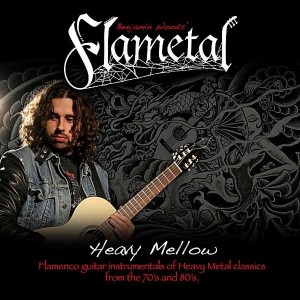 Flametal - Heavy Mellow (2010)
- Well, it's quite simply a slew of instrumental metal covers in flamenco, which I'm sure most of you should know about. If you don't, then here:
http://en.wikipedia.org/wiki/Flamenco
Basically, it's a nice dinner piece. I'll be honest. It's also good for an old fashioned siesta. I rather enjoyed it, and found my toes tapping to the beat.
The covers are:
1. Spill The Blood
2. In My Darkest Hour
3. Aces High
4. Gates Of Babylon
5. I Am A Viking
6. Sails Of Charon
7. Tears Are Falling
8. Eyes Of A Stranger
9. Welcome Home
10. Bark At The Moon
11. Cursed (Feat. Steve Stevens)
The bottom line for this one is simple. It's not metal. It's metal covered in Latin flamenco. The band has two other albums in which they mix thrash and flamenco, and death metal and flamenco. Seek those out, if you wish to hear more.
Funeral Speech - E Tenebris (2010)
- Funeral Speech is a progressive melo-death metal band who shows some real promise. Again, not like Opeth, and more like older era Quo Vadis. The guitar tapestries that this band weaves are amazing, and simply must be heard. This is the trio's first album, and it's definitely worth hearing.
I just can't stop comparing them to some of the classic Quo Vadis releases, the riffs, melodies and vocals are so similar. If you really enjoyed early Quo Vadis, you will probably really like this band as well. It's nothing out of the ordinary, but these guys certainly do a good job at what they do. It's progressive melo-death at it's best.
OVERALL: GREAT PROG. MELO-DEATH. REMINDS ME A GREAT DEAL OF EARLY QUO VADIS. PLAYING IS FANTASTIC, AND THE QUALITY OF THE MUSIC IS WELL PRODUCED. DEFINITELY WORTH CHECKING OUT.
4.5/5
Ghamorean - Terra Ruina (2011)
- This progressive black metal band comes on strong, mixing elements of classic black metal with some "Enslaved" style riffs. I feel that Enslaved and Emperor paved the way for these progressive black metal bands, but a great deal of them don't appear to be encroaching on any new ground.
Prog black metal fans might find this album to be of their liking, in it's ability to mix prog with a fiercer version of black metal. I also noticed some technical elements on the disc, and there are some clean vocals as well. It's very Emperor in some portions. This might appeal to a great many people.
From what I've described, you should get a pretty good idea about this band. They have definite talent, building upon the formulae of Enslaved and Emperor. Some of you might even call this a mind-blowing release. But that's if you really like prog and experimental black metal. Regardless, this is a great 48 minutes of interesting black metal, that is as brutal as it is artistic. It really makes me think of late Emperor in some moments, and I'm sure that statement alone is music to somebody's ears.
OVERALL: GREAT EXP/ PROG. BLACK METAL FOR FANS OF EMPEROR, ENSLAVED, ARCTURUS, AND MANY MORE. IF YOU LIKE PROG. BLACK AT ALL, CHECK THIS ONE OUT. YOU'LL BE JAMMING IT, AND THANKING ME LATER.
Score: 4/5 (Still might be too much experimenting for some.)