Scarcross - Freidenker (2011)
- Is it too much to call these guys the German Solefald? Because that's what it really sounds like here. Granted, there's a bit more heavy to this package than what Solefald have since done. It's great black metal, but has so much more to offer, and so much that I just haven't heard in a while. This is one of those bands that makes you kind of stop and smell the roses.
The progressive riffs and good melodies are nothing new, and the great clean vocals we've heard before, but the sheer execution make this one stand out. There's also some impressive guitar solos, and a sporadity to the music that probably sounds incredible live.
Seriously. These guys are a must hear to believe. There's a lot of nice experimenting going on here, and I really like the entire package, which consists of 5 tracks at 45:00. With two of the main tracks being 16:14 and 12:10, while the other two are 8:31 and
8:41. I am not sure if this is Scarcross's first, but it most certainly is a notable effort, and a definite game changer for prog black metal. Enslaved themselves should take some pointers from these guys. This is some rather interesting shit indeed, and it's got so many layers, so the long tracks don't get boring. The albums ends on a very sullen note though, so I will mention that.
I'm floored folks, just fucking floored.
Oh…It's not in English. But I don't care, because the music speaks for itself. What an incredible release that sucker punched me from out of nowhere. Get your fucking hands on this one. I'm not just blowing smoke. These guys need to come to the states, and I would gladly see them if they played.
OVERALL: 45 MINS OF SURREAL EXPERIMENTAL/AVANTGARDE BLACK METAL. DEFINITELY SOMETHING INTERESTING GOING ON HERE. IF THIS IS THE DEBUT, THE NEXT ONE MIGHT MAKE MY HEAD EXPLODE. FOR FANS OF TECH, PROG, EXPERIMENTAL, AND OVERALL ENJOYABLE BLACK METAL.
Score: 666/5
Serpentary - Odi Ergo Sum (2011)
- What we've got here is a promising industrial death metal act. Think The Project Hate sans the female vocals.
Alright, so there's chanting on the techno-trance inspired "Narkosis" but other than that, this is a death-metal album with some industrial influence. Personally though, if you've already heard TPH from the beginning to end, this might not appeal much more to you. I mean, it's got a lot going for it, but it doesn't seem to be all that amazing. It's worth checking out, but it's not going to blow your mind.
I also think that the version I have is a low quality web-rip, and I might (and you might) enjoy this one better if you grab the disc, since everything sounds really muddy, and I hope it doesn't sound that muddy on the real thing, or it ain't worth the money. Still, I think there's a lot of TPH influence here, and this is a good start for the band. If they should continue in this direction, (and no go to shit like Daath) I think their next release might be a little more focused.
It's not bad if you like electronics and death metal. Some of it's actually done right, and the vocals are a gravelly roar for the most part. Like I said though, if it really sounds as muddy on the disc or official digital album, (not sure if this is it or not) I wouldn't spend too much money on it, unless you really like it. If there is a better version of this album, I'd like to get it, and give this thing another shot. Quality can change a lot about an album.
You can always Myspace them first if you're not sure about them.
OVERALL: PROMISING INDUS. DEATH METAL IN THE VEIN OF TPH, BUT A LITTLE MUDDY,AND NOT A HELL OF A LOT OF MEAT. BATTLES BETWEEN ELECTRONICS AND DEATH METAL A LITTLE TOO MUCH AT TIMES, BUT AT OTHER TIMES THE MIX IS GREAT. YOU MIGHT LIKE THIS ONE A WHOLE LOT MORE THAN I DID, BUT DON'T GET ME WRONG; I DID LIKE THE ALBUM, JUST NOT DROOLING OVER IT.
Score: 4.5/5
Stolthet - Intoleranz (2010)
- Damn, whose basement was this recorded in? Yeah, it's one of those albums, definitely. Sounds like a sonic wall of black metal noise from Germany. The band seems to display some good riffs and some promise on this 31:00 disc with a cover "Endlosung" from a band I've never even heard of called Priestermord.
Some people can't stand this shit, and others love it. I think it sounds like a bunch of badly recorded noise, but to each their own. As you can expect, the vocals are in German. The songs seem to stay to classic black metal, with riffs and melodies we've all heard from Bathory and friends a hundred times before.
If this sounds like your kind of thing, I'm sure you can find it if you look. Trust me, it sounds just as I've pictured. As raw and mediocre as can fucking be. I find that people will enjoy this album only if they like very loud sounding rage with no sense of direction, and riffs that we've all heard before. Go ahead, bring on the bitching. I can't honestly say that I like every album just to appease people. If you liked it, fine. You must not want for much. I on the other hand felt that this whole release, despite the effort…was rather shallow and a bit BORING, to say the very least. I could compose a better bowel movement than this.
OVERALL: COMPLETE TRASH. CHANCES ARE, YOU'VE HEARD THIS DONE BEFORE, AND IT WAS DONE BETTER. SOUNDS LIKE IT WAS RECORDED IN SOMEONE'S BASEMENT, AND THE WALL OF NOISE DOESN'T EXACTLY MAKE FOR GOOD MUSIC. I MYSELF COULD HAVE A BAND PLAY ERRATICALLY JUST ANY OLD RIFFS, AND THEN SCREAM AND HOLLER INCOHERENTLY IN SOME KIND OF RAGE, GET SOME ANGER OUT AND WHATNOT…BUT WHERE'S THE ARTISTIC VALUE IN THAT?
THIS ALBUM IS GOOD FOR NOTHING BUT REBELLIOUS TEENAGERS THAT WANT TO HEAR SOMETHING FUCKING DARK. AS I SAID EARLIER, ABOUT BOWEL MOVEMENTS…
Score: 1/5
Subrosa - No Help For The Mighty Ones (2011)
- Subrosa is easily one of the best and most innovative metal acts I've heard in recent memory. To describe their highly intricate sound, you need to mix The Gathering and traditional Sabbath style doom metal together. Plus, you need to Tool it up a bit, or you could add, should I say…and I'm pulling this one out from my non metal references, a band called Rhea's Obsession. Particularly, I am reminded of their riff style from Re:Intiation, and that may be their old guitarist in this band.
That's not all that's here. There's also a rather talented violinist in the band that really adds to their sound. Think violins plus doom, with female vocals and sometimes some raspy and death metal vocals, along with trance inducing elements like the 11:44 "Stonecarver."
One thing is for sure, this is one of metal's oddest mixes, and it hasn't been done before, so you need to check it out. Especially fans of The Gathering and ethereal music in general. It's also great for a drug trip.
Hands down, one of the most interesting and original bands of the year. I could listen to this thing all day long.
OVERALL: 58:00 OF TRANCE INDUCING DOOM, WITH FEMALE VOCALS, VIOLINS, AND SOME DEATH METAL ROARS/RASPS. VERY DEEP LYRICS, AND AN SURREAL DISPLAY OF EMOTION. FOR FANS OF THE GATHERING, DOOM METAL IN A TRADITIONAL SENSE, AS WELL AS FANS OF ETHEREAL/DARKWAVE MUSIC.
Score: 5/5 (Nothing on earth quite like this. A rarity in the genre of metal music)
Sungod - First Matter (2010)
- Before you listen to this album, you'll need to get high first. Trust me, it'll help to magnify the listening experience. I would also advise a hallucinogen, because the trip factor for this has got to be insane. This album is basically instrumental psychedelic rock/metal which could basically be described as one big drug trip. I wonder what the musicians who made this were on, because it really helped their case. This has got to be some of the trippiest shit I've heard in a long time. 5 songs and 45 minutes later, you'll probably feel like you've had an epiphany of some sort. It's that kind of music, folks.
I have got to recommend this to anyone who really enjoys listening to psychedelic prog rock or metal, or just likes to get stoned, or some other sort of transitive mind-altering state, as opposed to a destructive mind-altering state. As I said, if you are hallucinating, this music will more than likely affect what the hell you're going to see. I am going to test this as an experiment on a few friends of mine, and see what this music will do to them while in their relaxed and mind altering states. Hell, I might even try it myself. What doesn't kill one, right?
OVERALL: MUSIC THAT IS BEST WHILE UNDER THE EFFECTS OF A MIND ALTERING DRUG. METAL BITS AND PIECES, BUT THE TRIP FACTOR IS VERY HIGH. WHILE NOT AN AVID SMOKER, I HAVE BEEN KNOWN TO EVERY ONCE IN A BLUE MOON. ALSO, WHEN IT MIGHT PROVE ENJOYABLE, SUCH AS THE OLD "LET'S ALL GET STONED, AND PUT THIS ONE ON."
Score: 5/5
The Fertility Cult - Eschatology (2010)
- Here we go from trippy stoner stuff…to more trippy stoner stuff. Listen folks, I don't decide in which order the albums come, they are done alphabetically, unless it's a major release.
Regardless, this album is completely wrecked due to vocalist's terrible singing. The man cannot sing. He just can't sing to save his fucking life. The singing on this disc reminds me of a friend of mine, that even though his heart's in it, his vocal chords are not. Every time he goes to sing a song, I can't help but laugh, and he laughs back saying "Well, at least my heart was in it." and of course I reply back to him with the latter statement I just made, yada yada, you know the rest.
Anyway, despite the fact that this doom metal band is completely capable musically with lots of psychedelic influence, some great saxophone playing, and a real jam-out sensibility. (This is one hell of an album, musically.) It's still hard for me to get over the singing. But, I find that fans of this general style of music won't care, with such damn fine playing. Especially the sax on this one. Killer sax playing. The whole thing is fucking saxy!
You really can't go wrong with this one, despite the vocals, because these guys are really good at what they do musically, and that should matter more than anything else.
OVERALL: 47 MINS OF FANTASTIC DOOM/STONER METAL WITH PHENOMENAL SAX PLAYING, AND A HORRIBLE SINGER. YET, THE MUSIC IS SO GOOD THAT THE FACT THAT THIS GUY CAN'T FUCKING SING HIMSELF OUT OF A PAPER BAG WON'T EVEN BOTHER MOST PEOPLE. DEFINITELY WORTH A SPIN, AND GOOD WITH A JOINT, BLUNT, OR WHATEVER YOU'VE GOT TO SMOKE.
Score: 4/5 (4 only because of awful singing.)
The Mire - Volume II (2010)
- This extremely short 27:00 album by what I'd like to call "post doom metal" band The Mire, seems to do just that. it's like mixing Neurosis's heavier parts together with clean and doom-y singing and somewhat haunting riffs like in the band Katatonia. I also might mention that the band plays with a Meshuggic quality at times, but still seems to be highly attached to the core/post metal style. It's an interesting mix, but might turn off people who don't like core elements. I guess that means we'll have to throw in the "technical" to the "post doom metal" label, which now makes them "technical / post doom metal" for those who are following along.
Alright… On second thought, I'll be brutally honest. Some of these clean choruses don't work at all. They sound really muddy, and that kills the whole fucking point. I mean, the goddamned singer is all over the place on "The Rift" , and the cymbals are overtaking his vocals. What's more important drummer of the mire? Your fucking cymbals, or the vocal choruses?
But, there's things like piano playing and whatnot that add to the formula they've created. It's really a big mash-up of many different genres, and it seems to work in retrospect. Though I still think the band and the formula need work, or a little polish. You may not agree with this statement, because low and behold, they are good at making technical post metally transitive type music stuff, and you might think that is just bloody freaking amazing.
Later into the album, the post metal sensibilities kick in, but I've heard far better. I mean, this is good, but it's just post metal with clean vocals. That's it. Alright, so you can tell me how beautiful "Fears" sounds. Yeah, it's a good song. But there's 5 more to account for on this disc. Can't give this thing a "5" for one great song.
OVERALL: WHATEVER YOU WANT TO CALL THIS BAND, THEY REALLY DON'T OFFER ANYTHING AMAZING TO THE POST METAL GENRE. I'VE HEARD THIS ALL DONE BEFORE AND BETTER. BIG DEAL! THAT THEY ADD SOME CLEAN VOCALS AND PIANO STUFF. IT'S STILL JUST SOLID, REGULAR OLD POST METAL, AND IT'S ONLY 27:00. THAT IS EP LENGTH.
Score: 2.5/5
Tribulation - The Horror (2009)
- If there was ever a death metal band that could be considered notable in this day and age of fakes, and wannabes, it would be these guys. Tribulation just know death metal. Everything about this disc is exactly what death metal should be, and some of the best death metal I've heard in a while. The band actually knows how to do more with their instruments than just the same old riffs. The disc thrashes left and right, and is filled with double bass in addition to some other swell drum tinkering. The riffs take a cue from Bloodbath, and remind me of Nightmares Made Flesh. The solos are great as well, but the riff, drum, and vocal package make this one a winner.
The vocals take a cue from black metal, but it works well for me, and it sounds rather grim. As I said, the band knows how to play, being able to add different flavors and little tinkerings here and there that without, would've made this a boring release. Being able to play music well certainly does count, and with only 32:00 of material here, it's well worth the money.
For the most part the songs are short, yet they deliver on all fronts. I hope to hear more great death metal like this, because I swear that it is dying out. I hope Morbid Angel can revive the genre, and slap back down the death-core.
The real horror is talent-less hacks like Suicide Silence. Most regurgitatible fodder I've ever heard in my fucking life. It's good to see that bands like Tribulation are trying to show us that death metal still kind of matters…and it should.
OVERALL: ONE OF THE SINGLE BEST DEATH METAL EFFORTS I'VE HEARD IN A LONG TIME. EVERY PART OF THIS PACKAGE IS DELIVERED TEN-FOLD, AND YOU WON'T BE DISAPPOINTED WITH SUCH A SHORT DISC. REPLYABILITY VALUE IS HIGH, AND THE SONGS ARE QUITE CATCHY, AND FULL OF EAR CANDY.
Score: 666/5 (I'd like to hear more bands innovating like this.)
Turisas - Stand Up and Fight (Limited Edition) (2011)
- Wow. I don't think I've heard something this fucking epic in a very long time. I mean, you've got the bombastic orchestra, the choirs, and the feeling of a metal opera. There's use of death metal vocals here, but they come second nature to a low clean vocal. There are however some really heavy parts on this album, but they are few and far between.
The guitars are really put to use at the beginning of the album, soloing left and right, along with the orchestra. Of course there's only one actual folk song here, but damn is it all rather epic. I think Conan would've put this in his headphones before a battle, if he had headphones. At least the first part of the album, anyway.
This album reminds me a lot of Blind Guardian's "A Night At The Opera" and I thought that was a good album, as is this one. This style also continues into the latter portion and overtakes it completely. It's probably going to be the most EPIC album of the year, and I am thinking about playing some Dragon Age while I listen to it, you know - for that extra atmosphere.
Have I told you how epic and operatic this one is? I have? Well, yet again…this thing is EPIC. Every song comes through like a great Broadway performance, and while this might not be brutal and evil, it's quite artistic. I keep imagining brave warriors fighting, and kings draped in bespeckled robes. If music was ever needed to decorate the battles on Azarath, and now in the lands of the MMORPG RIFT, you cannot go wrong with slaughtering multitudes of monsters to this. On the latter part of the album though, it gets a little less anthemic, and a hell of a lot more opera.
I mean, since you can't go out in real life and do it. Of course, that would be rather interesting. A man who decides to purchase a large barbarian sword and go all "Conan" on his office building. But, this would be the music for that.
Oh the hell with it. As you can tell, I wrote half this review listening to the beginning of the album, unaware of the latter portion. In "End Of An Empire." I heard some electronics and some effects. That's not very common for a folk metal band, but I must also state that this is hardly even close to folk metal anymore.
NOTE: FOLK METAL INFLUENCES ARE PRETTY MUCH NOWHERE TO BE SEEN, IN FAVOR OF OPERATIC ELEMENTS. IMAGINE IT AS A BIG METAL OPERA, BECAUSE THAT'S WHAT IT IS. YOU MIGHT NOT EVEN BE SURE IF THIS IS THE SAME BAND. BUT YES, IT IS. THOSE EXPECTING A BOMBASTIC FOLK METAL ALBUM MIGHT GET DISAPPOINTED TOWARDS THE LATTER PART OF THE ALBUM, AS IT GETS VERY OPERATIC.
Bonus Tracks:
First of all, these came on a bonus CD. Now, I'm not sure what else was on that disc, but if it was only these two tracks, then I would have to consider that a total waste of plastic. The regular version of this album is only 46 minutes, and the 2 bonus tracks total 8 minutes. They should have just made one limited edition CD and one regular CD like most bands do. HOW WASTEFUL!
Broadsword
- Broadsword, is a rather bombastic ballad. I again must state that the vocals aren't as good as they should've been. Clearly this guy was better at roaring than singing. Now the whole thing (album) has got me thinking Avantasia. There's even some keyboard usage here. The guitars do a good job though, but this opera metal change up is something I didn't expect.
Supernaut
- I'm probably the only person that doesn't know what band this cover belongs to. Whatever the case, it's just a rocking old cover of a classic song with a real classic feel, good guitar solo and a little bit of chanting in addition to other keyboard stuff. It's actually pretty damn good, so check it out.
Is it a Sabbath cover?
UPDATE: IT IS A SABBATH COVER.
OVERALL: EPIC EPIC EPIC! HAVE I NOT SAID IT ENOUGH ALREADY? THIS IS ONE OF THE MOST EPIC METAL ALBUMS I'VE EVER HEARD, AND LISTENING TO IT MAKES ME WANT TO RUN AROUND WITH A GIANT SWORD AND CHOP THINGS. IF YOU ARE LOOKING FOR SOMETHING VERY EPIC, WITH POWER METAL, OPERA AND SOME DEATH INFLUENCE, YOU'LL FIND IT HERE. 55 EPIC MINUTES! (REGULAR EDITION ONLY 46 EPIC MINUTES)
Score: 4/5 (While very epic, it's a gamble that might drive a great deal of fans away. The album title is erroneous, because one may expect a heavy album about war, when this album is opposite, being mostly opera metal in the vein of Therion. But it does not start out that way, imagine it as a thrash album for three songs, with hair metal ballads filling up the rest of the album, or a black metal album with three black metal tracks, and 8 power metal tracks. You should now be understanding what I'm getting at here.)
Umbah - Aradrolos (2009)
- ArE yOu iN thE MOOd FoR SomeThinG ReALLY oUT TheRe? UMBAH is extremely experimental and technical electronic avant-garde death metal. I have no idea what language it's in either. There is a shit load of effects in this album to add to the sporadic chaos entwined within it's 11 tracks at 61 minutes.
Apparently it is in English, and this guy is rapping. Yes, he's rapping to electronic music on the 2nd track. There's some guitar riffing in here too. Damn, this is not going to be for everyone. Yes, I am absolutely CERTAIN that this one won't be for everyone.
If you like albums that do everything under the kitchen sink and sound more like experiments than listenable music, than you will probably like this. Well, there he goes again, rapping. Damn, I just heard something that reminded me of MSI.
You know what, folks…even if this album has METAL elements, I can't fucking review this. Most of the people that would like this album probably don't listen to metal that much anyway. I guarantee that certain people would be looking for the nearest trash bin to chunk this one in, or to see how fast that disc will burn in a fire, or what neat designs can be made from it, by putting it in the microwave. (I tried that once with a blank DVD.)
Alright, so I'm wrong. There is a great deal of metal on this one, I just don't know what to do with it. It has influence from death metal, that's for sure. Except they add things to their metal, like avid electronic drumming, and then some other such things that push the boundaries. The band certainly has talent, and I will give them that.
Nonetheless, it's a canvas of experiments with metal elements thrown in, more or less. By the way, the instrumental track "ONGAR of FEASTING" is one hell of a listen, so check it out if you think you can take it.
OVERALL: IF YOU'RE STILL READING, THEN YOU'RE INTERESTED ENOUGH TO GET THIS ALBUM. SO GO DOWNLOAD IT OR WHATEVER YOU DO, BECAUSE I DOUBT THIS ONE'S STILL FOR SALE. BUT, WHEN ALL ELSE FAILS, USE MYSPACE AND SUPPORT BANDS YOU LIKE, IF YOU HAVE THE MONEY TO DO SO.
Score: 5/5 (Come on. You couldn't make an album this fucked up if you tried. I've got to give them points for making music that extra terrestrial beings might enjoy and understand heavily.)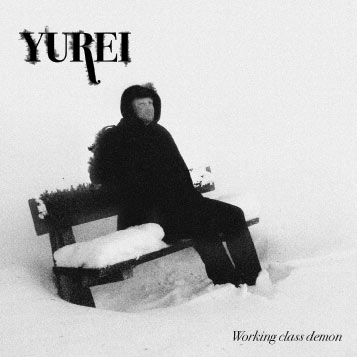 Yurei - Working Class Demon (2010)
- Here's a band that seems to be heavily influenced by black metal, but is not anywhere near black metal. Funny how that works out. Yurei is an avant-garde project. Which is probably a one man thing. His vocals are dark and depressing, and the music itself is very dark, artful and full of welcome changes. If you're really a fan of dark avant-garde metal, and you haven't found anything good out there in awhile, I surely hope this gentleman won't disappoint.
I have to recommend this to fans of Ulver and later Arcturus, because that's what it sounds like. As of yet, I've heard not one growl or scowl, but the riffs are surely dark enough to give one a feeling of black metal influence, as I said earlier. The first song "Brukket" is in the band's native language. But the rest are in English, so don't be discouraged.
As I said before, fans of dark avant-garde will probably eat this stuff, and want seconds. It's really great material, and I think you'll enjoy it if you give it a chance. I've never heard of this band until very recently, and I find that I'm really enjoying this style much more than other bands of this type. Believe me folks, some avant-garde has actually put me to sleep before. This band doesn't, and I'd actually like to use some of their stuff in a soundtrack for the film version of my novel. It matches the atmosphere personally.
The only negative part about this album, is that it is nothing other than this. It is mostly a slow paced dark avant-garde album with depressing vocals and lyrics. Also, I believe I might have heard this man's vocals in Arcturus before, but I doubt that it is their old vocalist. If it indeed is, his vocals sound as good as ever. But, that is not much to complain about, and even instrumentals like "Velvet Demon" that remind me of dark elevator music, are worth checking out. (I wouldn't mind hearing that one in an elevator, personally.)
OVERALL: A MUST FOR FANS OF DARK AVANT-GARDE. THIS MAY BE THE OLD VOCALIST IN ARCTURUS, BUT DON'T QUOTE ME ON THAT. THE MUSIC IS DARK AND DEPRESSIVE, BUT ALSO VERY ARTY AND BLACK METAL INFLUENCED. PICK THIS ONE UP IF YOU REALLY LOVE ULVER, ARCTURUS, AND OTHERS OF THAT NATURE.
Score: 5/5
40 Watt Sun - The Inside Room (2011)
- 40 Watt Sun appears to be funeral doom metal in the vein of Primordial, minus the heaviness. Sure, there's heavy bass riffs, but the music is very melancholy, and features a clean vocal approach throughout the album, in the vein of Funeral. This is not a bad thing, as the accent of the vocalist really brings out the beauty in his voice. I've always though Irishmen sang doom the best, anyway.
The band mostly combines heavy bass riffs with acoustic plucking to make something that has a thump, but is also very beautiful. Notice that I did not say this was heavy, and I guess to a person who didn't know much about doom metal, this would probably remind them a lot of Staind, a band who clearly ripped off funeral doom metal and tried to make it modern.
As I said, the vocals are the greatest part of this package, since throughout the 47:00 of this album, they are full of such powerful emotion. To sing, you HAVE to be a good singer, and this man certainly is.
Some people may feel that this album is too bland, boring, or depressing, but I very much enjoyed it. If you aren't a fan of funeral doom metal, it should be more than obvious that you would not enjoy this. Though the melodies are beautiful, and the singing is downright pristine; so if you enjoy this type of metal, I would highly recommend this great funeral doom album, that sounds both dark and uplifting at the same time.
OVERALL: 47:00 OF IRISH FUNERAL DOOM METAL IN THE VEIN OF FUNERAL AND PRIMORDIAL. IMPECCABLE VOCALS, AND GREAT MELODIES. VERY SLOW, AND MAY PUT OFF SOME PEOPLE; BUT TO THE FANS, THIS IS A NO-BRAINER. CHECK IT OUT IF YOU'VE GOT THE CHANCE.
Score: 4/5 (Great, but not incredible.)
Akem Manah - The Devil Is Inside You (2010)
- Here we have something that sounds just a little too raw for me. It's supposed to be stoner doom metal, with death metal vocals, sort of like Acid Witch, but what I'm getting sounds like a band that was playing in a fucking cave somewhere. I mean, you have to turn your volume all the way up to get it at a decent level.
Lets also talk about that fact that the bass riffs are so fucking loud that I can't hear the lead guitar work. He might as well not even be playing, because I can't fucking hear him. I would've said to this guy in the studio, "TURN UP YOUR FUCKING AMP!"
Because this band has put out such a shoddy release, which I am guessing is their first, they are really going to have to come on strong with the next one, or they are going nowhere. Let's face it, despite the fact that the band has the ability to add psychedelic elements into their music so seamlessly, will not help the fact that I just can't hear them.
The vocalist might as well not even be growling, because I can only hear a shitty whisper. That's not death metal. That's whisper metal.
Look, I'm done tearing these fellows apart. Don't waste your time with this unless it's free, or if you really want to give this hard to hear shit a try. Don't get me wrong, the band has talent, and a nice use of demonic atmospheres, voice changing effects and other such weirdness, but I just can't hear it well enough for it to do anything.
Maybe next time, guys?
OVERALL: PSYCHEDELIC STONER DOOM/DEATH METAL WITH POTENTIAL, BUT AWFUL RECORDING. THE VOCALS MIGHT AS WELL BE WHISPERED, AND THE BASS AND DRUMS ARE HEARD OVER ANYTHING ELSE. SOMETIMES YOU CAN HEAR THE GREAT GUITAR WORK, BUT OTHER TIMES IT FADES OUT. NICE USE OF ATMOSPHERES, BUT SOUNDS LIKE IT'S TRYING TO BE MORE EVIL THAN IT IS.
Score: 3/5
Animus Divine - Sorrow (2011)
- Fans of modern American metal should really enjoy this. It has the fierceness of Lamb Of God, along with the groovy metal core style in places, injected with some death metal, and features the worse whiniest clean vocals I've ever heard. I want to punch this guy in the mouth for doing this to my ears.
In some places there's a dual death core thing going on, but it's mostly modern American metal. Songs like "Swagger" remind me a ton of my old band, until that whine comes in. Yeah, so I used to be in a band like this, it was actually fun as hell, so I didn't mind it.
That's the reason why I got this album I guess. Yes, it's a little bit more geared to the youth who have been exposed to core, but there's a metal injection here, and a decent bit of ferocity and groove. It's really not that bad, even though it uses the Slipknot DJ thing, except it's barely unnoticeable. I will say that the scowl vocal approach on this is great, but that's only because it sounds like my own vocals.
I'm going to bet that this album was fun as hell to make, and it must be a great feeling for these guys to go out and do these songs live. I don't know if these guys are looking for fame or not, but they have a mainstream sound that has a bit of underground influence.
It's not the worst thing in the world. Except for the rapping in parts of it. That might really get on ones nerves. Don't get me wrong, I like rap music actually, but not when it's injected death metal/core like this.
OVERALL: 45:00 OF MODERN AMERICAN METAL WITH CORE INFLUENCE. IT ALSO HAS SOME METAL INJECTION, WHICH MAKES IT HEAVY AS HELL IN PLACES. YOUNG METAL HEADS WILL EAT THIS STUFF UP. IT'S NOT RECOMMEND FOR ARTIER METALHEADS BECAUSE THIS IS HARDLY ART, AND JUST MINDLESS BRUTAL FUN, WITH SOME GOOD FRILLS HERE AND THERE. ONLY THING I HATE IS THE WHINY GUY. THEY DON'T NEED HIM. STILL, THIS WILL PROBABLY BE POPULAR IN A FEW YEARS, IF NOT SOONER. VERY MARKETABLE TO ANGSTY YOUTH, THERE'S ALSO SOME RAPPING, SO BE WARY OF THAT. IS THIS GOING TO BE SLIPKNOT 2.0?
-1 or 2.5/5 (YOU PICK) (Some interesting things, but most people will be looking for the recycle bin when it comes to this one. Let's just say it won't gel with metal heads that aren't into the modern American metal / core scene. On the other hand, go play "Who Shot Ya" or "Fuck Off" and you'd never want to hear another song from said band again.)
Ascension - Consolamentum (2010)
- Sounding like the underworld with a high production value, Ascension seems to be a completely capable black metal band. Sure, we've heard these riffs and progressive notions before, and the scowls and machine gun drumming is certainly not something genuine, but the sound and force of this band are well worth noting.
The band offers some good solos and some nice progressions in the music, which ranges from speed to groove in the vein of later Satyricon. Clearly, we have a band with skill, but not a great deal of places to take it. While there are good things on this album, I have to insert that I've heard them all before, and I can really give this album nothing more than the staple of a good solid release. If you are looking for a good black metal record, you will find it here. But, If you are looking for a greater and much more experimental black metal album, I believe you should look elsewhere.
Fans of the genre will surely eat this band, but as for me, I'm looking for a sweeter desert. Have we covered all the facets of black metal? Vried's latest release makes me think that there is still some undiscovered territory to be had; but as for this one, I believe I've already been down this road before.
OVERALL: 47:00 OF SOLID BLACK METAL. HAS SOME PROGGY NOTIONS AND EVERYTHING ELSE THAT MOST PEOPLE EXPECT FROM BLACK METAL THESE DAYS. TO TELL YOU THE TRUTH THOUGH, THERE IS NOT ENOUGH MATERIAL HERE TO LEAVE A STANDING IMPRESSION. SURE, THE BAND HAS A FORCE, AND A FURY; THEY HAVE A DRIVE AND A DEFINITE TALENT- BUT, I STILL THINK THERE ARE BETTER RELEASES OUT THERE.
Score: 3.5/5
Asphagor - Havoc (2010)
- Asphagor are one hell of a black metal band with a high production value which strengthens their modern black metal sound. Yet, they still have some things to learn, because they are quite good at repeating themselves.
Many people may hate this term "modern black metal" but it is only to mean a higher quality production value. There's no bullshit theatrics on this album like on Dimmu's waste of a recording last year. The great drum work, the dark riffs, the haunting and depressing melodies are all there. Plus, the scowls of the vocalist are really powerful. For people who don't know, the scowl in black metal counts a great deal. If you cannot fucking scowl, than do not do black metal vocals. Just don't do it.
This gentlemen can, and he's got a stable band to back him up. Also, check out the badass video for this album on their myspace page. Not a big budget thing, but still a really cool video. I have great expectations for this band, and I hope that they can live up to them. There are just some bands out there, that when you hear a few songs from them you say, "Hey, these guys are pretty good."
I will say that the vocals might drone on one after a while, it's just the delivery of them. While this album isn't nearly as great as some others I have reviewed, it is still a good album.
OVERALL: 42 MINS OF SOLID MODERN BLACK METAL. VERY DARK AND HAUNTING MELODIES, DRUMMER DOES MORE THAN BLAST, AND THE VOCALIST HAS A HELL OF A SCOWL. THE PRODUCTION VALUE IS VERY HIGH AS WELL. BAND HAS AS MUCH POTENTIAL AS DIMMU, OLD MAN'S CHILD, EXC. WORTH A SPIN, BUT NOT PERFECT.
Score: 3.5/5
Children Of Bodom - Relentless Reckless Forever (2011)
- Alexi and the boys have never sounded better than they do on this landmark 2011 release. Blooddrunk was a good comeback, and a definite departure from Are You Dead Yet? realms, but bringing back the melodies and beautiful guitar work that made this band such well noticed was one of the best things they could've done. If you liked Hatebreeder, Follow The Reaper, and Hate Crew Death Roll, then you will really like this one.
Alexi's solos are absolutely flying all over this disc, and throughout the 36:00 of music on this disc, everything seems to be in perfect harmony. The keyboards work impeccably together with the guitar theatrics, and Alexi decides to shut the fuck up for a few minutes and just let the instruments play though. These are the best parts of the album. His vocal style hasn't changed, but you can tell that the band is clearly digging into their past, and trying to find their roots again.
This is working. My version does not have whatever crappy cover they planned to do this time around, but even had I heard this cover, I would still take the band as a musically serious band. Even though Alexi wants to party and whatnot all of the time, the rest of the band members clearly know how to play stable and capable melodic death metal that is better than anything In Flames has put out in many years. I have since stopped listening to In Flames, but since I am now a metal reviewer, I suppose I will have to review this "Sounds Of A Playground Fading" album, which will be releasing in a short while. Though, I can assuredly say that In Flames would have to pull off a monumentous effort, the likes of Colony or Whoracle, to even come close to what Bodom has offered here. It is as much a treat to the fans, as it is a slap in the mouth to those who think that the band has musically sold themselves out.
Cradle Of Filth and Children Of Bodom have both been repeatedly laughed at since, with people quoting that, "No none even cares about them anymore, and the bands themselves don't even care what kind of music they put out nowadays."
I know that both of the music videos for these band's latest albums have sucked tremendously, either the song "Forgive Me Father, For I Have Sinned" or the video for one of the singles on Bodom's latest, which features skateboarding.
Still, these bands have equally put out their strongest releases in years. I can attest to the fact that I have equally enjoyed them both, and would call this album as of right now "One Of 2011's Best Comeback Albums."
While not perfect, it's well worth listening to. Especially if you're tired of bands who are trying to mock the sound, and altogether ruin melodic death metal. I've eaten a full plate of bad melo-death, and I'm tired of it. It's refreshing to see that at least one band can bring it back to glory days.
OVERALL: 36:00 OF BODOM'S STRONGEST WORK IN YEARS. FOR FANS OF TRUE MELODIC DEATH METAL. BLAZING SOLOS, GREAT KEYBOARD WORK, AND THE SONGS DON'T ALL SOUND THE SAME. I DIDN'T THINK I'D ENJOY THIS AS MUCH AS I HAVE, AND IT'S DEFINITELY WORTH LISTENING TO THIS YEAR. OH, ALL THAT SINGING STUFF IS GONE. ALEXI IS BACK TO SHRIEKS AND SCOWLS.
Score: 4.5/5
Before The Rain - Frail (2011)
- Well, since this album isn't supposed to come out till June, I really shouldn't be reviewing it. But someone got it out early, and from what I've heard so far, it's worth saving up your dough early to go grab this one.
The first thing I will say about this doom/death band, is that I swear that the man growling on this album is also the front man of one of doom/death's strongest bands, November's Doom. Yeah, I think It's Paul Kuhr. Don't quote me on this, but it sounds a lot like him. (Still waiting on that new Subterranean Masquerade there, buddy. But, Aphotic should be just as good.)
There's also the clean vocalist, who reminds me of the male vocalist from Dead Can Dance. It works well for the band though, and on this 74:00 disc of sorrowful and beautiful metal, they do doom much better than I've heard in a while. The melodies and vocals intertwine in a way that only can be done by very talented musicians, and they'd have to be - because there are only 6 songs on the disc, and the shortest one is 8:54. If you want to keep one's attention for 10 or 17 minute songs, you'd have to do some incredible stuff.
Take for instance, the closer on "And The World Ends There." Holy shit, listen to that playing! It sounds even better than when it started, like it should've been about five or seven minutes longer. (I say this because it seems to fade out very abruptly, and I do believe that this is intentional, like on the last Skyclad album.)
There's really no words that describe the sheer brilliance of this release. Even though the clean vocals may not be perfect, the music is pristine, and filled with some of the most beautiful melodies that I've ever heard. If you are a fan of melodic doom/death, you will really love this band, and I have little doubt that they won't become well known for such a breathtaking release.
The album sets up it's own atmosphere, and songs like the 16:43 "Frail" would be rather boring if they didn't contain many parts, sometimes sounding like many songs, but in the end, intertwining to form the one masterpiece. I definitely feel that Before The Rain has a great deal of promise, and will be something that doom fans the world over, would accept into canon. Do not miss this one. You will only regret it if you enjoy this kind of music. These gentlemen have created a masterpiece that only gets better with every minute into the disc.
OVERALL: ENTHRALLING DOOM METAL, IN THE FUNERAL SENSE. SOME DEATH METAL PORTIONS, BUT MOSTLY FILLED WITH OUTRAGEOUS MELODIES, AND SHEER BRILLIANCE. RATHER LONG, BUT DEFINITELY WORTH LISTENING TO. SIX SONGS AT 74:00 FORM ONE GREAT MASTERPIECE OF THE GENRE. YOU WOULD HAVE TO BE AN IDIOT TO MISS OUT ON THIS ONE.
Score: 5/5
Benighted In Sodom - Death In Space (2010)
- Keep in mind that since this is a collection of recordings, most of my review is "lopsided" in the fact that the disc starts out awful and gets better towards the end. You can be your own judge on this as well, since there is a noticeable difference in tracks as you continue to listen to the disc. They should've just re-recorded everything, but they didn't. This could be due to money, since studios are not cheap.
This progressive melodic black metal band isn't the best thing I've ever heard, that's for sure. The riffs aren't really special, and even though the band tries to do something new, like add sorrowful doom-laden vocals to the dark spacey mix, it doesn't really scream "interesting" in the beginning.
One thing that irks me, is that the vocals are far, far, too loud. The vocals come in so loud that you can barely hear the music in some songs. The riffs are basic prog and sometimes offer good things. Mostly toward the latter songs. The same with the vocals, which sometimes sound great, and sometimes sound like shit. This is an album full of hits and misses, and that's not a good thing. Maybe there's a shallow few in the band's hometown area that might respect them, as well as some myspace fans; but I really don't see something like this going anywhere. If the band made this album just to make music, than that's fine. I'm all for music for music's sake.
If this is a free release, it's not bad. I've heard worse things that one would actually have to pay for. The band has some melodies, and it has some promise…an inkling of promise among the tens of thousands of black metal bands doing the same fucking thing….
Basically, what you've got is 61:00 of melodic black metal with some prog notions, and vocals that overshadow everything. Sometimes I can barely hear the low recording of the music, but I'll surely be able to hear every word that vocalist is screaming, because of the mix. I'll also add that this album is SLOW. Some songs seem to be faster, but not by very much.
If you're a fan of bands like Krallice though, you MIGHT enjoy it. Since there are some interesting riffs in the latter part of the album, and things tend to take a very spatial sound, with atmospheres and the like being used. The last couple songs in fact seem to showcase this band's talent much better, and are worth hearing. Perhaps they were recorded later in the studio.
To tell you the truth, the whole thing sounds better towards the end of the disc. Even the recording. I do believe that this album is actually a collection of recordings from a span of years in this band's history, the latter songs (The Splintering Of Two Graves Pts I and II, and Paradise Opiate) being some great songs indeed.
OVERALL: THE BEGINNING OF THIS DISC IS AWFUL, BUT THE LAST THREE SONGS ARE VERY GOOD. IT IS MORE OR LESS A COLLECTION OF RECORDINGS, AND THE LATTER RECORDINGS SHOW THIS BAND AS EXTREMELY SOLID, IF NOT MORE THAN CAPABLE. IF THE BAND CONTINUES, I HOPE THAT THE NEXT RELEASE WILL SEE THEM IN THE VEIN OF THOSE LAST THREE TRACKS. THIS IS A PROMISING BLACK METAL BAND WITH EXPERIMENTAL, PROGRESSIVE, AND SPATIAL TENDENCIES THAT SURELY SEEMS TO GET BETTER WITH TIME. KEEP WATCHING THESE GUYS, BUT FOR NOW ALL I CAN GIVE THIS IS A SOLID 3.
Score: 3/5
Bloodbound - Unholy Cross - (2011)
- This power metal band's name probably came from "Blood Bound," a song from Hammerfall. Yet, what I hear is more like Edguy or Avantasia. I really love those bands, so I was quite enamored with this promising power metal act. If you like cheese, you're going to find it here. I actually prefer sharp cheddar, and this album is full of it. But what's wrong with that? It's a perfectly good power metal album!
At 50:00 of great catchy songs, I'd have to recommend this to fans of cheese and power metal, like myself. It's a great record even though it sounds like it could've been made by another band. I've heard worse power metal, and it's certainly more entertaining than Dragonforce. I cannot stand their singer. Hopefully this review isn't too short, I just don't have much to say about this band. It's pretty straight forward power metal.
OVERALL: 50:00 OF GREAT POWER METAL. EVEN THOUGH THE BIG GUNS STILL HAVE YET TO BRING OUT THEIR ALBUMS THIS YEAR, THIS ONE IS CERTAINLY WORTH HEARING. IF YOU LIKE POWER METAL AT ALL, I DON'T KNOW WHY YOU WOULDN'T LIKE THIS ONE. CATCHY CHORUSES, GREAT VOCALS, AND GOOD SOLOS. IT'S JUST A GREAT POWER METAL ALBUM ALL AROUND.
Score: 5/5