Powerglove - Saturday Morning Apocalypse (2010)
If you don't know who Powerglove is, they are a now widely recognized group that plays Dragonforce style instrumental themes from video games and television shows. While many of us were waiting for another disc of game tunes, (Metal Kombat For The Mortal Man (2007) this release showcases a collection of both popular, and some not-so-popular - themes from Saturday morning cartoon shows. (Back when they still existed.)
Anyway, I felt it best to do this one song by song, since every song is from a different show, and because there hasn't been a band in the history of man who has done something like this. (An entire album of metal cartoon themes.)
1. X-Men - This one I think is one the best songs on the collection, and it's the one I was most looking forward to. What we have here is an ultra heavy version of a heavy theme. The guitar work is great, but over the top (like all of the tracks on here), and it includes a little acoustic break as well.
2. Gotta Catch Em' All (Pokemon Theme) - I shit you not…they recorded this, and I have no fucking clue why. It sounds like a very poppy Dragonforce, and it's so fucking corny…but just wait, you've heard nothing yet.
3. The Real Adventures Of Johnny Quest - I've never heard this theme before, because I never watched the show as a kid, but I thought that this was pretty solid. That's about all I have to say.
4. This Is Halloween (Nightmare Before Christmas) - Not really a Saturday morning cartoon theme, but decent nonetheless. I personally thought that Manson's version of this was the best rendition I've heard, but this isn't bad.
5. Batman - This is based on the Danny Elfman Batman theme which was carried over into the cartoon series, which some say was one of the best cartoons of the 90s. (I have them and all, and agree.) Regardless, this is a great theme, that goes beyond the call of duty, and is worth more than a listen.
6. Transformers - I heard few resemblances to the original theme here, but they repeat this one riff that was so great, that I was almost brought to tears. Hell, it might have been me, but I knew that that riff had nothing to do with 80's original transformers theme. I'll also add that I can't tell that this is a cover. There's so much original shit in here, that only the familiar dun-duh-dun-dun of the transformers theme was the only thing that I recognized.
7. Inspector Gadget - Not what you'd think, this one seems to deal more with the classical piece that the theme was based upon, and has so much other shit thrown in that the only original thing is the chorus piece.
8. Heffalumps and Woozles (Winne The Pooh) - Is this a joke? If it is, it's a good one. This song is as heavy as hell, and probably shouldn't be. You'd have to imagine Winnie The Pooh in that worshipping Satan thing that some guy made on you tube. It's like that.
9. The Simpsons (Feat. Tony Kako) - This is by far one of the best themes on the disc, it's true to the original and has a lot of interesting stuff going on, to say the least. I couldn't hear Tony Kako's voice anywhere in it, and I was thankful for it.
10. The Flintstones - If you never thought that the Flintstones theme could ever be heavy, well…here's a heavy version of the Flintstones theme. It is what it is.
11. Gotta Catch Em' All (Feat. Tony Kako) - Anyone who has ever had respect for Tony Kako, or power metal, or metal in general will vomit, possibly slit their throat, overdose on pills, shit their intestines out, stab out their eyes in the fashion of Oedipus…
It's that bad. This is the worst metal song that I have ever heard, in 25 years of living. By far, this will remain as a great brain fart from God; and will serve as a reminder to atheists, as to why God…just might not exist at all.
I will not explain the ridiculousness of this, because I will let you all d/load this one track to hear yourself. It is on a very easy to use site, and for those that wish to not have a copy for themselves, I will also provide a myspace link to where this song can be heard.
I offer caution though, this is by far worse than the Bodom Brittney cover, which is a joke, but I am assuming that this is not. I have never heard the whole thing to be honest - I couldn't make it through it. An uproarious amount of laughter echoed through my body and threatened to rip open my stomach, and bleed into my stools, which would've caused my anus to explode like an Iranian nuclear reactor that had gone critical due to stux.net!
Here is the horror for yourself: (Too lazy to upload....sorry.)
OVERALL: THIS IS A GREAT ALBUM, IF YOU REMOVE THE POKEMON FROM IT, AND FILE THEM AWAY FROM YOUR MIND, AS IF THEY NEVER EXISTED. SHAME ON YOU POWERGLOVE, YOU GAVE US POKE'MON, WHEN YOU COULD'VE GIVEN US AN UPDATE OF THE POWER RANGERS THEME.
Now to something you all might care about more…
These Are They - Disposing Of Betrayers (2010) (By Request)
- This one caught me off guard. I had no idea that Paul Kuhr's side project was a death metal project sans doom, and I'd have to say that I'm very impressed by it. I think that this album showcases the man's tremendous vocal skills, and while the band isn't as good as November's Doom, they certainly are working their way to standing out in the metal scene. This debut is an absolute must have for many reasons. There's no core bullshit, there's some very good melodies, and the solo work is top-notch. This is an album that can be listened to again and again, and none of the songs suffer from the "every song sounds the same" factor which plagues many metal bands these days. Kuhr is no stranger to the death metal scene, and while I don't feel that the heaviness of these songs was as good as the heaviness of some of the tracks on ND's last album (Into Night's Reqiuem Infernal) - I'd be an absolute idiot not to recommend it. If you don't have this album, get online, or to your record store, and pick this up. You will not fucking regret it.
OVERALL: MUST HAVE DEATH METAL FOR 2010. TIRED OF DEATHCORE BS? LOOK HERE. THIS IS HOW IT'S DONE, LADIES AND GENTLEMEN.
ALSO TRY: NOVEMBER'S DOOM - INTO NIGHT'S REQUIEM INFERNAL (2009)
Anthill - Leaving The Anthill (2010)
- This is the debut (free?) album from a Technical / Progressive Death Metal band. I'm not sure if it's actually a free release or not, because it contains lyrics and the whole nine yards. What we've basically got here appears to be run of the mill progressive death. It doesn't sound that special, and it's only going to appeal to the fans who are into it. As far as progressive death metal goes, I'd have to say that bands like Sculptured are myriads better. I'm just hearing a lot of the same guitar style, and it's got the swiss cheese feel that a lot of these over-technical albums have. There's a break in the monotony with the 4th track, ("Chapter IV: Dying Dream", which is instrumental) and I was pleased with that one. The Orgone cover "Vomiting Hyacinths" is also good, but not great.
OVERALL: FOR TECH DEATH HEADS, IT'S GOT ALL THOSE THINGS YOU LIKE. (GO GET IT!) BUT, FOR ANYONE ELSE, IT MAY NOT BE YOUR THING.
ALSO TRY: SCULPTURED - EMBODIMENT (2008)
Clagg - Lord Of The Deep (2009)
- This Aussie sludge metal band's debut consists of 5 extremely long songs based on Lovecraft's mighty Cthulu mythos. It sounds a little early Mastodon in the beginning, but I'll forgive them, because it doesn't stay that way for long; and the vocal styles are both black and death metal (sometimes at the same time). If you don't mind some black and death metal vocals in your sludge soup, you're going to fucking love this one. The solos are also pretty good on this one. Great shit going on, all around on this album. Can't wait to hear the next one.
OVERALL: IF YOU LIKE SLUDGE WITH BLACK / DEATH VOCALS, THIS IS A MUST. IF YOU AIN'T GOT THIS, FIND A WAY TO GET IT. WORTH A LISTEN.
ALSO TRY: THROWN
Stygian - Fury Rising (2010)
- I saw that these guys were touring with Mushroomhead, so I decided that I'd give their album a try. What we've got here is a band with a very load/reload era Metallica sound, and the vocals sort of remind me of Hetfield in parts. I'm going to say this though, it's not bad - and the guitars are definitely where they need to be, even though the vocals are the main show. This is probably going to remind you of load, whether you like it or not. But still, it ain't bad. These guys have a future, and from the sounds of the vocals, they ain't that old of guys either. Plenty of time to mature into an even better sound. There's some fooling around a little too, it's not as basic as you think. Might also remind you of a lighter Trivium (sans heavy vocals - this is all clean vocals). The hard rocker in me likes it, but the metal head in me thinks it's a little basic in some areas. It's got more balls than A7X and Stone Sour, I'll say that. I'm also wondering which WWE wrestler is going to be coming out to something from these guys. it's very marketable shit.
OVERALL: ACTUALLY… WORTH A LISTEN. 8/10 SONGS ARE GOOD.
BUT YOU STILL MIGHT NOT LIKE IT, JUST DEPENDS ON YOUR TASTE.
ALSO TRY: TRIVIUM - SHOGUN (2008)
THE CROWN - DOOMSDAY KING (2010)
- First of all, I bet you're wondering why the title of this is in caps. This is because this album marks the first album in six years from a legendary death / thrash band who had supposedly broken up for good in 2004.
Well, it would seem that the devil himself brought them back together, because he's all over the album. From the title to the tracks, it's not hard to see that The Crown haven't become a Christian band, and don't plan on being one anytime soon. For a band whose debut "Hell Is Here" still remains one of my favorite albums of all fucking time, it would be an understatement to say that I expected nothing less than the fury of hell itself, and ten times more with this release.
Well…THIS ALBUM IS GOING TO MELT YOUR FUCKING FACE OFF!
It's got everything that metal should be. The vocalist is still full of anger, and he sounds like he's in some kind of murderous rage in this one. The guitars are flying all over the fucking place, the solos are wild, and the whole goddamn thing is just…PERFECT. This album reminds me why I listen to metal so much, and it's not just because of the music itself - but I get pissed at a lot of shit, and a lot of people, and listening to metal keeps me from ending their existence. The Crown has always been therapeutic in helping me to deal with that shit. Be a janitor for Wal-Mart, and clean fucking toilets all day long, and you'll know what I mean. (I'll never do that shit again, I swear.) Of course, with some people, metal this heavy will make them want to fight. I know someone like that, too.
If you thought Exodus's new album might be one of the best thrash metal albums of the decade, well…It's good and all, but this one wipes the floor with it. As for the new Anthrax…Well, there's no fucking way. They should've released "Worship Music" sooner.
OVERALL: SOLID DEATH/THRASH FROM LEGENDS. YOU OWE IT TO YOURSELF TO HEAR THIS ONE. BEST THRASH OF THE YEAR!
Adult Swim's Metal Swim FREE ALBUM (2010)
- First of all, it's free, so I'll give you the link for it. Get it while you can! Also, there's no Dethklok on it, even though it's Adult Swim.
Link:
http://www.adultswim.com/promos/201009_scion/index.html
The review will be another song by song, since it's a compilation. I'll also mention that all of these songs are "rare or unreleased" from some really great bands.
1. Death Angel - Truce - Death Angel's been around forever, but even this one can't quite get me into them. It sounds like teenager metal, or something. But, they have top notch solo and guitar work, and that's promising. The production quality is good as well.
2. Skeletonwitch - Bringers Of Death - I've always liked Skeletonwitch, and it's because they mix the black metal and the thrash just fucking right. This song showcases more of a black metal side, with a few grunts here and there. One of the highlights for me. But I'm a biased bastard towards these guys.
3.Torche - Arrowhead - I'm really digging these guys. Never heard them before, and really digging their metal gaze sound. Song's too fucking short though.
4. Ludicra - Path Of Ash - If you don't know who Ludicra is, GET YOUR HEAD OUT OF YOUR ASS! I'm surprised to see these guys here, and they fucking deserve it. This black metal / doom outfit from California has once again shown me why they are one of those bands that you absolutely need to fucking hear! This was actually named wrong, and is called "Walk The Path of Ash", from their Self-Titled EP back in 2006. (It's also 9:19 seconds long!)
5. Kylesa - Forsaken - I've never heard Kylesa before, and I'll probably grab a disco after hearing this. What we've got is a doomy / gloomy sort of metal with some haunting female vocals. I could do without her screams, though.
6. Black Tusk - Fatal Kiss - Mastodon, anyone? I'm sorry, but this sounds like a rip-off of Mastodon's much heavier, old style. It's not as good either.
7. Red Fang - Hank is Dead - More rock than metal, this stoner band is pretty run of the mill, nothing spectacular, but the vocals aren't bad. …Probably be better if I had some weed.
8. Black Cobra - Frozen Night - Zakk Wylde? Sure sounds like some of his heavier stuff…no, wait - this is a little more progressive than that. What in the fuck's with the vocals? It's like southern thrash. Not my thing, but it's digg-able to some folks, I'm sure. Kinda sounds like High On Fire - solid southern doom metal style, drunk guy on vocals.
9. Saviours - Dixie Away - What we've got here sounds like a southern punk / metal band. The music is southern metal, maybe a little Judas Priest in areas, but the vocals are clearly punk. The song is good, solid, drinkin' music. This is the kind of stuff that you get fucked up to. Riffs ain't too bad either.
10. Witch Mountain - Veil Of The Forgotten - What we've got here is doom with a bit of black and death metal vocal, but the main lyrics are sung by a female that has a very "normal female" voice. Nothing special with her vocals. Chicks will dig it, though. I like the fact that there's the black and death vocals in it though, so it's not just her. The band sounds really fucking dreary by the way. It' dreary raw doom. Shit, it's catchy. Looks like I'll be reviewing the album next week…
11. Isis - Pliable Foe - What do you want me to say here? It's Isis, and it's exactly in their style. The vocals are mostly clean in this song, and it's a pretty mellow track which builds up, and then slows down. It doesn't disappoint - has all the great proggy, trippy expectedness of Isis, with some heavy parts sprinkled in, and a vocal change in the middle of the song. I dug it.
12. Jesu - Dethroned - For those who don't know, I used to sleep to Jesu. I don't have anything against them, I just got to sleep easy from their music. While this track is a lot heavier, it's probably also pretty good to sleep to. Jesu fans have reason to rejoice, because this is a great track. I wouldn't put the fate of my dreams in the hands of any other band.
13. Pelican - Inch Above Sand - Let's see… Soft instrumental? Check. No vocals? Check. Does it sound like every other song that Pelican has written? Check.
14. Zoroaster - Witch's Hammer - This is blackened southern doom, and I thought it was solid. Not great, but worth a listen. Not Cobalt…but good. Then again…there can only be one Cobalt.
15. Withered - Extinguished With The Weary - Wow, something that ain't doom. It's refreshing to see some blackened death metal here. It's good stuff, really thrashy blackened death metal. Have to check out some more from these guys, digging this. Move over, Behemoth.
16. Boris - Luna - Wow. I'm wondering if this is a preview of the new album. What I'm hearing from this legendary Japanese prog/doom/drone band is something different, double bass with both male and female vocals, and beautiful melodies. It's unlike anything I've ever heard before, and only the Japanese choose to experiment like this. This is worth the whole album. (Sorry America, but the best experimental stuff always seems to come from Japan.) Damn, the new Boris is going to FUCKING RULE!
OVERALL: THIS IS A FREE ALBUM. IF SOMEONE GAVE YOU A FREE PIZZA, YOU'D EAT IT, RIGHT? WE'VE ALL HAD OUR SHARE OF BAD FREE STUFF BEFORE, FREE PENS, FREE STICKERS, FREE REFRIGERATOR MAGNETS, FREE LANYARDS…THIS IS SOMETHING THAT IS ACTUALLY WORTH MONEY, AND IT IS BEING GIVEN OUT FOR FREE! I DON'T CARE WHO YOU ARE, IF YOU LIKE METAL, D/LOAD THIS ALBUM, EVEN IF YOU DON'T DOWNLOAD MUSIC, "BECAUSE YOU'RE NOT COOL", AS I'VE SEEN IT TYPED.
BESIDES, THERE'S NO WAY TO GET THIS IN ANY OTHER FORMAT, BECAUSE IT WON'T FIT ON ONE DISC. (82:00 LONG) IF YOU WANT TO GIVE THE BANDS THEIR SUPPORT, THEN BUY THEIR FULL ALBUMS, OR GO TO THEIR SHOWS.
PLUS, THERE'S BORIS…AND THAT'S HOW I'M CERTAIN THAT THERE MIGHT JUST BE A G.O.D.…AFTER ALL. (OR, SOME KIND OF SOURCE.)
Mushroomhead - Beautiful Stories For Ugly Children (2010)
- What in the hell happened here? It seems that they spent more money on their fucking masks and costumes, then they did on the production of the album. When I grabbed the single, I thought that it was just a low-quality web rip. What a fool I was, when I found out that this poor quality comprised THE ENTIRE FUCKING ALBUM. Ladies and gentlemen, this is demo quality production that is being packaged and sold to you, in the hopes that you'll buy it.
So with that I have to say, "Fuck you, Mushroomhead! I will not buy an album from a well known band, that has shitty production. I will not fucking do it." Shame on them for even trying to sell this shit. I could understand if it was meant to be raw, but here you can clearly tell that they're just fucking broke. Savior Sorrow bombed, and for good reason. It was horseshit. J. Mann left to form a pretty solid band (Pitch Black Forecast) with Gene Hogland on drums, and then Mushroomhead puts out a shitty mainstream almost pop album, after a great work like XIII.
So, how does it sound? Well, if you can forgive the shitty quality, (and it is shitty) then the album sounds pretty damned good actually. This is arguable the best I've heard Mushroomhead since the early days, and while there are still hits and misses, there are a lot of hits, and only a few misses. I really wish it was recorded a little better, because it's so damned raw, but there's a lot to like on this one, and a hell of a lot of reliability. The symphonics are there, and the only clean vocals I care about in the band (the original front man, not the new guy they hired) are as dreary as they need to be. Sure, the new guy gets a few nickel back croons in now and then, but mostly he lets loose with his metal core-esque but not really bad version of heavy vocals. There's a lot of epic songs in this album, and the symphonics bring that out nicely. Also, there's a lot of just plain good rock picking and some classic sounding rock and roll style solos. This is a rock/metal album with a good bit of symphonics that will suffer and go unnoticed due to shit quality.
OVERALL: DEFINITELY WORTH A LISTEN. THE STRONGEST THEY'VE BEEN IN YEARS, BUT DON'T BUY IT, UNLESS YOU CAN GET OVER THE QUALITY.
Blind Guardian - At The Edge Of Time (2010)
- I should've reviewed this a while ago, and I apologize for that. What we have here is a solid power metal album from power metal legends. For any of you that had the misfortune of hearing "A Twist In The Myth", this is that great redeemer that you were waiting for. Yes, it's a good album, and a step in the right direction for the band. Some of the songs actually hearken back to the band's thrash era, and you can still see that they still have that potential in them. All in all, there's a lot to like on this album, whether it be the epic opener "Sacred Worlds", or the thrash hey-day of "A Voice In The Dark" (Also check the demo of that one), you're not going to be disappointed in this release. For me, I only thought that "War Of The Thrones" fell a bit short, because it lacked the flow of the rest of the album. I must also mention that this album contains a few tracks showcasing the band's mid-era style, (Imaginations From The Other Side - A Night At The Opera) so there's something here for everyone. If this is their last album, it's a good way to go out.
OVERALL: SOLID, LEGENDARY POWER METAL, THAT IS WORTH A LISTEN. THE BONUS DISC ISN'T BAD EITHER.
Alcest - Ecailles De Lune (2010)
- Alcest has been called by many "happy black metal", and this is because they mix beautiful melodies and blast beats together with the usual French clean vocal. Yet on this release, the vocalist has ventured further into the territory of true black metal, with the addition of scowls to still accompany his beautiful melodies and blast beats. While not for everyone, it's definitely refreshing, even though I can't understand a word of it.
OVERALL: SOLID "HAPPY BLACK METAL" THAT IS WORTH A LISTEN.
Acrassicuada - Only The Dead See The End Of War EP (2010)
- What we have here is an inspiring piece of music from a band who I'm told used to sound like an Iraqi Judas Priest. Here we see them venturing in to Metallica territory, but still adding touches which would be native to their land. The EP is very short, but it shows that good things are happening with this band who survived a damn near apocalypse just to be able to play metal music.
OVERALL: IRAQI THRASH METAL THAT IS DEFINITELY WORTH A LISTEN.
Anathema - We're Here Because We're Here (2010)
- Anathema has moved far from metal territory, and only one of the songs "Summer Night Horizon" showcases the fact that they were ever a metal band. Here, they do what various mainstream groups like Coldplay for example are doing, except that they 1 up these bands by quite a lot. This album is by far one of the most beautiful and relaxing albums that I have ever heard in the last 10 years. "Thin Air", "Everything", and "Angels Among Us" are all great songs with a lot of hope in an album that is trying to plainly state that there may just be a lot more to our lives than monotony and permanent death. Perhaps, we are not destined to rot in the grave after all…
OVERALL: NOT VERY METAL, BUT INSTEAD REALLY BEAUTIFUL. WORTH A LISTEN FOR THAT REASON ALONE.
Antares Predator - Twilight Of The Apocalypse (2010)
- I've heard this album was ten years in the making, and it sounds like it could've used ten years more. What we've got is a very bland black metal album, and even the parts that are interesting aren't interesting for long. This is nothing more, than boring.
OVERALL: SKIP IT.
As I Lay Dying - The Powerless Rise (2010)
- Melodic Christian Life (?) Metal band (but don't want to push their beliefs on you) As I lay Dying have come out with some pretty solid stuff, and this one's no different. What you're going to hear is pretty much another day at the office for these guys, as they do everything that you've already heard from them already. If you liked their last album, you'll like this one. It's not bad, it's just that it's really nothing new.
OVERALL: NOTHING SPECIAL, BUT THE FANS WILL LOVE IT.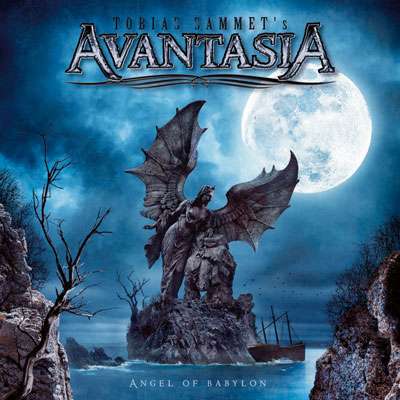 Avantasia - The Wicked Symphony and Child of Babylon (2010)
- Two fucking albums were released by Tobias Sammet's Avantasia project in one year, and after hearing them both, even though they are doused with guest vocalists from various bands, (even though I thought Tim Owen's performance was best) I still couldn't get into this very much. I really liked "The Scarecrow (2008)" and especially the song with Alice Cooper "Master Of Toys", but this just seems to be too damn much; and even if you do get "more bang for your buck", it's mostly filler. New Edguy should be out next year though.
OVERALL: WHILE THERE IS AN AWFUL LOT OF CONTENT HERE, ONLY IF YOU'RE A BIG FAN OF TOBIAS SAMMET, WILL YOU ACTUALLY LIKE THIS. THERE ARE HITS AND MISSES AND SOME GOOD PERFORMANCES FROM GUESTS, BUT IT'S NOT AS GOOD AS THE SCARECROW.
ALSO TRY: EDGUY - TINNITUS SANCTUS (2009)
Bleeding Through - Bleeding Through (2010)
- This Deathcore act has done everything under the fucking sun. Their last album was the first Blackcore album I've ever heard, and it was more Blackcore than that new Dawn of Ashes. Here we see them using everything they've got, and throwing every style that they can manage. It's a good effort, and I'm sure some people liked it, but it got buried under the weight of far better albums.
OVERALL: SOLID BLACK/DEATH/METALCORE, BUT THERE'S BETTER ALBUMS OUT THERE.
Christopher Lee's Charlemagne - By The Sword And Cross (2010)
- For those of you who didn't know, this is real. It's a metal band with Christopher Lee "You Shall Not Pass!" on vocals. (He was also quite good in the original "Wicker Man" (1973) One of my personal favorites) But anyhow, what we've got here is a very operatic album with some guitars. I said "some" guitars. It's barely metal at all, except for "The Bloody Act of Verden" which is actually quite catchy and a little comical. "I shed the blood of a Saxon man, I shed the blood of a Saxon man, I shed the blood of four thousand Saxon men!" is about the only thing I remember from the album.
OVERALL: METAL FANS SHOULD SKIP IT, OPERA FANS SHOULD GET IT.
Sig Ar Tyr - God saga (2010)
- Sig Ar Tyr's last album was amazing. But this one is not. Their brand of what I would call "slightly more experimental Viking metal" just seems to sound like "regular old Viking metal" on this album, and I just didn't get it. Perhaps I should listen to it again, but after a monumental release like their last release, I don't really care if they come out with another album, since that one was fucking perfect.
OVERALL: GET THE OLD ONE…GOOGLE IT.
Cynic - Retraced EP (2010)
- Fans of the new Cynic will love this, but fans of the death metal era of Cynic will probably throw this in the garbage. It's just acoustic versions of some of their songs. There's not a lot here to go on, and it's best to just save your money, unless you really like some Cynic.
OVERALL: ONLY FOR THE FANS, THERE'S NO METAL HERE!
Deftones - Diamond Eyes (2010)
- I was surprised by this album. The music has gotten heavier, but the vocals are still light. There's a lot of melody here, and the single is by far the best track on the album, but for fans of the Deftones, this will be an automatic purchase anyway. I worked with a guy once who was a big fan, and he had it all, so I'm sure there's many like him. (The guy also had the entire Cannibal Corpse Discography (even the singles) in their physical forms. I wonder how much all that will go for on Ebay?)
OVERALL: FANS AND NEWCOMERS ALIKE WILL ENJOY THIS.
Cult Of Luna - Eviga Riket (2010)
- This is a definite first in metal. If you know something else that is similar to this, please let me know - because I've never heard anything like this. What this is, is both an audio book, with light atmospheric passages, a little metal intro, and a full blown metal song as an epilogue. Basically, the reader reads the story, and the band produces some of the effects, besides the intro and the epilogue which is a full length song, although it's not their best song either, IMHO. This concept, as you would expect; fits better on a DVD. Although I do not have the actual DVD, so I have no earthly idea if there is any visual complement to the book. I would assume so, and it would be interesting to see at least the artwork inspired by this epic tale which is on par with "Through The Looking Glass", "The Lord Of The Rings", and "The Chronicles Of Narnia". You get what I'm talking about then, right? This is a very fantastical tale, but is strictly for adults, due to it's graphic nature and realism in some areas. It might scare kids to see something like this on the big screen.
When you buy it, you get the physical book form, and the DVD which also contains the music and possible visual stimulus. The novel, obviously doesn't contain music, and I'd like to see how the band would convey that, other than a few pages being full of musical notes that I guess you would have to hum (joking)…I'm going far off the subject here, but this novel is also quite scholarly, and makes even an author such as myself, appear uneducated with it's use of words and prose.
So, dumb old "Joe Metal" is gonna chunk this in the garbage, and the "Where are my riffs?" guy is going to have to sit through which may be 97 minutes of mindless babble to him, (107 mins total on the disc) just to get to the guitars. There is however, about 20 minutes or so worth of music; but this is not meant to be a musical album. It's a book…and a damn good one at that.
OVERALL: A BRILLIANT STORY, WITH AN INTERESTING AND EPIC CLIMAX, WHICH IS SUITABLE FOR ONLY THOSE WHO CAN UNDERSTAND THE PROSE, BUT I THINK THAT CULT OF LUNA FANS WILL REALLY LIKE IT.
AS AN AUTHOR MYSELF, I WAS IMPRESSED… TO SAY THE VERY LEAST!