Cradle Of Filth - Darkly, Darkly, Venus Aversa(With Some, But Not Yet All Bonus Tracks) (2010)
- Well, here it is. I've been waiting, and I knew it was going to be worth it.
Cradle opens with this time, an instrumental which actually goes right into song, instead of just an instrumental and track 2 being a song. This is great, as I always thought it was a waste to put a little 1 minute intro as a separate track. The album focuses on Lilith. She's absolutely no stranger to me, and I've been waiting for this one for a while. (and A Crowley Concept)
Cradle have written a load of music for this album. Even the bonus songs sound like they were literally cast off the album just to make space. (Sans the demos) Regardless, this album is a slab of gothic black metal that follows a different tone for the band. Being back on Peaceville (I didn't notice at first) and out of Roadrunner's grimy clutches, they finally made that album everyone wanted; a return to form. What form you ask? Cruelty, Midian, Dusk, Yes. I'm serious. These are the albums that made Cradle great, and It's great to hear them trying to capture those gothic black metal feelings again. Just as Dani says, this album is bustling with percussion, blasts, blasts, blasts, left and right. The solos in the album are few, but really good when used, and the guitars actually use a riff to riff to riff style as if Dani is telling an awfully long fucking story. His vocals actually shine on this album, with the use of prose, scream, and a growl at times as well.
The only "pop" song on the album is their single "Father Forgive Me (For I Have Sinned)" Which is a decent song, just one that shouldn't be on this album. It doesn't fit. There's no way that you can make it fit. It belongs on 2006's "Thornography" really. It does however, have a good solo.
All in all, this is Cradle the way they should've been. I liked everything up to Godspeed, but finally hearing this one has restored my faith in the band, as it is one of my top favorite metal acts. That statement means that this is coming from a listener that knows Cradle. I used to ride to work to "Lovecraft and Witchhearts" every day (the Lovecraft Disc) on the CD player with the headphones because all their old greats were there. Here, I'm finding the same feeling and it feels like fucking Christmas, people. A really dark, and bleary Christmas…But Christmas nonetheless.
OVERALL: BUY IT. THIS IS THE ABSOLUTE BEST THAT CRADLE HAS SOUNDED IN FUCKING YEARS. A CONTENDER FOR ALBUM OF THE YEAR.
6 FEELINGS BOTH GREAT AND TERRIBLE, OUT OF 5
Azure Emote - Chronicles Of An Aging Mammal (2007)
- What started out as solid death metal with some electronic elements, turned into a great fucking mess. A shitstorm, if you will. Now, there's a right way to be experimental, and a wrong way, and this is the wrong way. The first two songs sound like solid death metal with little tinkering. The next song introduces female vocals. Okay, I can do that, what's next?
Well, next is where things start getting freaky. There's so much experimenting going on that the metal coat is just about shed, and even dance beats and rhythms get introduced. I feel like I just ordered fast food and got a meatless sandwich. Where's the beef? You going to just give me two pieces of bread now? It's like I'm eating a good sandwich, and then a couple bites in, a guy pulls the damn patty out, and says, "Here, here's the bread. I'm going to take the patty and throw it in the trash."
I'm serious. This got so weird that I lost track of it. There's a few good tracks here and there, and sometimes the experimenting is good, but other than that…I can think of ten million more albums I'd rather hear than this. Maybe I need to be high. Maybe I need to get really fucking stoned, do some LSD, and eat a few shrooms. Then I could probably get into it, I bet.
Either that, or be dead.
You know who sounds like this, but better - even though I don't really like them?
The Berserker. Yeah, go get one of their albums. Unless you really like experimentation screwing up your death metal. I don't know. Some people out there might think this is fucking great. I like experimentation, but maybe not this.
OVERALL: SOLID THE EXPERIMENTAL DEATH METAL (WITH ELECTRONICS), THAT LOSES IT'S MIND, BUT RETAINS ITSELF AT THE END. FOR ADVENTUROUS LISTENERS ONLY.
3.5 / 5
Black River - Black N' Roll (2010)
- This is awful hard rock influenced rock that may feature former members of Behemoth and Dimmu Borgir, but was just a bad idea to began with. An awful fucking idea, actually. It sounds like rock music with the lead singer of Sentenced / Poison Black on vocals; except that it's not him, but some sound alike. He even uses some of that awful Volbeat vocal touch in places. This is one of the worst pieces of shit I've ever had the misfortune of hearing. I thought two tracks were decent, but everything else was a shitstorm. There is no black or death metal influence at all. They could've called it "Bore N' Roll" because that's all it did for me. I was just waiting for it all to end, and I was so glad when it finally did.
OVERALL: AVOID LIKE THE PLAGUE. DO NOT LET THE FACT THAT FORMER MEMBERS OF DIMMU AND BEHEMOTH MADE THIS. IT'S SHIT, AND IT'S ONLY ABOUT 2% METAL.
1 Awful Idea, Out Of 5
Costa Gravos - Sick My Duck (2010)
- This avant-garde metal band mixes quite a few things into their hardcore influenced style. Sometimes it sounds over the top heavy, sometimes very light, and at other times just plain weird, like when they throw a country style on the 6th track. People are losing their minds over this band, but I don't know why. They're alright, but they're not anything great. The vocalist takes a Mike Patton style, but he also just hollers random incomprehensible gibberish into the microphone. Some people really like this and call it art, but there's no real form or focus, and even though it's mildly funny in parts, there's few people that could take this band seriously.
OVERALL: ADVANT-GARDE METAL WITH TOO MUCH SILLINESS. DON'T TAKE IT SERIOUSLY, AND YOU'LL HAVE MORE FUN WITH IT.
3 / 5
Chrome Hoof - Crush Depth (2010)
- This avant-garde band with bits of metal and a few other nifty things is actually worth a listen. The female vocalist may not be the best, but where this band shines is in it's progressive power and experimental prowess. Some may not get it, but it's what I'd like to call true art in every sense of the word. The instrumental breaks on this album shine with a majesty that I can't even humanly describe. I will say that funk and disco mixes in quite well with the mix though.
They honestly don't even need the vocalist. This would be a better listening experience without her, as I feel her voice brings what could be a phenomenal instrumental act, (and I do mean phenomenal) down completely. Any fan of progressive rock or metal would like this one - even thought I'm sure they would all agree that we don't really need the female Mike Patton.
OVERALL: GREAT INSTRUMENTAL PROG/AVANT-GARDE ROCK / METAL, BUT HORRIBLE VOCALS. AT LEAST CHECK IT OUT, THOUGH. THIS ISN'T REALLY A METAL ALBUM, BUT IT'S STILL WORTH HEARING.
Chrome Hoof also have a 2007 album. Get it!
4 Well Executed Ideas, Out Of 5 (-1 For The Vocals)
Daath - Daath (2010)
- I really liked the first two albums from this band. Namely, "Futility" in 2004 (Which was self-released) and the 2007 breakthrough for the band, "The Hinderers". The next album "The Concealers" was released upon the departure of their old vocalist and best asset to the band, who was replaced by just some guy. The reason why I say that is because the band held a contest for anyone that could put vocals on their songs and send them back. It could've even been myself, yet I had not the technology that I have now, and had it been me, things would've gone back to the futility days for sure.
But, it's not me - and this guy is very basic. He sounds like a Peter from Hypocrisy wannabe, or Bjorn from Soilwork. The core elements are emphasized in this album, and it's very basic death metal, even though it is actually death metal this time as opposed to deathcore. The band sounds better than the unlistenable "Concealers" album in 2008, but that's not saying much. In my opinion, they'll never be better than "The Hinderers". As far as the music goes, it's just death metal with a few frills here and there. There's not enough here to make it stand out from anything else on the market. It's more a product geared to an audience than art in itself. Some of the solos are good and the outro is an interesting (albeit short) instrumental, but who cares? I most certainly don't. NEXT!
OVERALL: SOLID DEATH METAL WITH A FEW FRILLS HERE AND THERE. OTHER THAN THAT, IT'S NOT WORTH THE MONEY, UNLESS YOU'RE A FAN OF THIS BORING SHIT.
2 Things I've Heard Too Many Time Before, Out of 5
Darth Vegas - Darth Vegas (2003)
- I struggled with the idea whether or not to review this album. It's definitely for fans of Estradasphere, but it has a little bit of vocals, and features much more "cartoon style" music. Yes, there's some heavy parts in it, and some of the songs are actually pretty interesting. Is it metal? Not quite, but almost. Almost in the sense that you get enough heaviness not to be sure. Does that make any sense to you? Neither does this album, and that's why you should check it out. Kind of funny, kind of interesting, and kind of thrashy in places, it's definitely weird.
OVERALL: WEIRD STUFF THAT ISN'T EXACTLY METAL, BUT IS WORTH CHECKING OUT.
4/5 For Originality.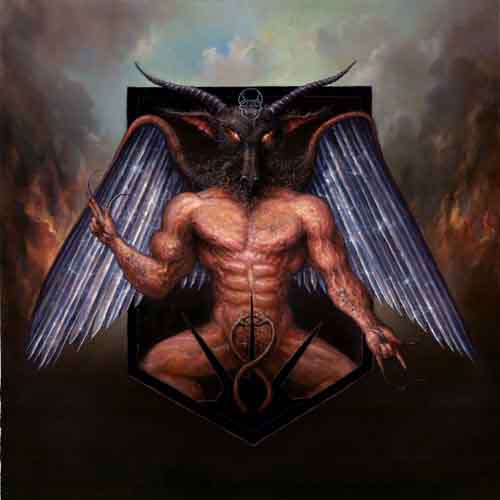 Diocletian - War Of All Against All (2010)
- This blackened death metal band does a good job at what they do. There's no question about that. If you want in your face, blazing metal with solos firing off like a bunch of black cat fireworks that someone threw in a fucking trash can, this is what you're getting. A little sludgy in areas, but never letting up. Most of the tracks are very short, and it's all over too soon. But then, you can just hit play again, and jam out once again as well. Definitely good metal to get pumped up with. Ends with a long doomy and sludgy track called "Fortress Of The Unconquerable", which sounds different from the rest of the album, but is fucking evil as hell, and that's what I like to hear, ladies and gentlemen. The eviler, the better. I'll also add that this song goes into atmospherics which might go on for far too long for the rest of the fast as hell metal that accompanies most of this disc. Most people will probably skip the last track.
OVERALL: RAW BUT SOLID BLACKENED DEATH METAL, THAT WILL KICK YOUR ASS ONE WAY, OR THE OTHER. WHEN THEY TITLED THEIR ALBUM "WAR OF ALL AGAINST ALL" THEY MEANT IT. GIVES THE DEATHCORE BANDS A RUN FOR THEIR MONEY. WASN'T SURE IF I'D HEAR MUSIC LIKE THIS AGAIN.
4.5 Aural Assaults, Out Of 5
Firewind - Days Of Defiance (2010)
- Ever since he joined heavy metal legend John Michael Osbourne, or better known as "Ozzy" Osbourne, and took the place of Zakk Wylde, Gus G. has swept the nation with his powerful guitar theatrics. Of course, I don't think he was very strong on the newest Ozzy album, and he's better suited in Firewind.
Song after song on this album is completely dominated by Gus's riffs and the vocalist's vocals which sound really great this time around. There's not any great big solos this time, and the whole thing leans to a more "cut and paste power metal" style, but that doesn't mean it's a bad album. It's just not original. They could've made this album twenty times over, but perhaps they don't care, and they just want to make the music that they like. There's nothing wrong with that, and this is certainly not something they just threw together, regardless if it wasn't a challenge for them to make. It's a solid effort, and It holds up pretty well against the rest of the discography, sans "Forged In Fire" which is untouchable. If you like Firewind, I can't see why you wouldn't like this album. There's even a 5:00 instrumental called "Skg", which features shredding by Gus, and some nice keyboard work.
OVERALL: ANOTHER DAY AT THE OFFICE FOR FIREWIND. RECOMMENDED FOR POWER METAL FANS THAT LIKE THEIR POWER METAL JUST THE WAY IT IS. A VERY SOLID EFFORT, AND WORTH A LISTEN IF YOU ARE ONE OF THESE PEOPLE. IF NOT…THERE'S NOTHING SPECIAL HERE.
OVERALL: 4/5 (Good, Not Great.)
Helloween - 7 Sinners (2010)
- Ladies and gentlemen, I've been blown away. This has to be Helloween's strongest slab of metal since the first two "Keeper Of The Seven Keys" albums. Heavy as hell this time, with strong choruses, great vocal work (with even some light growls) and fantastic fucking solos, I'm already about to pen this down as the best Power Metal album of the whole year. Every song is completely replayable, catchy as hell, and much harder than they've ever been. I urge everyone to hear this album in it's entirety. It's a great Halloween treat, that's for sure.
OVERALL: BEST POWER METAL OF THE YEAR, GO GET IT - END OF STORY. THIS ALBUM KICKS MORE ASS THAN I'VE HEARD IN A LONG TIME. IT'S THRASHY AS WELL - A DEFINITE HEADBANGER.
5/5 (PERFECT!)
Ill Nino - Dead New World (2010)
- Ill Nino has been trying to sound like the Latin Slipknot for years now, and they've finally gotten what it means to sound like Latin metal right. Brujeria this is not, but the Latin percussion is very good, and the production is crystal clear. I've always thought their lead vocalist had a very good singing voice, but I think that he overuses the catchy choruses on this album, despite it being heavier and more thought through than 2008's "Enigma" which was a pile of shit that I could barely stomach. What really works for this again, is the Latin percussion. It makes the band sound unique, and as for the Slipknot comparisons, they will still be there, even though deathcore vocals make their way in, and the things a bit more heavier. The first track is the shortest, and catchiest, "God Is Only For The Dead". It will probably be the video.
Another thing…this has a cover of the Smashing Pumpkin's "Bullet With Butterfly Wings". Being a fan of the Pumpkins…I'm going to prefer the original any day.
OVERALL: LATIN SLIPKNOT DOES A GREAT JOB HERE BEING EXACTLY THAT. HEAVY VOCALS AND LIGHT VOCALS MIX WELL, AND THE PROGGY GUITAR TOUCHES AND MELODIC (AND D-TUNED) RIFFS WORK WITH THE LATIN PERCUSSION, WHICH SHINES ON THIS ALBUM. IT'S ACTUALLY WORTH A LISTEN. THERE IS A COUPLE OF BREAKDOWNS, BUT SUCH IS CORE INFLUENCE, I SUPPOSE.
3/5
Island - Enigma Of The Stars EP (2010)
- Here's a band with some promise. While the album clocks in at a mere 24:00, it's got some interesting content. The music is a bit hard to place, I guess I could say that it sounds like progressive black metal with sludgy growls and pristine clean vocals. The clean vocals really shine on this EP, and if they can do this formula justice on a full album, they're going to be a definite band to watch. Both heavy and beautiful, this is a great album - even if it feels like a mere sampler.
OVERALL: SHORT, BUT INTERESTING PROG. BLACK METAL WITH SLUGE STYLE VOCALS, AND GREAT CLEAN VOCALS. WORTH A LISTEN.
5/5 (Good Effort.)
Judgement Day - Peacocks and Pink Monsters (2010)
- This interesting instrumental group borrows a lot from Apocalyptica. Some of the tracks even sound just like them. But don't let that shy you away from this release. It's a plethora of different sounds, and it's for the most part a heavier record than you might think. Definitely worth a listen.
OVERALL: HEAVY AND INTERESTING INSTRUMENTAL WITH VIOLINS IN SOME SONGS AND GUITARS IN OTHERS. EVERY SONG HAS A DIFFERENT VIBE, AND THAT'S GOOD.
5/5 (It's A Good Instrumental Album)
Savnock - Theopany (2009)
- What we have here is an atmospheric slightly black metal band with mostly melodic riffs and death metal vocals. This is not heavy in any sense of the word, it's quite beautiful, mostly atmospheric, and very slow. Even though it only consists of two tracks, they are absurdly long and together make up a full length album. It wants to make you believe that these two tracks are solid tracks, but they aren't. There's a few breaks in it, and because of the long pauses it feels like many tracks instead, but that's nothing to bitch about. A bit of classic piano is used here and there, and it's as I've said before, very slow, very soft, very soothing, despite the death metal vocals. Not head banging stuff at all - but still very much metal, and still very much worth checking out if you like atmospheric metal
OVERALL: SOFT, SLOW, AND MELODIC ATMOSPHERIC BLACK METAL WEITH FEW VOCALS, AND ONLY DEATH METAL VOCALS WHEN THEY ARE USED. IT'S MOSTLY ENJOYABLE FOR THE ATMOSPHERES, SO IF YOU DON'T LIKE ATMOSPHERES, YOU SHOULD PASS THIS, BUT AS FOR ME, I GIVE IT A…
5/5 (Great Atmospheric Album)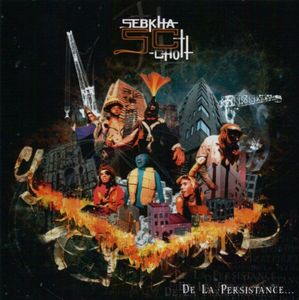 Sebkha Chott - De la Persistance de la Mythologie Chottienne en Velos (2009)
- The first thing I'm going to say about this album is that finally… it's only 6 tracks even though it also have the numbers 49-54 by each track, which makes me think that the rest of the tracks were probably just silent tracks that went right into track 49, kind of like Korn's "Follow The Leader" Which started on track 13.
Regardless, this album seems to be interesting, but much less metal than the others. Rap is actually used now, and so is some video game sounding electronics. There's still metal, but it's rare here, so I can't necessarily recommend it. The rap actually goes into electronic if you can believe it. As the metal is present, as I've said before, there is far too many other things going on to consider this a "metal album" and to consider Sebkha Chott a metal band. They are about as metal now as Estrasphere, and for those of you who know, that isn't very metal.
OVERALL: NOT RECOMMENDED FOR METAL FANS, BUT RATHER FOR PEOPLE WHO ENJOY MANY TIMES OF MUSIC IN ONE SITTING. THEY DO JUST ABOUT EVERYTHING HERE, AND IT WORKS - BUT AGAIN, NOT A METAL ALBUM.
5/5 (This does not reflect the few metal portions of the album, but it is a great experimental album nonetheless.)
Star One - Victims Of The Modern Age 2 Disc Ltd. Edition (2010)
- Only Arjen Lucassen has the rights to do the same concept album 3 and 4 times. Exactly how many times can you warn us all of our planet's demise, Arjen?
Regardless, if you've liked Arjen's work in Ayreon, Guilt Machine, Star One, or that other band with the girl in it, you will like this. The first Star One was based upon old space movies, but this entire album (Just like 01011001, and The Final Experiment, and On This Perfect Day…) is full of planetary destruction warnings.
Musically, Arjen's keyboard antics are great, the band is HEAVIER than most of his releases (as promised in the promo trailers) and the singing goes back and forth between a male and female vocalist (both well known from Ayreon), along with some guests, who provide different vocal styles. (There is a few smidgens of "death metal growls - not deathcore growls" to be found on this album - of course, I could only make one full death metal song with all the growls that he's used through his career.)
The songs are VERY CATCHY, and in a better world, this could top the billboard 200 easily. It's radio friendly, but still interesting. My only real complaint about this is, I swear that I've heard this all before. This doesn't top Guilt Machine, nor does it top Ayreon's 01011001 album in any way. But, if you're a fan of the man's work, pick it up. If you're looking for something new, and altogether interesting, I hate to tell you this, but Arjen really didn't come through this time.
That is not saying that this isn't a bad album, just not a great one. Some of you may disagree, but that's normal. You really just have to listen to it for yourself, and form your own opinion for this one. It shines, but not brightly.
As for the bonus disc, which consists of five tracks:
As The Crow Dies - I can see why this one was scrapped. It's basic, but it offers some good keyboard work. Still… just listening to it, it doesn't sound like it belongs with the rest of this album.
Two Plus Two Equals Five - This one however, I feel different about. It's heavier and features a sort of guest vocalist with a much darker tone, sort of like Peter Steele, or Johan Edlund. The song also has a good message.
Lastday - I rather enjoyed this one, it's an acoustic track with electronics. Arjen's on vocals for this one. I've always thought the man had great vocals, and wondered why he needed to use other vocalists for his work. Perhaps he just doesn't like to sing. This song has everything one should expect from a good progressive track, and it should have been on the album.
Closer To The Stars - The vocals are awful here, and they ruin the track.
Knife Edge - A basic track, that gets a little better in the middle, still it's not the best track on the bonus disc by any means.
Here's to hoping the next (and most likely, final) Ayreon album will be better.
OVERALL: SOLID PROGRESSIVE METAL, BUT STILL VERY SAFE. NOTHING REALLY FANTASTIC, BUT NOT BAD EITHER. WORTH A LISTEN ANYWAY.
4/5 (Good, Not Great)
The Wretched End - Ominous (2010)
- Samoth's newest project is a blackened deathcore / thrash metal band. It's pretty decent with some great riffs here and there, brutal drumming at times, but boring as hell vocals. The last three tracks on this album show promise as do the first couple, but the middle lacks any sort of talent besides what deathcore can provide. Highly comparable to Heaven Shall Burn, their new album is just as good as this one is. I expected much more from a legendary guitarist of this nature. Perhaps he's just getting bored.
OVERALL: BLACKENED DEATHCORE / THRASH FROM SAMOTH, BUT NOTHING AMAZING.
ALSO TRY: HEAVEN SHALL BURN
3/5
The Meads Of Asphodel - The Murder Of Jesus The Jew (2010)
- If you don't know who Meads is, don't be alarmed. I found out about them just a few years ago, and they've blown my mind ever since. They are a black metal band who mixes black humor and many other things into their music, even though it's all low quality production which a lot of people hate. To this I say, "Fuck them!" as this band is damn near my favorite.
I could probably write a four or five page essay on how great, cruel, and interesting that I think the music of Meads is, but instead I'll just tell you that this is a band that doesn't care. They don't care what they sound like, they don't care what they put in, and they don't care if you like it. They released an EP before this called "Life Is Shit" with 3 awful punk covers, and why? Because they could.
The lead vocalist is called "The Metatron" Which is absolutely blasphemic and ironic, because that is the so called voice of God. He gets his kicks on making fun of Christianity and religion in general, and always has done so. The man actually spouted some profound wisdom at the end of their "In The Name Of God, Welcome To Planet Genocide" (2006) album, which I think people should hear, because it is so goddamned true about this planet and this race. I'll also add that they've done the best cover of "What A Wonderful World" that I've ever heard in my fucking life.
Just as I've mentioned, this album is as diverse as the rest. Plenty of black metal, blackened thrash, and lots of melodies, rhythms, piano pieces, atmospherics, some female vocals here and there, some acoustic stuff with chants, and some stuff I don't want to tell you about, because I'm afraid I'll spoil the surprise. The album itself is based upon a concept album that the Metatron had at the start of the band's career in 2001. (They've had several albums all of which are good, except the life is shit ep) Basically, it pokes fun at everything Christianity, and the art and cd cover pretty much illustrate this idea well.
Every song sounds different, so you can't expect one sound from this band. It's definitely metal, and when it's not - it's still grim. The voice of the Metatron has always made me think of a pile of unpaid bills, a clogged toilet, a pink slip, your lover cheating with another person, or the threat of thinning the herd, or some sort of pending nuclear threat.
This music is pretty much for people who are fed up with things. I quite enjoy it. So check it out, because it's definitely different despite the fact that Meads still has a very raw sound. They don't care either, I'll bet.
OVERALL: GRIM BLACK METAL, WITH GRIM EVERYTHING ELSE. GREAT MELODIES AS USUAL, WITH OTHER INTRIGUING SECTIONS. MIRAI KAWASHIMA (SIGH) HELPED WITH A FEW THINGS ON THIS ALBUM AS WELL. I RECOMMEND IT, BUT WILL LET YOU KNOW THAT IT IS A BIT RAW IN SOME SECTIONS. NOT REALLY RAW THOUGH, JUST NOT AS CRYSTAL CLEAR AS SOME STUFF THESE DAYS.
Score 4.5/5 (Not as Good as "Damascus Steel", or "In The Name Of God, Welcome To Planet Genocide")
ALSO TRY: THE MEADS OF ASPHODEL WHOLE BLOODY DISCOGRAPHY!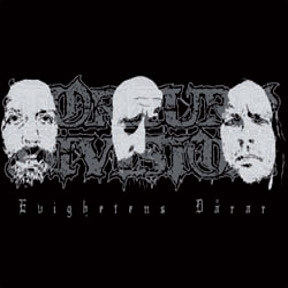 Torture Division - Evighetens Darar (2010)
- As a side project from The Project Hate, who is still looking for a label to distribute their new, just recently finished album - this has appeared. I know not from where it came, but I do know that it is a death metal (no techno stuff) project featured TPH's Lord K Phillipson, and Grave's old lead vocalist (He was on Soulless, what more info do you need?)
As for the album, it's quite a good slab of death metal There's good melodies, and even though the old singer of Grave must be an older guy now, his vocals still sound great. No female vocals to speak of, so you'll have to go to TPH for those. Other than that this is really solid death metal, which I honestly don't know where you can get. So when it does finally appear, it's worth hearing. For fans of old school death metal, for sure.
I might mention that this thing might be a demo too, it's only 27:00 long. Regardless, the production value is good for a demo. Maybe this is offered free? I dunno. Check it out, and let me know.
OVERALL: GREAT DEATH METAL DEMO(?), IF YOU CAN FIND IT. IS IT A FREE ALBUM, OR JUST A WORK IN PROGRESS? LET ME KNOW IF YOU FIND OUT.
5/5 (Good Death Metal)
Umbrtka - IVO (2010)
- This Russian black metal band is certainly different. First of all, it's all in Russian, so there's that warning. Secondly, the vocals were mixed too high, so I feel like I can barely hear the band, and the mix of black metal scowls are awful. The Russian language is one that doesn't work well in black metal. While the band has a lot of bells and whistles to try throughout the album, it sounds kind of boring in places. You ever listened to that album that is kind of interesting, but you can't really get into it all that much for one reason or another?
This is that album. No, it's not bad - just a tough album to get into. The band has some promise, and a solid sound, I just can't really get into it that much. Might have to do with the Russian vocals and the Male operatic vocals they use in places. I feel like a bunch of old bearded men are singing in Russian. Still, they put on a solid musical effort, and I can't fault them on that. Just wasn't my thing vocally.
OVERALL: MIGHT BE A CULTURE SHOCK. I LIKE NEW THINGS, BUT BLACK METAL IN RUSSIAN? MAYBE NOT THIS BAND (FOR ME). FOR YOU, IT MIGHT BE DIFFERENT THOUGH. PLENTY OF INTERESTING MUSIC, BUT AWFUL VOCALS.
ONE MORE THING, THIS COMES WITH A COVER. WHO IS IT? THE SONG IS CALLED "Sedesatiny" IN RUSSIAN. IT SOUNDS FAMILIAR, LIKE IT COULD BE A BLACK METAL "POP COVER" OR SOMETHING.
2/5
Velnias - Sovereign Nocturnal (2008)
- I talked this band up heavily on my last review set, but there's not much else to the rest of the tracks on this album. "Sovereign Nocturnal" is a great song, but the rest fall short. Still an interesting Black / Death / Folk / Doom release, but other than that, not as amazing as I thought.
OVERALL: SOLID BLACK / DEATH / FOLK / DOOM METAL, BUT NOT AS GREAT AS I HYPED UP. SORRY ABOUT THAT.
3/5
Vindensang - Terminus (2008)
- This atmospheric black metal band impressed me with their cut on that compilation I heard last week. Well, there's still a lot of good things on this album, but it's rarely heavy, and mostly not metal as in terms that most people consider. There are definite atmospherics and very few heavy parts. It's more of a meditation than a metal album, and that works fine for me. But for those of you looking for heavy stuff, you should pass this one.
As for the musicality of this piece, it consists of guitar created atmospheres which blow the mind. The vocals are standard black metal fare, but for most of the album there's no real music just atmospheres. Sometimes black metal creeps in, but it's not enough to notice. This is a great atmospheric album, but not a great metal album.
OVERALL: GREAT ATMOSPHERIC BLACK METAL, RECOMMEND FOR FANS OF THIS GENRE. NO ONE ELSE BUT THEM WILL LIKE IT, THOUGH.
5/5 (This score does not reflect album as a full metal release, but rather as a great atmospheric album.)
Virgin Steele - The Black Light Bacchanalia (2010)
- There's one thing I have to say about this album…OW! Trust me. You'll get tired of hearing it too. The vocalist screams "OW!" as many chances as he can get on this album, and you could even play some sort of drinking game with it - drink every time he says "OW!" on the album.
Musically, this is great progressive power metal with good use of piano. Vocally, this has hits and misses, and misses so bad that you'll shit yourself laughing. Power metal has always been known for the high pitched vocals of hair metal, and on this album I must warn you that there are vocals on this record 100% completely devoid of testosterone. Some songs on this album, could kill it so badly, that it could be this year's "so bad it's good" album.
The playing is really good in parts, and at times the vocals are alright. The closer is definitely worth skipping. What a sad and emo love song. God! If someone decides to mix the high pitched power metal vocals and the whine of emo together, the entire world will end in the next week.
The mixing on this album is horrible. Whose idea was it to make the goddamn vocals so much louder than anything else? If some of the vocals were mixed down, this thing might have sounded better, like on "The Orpheus Taboo". I'll also add that this is a rather long album with most songs being over the six minute mark, and even one of them being 11: 16 seconds, which goes into the album's title track. If Helloween is the best this year, then Virgin Steele is by far the worst.
It's bearable, but not by much.
There was a bonus disc included, so I will tell you about the three tracks included:
1. When I'm Silent (The Wind Of Voices) - It's just a ballad, and I don't like it. How many ballads have I heard that sounded this way? About a hundred thousand. Hair Metal's back? Who knew? Guitar solo is good though.
2. Silent Sorrow - Just another ballad. Basic but decent.
3.From A Whisper To A Scream (The Spoken Biography) - This is interesting. It's a 30:41 lecture about the band, how it came together, all of the plays they've produced, and their pro-pagan message. Which I didn't even know about. This guy puts the hammer down, like I used to, back when I was a teenager. Some of you might remember my long rants. Regardless, it's made me curious to get the rest of their albums. (sans the one I own, House of Atreus Act I) In more of a metal standpoint, these guys really played with a lot of the greats of metal, and I never knew it. Did you also know that they produced the first Metal opera?
OVERALL: THE BEST WORST ALBUM OF THE YEAR. ACCORDING TO THEIR HISTORY, THEY'VE MADE BETTER ALBUMS THAN THIS.
Score 3/5 (Good music, awful vocals for the most part.)
Void Of Silence - The Grave Of Civilization (2010)
- Void of silence has always been known for their dreary funeral doom metal. Sometimes atmospheric, but always the most soul crushing stuff you've ever heard, I'm surprised that people haven't offed themselves to this band's music. Replacing Nemtheanga on vocals, is the frontman for Axis Of Perdition, who could best be described as a band that creates nightmare inducing atmospheric music that I wouldn't recommend listening to in a dark room.
His vocals were few in AOP, and they were many here - and the man really hasn't much of a singing voice. Yes, it's dreary, but it starts to get awfully boring, awfully fast. It just got so damned dreary I felt it was a chore to listen to this release, despite it's good parts, which consist of good guitar work, and some added instruments in places (like the African flute used on the beginning of "Empty Echo" for example)
While I really liked Void Of Silence's last album, I didn't think I was going to like this one, and I didn't. But if you're really looking for some depressing and dreary music with some interesting things here and there, pick it up. Definitely not the best doom I've heard this year, but the most depressing by far.
OVERALL: EXTREMELY DEPRESSING, BUT SOMETIMES INTERESTING DOOM. THE VOCALS ARE REALLY WEAK, THOUGH.
1/5 (Just wanted it to end.)
Withered - Dualitas (2010)
- Withered is a sludge / death metal band, and they kill. Those of you who got to see these guys on Blackest Of The Black, I envy you. They shine with death metal brutality, progressive power, the thunder of sludge, and an all around melodic splendor that just works well, not to mention a little drone and atmospherics that also work well for them. Not only can they capture the energy of Neurosis, but they can mix it with death metal in a way that it just fucking works.
One of the most original and kick-ass bands I've heard in a while, I'd have to recommend this as a must to fans of sludge and death metal, because it does well in both levels, and it doesn't get boring, which is what I thought would happen, but instead I'm awed. It's only 37 minutes of music (with one interlude and one outro which make it 42:00) but it can be listened to many times, including the bad ass tracks "Residue In The Void" and "From Shadows."
Do yourself a favor and listen to this one. I could listen to it a few more times, definitely.
OVERALL: MORE THAN JUST SOLID DEATH/SLUDGE WITH GREAT MELODIES. I DON'T KNOW HOW IT WORKS TOGETHER LIKE THAT, BUT IT DOES. I'M DEFINITELY DIGGING THIS SHIT, AND I THINK THAT YOU WILL TOO. WORTH A LISTEN.
5/5 (Great Album)
The Megas - Get Equipped (2009) and Sparked A War EP (2010)
- It's not quite metal, but it's heavy at times. Regardless, this is a rather interesting project from I think, a bunch of Christian guys that really dig the Megaman games. I'd have to say Christian, because there's an awful lot of Christian morality in some of the lyrics, which are the only downfall, and not because of the Christian element, but because they sound like they were written by children.
What this band is, is an American rock band that went and covered all of the original Megaman 2 (NES) themes, and put their spin upon them. Since the lyrics are literally 100% based on each robot master's personality (which can be rather comical at times).
These guys definitely known how to rock, even though one of the vocalists is slightly whiny. There are a few interesting solos, but what works well here is the transformation of these from 8 - bit midi to full blown rock. It's very catchy, and if it was marketed right, would be in Wal-Mart, because of that capitalist sense of catchiness.
But, it is in all sense, original. I believe these guys are religious, being some of the lyrical themes, but I'm not sure. Hell, they could be atheists, but anyway - the music is worth listening to. Maybe not metal, but definitely different. A bunch of young guys with a lot of promise. Believe it or not, they even re-recorded all of the tracks (and the bonus "The Message From Dr. Light", which is the best track on the album) for an acoustic album (with a choir and an orchestra) they did in 2010 called, "Get Acoustic" . The music translates well to acoustic as well.
As for the "Sparked A War EP" , with a preview for the upcoming Megaman 3 album, (They Skipped 1, apparently.) it's actually a little promising. Still very rock, still very catchy - but for god sakes; the fucking lyrics are a little better. Plus, the fact that they tackled one of the harder stage themes "Spark Man", and turned the riffs into something interesting is feat in of itself. It also includes a cover of the Megaman TV show theme, which as god awful, and a cover of "I Wear My Sunglasses At Night", in which the solo is done justice. Closing the album is an instrumental version of "Sparked A War" called "Lights Out" , and there's also another version of the single, except it's an acoustic version (of course). There's apparently also a video on you-tube, but I haven't seen it yet.
Video Game Rock/Metal isn't everyone's cup of tea, and some of the lyrics are beyond comical, but what these guys are doing is original…and that's a good thing. I'll also add that this is more kid friendly than anything. I would jam to it daily if I was about 10 or so, but I'm not, even though there's a few good tracks here to listen to. Not better than what Game Over (SWE) did.
Score 4/5
ALSO TRY: GAME OVER (SWE) - NINTENDO METAL, NESPERADO ("Wire" absolutely slays on guitar, one of the best female guitarists I have ever heard)
(
http://www.nintendometal.com/
)
DISCOGRAPHY REVIEW (NO OVERALL, JUST A SCORE)
Carnival In Coal and Pin-Up Went Down
First some information about this band. Carnival In Coal is an extremely avant-garde French band, that mixes death metal with a few other unexpected things. After their demise in 2005, Pin-Up Went Down was formed and has released two albums. One in 2008, and one this year. This is metal the way you've never heard it, and it's got it's hits and misses.
CARNIVAL IN COAL (1997 - 2005)
Vivalavida (1997)
- This debut album features solid death metal, and some (but very few) black metal elements, but I feel that the experimentation into pop was a bit much. These guys have horrible clean vocals and it sounds like trash when there's no metal going. I like experimentation, but this and the demo which is included, just aren't very good albums.
2/5
French Cancan (1999)
- This album I rather enjoyed. From the electronic death metal cover of Ozzy's "Bark At The Moon" (Which is actually really good), to the cover of "Maniac" With clean vocals and blasts all over the place (Yes, "She's a maniac on the floor - that one.) There's also some other good covers, which just come out really well when done in this electronic death metal. The keyboard work is fantastic, and there's some rather good riffs here and there. Pantera fans may be upset to hear one of that band's heaviest hitters "Fucking Hostile", turned into a melancholy lounge song with some Latin elements and disco. though. Still, I recommend this to fans of electronics and death metal.
4/5
Fear Not (2001)
- There's quite a lot I can say about this album. First, I want to mention that the musicality of the work is superb. Even though it can be humorous at times, talent lurks behind the surface of what would appear to be joke songs. The vocals could use a little work, but some accents do not do death metal vocals or clean vocals justice. Some of these clean vocals are decent, but some of them are bad, and I blame the accent - so you can't knock them for that.
While there are some intentionally funny bits like the KMFDM wannabe "Gang Bang" and the long growl song "Daaahhh", one cannot simply dismiss such interesting tracks such as "Yes, We Have No Bananas" , "Ring My Bell", "Exit Upon Void", and the closer "Fear/Fear Not" which are as metal of tracks as on any other album I've heard.
By showcasing good melodies and some interesting electronics, in addition to death metal drumming which is as brutal as any other death metal drumming that I've heard, this band truly has something special and unique under their sometimes comedic persona. I have no idea of the lyrics, and I really don't care. The music here is worth listening to at least.
4/5
Collection Prestige (2005)
- Well, it's swansong time, again…at least for Carnival in Coal. This album is actually quite good, and for the fact that it makes fun of many metal styles, including black metal "Satanic Disaster" which goes out in the form of a low production black metal recording, and "Right Click…Have As…" Which is a Slipknot sound-alike, with lyrics making fun of the sound of Slipknot. In the middle of it, there is a fake promo message from the band which tells you this song is free, don't drink and drive and resist the urge if she's too young".
Then there's "Cartilage Holocaust" which is a great disco track, actually - with death metal lyrics. Who says disco's dead? "The Lady and The Dormant Sponge" is trying to make fun of another metal style (power metal?), but I can't exactly tell what kind it is, but song sounds pretty decent actually, except that the solo is overblown to hell. "Delivery Day is a basic song that makes fun of electronic death metal, and "Chala" makes fun of the Brazilian death metal that Sepultura pioneered.
The last couple songs take the familiar approach. Just making interesting music, with lyrics which may or may not be serious. "Living In The Plastic Age" and "DOA (Drunk Once Again) certainly sound different for the band, sometimes almost legitimate. DOA has probably the best clean vocals I've heard from the band, and the whole song contains a great melody, which I knew they were capable of but, I didn't think I'd ever hear it. Could this be sign of things to come? I hope so.
The closer, "Promenade" is just a little instrumental in which it sounds like a violin and a piano are trying to coexist and perform a good musical piece, but get in a fight with each other at times, and then get reprimanded into playing their correct notes.
Overall, it's a great album which you need to check out.
Score 4.5/5
PIN -UP WENT DOWN (2008 - NOW) (FORMED FROM THE REMAINS OF CARNIVAL IN COAL)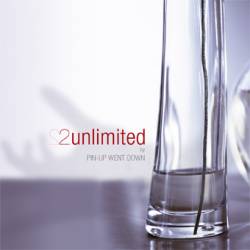 2Unlimited (2008)
- It is what it is…either an interesting idea, or a blasphemy in the face of the metal gods. This is what you get when you mix lacuna coil, evanescence, cannibal corpse, and electronics together.
Yes, they got a female vocalist, and her vocals are very POP. Except the fact that they like to throw full blown death metal in whenever they feel like. For instance "Cadavre Exquis" which starts like French pop, and does that for a minute or so, and then goes into sludgy death metal for the rest of the track. Some of these songs are great, but some of them are pop as hell. It will take a very adventurous listener to enjoy this album. Even though it has it's gems, in particular "Esthete Piggie", which sounds like a "death-ier" version of Rammstein.
Score 3/5
342 (2010)
- On this new album, it seems that they added the Swedish death metal elements (more screechy vocals in addition to the growls) of course, it's much more female fronted this time, meaning they are slowly but surely shedding the death metal that started out in Carnival in Coal. I'll be brutally honest…"Wolves" from Deadlock kills this. Yeah, there's some weird stuff going on, but not nearly as strong as the last album nor anything from Carnival in Coal.
To tell you the truth here, the death metal that's here is so scarce, that the growls on "Vaginaal Nathrakh" have been replaced by light grunts. That's not death metal, it's crap. "Murphy In The Sky With Daemons" has a return to the growl and the scream, but it's like making a light album slightly heavy, and even the heavy songs on this album don't feel avant-garde or interesting, they just seem like pop with death metal in it. Also, there's some really weird vocals in this release which aren't going to appeal to American audiences. Yeah, she can sing - but this came out of Carnival In Coal?
I'd sooner take a bullet in my arm, than have to listen to this crap. A two is too nice for this "heavy pop" album.
Score 1/5