Nominon
Country of origin:
Sweden
Location:
Jönköping
Status:
Active
Active since:
1993 Genre: Death Metal
Lyrical themes:
Blasphemy, Death, Evil
Current label:
Deathgasm Records
Members
Juha Sulasalmi:
Guitars (1993-2011), Bass (2011-present)
See also: ex-Choronzon, ex-Dion Fortune
Per Karlsson:
Drums (2002-present)
See also: Die Hard, In Aeternum, Nex, Serpent, Benediction (live), ex-Dion Fortune, ex-Suffer, ex-T.A.R., ex-Wortox, ex-Deströyer 666 (live), ex-Interment (live), ex-Altar
Christian Strömblad:
Guitars (2005-2010, 2011-present)
See also: ex-Immersed in Blood, ex-RAM
Henke Skoog:
Vocals (2010-present)
See also: Inverted Cross, Eviscerated
Alexander Lyrbo:
Guitars (2011-present)
See also: ex-Morbid Grin, ex-Brutal Noise
THE INTERVIEW Answered by Perra (Drums Ov Death), Henke (Vokills), Juha (Bass) & AntiChristian (Guitar)
1. First of all Perra, do you have any relation to the famous Swedish Occult Magician famous for most of Therion 's lyric content, Tomas Karlsson? If so, how? And what is your opinion on The Order Of The Dragon Rouge?
PERRA: Hail. Thomas and I are not related in that sense, no. Yet I know him pretty well. We used to hang out a little bit back in 96-99, when I was running a record store in Stockholm. Dragon Rouge actually had a few meetings and stuff at the record store every now and then, because they didn't had any local at that period of time, so they were meeting up at the store and even though I wasn't that much involved in their business personally we were still hanging out quite often. My girlfriend at the time was heavily involved in Dragon Rouge though, so one could say that I had some sort of relation with the whole gang. As I said, I wasn't a member of Dragon Rouge, yet I supported and helped them in many ways.
2. Describe the process for recording The Cleansing. What was the toughest part? How long did it take? What was your goal for the album?
HENKE: It has been quite a journey for "The Cleansing" to rise into this disgusting place we call earth. The original plan was to record the album in Växjö, due to some miscommunication and a lot of frustration everything fucked up and we ended up at Robert Ericsson's Studio Hell. There were some frantic and destructive weeks at the time we recorded "The Cleansing" and you can feel the hatred and the vigorous atmosphere that occurd in the crypt of Studio Hell. Perra rode on his mighty black horse of doom(!!!) to Barcelona to invoke the last cursed soul that was missing into "The Cleansing". Mr Javi and Perra did an extremely good job and really delivered a vicious piece of art. Javi himself will be rejoining the force of NOMINON the 15th of December when we're planning on genocide together with UNLEASHED.

AC: It was really cool this time. We all knew what we were up for. The toughest part was to get a studio to record this abomination.|We were in contact with some people that had a studio, but it turned out to be just bullshit. They stalled the whole situation and we were delayed so we said fuck off! We were in a crappy situation, we had no studio and were ready to record! Once we got started, we just knocked it out. We had no time to fuck around. The goal was to get a more honest an philthy sound, not so polished and professional sounds as the ones before. I think I was there for three days laying down my guitar parts.

PERRA: The toughest part was to complete the song "Slaughter The Imposter", because we had some technical issues during that song in the studio. But it turned out killer in the end, so it wasn't like the end of the world or whatever. We spent something like a couple of weeks completing the recording, we usually recorded the parts during the evenings, since most of us worked during the days. I spent two three evening recording the drums as far as I remember for the ten songs on the album. The goal was to make it the best possible fucking Death Metal album out there.
3. What does the name Nominon mean? How does it reflect the band?
PERRA: NOMINON is a name of a demon, it was chosen by the original vocalist Peter Nilsson back in 1993. The name suits the band perfect and it's quite original as well.
4. The Cleansing is a very strong title for an album. It can signify some sort of spiritual cleansing, or the complete annihilation of an entire race of people (which is more along the lines of what I was thinking.) What do you feel needs to be cleansed?
AC: The humans of now! Stupidity is the new world order. There are a lot of things that needs to be destroyed to the very last strain of DNA. But also we needed to be cleansed in a way. Shit had to be cleansed to find power to marsch forward and spread the pest called NOMINON.

PERRA: The main influence for "The Cleansing" is the hatred towards most of the humans that are walking on this earth, towards mankind, to the plastic fake garbage fucking people that just seems to be living everywhere. They do not care about anything besides perhaps the latest "Big brother" episode on TV, or how they personally doesn't stick to what they believe in, and instead just try to fit into this society and stuff like that. People that doesn't have the guts to say no, enough is enough. In our world thet might as well be cleansed and erased from this place.

HENKE: The earth is a despiteful place and there was a time when you didn't put everybody else first before yourself. Things have gotten out of control and yes, there are a lot of people that I rather would see dead than alive.
5. There 's no need to explain your influences, to do so would be foolhardy. But what bands are you guys currently into now? Is there any metal you 've been recently listening to lately that we might want to check out?
PERRA: My personal fave bands are pretty much the same as they have been for the past 20-25 years, like: MERCYFUL FATE/KING DIAMOND, MORBID ANGEL, TESTAMENT, MOTORHEAD, SAXON, DEMOLITION HAMMER, PRIEST, MOTLEY CRUE, FORBIDDEN, MALEVOLENT CREATION, OZZY, ROOT, MAIDEN, SADUS, ZZ TOP, MERCILESS, DARK ANGEL, LIZZY and so on. I listen to a lot of Metal and Hard rock in general, so I can recomend any of the above really.

AC: No, just AUTOPSY and IMMOLATION.

HENKE: Right now TREBLINKA is crushing my ears. Everybody else can fuck off.
6. Explain the equipment you guys used in making the album. What was it that made you guys decide to start playing death metal in the first place?
JUHA: It's a process and not a decision you make like "OK, what genre should we start playing?" It comes naturally when you're young and live your life immersed in metal, thrash and other extreme styles. My weapons in the studio were an Ibanez bass and an old Yamaha combo.

PERRA: I used my Pearl drum double kick set, four toms and some roto-toms. It was the first album ever that had the chance to use Roto-toms, and that felt really cool. Of course I used tons of cymbals and shit too, but it's just too much to mention here and now. And to be honest, since I don't have any endorsement or whatever I won't be letting any particular company take credit. I play Death Metal because it's the most honest style of Music on the planet.

AC: I don´t know, my guitar and an amp that I can´t remember. I did not choose Death metal, Death metal choose me. It´s what I am.
7. What is your definition of the "perfect" death metal release? What do you think a death metal album must have to be considered death metal, and do you think that deathcore counts in this equation? Or is it just a bad offshoot?
PERRA: The perfect Death Metal release must be "The Cleansing". Deathcore?! What is that? Some Emo shit trying to be labelled as Death Metal or what?

AC: The music, the album cover. Death metal is death metal. You´re not death metal if you don´t know what It´s all about. Fuck them! Fucking posers trying to take cred from Death metal doing their crappy gay-music. They shall be tortured forever!

JUHA: If it has all the components from "The Cleansing" then it's Death metal. What's deathcore?
8. Obviously there 's a lot of horror influence on this disc. What are some of your personal favorite horror films? Some stuff that we should definitely check out and might not have heard of?
PERRA: Masque Of The Red Death is my favourite film, I'm quite a fan of Vincent Price.

HENKE: Recently I've seen some Amicus movies. Dr. Terror's House of Horrors is a recommendation. Grizzly (also known as Killer Grizzly) directed by William Girdler is also a nice piece. Satan's Slave delivers evil. You can hear the frightening voice of Vincent Price in the song "Son of Doom".
9. People talk of impending Armageddon, doom, the end of the world and other such apocalyptic scenarios. Why do you think this is so popular in this age? Do you think that somewhere in the back our minds we all know that we 're all about to die?
PERRA: The sooner death and armageddon will appear, the better. I think this world have survived long enough already. It's mainly fucking idiots living on this earth anyway.

AC: Just look at the state of the world. Look at Europe and especially Sweden, the answers are there! There are so many ways for the world to end! Open your eyes!
10. You guys have played more shows that I can count, and have played with hundreds of bands, including the legendary Dissection (RIP), Dismember, Vital Remains, Demonical and Nunslaugher among others. What was it like meeting some of these bands? What was it like on tour and general? And I 'm sure in years of playing death metal, you guys have got to have some stories of hilarious road shenanigans. Tell us about some of those.
AC: I love playing live and hang out with those loyal to NOMINON. Meeting all those cool people makes everything worth it.
I fucking love it! And what happens on tour, stays on tour. Code of honor!

PERRA: Of course there has been plenty of shit happening when we have been out there on the road. Too much shit, seriously. We should write a book about it eventually, it would be like Spinal Tap for real. I have some close friends in the bands that you mentioned here, bands that we have played shows or toured with. So for me it was like hanging out and having a good time, really. I also worked with DISSECTION on their Rebirth tour in 2004. I met Jon way back in 1990 for the first time, so we knew each other pretty well. Same with VITAL REMAINS pretty much, I interviewed them for my old zine MOULD MAG back in 1990, so we had a story going together already. They're all good bands and hard-working bands as well. Now we just have to catch up and play some shows/tours with IMMOLATION and AUTOPSY so we can die happy some day.
Thanks for putting out a great slab of Swedish death metal, and we hope to hear more from you guys in the future. Keep playing real death metal guys!
THE REVIEW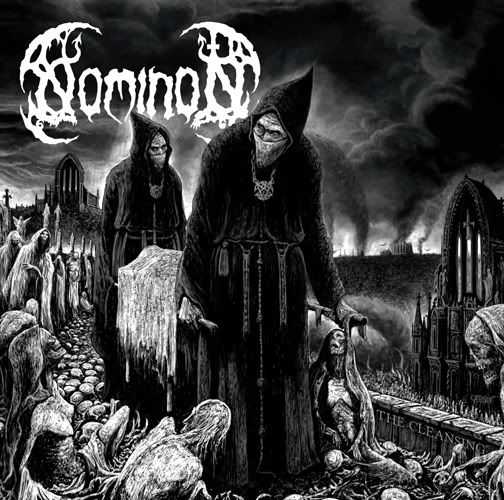 Nominon - The Cleansing (PR2012)
- Nominon might as well have been around longer then some of you have been alive. Their very first demo dates back to 1993, and they've even opened up for legends Dissection and Dismember back in 1996. So these guys have had a long fucking time to perfect the Swedish death sound that they've again unleashed with their twenty-seventh offering, (according to the official release list) simply entitled, "The Cleansing." Now "The Cleansing" is just as you would expect from Swedish death metal stalwarts such as these - it's raw, brutal and drenched with the same gore that makes up Grave, Unleashed, early Hypocrisy, early Dark Tranquility, and others in that vein. While it's nothing ultimately new, what is done here is a certain solid effort that should appeal to most death metal fans. There's no core breakdowns, technicality or anything that you find in death metal these days. However, you will hear crunchy riffs, gore-splattered vocals, and drum work that you would expect for death metal of this nature. It's a very straight-forward approach and it's one that works. I had a very tough time picking out standout tracks on here, but that's due to the fact that everything on this disc fucking slaughtered. But where's death metal without solos? And these guys have delivered in that aspect too. Again, there's nothing on here that I thought was weak, and "Son Of Doom 5:00" and closer "Infernal Rites 5:07" are exceptionally strong.
Swedish death metal... for me, it NEVER gets old. This is just one of those records, and I highly recommend you check out this pummeler. Imagine the disc as a giant fucking hammer to your skull, and you've got it.
(10 Tracks, 39:00)
8/10