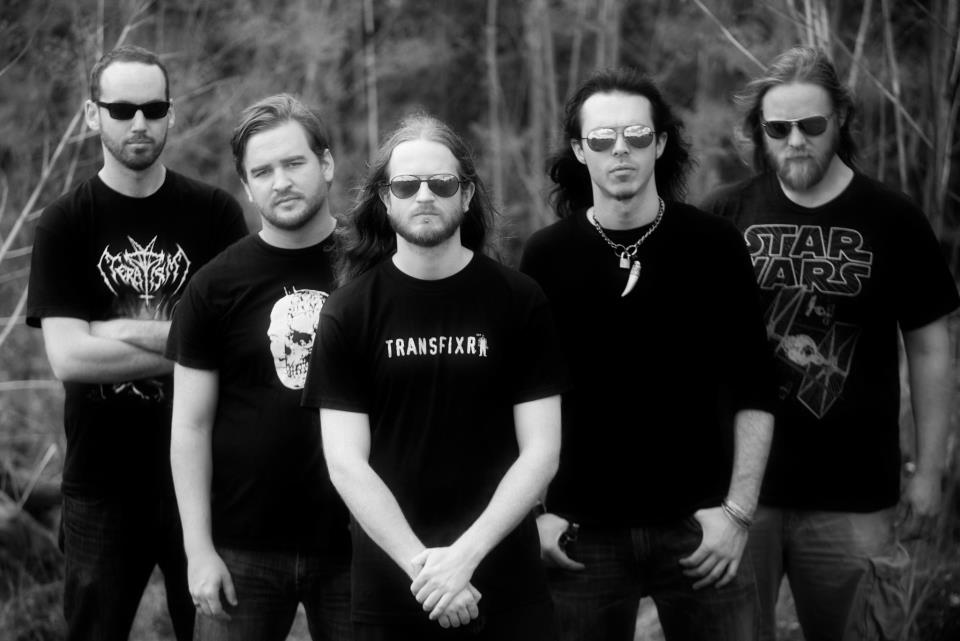 Country of origin:
United States
Location:
San Marcos, Texas
Status:
Active
Formed in:
1998
Genre:
Death/Thrash Metal
Lyrical themes:
Longing, Exile, Death
Current label:
Horror Pain Gore Death Productions
Years active:
1998-present
MEMBERSBill Edgar:
Bass
See also: ex-R.C.P.
Owen McCloskey:
Drums
See also: Bat Castle
Mike Day:
Guitars
Ciaran McCloskey:
Guitars
See also: Nosferion
Joe Jackson:
Vocals (2011-present)
VEX
1. Let's talk about the new album, Memorious. That sounds like a really heady title. What is being referred to as Memorious? The human race, or society in general?
The title comes from a short story by the Argentinean author Jorge Luis Borges called "Funes the Memorious." The focus of this story is a character who spends all of his time recalling his past in precise and exacting detail. We eventually learn that he was paralyzed very early in his life so this is really all that he is ever able to do with his time, in the absence of any sort of present tense. "Memorious" is not a concept album, but one of the unifying themes of the lyrics is what happens when the self is locked into a similar state of perpetual memory that is both involuntary and inevitable. I would say the scope is more personal than societal.
2. Explain the recording process for this album. How did it all come together and how long did it take to complete? Are you pleased with the results?
The tracking of the album spanned about 6 months, starting in late summer 2011 and culminating around the beginning of 2012. The writing process was a sporadic affair spanning about eight years. This probably seems extensive by most standards, but for a handful of losers from Texas with dead-end jobs, several other groups and no recording budget, it wasn't too bad. It's certainly preferable to the 3 ½ years spent tracking and the first album.

The process itself was actually very enjoyable. Eoghan and I spent a few months demo tracking the whole thing before the sessions started, so we had a good idea of how it was going to flow. We felt very confident about the quality of the songs, and we were able to work completely in-house, with Mike and Eoghan engineering the whole thing at Mike's studio in South Austin. Of course it isn't perfect, there are things that we would all change, but that's to be expected. Overall I am very pleased. I really like the energy and the momentum of the recording, and I like that the production has an organic quality to it. We definitely weren't looking for a sort of "modern metal" sound.
3. There are influences of black metal, prog, doom, and death metal strewn all over this thing. What are some of your influences and how did they help in the formation of this album? Am I right to hear a great deal of influence from Irish black/doomers Primordial?
Yes, you absolutely are! Eoghan and I originally hail from Dublin, so it was a big deal for me to learn about an extreme metal group from our home country. I picked up "Journey's End" after reading about it in Terrorizer about 15 years ago, and it had a huge impact on me. I connected with it on an emotional level, but I was also very into the open-chord riffing style that has become a big part of the Vex sound. It was like Viking-ear Bathory infused with the sort of Irish folk music that Eoghan and I grew up listening to.
There are quite a few other influences that have helped shape our sound, most notably Celtic Frost, Morbid Angel, Carcass, Death, Edge of Sanity, Dark Tranquility and Iron Maiden, to name a few. "Memorious" was mainly influenced by mid-period Fates Warning, and a lot of 70s prog/psychedelic stuff like Amon Duul II, Magma and Gentle Giant. The stylistic fearlessness and bold artistry of that period is huge for us. We're also very into jazz artists like Charles Mingus, Eric Dolphy and Wayne Shorter. I don't think you can really hear that as much because the influence has more to do with the sort of emotional complexity that jazz artists bring into their compositions and improvisation. I recently saw Eric Dolphy listed as a jazz artist that metal fans should know about, which didn't surprise me at all. "Out to Lunch" is fucking intense! Very sinister, brooding and heavy.
4. What instruments are you guys using, and what inspired you to pick them up in the first place?
Bill and I decided to learn bass and guitar, respectively, while watching a televised Freddie Mercury tribute concert in 1992. It seemed a natural fit for me because I was fortunate enough to grow up in a very musical family, and I was always drawn to the look and feel of a guitar. My brother Eoghan followed through with the decision to pick up the drums some time in the late 90s, which was a decision heavily influenced by Slayer and the Meshuggah album "Chaosphere." Mike and I prefer to play Gibson guitars and high-wattage Peavey tube heads because they afford us the thick mid-range tones that allow our open chords to ring out. A trebly, hi-gain metal tone wouldn't really work for what we do.
5. Texas has as of late, become a real hotbed for metal music. Some of the greatest American metal acts hail from there, and you really wouldn't expect it to be so in a red-state where God and guns seem to be on the minds of the majority. What are your opinions on this?
I agree that Texas has an incredible metal heritage. You've pointed out an interesting paradox there, and I don't know that I can necessarily account for it. Perhaps it has something to do with the tendency for metal to flourish in generally adverse climates. I think metal is gradually replacing rock music as the global answer to political and religious oppression. In my own case, I grew up in a fairly small, heavily religious town in West Texas, and I was initially drawn to Venom, Possessed and Bathory because the extremity of the music and the lyrics was a welcome contrast to the strong Christian presence in my school at the time. It really drew me in and fascinated me.
In another sense, I don't know that the battles lines are so clearly drawn anymore; metal has become so widespread around here that it doesn't really have any sort of discernable political footing. Grindcore still seems firmly left-wing, but the red-state conservative culture you mention has become fairly pervasive among brutal death metal bands. Strange times are these.
6. Speaking of guns, it looks like the president has ordered a ban on assault weapons. What do you guys think of this, especially in a pro-gun state?
You are correct that gun control is a contentious and polarizing issue here in Texas, especially in the Central area where progressive ideologies clash with the deeply-ingrained culture of gun ownership. We definitely have strong views on the subject, but not in any unified way that could be expressed as a collective opinion. We are all politically and civically engaged as individuals, but as Vex we prefer to refrain from any sort of political commentary due to the potentially ostracizing effect it can have. We aren't interested in excluding anyone.
7. You guys released a split with another Texan band, Divine Eve that made it into Japan and Asia. That's pretty fucking awesome. What do people in those countries think about the split? Did you guys make some unexpected fans overseas?
From what I could tell, the split sold fairly well and was well-received in those areas. It was originally supposed to be released much earlier, around the summer of 2011, but the tsunami completely changed everything. We all assumed that the release had been shelved, but Naru from Obliteration Records surprised all of us by forging ahead with everything about six months later. I really like how the release turned out and I'm proud to have those songs featured alongside the almighty Divine Eve.
8. If there's anything that you want us to know about the lyrical content of this album, what would it be? What messages can one take with them after listening to Memorious?
The lyrics to "Memorious" are all fairly personal, much more so than on the first album. They're basically just attempts to understand and reconcile the way that things tend to happen, and why things affect us in the way that they do. If there is any sort of overarching message to the lyrics, it's really just that there is a lot to be gained by recognizing the limits of your own perception and your own place in the universe. We chose to open the album with "Terra Soar" because it's fairly uplifting track about reaching beyond your own cognition to seek transcendence. I'm very into literature and language in general, so I spend a lot of time with these lyrics, and I hope that people dig them or even just find them to be a pleasant addition to the music.
9. You guys have played with some phenomenal acts, most of them on majors, like Origin, Krisiun, Katatonia, Goatwhore, Moonspell and Exhumed among others. Do you guys eventually want to be signed to a major label as well? Or do you prefer to be an underground act?
We were very into the idea when "Thanatopsis" started to help us gain a bit more of name for ourselves, so we did the usual rounds with the press kits. We got played during A&R meetings for a few of the household name labels and basically got written off for being a bit out of context with the market. Relapse liked our stuff but said we are way too far beyond the type of sound that's guaranteed to sell. This was a bit discouraging but it really just motivated us to work harder to produce the best possible album that we could.

Since doing so, we had what I would consider to be a successful year where we were able to accomplish a tour on our own and release an album that we're really proud of. It was very satisfying, and helped us realize that we're fine on a small label. We have such a great relationship with HPGD, with our PR group and with our booking agency. These groups basically supply us with all the same resources that a large label would, and we're in direct control of everything. Of course the added distribution and exposure of a large label would be a wonderful asset, but that almost seems like a best-case scenario these days. While we were in the process of researching the major labels, I would run through a few of their rosters and in most cases, I had only heard mention of about half of the bands. We really don't want to be in a situation like that, locked into a binding contract with almost no promotion or touring emphasis. We've discussed this recently and decided that if an offer from a large label did come along, we'd really have to weigh our options and see if it's worth taking on that kind of financial liability.
10. What are some bands that you guys are currently into? Any bands out there in the Texas scene that you want us to know about?
I am very into Obsequiae from Minnesota. They're a melodic death metal band with a sound and identity all their own, who also manage to channel the kind of feeling and atmosphere that has all but vanished from death metal. Everyone needs to hear them. I've also been very into Master's Hammer, Summoning, and Novembre as of late. My girlfriend collects obscure psychedelic music from all over the world, so I've also been enjoying large doses of that, particularly Turkish groups from the early 70s. That stuff is just ridiculously good. As far as Texas groups, everyone should definitely know about Batcastle, Feral Rex and The Black Moriah – all friends of ours who are working to forge their own identity without compromising integrity or extreme metal aggression.
11. Let's talk movies, books and games. What are some of your favorite? What other things do you guys do when you're not making great music?
I'm not much of a gamer myself; I couldn't even tell you the last time I played a video game but it was probably at least a decade ago. As far as movies, I'm really into what Martin McDonagh has going on – I was completely floored by "In Bruges," and drew quite a bit of inspiration from the darkness and complexity of it. I've loved all of his plays as well. His brother John also made an incredible movie last year called "The Guard" that I highly recommend. Ingmar Bergman's "The Seventh Seal" and Dario Argento's "Tenebrae" are also old favorites that I recently became re-acquainted with. Apart from that, I'm pretty old-fashioned so I'm glad you asked about books – I thoroughly enjoy the works of Vladimir Nabokov, Clare Keegan, Jonathan Franzen, Howard Jacobson, Samuel Beckett, Patrick McCabe, Dagoberto Gilb, James Hynes, William Trevor, Roger Boylan, W.B. Years, Paul Auster and Jorge Luis Borges, the author I mentioned earlier.
When we're not rehearsing or writing for Vex or wasting time at our day jobs, we're usually playing music in some form; each of us has at least two other bands that are in some phrase of recording or performing. Austin is a very musical place with a lot of very talented musicians who we are fortunate to be working with. Apart from that, I'm in the final stages of completing my English-teaching certification; the program I'm in is very demanding so that's been taking up a majority of my time.
12. Obviously, Memorious seems to paint a bleak outlook on the future of our race. Do you think this is really the case? Are we truly fucked as a society? Or is there still hope for us?
I'm not much of a humanist – I really don't have any sort of faith in the human condition or even in human reason as its own end. I really don't care for ideology either. I'm more into the post-Enlightenment, Jonathan Swift view of humanity is a sort of eternal farce, worthy of the fiercest mockery and derision. As far as the future, I really have no idea what's in store, but I don't see how things will ever improve if puerile self-interest and stern commitment to baseless ideologies continue to be celebrated as political virtues. You mentioned gun-control legislation earlier; this is one issue that is just too deeply polarizing for any sort of national consensus to ever be reached.
13. Let's talk touring. What are some experiences that you guys can share with us about being on the road? What are some things that bands need to know before they get out there?
I would say that we've been very fortunate in our road experience so far, especially as a DIY band. We've certainly had some rough spots, such as last summer when we played to 3 people in a garage in rural Tennessee, but we understand that these sorts of things are inevitable in most cases. These gigs have been far outweighed by the great experiences we've had in entirely new areas where we've been fortunate to meet and work with a lot of great people. I've always been inspired by the precedent set by Fugazi, one of my favorite bands, of just going out and doing it, of creating your own scene where there isn't one already.

As far as advice, I would say just know what you're getting into; bring a good amount of merchandise, have a lot of backup cash saved up, and learn as much as you possibly can about the promoter in each city. You can never plan too much for these things. We were very fortunate to work with Riff Lifter Touring, a booking agency based in Philadelphia, for our last tour in that they really helped smooth everything over for us and iron out the details.
Thanks for your answers. The disc is truly incredible, so thanks for sharing your art with the rest of humanity. We really fucking appreciate it.
Thank you very much for your praise! It's very rewarding to see that some people understand what we're trying to do here, because it's very important to us. Also thank you for the thought-provoking and intelligent questions!