Alright, the time has finally come to unleash this monstrously massive review list of everything that I've checked out this year. (Well, everything worth mentioning. I've been hearing some older shit that dates back to the 80's and early 90's, and I'm sure you're not too worried about those releases.)

On this quick list, I'm doing something that I've never done before - I'm going to discuss each release in just three sentences (for the most part.) Quick, concise and to the point - just how some of you might like it. No promos or band requests will get this treatment, but if you see your album here and want a full review, just give me a comment and you will be automatically boosted to next week's reviews.
Nordor - Erga Omnes (2012)
- Nordor have nothing to do with Narnia, and everything to do with Satan. That being said, the band mixes their style of melodic brutal death metal in well with atmospheres like "Vow 3:11" the most Satanic thing I've heard in a while. Though the songs are short, they're powerful and well structured enough to slightly mesmerize, making this one of the year's undiscovered death metal gems.
(14 Tracks, 40:00)
8/10
Snowy Shaw - Snowy Shaw Is Alive! (Unique Live Cover Album 2012)
- Though I don't normally do live albums, this one is altogether different being the fact that it's a live concert with ex-Therion/Notre Dame frontman Snowy Shaw, tearing it up with covers of Therion's "Typhon 6:50", Dream Evil's "The Book Of Heavy Metal 5:54", Dimmu Borgir's "Progenies Of The Great Apocalypse 3:26", Mercyful Fate's "Eye Of The Witch 5:23", and Notre Dame's "Vlad The Impaler 6:20" managing to do justice to each and every one of these tracks. There are nineteen tracks in all, and a DVD recording of this to back it all up. I strongly recommend that you get either the visual or audio element of this outstanding show, which is probably one of the best ideas that Shaw has ever come up with; making him a true man of metal.
(19 Tracks, 98:00)
10/10
Eluveitie - The Early Years (2 Disc 2012)
- This is a re-recording of the band's demo EP "Oro" which is about as short as you can expect (but deathier than their later material - "Lament 4:06" and "The Song Of Life 3:58" have the feel of early In Flames) and a remaster of the band's first outing "Spirit" in case you missed it. I thought both were decent, as far as folk metal goes and perhaps if you're a major fan of Eluveitie or folk metal, you will pick this up. But I've heard much better from folk metal, and these discs didn't do much for me; yet the Pagan spirit is certainly strong within each of these albums.
(2 Discs, 17 Tracks, 73:00)
7/10
No Return - Inner Madness (2012)
- These guys play a very intricate (think later era Death) and melodic style of death metal replete with it's share of growls and clean vocals. It's a style we've all heard before, but these guys do it justice and definitely know their thrash just as much as their death metal. Most of all, the great riffs (and killer overall musicianship, "Morgane's Song 6:57" for example) are only enhanced by the wonderful fucking solos on this album; making this band one worth keeping your eye on - from the sound of this magnificent display, I certainly hope that we'll hear even more impressive material from these guys and even more fucking great guitar work.
(Didn't realize this was so good. I might have to go back and long review this one. Might even get the band in for an interview.)
(9 Tracks, 47:00)
10/10


[b]Krampus - Survival Of The Fittest (2012)
- So named for Santa's demonic friend, this modern electronic folk/death/core band seems to be trying to one-up acts like Eluveitie, (either that or they're just really influenced by Eluveitie - is it already time for next-gen folk?) but mixes them with more core then some of might want. It's certainly folk metal, but I don't know how the electronics in the band will be received by some. Mixing traditional folk instruments with modern electronics could very well leave a bad taste in some mouths - still, not bad and features some good moments with strong clean vocal choruses backing up the core riffs.
(12 Tracks, 45:00)
8/10
Botanist - III: Doom In Bloom (2 Disc Set 2012)
- This guy likes plants, demons, and doom. That's pretty much the basic elements that you'll need to know for this disc, other than the fact that it seeks to create very sullen (yet sometimes beautiful and melodic with pianos and the like) atmospheres backed by soft black metal scowls and slight screams of torture. It almost sounds like a peaceful flower garden, but only if that garden were in hell and full of man-eating plants.
(There's also a certain mystical and occult nature to the feel of the music, as it sounds very ritualistic. As a bonus, there is a second disc "Allies" that includes Botanist covers by Matrushka, Cult Of Linnaeus, Ophidian Forest, Arborist, Lotus Thief, and Bestiary.)
http://verdant-realm-botanist.bandcamp.com/album/iii-doom-in-bloom-allies
(2 Discs, 14 Tracks, 114:00)
7/10
Order Of Nine - Seventh Year Of The Broken Mirror (2012)
- This prog/power/thrash band is certainly strong and worth checking out, even though the deep vocal croon might not be your thing (but the frontman also uses a few screams and growls.) These guys offer a lot in the way of musicianship and aren't afraid to showcase it on longer numbers like "Spiral Staircase 7:04" and "Eye Of The Enemy 8:25." These guys have a lot of talent and have crafted one hell of an album that seems to showcase it all (great solos included), so please give them a stream at least!
(11 Tracks, 69:00)
8/10
Unisonic - Unisonic (2012)
- I was going to long review this, but decided a short list would be good enough. It's a new project from some rather famous power metal musicians (Helloween) and really captures the spirit of classic (not core influenced) power metal. It's also catchy as fuck and full of ripping guitar solos - just try to get tracks like "Never Too Late 4:30", "I've Tried 4:56", "Star Rider 4:16" and "We Rise 4:43" out of your head. These choruses are so catchy, that there should be a fucking law against it, and I've just went over the limit to add that - but I enjoyed this one immensely! You can see where Tobias Sammet gets it from now.
(11 Tracks, 50:00)
10/10
Halloween - Terrortory (2012)
- Not Helloween, Halloween is a heavy metal of damn near the same merit but with less production value. Considered to be a sort of power/doom metal, these guys excel in making interesting atmospheres with soundclips and effects that enhance the heavy and dark nature of their music. Things definitely thrash, and they're backed by the croons of a capable enough frontman. Apparently these guys are quite an old band and this is their latest outing - nonetheless, it's a decent release with a great song dedicated to the band's namesake (Where Is Michael? 6:30.)
Highlights: Caught In The Webs, Re-Inventing Fear, Where Is Michael?
(16 Tracks, 72:00)
6/10
Witchrist - The Grand Tormentor (2012)
- These doom-laden death sludgers probably won't be what you'd expect when you see a cover with a pissed off Hindu god on the front cover. But despite the tough to hear sound quality of the thing, it's eleven tracks of pure bestial rage and should certainly appeal to a good chunk of metalheads. Though I'd actually love to be able to hear the band, (as it sounds very muddy most of the time) I can discern powerful drumming amidst truly agonizing bellows and an overall sense of ill omen - but let's not forget that these guys are entirely capable of brutally assaulting you and then giving you just enough time to think about it; before it happens all over again. Slow, deep and hard - really fucking hard.
(11 Tracks, 51:00)
7/10
Verdunkeln - Weder Licht Noch Schatten (2012)
- Verdunkeln is a melodic doom/black metal act that performs five rather long tracks on this 48 minute disc. Some of the tracks are laden with atmospheres, while others are backed by gloomy instrumentations "Am Ende Des Abgrunds 12:17", giving a feeling of certain despair to the recording. The disc certainly does have it's punchier moments in "Die Letze Legion 10:52" and there's an odd keyboard thing going on in "Unsre Richter 6:09, finishing it all up with the heavier nature of the album's title track which features one of the oddest guitar solos I've ever heard to close out the disc. Different and worth checking out.
(5 Tracks, 48:00)
8/10
Whourkr - 4247 Snare Drums (2012)
- Whourkor is a grind band that's different then many other grind bands I've heard, and maybe that's because they use so much electronic influences and other little oddities that it makes this disc something of an outlandish experiment. It's certainly heavy, but you'll have electronic beats and chopped up saxophone solos that accompany the piggie and garbage mouthed vocals which are standard for the genre - but even though these standards remain, nothing else on this disc is standard. Trust me when I say that this one of the most fucked up albums you'll hear all year, and it got some praise in the metal community. What the fuck are you waiting for?
(Includes a remix of Gastro-Esquetre by Ruby My Dear)
(11 Tracks, 35:00)
9/10
Periphery - Periphery II (2012)
- Apparently, this is the future of progressive metal; the genre in it's most modernized form - but instead of giving it the myriads of praise that others have, I'll be fucking blunt and say that this is what happens when you mix post-emo-core with bands like Dream Theater, Fate's Warning, Spock's Beard, Pagan's Mind exc. At any rate, there are some good portions on the disc as far as musicality goes, but I have no idea what the fuck some of this disc is about as far as the lyrical content (but the clean vocals aren't that bad.) At any rate, it'll get the kids into prog metal; so maybe that's a good thing. And yes, there's a solo from John Petrucci on it. But it's still emo-core with prog elements.
Highlights: Have A Blast, Facepalm Mute, MAKE TOTAL DESTROY, Erised, Epoch, Masamune
(14 Tracks, 68:00)
7/10
Syn Ze Sase Tri - Sub Semnul Lupului (2012)
- I gave this band's last album a long review, but due to the amount of material I've got; they are now on the short list. This new album sees the band as strong as ever, but a little muddy in the recording which doesn't seem to phase the album so much as you would think. The release still comes off as elegant, dark and frost-bitten as you might expect - it's most certainly a great mix of orchestration, black/death metal and gothic charm. Well worth getting your hands on.
(12 Tracks, 55:00)
9/10
Magnum - On The 13th Day (2012)
- When I got my hands on this, I was reminded of everything but metal and I suppose that's okay. If you want me to be honest, I'll say that I was thinking of 80's rock like Survivor, Queen, Europe, and Blue Oyster Cult. But for some odd reason, I've always loved that stuff and ended up playing this album more than just a couple of times. Definitely not a heavy disc by any means, it's even hard to call it metal - but I loved it. Fans of classic rock might very well enjoy this too. Magazines hated it, but I loved it. And yes, I've gone way over the limit - but fuck it, this album was one of my favorite rock discs this year. Maybe I'm just showing my age.
Highlights: All The Dreamers, Blood Red Laughter, Didn't Like You Anyway, On The 13th Day, Dance Of The Black Tattoo, Putting Things In Place, Broken Promises, From Within (11 Tracks, 57:00)
9/10
Muse - The 2nd Law (2012)
- Alright, Muse had a couple of good songs on some of their earlier discs, but I have no idea what kind of brain fart happened here. When I look at my ratings list for this one, I can see clearly that I only enjoyed the disc's electronic rocker "Supremacy 4:59" and "Prelude - Survival 5:09" which sees these guys trying to be Queen. But they do it more than once, and this is the only attempt that I find to be worthwhile. For the most part, it's mediocre soft rock with very little prog influence, the "mature" album.
But we already have a Coldplay and they suck.
(12 Tracks, 52:00)
3/10
Nonpoint - Nonpoint (2012)
- This is what you call "hard rock 101." If you took the 90's nu-metal scene and condensed it into one fucking disc with every track sounding the same (with the same damn down-tuned riffs on every track) then you'd get this one. I did like the band's last disc, but this shows them playing it safe and making a very watered down hard rock/metal album. It's as generic as can possibly be, and it's obscenely catchy. They'll sell records, but they won't get my fucking money.
What's more, is that all of these songs are under 4 minutes and it's not grindcore. I'll pass.
(12 Tracks, 39:00)
4/10
Purvaja - Dark Goddess Divine EP (2012)
- This is a one man project with an emulated guitar and programmed drums, but in all honesty it's not bad (and every metal musician who plays their own instruments just put their hand over their face) and the black metal vocal scowl is not too bad, even though it's definitely a guy at home screaming on his computer mic. But guess what? I've been there. That was me, so maybe I can understand this. He's a much better programmer of music than I am, I'll definitely give him that. But I really don't know how many people are going to dig emulated black metal as opposed to real black metal played with real instruments - cause let's face it, that shit's fucking awesome. Any guitarists or drummers want to help this guy out?
(7 Tracks, 20:00)
4/10 (Decent enough. At least the effort's there.)
Skunk Anansie - Black Traffic (2012)
- This is a rock/punk (with hints of electronics) effort from a female fronted band from England. The singer hits a couple of good notes and the band thumps along quite a bit with tracks like "I Will Break You 3:11", "Spit You Out 3:28" and "Satisfied? 3:19." But they also have some ballads like "This Is Not A Game 3:21" (which is pretty damn sad) and "I Hope You Get To Meet Your Hero 3:42" which is a pretty powerful song in terms of the lyrics (she also sings it beautifully.) It should already be certain that I don't just review metal (read the banner) and this would most definitely NOT fall into that category. Still, a nice release.
(11 Tracks, 37:00)
7/10
Soul Cycle - Soul Cycle II (2012 Name Your Price)
- Well, Soul Cycle is back but they've decided to add more djent and technical elements to their melodic death/groove instrumentals. That's bad news for me, because I can't come up with any lyrics for these unlike "Prime" from the last album. Every track on the disc is full of shredding, and some even feature electronics "Evolutia 8:25." The disc is pretty thick, three sentences or even five won't be enough to describe this thing, and even if I had all the time in the world, it wouldn't fully describe this album. Just stream a couple tracks or name your own price and check it out, even if that's a 0.00. It's got plenty of good instrumentals and you should find at least one track/section/portion of one of these songs that captures your fancy. Plus, there was a load of different guitarists on the disc.
http://soulcycle.bandcamp.com
Highlights: Instar - Soul - Reborn, Against the Iron, Transcendence, One Fleeting Moment, Evolutia, Break The Cycle (11 Tracks, 68:00)
8/10
Toxic Grind Machine - Embryonic Emission (2012)
- Well, I had plans to interview the mastermind behind this, as it seemed like a good enough project from the first track I sampled from it; but when I heard the disc in it's entirety - the whole thing fell through. It definitely has the feel of bands like Fear Factory, Sybreed and Meshuggah but it doesn't really sound like anything altogether new. There's your heavy parts, there's your electronic influenced parts, and there's your clean vocal which is definitely pleasing to the ear. I think with time this band could go somewhere, but they need a bit of work still. However, they sound fine here doing what they're good at. I'd just like to hear a little more variety.
Still, check out "Cell 600 4:29." It's the band at their most brutal. There are signs of promise there.
(8 Tracks, 38:00)
5.5/10
Putrevore - Macabre Kingdom (2012)
- There are some brutal death metal bands that bore me to tears, and I'm sorry to say it; but Putrevore is one of those bands. There are good ideas on this disc, just about every song starts up with some worthwhile riffing; but then it all goes to blasts and growls. If they had done anything else, I might have been encouraged to give them a higher score; but I've been reading some other reviews for this disc that also seem to share my views. There just wasn't enough here to matter and make it standout from the pack. They made an extremely generic brutal death metal album with just a hint of a bell and whistle. Good for sleep, I'd reckon.
(8 Tracks, 32:00)
5/10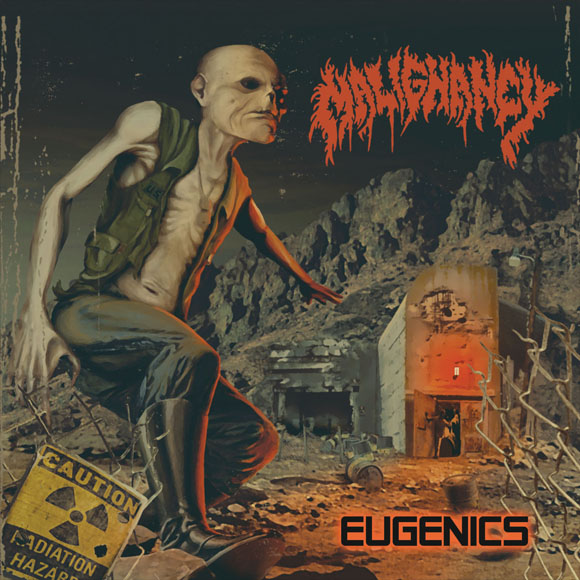 Malignancy - Eugenics (2012)
- Now this is what I'm talking about, a death metal band with something more to offer than just drums and growls. There's a great deal of structure just in the first track, "Type Zero Civilization 2:53" and listen to the drum play there - that's when you know that magic is happening. This sounds like the kind of technical death metal that bands like Cynic and Cryptopsy used to make and might be a good alternative to those of you who didn't like the Cryptopsy self-titled release this year. Track after track shows that these guys aren't afraid to experiment, but still keep things brutal enough for fans of the most pummeling brutal death metal. If you missed it, now is a good time to go check it out.
(11 Tracks, 32:00)
9/10
Murw - Kanker (2011)
- Now three years old, this interesting disc is still worth checking out. It's a mesmerizing mixture of soundscapes, atmospheres and black metal. This band is literally all about structure, with dazzling guitar work that helps to illustrate the art that this music portrays. There is a certain line between music and fine art, and this is very close - there is even a light piece called "De Buitenstaander 7:38" which includes acoustic melodies and the sound of a gentle stream of water. Most of Kanker is quite heavy, but that doesn't mean that it won't transport you directly into the imaginative story that is told with sound, not words. An absolute must if you have not heard it already.
(4 Tracks 37:00)
10/10
The Wolves Of Avalon - Carrion Crows Over Camlan (2011)
- A side project from The Metatron (Meads Of Asphodel) this is a blackened folk metal album filled with loads of appearances, including Alan Oavey (Gunslinger), Arvid Vermote (Krigavar), Steve Wallace, E Walters, Rob Oarken (Graveland), Roibeard O' Borgail (Mael Mordha), Verst (Instinct), Magnus O' Wolfheart (Yggdrasil), Rob Wakerfield (Aurora Project), Petra Jadrna (Cruadalach), and Roland Schropp (Wurzlzwerg.) At the most, it's a black metal folk tribute to what Metatron refers to as "our Pagan ancestors." It also has a short history lesson about the history behind the album, because history is very important. Despite the fact that it's not near as overproduced as Eluveitie, (it sounds organic and real) you should certainly check it out if you're a fan of folk metal at all. There are so many musicians taking part on this album that it would be a waste to not listen to the work that they've contributed.
Real folk instrumentations follow the darkened folk nature of the piece, but it is not filled to the brim with blast beats and harsh scowls. Metatron does the majority of the vocals, but this is much different from his work in Meads. You will hear some terrific melodies, but it's much darker and less "jolly" then you'd like, being more real to the age. This is folk album stained in the blood of our ancestors. Embrace the history and hold reverence to their sacrifice as you enjoy this work. It's like Folkearth, before they got too theatric. And yes, this is a full length review, because this project deserves one. So go check it out.
(12 Tracks, 58:00)
10/10