CULT OF LUNA
Vertikal
Density
Though it's been a while, Cult Of Luna have not lost an ounce of steam during the long wait for their next release after Eternal Kingdom in 2008. As a matter of fact, the band have been given new life entirely; adding new influence from industrial and electronic soundscapes that breathe through a new atmosphere inspired by Fritz Lang's dystopian silent film Metropolis. Tracks like "I: The Weapon" show the full force of the band, while the near twenty minute monster "Vicarious Redemption" shows not only the ferocity of the band, but the subtle beauty in the guitar atmospheres. The album is certainly peppered with the sounds of a steely landscape, but that's not to say that the album comes of an mechanic as one might expect. To call it a beautiful machine might be most accurate, but to call it a beautiful beast would also suffice. The primitive fury of the band seems to couple well with the sounds of the cold and unforgiving future such as the one painted by Fritz Leng decades ago. Either way, the album is truly impressive and I would certainly recommend it, as there is nothing else quite like it out there.
E. May
9/10
HEAVEN'S CRY
Primal Power Addiction
Prosthetic Records
Fans of bands like SYMPHONY X and PAGAN'S MIND should definitely appreciate the reissue of this album from a band that I hadn't even known about prior. When you've heard as much prog as I have, you come to a high level of expectation and this album most certainly delivers in that area. The album's very first cut "Komma 5:18" not only comes in as a power metal infused pummeler, but there's also a latter section that is filled to the brim with prog metal theatrics, the same kind that you'd expect from DREAM THEATER and SPOCK'S BEARD. To be honest, I'm quite enamored by the band's work and have become a fan almost instantly. Though bands like BETWEEN THE BURIED AND ME and PERIPHERY have coined a sort of modern prog-core that some enjoy, I just feel that their music lacks the true spirit of what prog metal was and is supposed to be. With this first HEAVEN'S CRY reissue, hopefully that standard might be reinstated. There's not really a bad cut on this album, with even ballads like "Divisions" and the closer "The Inner Stream Returns" providing good atmosphere and that sense of prog metal that we've always known and loved. This album is certainly heavy, but it also displays more progressive wizardry and experimentation than I've heard from well known titans like SYMPHONY X as of late. I definitely recommend getting a hold of this one. There's also a cover of the late 80's classic, "Beds Are Burning" by MIDNIGHT OIL as a bonus.
E. May
9/10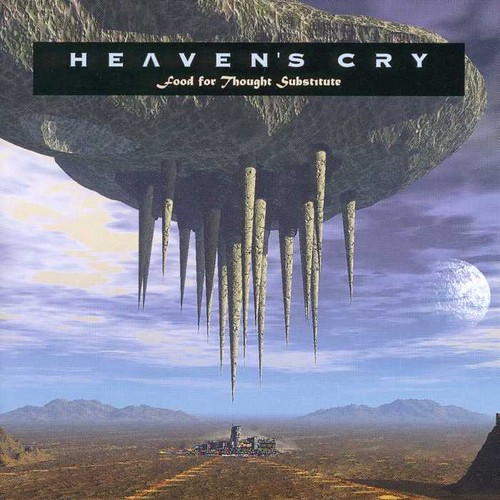 HEAVEN'S CRY
Food For Thought Substitute
Prosthetic Records
This reissue of the debut album from HEAVEN'S CRY is just as strong as their later release, but for some reason I seem to like it more. Maybe it's because the album comes in with the powerful opener, "Your God's Crime" and evolves upon that with the battle of light and dark riffs that compose "Out Of Me." By the time you get to "March" you'll notice that the band wrote much longer songs in the beginning, and that's a good thing; because "March" comes off much stronger when it hits it's climax, and it needs enough space to be able to do so. To be blunt, the entire album is an absolute joy to listen to and I'd make sure than every prog metal fan I knew had a copy of it. Yes, this is the kind of disc you can sail through without having to skip certain tracks - it works perfectly together as a fine whole; a magnificent and well structured marvel of a record that I honestly cannot believe I didn't get the chance to hear during the time of it's original release. With this album, HEAVEN'S CRY could have been a household name and I've no idea how they got overlooked. But if the metal gods be true; perhaps the band will finally get the recognition they deserve with these two albums back in circulation. If you're a hardcore fan of progressive rock and metal like myself; a recommendation is not enough. This is the very definition of progressive metal as it should be. Please do your part to support it.
E. May
10/10
IN SOLITUDE
In Solitude
Season Of Mist
Even though IN SOLITUDE'S The World, The Flesh, The Devil was heavily praised as being "one of the best Metal Blade albums ever" back when it debuted in 2011, I wasn't quite as sold as everyone else. I did like the IRON MAIDEN meets VENOM style of the album, but the whole experience of that record felt a little off the mark for me. However, the debut from these Swedish classic metallers is finally being re-released by our friends at Season Of Mist, and it's definitely much stronger than the band's Metal Blade debut. The self titled disc still sees the band playing more along the lines of traditional NWOBHM acts like JUDAS PRIEST and IRON MAIDEN, but with a little bit of BLACK SABBATH influenced doom that still retains the same amount of classic riffing, powerful melodies and guitar solos that go back to the days when vinyl's weren't just for hipsters and music aficionados. The disc also contains some harsher vocal tones than one would've expected back in those days; making it essentially a much darker and doom-laden approach to NWOBHM. Add to that the sheer fact that the amazing vocal landscapes of Pelle "Hornper" Ahman were recorded when he was only sixteen years old. Talk about an accomplishment. This album also comes packaged with two bonus tracks, "Hidden Dangers (In The Night)" and "Faceless Mistress (Demo Version)" which aren't necessarily going to resell fans on the idea of this album; nor should they. But forty minutes of terrific heavy metal that sounds just the way that grandma used to make should be enough to sell the disc and each of one the eight original tracks should be cranked up to eleven. If you've been disenfranchised by core, djent and other modern mainstays; then this is just the album you've been looking for. But if any of these tracks seem to bore you, then I would suggest a professional ear examination. It doesn't get much truer to the spirit of heavy metal than this.
E. May
(9/10)
Nolentia - May The Hand That Holds The Match That Will Set This World On Fire Be Blessed Above All (PR2013)
- Now I've never been the type to say "this band sucks" in those terms, because I recognize that there's a fan base for every type of art in the world, no matter how beautiful, sickly, or outright disturbing - but Nolentia certainly isn't my cup of tea by any means. The album cover is quite misleading as you'd expect something like Ancestors with the proggy touch, but this is by all means not even close to that kind of album. Instead it's a 13 minute expelling of negativity backed by some interesting structural changes. It's not a full kick into the stomach, there a re certainly meat on these songs, but the disc is so short that you won't even know the experience has ended. As the flyer says, the band mixes together many different styles including that of death, hardcore, sludge crust and doom metal, but all ensnared in the piranha plant of grindcore. Alright, so maybe comparing this band to a ferocious tube dwelling plant that either eats it's victims alive or spits fire at them might not be the best way to go; but it certainly fits. The band has toured with some rather diverse acts like The Arson Project, Benighted, Dagoba, Disgorge, Imply In All, Inhume, Knut, Sylvester Staline, Textures, Ultra Vomit and Yattai as well as stuff like Atara, Exhumed, Magrudergrind, Mass Grave or Rotten Sound.
Short, brutal and quick, I could compare this experience to being eaten by a venomous plant like the one I just named. I wish the mix was a little clearer, but am thankfully glad that the band doesn't just twaddle along with the same song structure in all 16 of these tracks. Every track has something different to offer, yet will still contain a garbage-mouthed growl backed by an impish scream. So if you don't like that approach, you'd better keep on looking. Nevertheless, these guys cover a lot of musical ground in 13 minutes and convince me that more can be done with grindcore than just playing the instruments very fast and growling and screaming through what sounds like a mess.
Worth checking out, but still not quite my cup of tea. But you can listen to it around six times in one hour!
(16 Tracks, 13:00)
7/10
Vorum - Poisoned Void (PR2013)
- These Finns make some very loud death metal. As a matter of fact, it's extremely fucking loud death metal. This album was so loud that my right ear started to throb in pain. I took of my earbud to find that there was a little bit of blood in my right ear. I was listening to the album on a normal volume as well, it was just so loud and unruly that apparently it made my fucking ear bleed. But I just played it out of my left ear and finished the listen.
Though not a long album, this loud and poisonous beast is exactly what death metal should sound like. The riffs are both intricate and remorseless, the drumming is ferocious and the vocal approach is quite vile to say the least. This is the exact thing I want out of death metal, and even though it says that it "will crush skulls and send children screaming out of the room in fright" I highly recommend that your children check out this wonderful piece of death metal, if your children are listening to good music. Oh, and as for crushed skulls - well, I feel it's an absolute shame that skulls must be crushed. I think you should find a group of reanimated skeletons - and play this record for them. If their bones don't explode from the sheer torrent of madness coming forth from this monster, that is. But let me know if you find some reanimated skeletons. I've always wanted to see some.
As any rate, this album certainly does manage to sound like a void in places. There are certain tracks that just sound "black" and that's the best way to put it. Some of this material literally sounds like a gaping vortex of doom, a black hole if you will; threatening to expound it's gravitational mass upon all who dare to tread too close to it. Being that the disc is loud, I don't have any problems hearing the instruments in the mix and they come through fantastically. The disc obviously is rife with songs that sound different from each other, yet carry the same vibe of evil; so the word "structure" could certainly be applied. There are also plenty of guitar solos on this album and for the most part; they sound as you would want them to.
Vorum is not re-inventing the wheel, but they are painting it black and putting spikes on it. I guess you could say that they're also dipping it in the blood of human sacrifice and throwing it into a vast and fetid abyss. It's death metal done right and is certainly one of my personal favorite death metal discs of the year. These guys made a colossal triumph of grim evil that death metal fans should get their hands on as soon as possible. I would also say that fans of black metal might want to dip their hands into this bloody water as well.
It's the best of both unholy worlds.
Highlights: ALL (8 Tracks, 35:00)
10/10
Infected Flesh - Concatenation Of Severe Infections (PR2012)
- Infected Flesh's third album sees the same kind of landscapes as those populated by Grindcore. It's got the sounds of a strangling pig as you might expect; but if that pig were a mutant hybrid and given the ability to speak, the vocal effect here would be the same. Yes. I've just compared the vocalist's approach on this album to that of a giant fucking man-pig hybrid. In the background, we've got a capable drummer, but he sounds kind of "in the back", which is probably due to the odd vocal approach being a little higher in the mix. Oddly enough, you'll hear the vocals more than anything else on this disc, even the guitars. Speaking of those, you'll certainly hear some solo sections and they aren't half bad. I wasn't so sure about this one from the beginning, but I will say that it's different. While having much to do with grindcore, it's classified as a kind of brutal death metal and supposedly in the vein of bands like Severe Torture, Disavowed, and Suffocation. Though this is a little bit of promo copypasta, I thought I would go ahead and add the list of guest vocalists on this album.
Guest vocalists on Concatenation Of Severe Infections include Robbert K. (Disavowed), Dennis (Severe Torture), Joost (Cliteater), Roi (Haemophagia), Albert & Jofre (Pesta Porcina), Regius (Nemesis Aeterna). So not only are you getting a band for fans of stuff like Disavowed and Severe Torture, you're also getting guest appearances from the frontmen of those bands. Don't forget that the band's current drummer also plays in Severe Torture/Centurian, so even though he's behind in the mix, the guy's still playing the hell out of the kit.
The album is actually full of good leads and some interesting points of groove and structure. In all actuality, groove is the name of the game. It's not overly pummeling, but it is certainly an interesting listening experience, complete with the mutant pig-man on vocals. If scientists keep making those Frankenstein creatures, that statement might not sound so whimsical in a few years.
Nevertheless, I recommend this one. It's not usual that I recommend metal of this vein, because it's usually not my cup of tea - but I found something unique and different here. Though I think the 16.00 price tag is a bit much too charge for an online order of the slipcase version that will more than likely include 4.00 S/H. If they'd lower the price down to twelve, I would recommend it a bit more. Especially when the payroll tax just hit everyone in the US with the effect of smaller paychecks, so people will have even less spending money.
But if the money doesn't matter and you want to support your favorite brutal death metallers from California, this album is certainly worth that support.
(11 Tracks, 43:00)
8/10
Xanthochroid - Blessed He With Boils (2012)
- I'm going to be honest. These guys hit me like a freight train sucker punch from behind. I noticed the interesting album art and the intriguing album title, downloaded the album and then later bought the disc because I had to have such a masterpiece as this in my collection. Xanthochroid is a mix of Emperor in their Equilibrium IX days and Opeth in their respected era, but they also utilize other elements that give the band an "epic" approach. At first, you might think the intro piece "Aquatic Deathgate Existence 3:00" lays it on a little thick with the theatrics, but as soon as the album's first real track "Blessed He With Boils 7:29" comes in, you'll see that this band contains a strength unmatched by very few. The frontman definitely takes a cue from Ihsahn, but his approach works well with the blasts from the kit and the piano (which can surprisingly still be heard in the mix despite the blasting.)
The album is actually based in the realms of fantasy epic, but I assured my friend that "this isn't a Lord Of The Rings knockoff story." It's actually got some interesting and thought provoking lyrics. Those lyrics are certainly screamed, yet there is also a clean vocal approach that comes off quite beautifully. Not all of the songs on this disc are progressive black metal monsters though, as some of them tend to utilize a softer and more atmospheric nature that comes off just as well as anything Opeth's ever done in that vein. Take "Winter's End 5:01" for instance. It's a light folk track that comes off just as well as anything the band's done with a heavier intention.
But even if you don't care for the lighter pieces on this album, there are plenty of epically orchestrated progressive black metal pieces on this album backed with Opeth riffs that found their way into the mix. But don't think that Xanthochroid is just a sandwich of Opeth and Emperor, even though that's a pretty awesome sandwich. The band certainly offer a sense of mesmerism that these bands still haven't delivered. The addition of gothic synths and choirs really add to the majesty of these pieces, and the direction in which these pieces change is also something uncanny. They could've stayed in one spot, but how much fun would that have been? There are many bands who write long songs and rely on the same riffs to keep them afloat, but this band really utilizes every facet that they have which makes these songs match the nature of the fantasy-laden source material. Remember, this album comes with a map and it's not a power metal disc.
What's more, is that the band is aware of file-sharing and what not, but wants to really get their music out there. A Russian review for this disc was posted on the band's facebook which had a direct download for the album. They thought it was a torrent, but I recognized it as an I-Folder page and saw that it was a full download of the material, so I informed them of it. But then again, I wouldn't even know about these guys if not for sites like those, so they are sort of a necessary evil these days even though those guys really just want to get the music out there. I've always said that I would rather play to a full venue of people who downloaded the album and really liked the music, people who now might want to go ahead and buy shirts and physical discs just to support the music that they themselves were able to listen to in it's entirety beforehand; then to play in front of an empty venue where no one was able to check out the music for themselves.
But the bottom line is that these guys spent a great deal of time composing this album and it shows it with each and every song. I don't know if you want to call this a 2012 or 2013 release, but if we want to call it a 2013 release, then it's one of the best albums of the year, hands down. And it will remain on my personal 2013 list. This is the very definition of amazing metal that's worth checking out for damn near every metal head out there. This is a fucking spectacle - a masterpiece of an album that I can't wait to check out a physical copy of. The band worked as hard on the music as they did the story, and as hard on the story as they did the artwork. Think about it - how many extreme metal albums out there have given you a fucking map?
It's elegant, it's epic and uncompromisingly fierce. There's nothing else to say about this one other than to just check it out for yourself. I'm keeping my eye on these guys, they've got a whole lot more than just potential. There are songs on this disc that will be played for years and recognized in the same way that Opeth's "Godhead's Lament" and "Deliverance" have been. It's got the same brilliance about it that made epics like Bal-Sagoth's Starfire Burning On The Ice-Veiled Throne Of Ultima Thule so great.
Yes, it's that kind of epic.
http://xanthochroid.bandcamp.com/
Highlights: ALL (10 Tracks, 57:00)
10/10
Fragments Of Unbecoming - The Art Of Coming Apart (2012)
- The fifth album from Swedish death metallers Fragments Of Unbecoming sees the band playing along the same soundscapes of traditional 90's Swedish death metal, but also adding slightly drearier portions to the sound (The Art Of Coming Apart 4:11, A Silence Dressed In Black 4:59) making a sort of Swedish melodic death metal disc with slight hints of melancholy. But for the most part, the album's eight tracks of metal will leave you banging your head, but curious as to why they wasted the time to record the sullen instrumental "Sundown 1:52" and the even more dreadful closer "Fathomless 1:54" which serves as more of an outro piece to the disc.
Drums beat vehemently, while guitars thunder and thump as the vocals fill the stage with as much Swedish brutality as we've come to expect from the band. There are no clean vocals or piano portions on this album, it is just eight tracks of complete terror and brutality (and should've been left that way.) It is a disc that is not very hard to explain with ten thousand paragraphs, so I won't do so. As soon as you listen to the album, you'll understand that it has no desire to be anything more than an intriguingly dark and desolate death metal album. I would certainly recommend it to fans of Swedish death metal, especially Edge Of Sanity, At The Gates and (older) Dark Tranquility which is referenced on "A Silence Dressed In Black" probably the best track on this disc.
It's solid death metal that doesn't really pack any new punches but it definitely worth listening to. Though I've already heard better discs than this, (Skineater, The Project Hate) it probably won't hurt to check this one out.
(10 Tracks, 42:00)
8/10
Eths - III (English Edition 2012)
- Eths certainly has the right idea in their attempt to make Nu-Metal more palatable to the modern metal hordes. They seem to be the odd lovechild of Meshuggah, Otep and Lacuna Coil, which was bound to happen eventually. Harsh vocals accompany angelic female vocals and djent riffs a plenty. I will say that the harsh vocals are performed believable enough to classify in the realms of venomous, which will definitely give these guys a big edge over everyone who thought Lacuna Coil was heavy because they used metal riffs and had Marcos growl on a few discs. That all went to shit, so Eths kind of brings that back. Surprisingly, the band is brutal in areas and the drummer does some worthwhile shit on the kit, but it's no death metal even though they have a "Nu-Metal/Core/Alternative/Death Metal" genre stamp.
One could say that The Agonist does the same thing, but I will certainly say the structures and atmospheres of these tracks is certainly much stronger than anything they've ever done. The frontwoman definitely gives Angela Gossow and Otep Shamaya a run for their money, I will say that much. Some of you still might be under the guise that women have no place in metal and should be cleaning the kitchen or something; which is a pretty shitty way to think - but it's good to see women getting out there and putting just as much of a stamp on metal as we men have done in the past. I have said before that I support female metal and this disc certainly has enough meat on it to make a further dent into the chauvinistic idea that men should only be in metal.
Other tracks feature a little bit more melody and some hard rock semblances, but there's really a mix of everything on this one. Perhaps "Gravis Venter 5:04" is the most radio friendly, but "Adonai 4:00" should definitely gel better with fans of more extreme music, while the hardcore fans might like the hardcore approach of "Inanis Venter 4:25."
Not all of the tracks on this album are in English, but it is good to be able to understand a handful of the tracks here. On this English Edition album, there are four translated tracks and three bonus tracks including a cover which I will get into in just a bit. At any rate, Eths proves with III that they've definitely got the ability to make a huge hit here in the states and that's just what they're trying to do. But Lacuna Coil came out of Italy and became superstars; so perhaps mixing extreme and goth metal semblances together was just the right thing to do to appeal to the masses this time around. Since there's no metal on the tube anymore, it's difficult to say whether or not these guys made their mark. As far a magazines go, I haven't even seen one review with the band - so that's another hurdle they'll just have to cross. It's music that will sell though, that audience just needs to become more aware of it, apparently.
I know of some friends who would like it. Perhaps that will help.
Bonus Tracks
Music (Madonna Cover 4:00) - First of all, I love pop-metal covers and have been dying to start a band in the vein of Ten Masked Men, but more on the extremes of black/death metal. However, this version of Madonna's (classic?) is very true to the original, except djent riffs compose the base and the chorus is accented with a harsh vocal. I have no idea what Madonna would think of it, but she'd probably consider it awful noise, the bitch. However, this psychotic cover of the album won't gel well with most metal fans who'll think it's just stupid.
7 3:52 - This track sounds like an odd sort of sludge/groove with NO female vocals. People who listen to sludge might actually find it the only track on this album they can stand, but will agree that they've heard better. Still, it's not bad to hear a band playing 31 flavors instead of just vanilla.
Cerebellum 4:11 - Not really sure what to call this one, but it's one of those tracks that is certainly more on the feminine side of things. It's also kind of basic, almost playing a Disturbed vibe. It's all in French but should appeal to some hot metal or goth chick somewhere. And probably some not so attractive ones. But beauty is in the eye of the beholder, after all. The track does get heavier towards the end, but took too long to get started.
(13 Tracks, 58:00)
7/10
Synthetic Breed - Zero Degrees Freedom EP (2012)
- Synthetic Breed utilizes the same sort of djent style that was somewhat featured in Eths, but comes across as a more death metal approach with the female vocals being mostly harsh with some occasional clean bursts. Whoever this chick is, she's absolutely fucking insane on the mic and it literally reminds me a hell of a lot of Meshuggah frontman, Tomas Haake (Dimension Zero 5:29) which is a good thing in this case. The band for the most part sound like a feminine version of Meshuggah, which means that it's slightly more melodic but just as fucking heavy. I guarantee you of that. I am hearing some of the same exact imprints in this band that I've heard in Meshuggah, plus odd ideas that are completely unique to this band in the vein of effects. There are also some beautiful fucking melodies on this disc (Resilience 4:22) in addition to the bashing that you'll get from this one.
Again, this IS a heavy fucking disc. It's much heavier than Eths, but even though there are female vocals choruses on this one, you can consider them respite from the storm. This is just one EP, so what these guys could do in the future excites me greatly. Each and every track on this one has it's own identity and assures me that this band could further succeed on a full length LP. It's twenty-three minutes of promise that's well worth checking out, even if you don't like female vocal choruses. Pretty heavy stuff.
(5 Tracks, 23:00)
8/10
Acidcell - Feelin' The Doom (2012)
- It's really hard for me to judge an album that's called Feelin' The Doom. It makes me think of "Feelin' The Groove" but with a dead disco hippie on the front cover who died while dancing to "Saturday Night Fever" (a track that really needs to be made into death metal by the way.) But this industrial metal disc is actually pretty fucking decent in all respects. I was quite surprised and found opener "Do I Look Like A Slut? 4:09" to be intriguing as it mixes thrash along with some odd robotic vocal effects that make it sound like a malicious spirit is singing in the background of the track. Not a bad opener. Then there's "Beautiful Undead 4:02" which features some blues riffs and a killer chorus that I'd expect from The Dethstars, which these guys sort of remind me of.
However, the disc does change a bit and the gothic vocal croons start coming in on tracks like "Stick It 4:07" and "Parasite 4:10" which don't seem to pass in the realm of "catchy chorus" that this band was trying to achieve. But "One Of Us 4:51" sees that pasty vampire approach succeeding in melting the clothes off of women around the world. As for the disc's title track, "Feelin The Doom 4:25" it also comes off surprisingly strong with a little heavier background for Dracula's vocals. "Deathmachine 5:33" sounds like it was influenced by The Ramones, The Murderdolls or both as for as musicality goes, but the Transylvanian approach continues on "Children Of The Night 4:39" though I feel that the backup vocals fail tremendously on that track and "Hate Me 4:33." As for the disc's long closer, "Out In The Dark 7:07" it might very well be one of the best ways to end the disc, as it sees the vampire vocals being used perfectly despite the fact that the backup at this point begins to sound like a little gremlin and might elicit a slight chuckle.
In the end, Acidcell have something to offer musically in the vein of electronic/industrial metal and the goth element is used well, for the most part. There are plenty of hits and few misses, but I can say that this one won't appeal to fans of more extreme metal. However, that's not who it was made for. If you like candlelit nights and hard rock fueled industrial metal, this disc will suit your fancy. It's in all honesty; not that bad. If this sounds like something you'd enjoy, then chances are that you probably will.
Highlights: Do I Look Like A Slut?, Beautiful Undead, One Of Us, Feelin' The Doom, Deathmachine, Hate Me, Out In The Dark (10 Tracks, 47:00)
7.5/10
If you don't see your album here yet, please be patient. I will have more reviews up shortly and interviews as I get clearance. I'm only one guy, after all. Thanks!