D-A-D - Dicniilandafterdark (Deluxe Edition US PR2013)
- I have to say that in all my years of reviewing, this has to be one of the longest reviewing experiences that I've ever had. (Of course, I still have yet to review the latest Dodsengel disc, clocking in at close to three hours of music.) This is German hard rock band D-A-D's eleventh album and sees the band certainly quite strong playing around with elements of grunge, folk and classic rock. Yet in this Deluxe Edition, I also am presented with a disc called The Campfire Favorites/Home Alive which contains five acoustic renditions of the songs featured on the first disc and an eleven track live concert which contains both songs from this album and stage mainstays.
The only problem with all this, is that my MP3 player said "Hey, why don't I just throw all the tracks together and you can listen to them as a whole?" To which I said, "Well, that would be awfully shitty but you're technology and apt to failure." So what happened, is I would hear one track and then the acoustic and live version of it, depending on where on the disc it was. In other words, my first track was Grungy opener "A New Age Moving In 4:18" and then I would hear the acoustic version of "I Want What She's Got 2:49" right afterwards, before hearing the studio version of that track just a little later. So as you see, it was a big mess. But that's the fault of my crappy MP3 player.
In spite of all this, the album is quite catchy and there are some definite highlights, like "I Want What She's Got 4:04" a song that I've had stuck in my head for days now. I'll also recommend the catchy hard rock of "Last Time In Neverland 3:51" and "Wild Thing In The Woods 4:50." The band does many different things on this album, and though marketed for fans of Kiss, ACDC, The Cult, Europe and Van Halen, I heard some songs that reminded of Aerosmith as well as Soundgarden. But the bottom line, is that this is hard rock that doesn't suck. Even though there weren't a bunch of highlights here, I can certainly say that more time and effort was put into these tracks than most of the modern rock/hard rock music in the U.S. I know, because I just heard the LA Rock Countdown and was extremely upset with the recognized talent which in all reality; lacks talent.
Now for the bonus disc. It's got five acoustic versions of tracks that are already on the album and combined with the first disc, it would only be 69 minutes which would have fit easily on the disc, leaving the second album to be the 57 minute live concert album (that's nearly an hour of these guys) that it really should have been. Nonetheless, The Campfire Favorites is an odd sort of mini-disc in the fact that it made some songs better and others worse. I don't like the rendition of "I Want What She's Got" compared to the studio version, but songs like "The End 3:46" and closer "The Place Of The Heart 3:48" sound much better than their studio counterparts. Again, it's got that sort of acoustic Aerosmith feel to it and that works well for me.
Home Alive is the band's concert, which actually sees many of these new songs already being played live in an age where most concerts we get are from past albums. Six of these tracks are from the new album, which means that they played half of the first disc live. Not too shabby at all. There's not much I can say about the show, other than the fact that I enjoyed the extended version of "I Want What She's Got 10:44" live and it really captured how good that track is before a live audience. The crowd also responded well to it. The live tracks not featured on the album are "Jihad 2:59", "Everything Glows 5:42", Ridin' With Sue 4:10", "Monster Philosophy 5:39" and "God's Favorite 3:07" which are all from previous albums and will be familiar to longtime fans. The quality of the concert is of very high production and worth checking out just by itself.
But I suspect a live DVD/Blu-Ray of this concert will be available soon enough, as it should. I'm kind of curious as to why they didn't just give us a DVD of the show and throw the acoustic tracks at the end of the first disc. I always enjoy when I get a live DVD show that goes along with the disc, because not all of us are privileged enough to go to shows - especially in foreign countries. This would've been awesome.
The disc is certainly worth checking out for fans of good hard rock and classic rock. But I don't think it will appeal much to the metal community. Despite that, I would certainly recommend checking this out, even if the bonus material could have been handled just a bit better.
Highlights: A New Age Moving In, I Want What She's Got, Last Time In Neverland, Wild Thing In The Woods, The End (Acoustic), A New Age Moving In (Acoustic), The Place Of The Heart (Acoustic), Home Alive (28 Tracks, 2:07:15)
Disc 1: 7/10
Disc 2: 9/10
8/10 (For The Whole Package)
A Life Divided - The Great Escape (PR2013)
- This German six-piece electro rock band with slight metallic elements are actually pretty good and worth checking out if you're a fan of other electronic rock/metal groups like Machinae Supremacy. JP's vocals remind me much of Machinae's vocal delivery in the fact that it is a youthful sort of light approach that some people obviously won't like, but others will. The formula for the band involves heavy bass riffs entwined with electronic programming that is for the most part, handled very well. The band even gives a shout out to SID metal gods Machinae Supremacy on "Game Over 3:45" one of my favorite tracks on the album with it's use of chiptunes and SID making it sound like an old-school video game. "The Lost 3:45" opens the disc in a style with chorus repetition quite similar to Marilyn Manson's "The Nobodies" but is rockier and less goth-tinged. There's also "Clouds Of Glass 4:07" which hits with a powerful chorus and doesn't come off like the opener or "It Ain't Good 3:34" which has more of a Rammstein industrial groove.
What I'm trying to say, is that many of these tracks try something different. You're not getting the same song every time, but they still retain enough similarity to sound like the same band. "The Last Dance 4:04" differentiates itself with a mix of trance and hard rock that despite the Linkin Park-esque vocal delivery, comes off smooth. Yes, we can compare this band to current era Linkin Park, but only if they decided to get in touch with heavier the influences of their earlier albums. JP also has a deep throated vocal delivery that I really wish he would utilize more on future releases, this deeper tone could bring out more of the gothic Lacrimas Profundere edge. You'll start to hear this on album standout "Game Over."
Then we get into "Feel 3:33" and I really like the electronics in the background for this one - again, very gamey. It is a ballad, but it comes off quite well even though I question the vocal layering idea. If I did a song like this, I would want it to sound as true to nature as possible. "Perfect Day 4:10" returns us to the gothic vocals but I don't care for the chorus on it and it sounds a little weak. It has nothing else going on it but some extra harsh vocals and a short atmospheric portion. "Foreign Rain 4:51" begins with chanting, which is rather odd but unique in this electro-rock setting. But it isn't long before the dtune riffs crank and up and give way to a song that takes a little while to really soak in. Also watch for the Final Fantasy theme being utilized in the riff melodies about midway through the song, before the electronic vocals come in for a brief section.
"Wait For Me 4:24" is another track where JP uses the darker vocal tone again. Alright, so that's three times. But I'm curious if he can carry on a chorus in that tone. Some might compare this delivery to Chester Bennington and I can understand that, but I also think that this a rather strong track in terms of structure. "On The Edge 4:48" is the only track that features actual death metal vocals, which I hope might be utilized a bit more in future releases. Whoever is doing this has a good sort of gravel/rasp that was either technologically influenced or some natural talent of which I'm hoping, because he's rather good even though he only takes the place of pre-chorus and backup chorus. These pipes are good enough for death metal though and might sound off to fans of just regular rock music.
"Goodbye 3:59" should've ended the album. It just sounds like a final thought for the most part and the two tracks that follow offer little more after this. You'll also hear the return of harsh vocals on this track. What in the hell were they doing? It's like they had the ideas for three different albums here and instead of doing a different style and promoting evolution they decided to Baskin Robbins the thing and I'm wondering which side of this band I actually want to listen to. Goodbye does have a strong chorus though, but you won't hear any harsh vocals in the chorus as on the last track.
"Space 3:50" is a weird ballad that brings back the Chester Bennington vocal delivery. Other than the fact that I liked the electronic effect used in the background if this song, it's radio rock as can be. I could have done without it. But the album's last track "If You Want To 3:46" another freaking ballad; sounds a little tribal in the percussion area with JP's vocals seeming like they came from an old scratchy record. There's also some electronic tinkering amidst some female vocal backing which appears in places throughout the record. There's no doubt that people will like this track, but these two should have been bonus tracks and not canonical. Things get even more tribal later on in the album and I'm curious what the inspiration was here.
The disc is certainly unique but has a few flaws. Nevertheless, it's still better than most American radio rock. Don't expect massive guitar solos or heavy thrash or prog here - it's electronic hard rock with slight hints of metal. Think Stabbing Westward, Pain or The Dreaming in their current era, perhaps even Godhead. A bonus Eisbrecher remix of "The Last Dance" can be found on the digipack. We've done Eisbrecher here at the Tower before, so you should already know what to expect from those guys. The disc is out now, so check it out. Certainly passes my inspection as I found myself enjoying some of these tracks quite a bit.
Even though there are three words in the bands name, they aren't metal/emo or breecore. They aren't even metal. So you can kill those connotations right off the bat. Nevertheless, like Any Given Day (it makes me think of football, not metal) I think people need to sit down and really think about their band names. I've always loved the idea of German bands keeping their names in the mother tongue. Could you imagine if Rammstein went as Ramming Stone? I don't think it would have caught on as well. So yes, I suggest a name change. I also think there's something very fiery in the Germanic tongue that does well with band names.
Highlights: The Lost, Clouds Of Glass, Game Over, Foreign Rain, Wait For Me, On The Edge, Goodbye (13 Tracks, 52:00)
8/10
Corsair - Ghosts Of Proxima Centauri (PR2013)
- At long last, Corsair's first EP is now available in print and let me tell you - it's really something. This is their very first musical offering and thirty minutes of worthwhile material. "Wolfrider 5:07" opens up with a monumental instrumental piece that sets up the atmosphere for the rest of this disc pretty well. There is some really great playing to be had at any rate. "Warrior Woman 4:00" comes in next, offering us the band's first use of vocals. The male vocalist takes this one on, the track itself reminding me a bit too much of Slough Feg or Hammers Of Misfortune at times, but they are certainly doing these bands justice in the emulation. This progressive doom/folk nature continues in "Burnish The Blades 4:09" and envelops into a rather fine solo.
"Centurion 4:17" comes next, but I'm not too much of a fan of it. I just don't like the vocals on this one, even though I admit it's a nice duet. I think the tone of the male vocal turned me off for some reason. "Orca 7:00" returns with the band's female vocalist and conceptualizes into one of the best songs that I've ever heard from Corsair. The nature of the riff melodies capture the beauty of the ocean and open for the vocals which are delivered perfectly amidst the doom thumps and prog sections. Again, I'm hearing a lot of Hammers influence here, but this is much better than the haphazard release that Hammers put out last year (Guess you just can't beat Church/Fields Of Broken Glass) yet I could also compare it to several other bands like Grayceon and their partner act that I just can't think of right now. The last track on the album is "Eyes Of The Gods 5:58" which goes back to the heavier nature of the disc and ends on a rougher, more doom-laden note.
If you haven't heard it, definitely check out this first EP and listen to the beginning of Corsair. I'm quite glad that it's been released on a label and I think that listeners will also appreciate it. The Corsair interview that appears here was originally meant for a magazine, but the guy I was working with at the time apparently hadn't done his research and told me that it was better for the site. However when I got the latest issue of Decibel in, I looked to see that the band who I tried to promote by magazine and was denied - was sure enough featured in one of the biggest underground metal magazines in the country. So it is also here that I make my formal apology to the band, with the notion that "I tried" attached to it.
Highlights: Wolfrider, Warrior Woman, Burnish The Blades, Orca (6 Tracks, 30:00)
8/10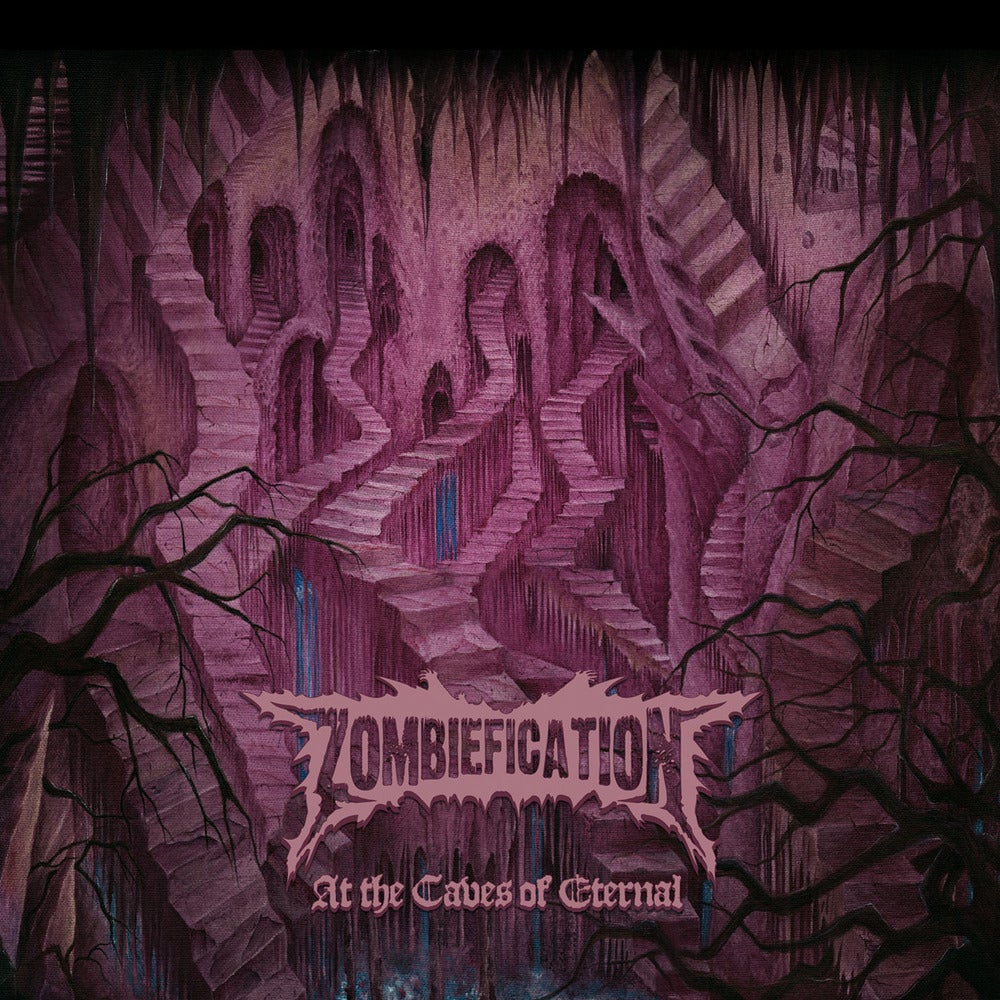 Zombification - At The Caves Of Eternal (PR2013)
- Eternal what? That's the first thing I thought about when I looked at the album cover and the title. Are these caves full of eternal sorrow? suffering? pain? ice cream? Well, whatever these caves are full of - I can assure you that they're full of great metal. At first, I really wasn't sure what to think. With a name like Zombification, I thought they might be some kind of generic bdm or grindcore act. However, I found myself boldly mistaken and actually intrigued by this one.
Sometimes it only takes two guys to make good death metal, and such is the case here. One of them I'm assuming handles the kit, while the other handles all instruments and vocals. These guys are much in the vein of Revolting, Paganizer, Revel In Flesh, Unleashed, Entombed, Hypocrisy and all others in that genre of classic death metal that I seem to love so fucking much. The riffs are scathing with fear (except for the powerful solos) and the drums pound while helping to add atmosphere - because it is atmosphere that really makes this journey as ominously evil as possible. The vocals are a throaty screams with an occasional growl that doesn't come off as deep gravel, but is efficient nonetheless. "At The Caves Of Eternal 5:21" opens the disc with an unwelcome atmosphere and "Disembodied Souls 3:46" shows the power of the kit as it thrashes maniacally and carries a groove with it that I wouldn't have expected, but am sure fucking glad to hear.
"Soul Collector 5:08" sees the band playing a bit faster with occasional breaks for melody that come off just as well as I would expect them to. "In The Mist 3:41" comes off as a sort of melodic death punk that envelops into a much more pummeling and melodic beast. "Passage Of Darkness 5:08" slows things down a bit with a doom laden track that sounds more along the line of Krypts, but a little rawer in nature. But then there's a guitar solo that just seems to leap right out of the mist as the song prepares to smash you face in like a horde of demonic soldiers that you accidentally stumbled into while walking through these caves. Sounds like the band ending of a Choose Your Own Adventure book.
But there are no bad endings here. As a matter of fact, things only get better with the well structured "In The Gallery Of Laments 5:25" that succeeds where Hypocrisy failed this year with their overzealous attempt called "Soldier Of Fortune." Structure and melody really makes this band and it's definitely one of the better classic death metal albums of the year as far as I'm concerned. "The Crypt 5:30" only continues this. I'm really not sure what more you can ask for with this one - this guy is literally screaming his goddamned lungs out on this one, so he's putting himself at major health risk, just to communicate the atmosphere of this track. That's dedication if I've heard it.
Listen to that riff at the beginning of "The Shadowed Garden 4:40." That's a great opening, that only continues with the subtle but efficient melody which composes this track. It envelops into a track much the same as the opener, but I'm not sure if I wanted to hear anything different from these guys. If they started doing core or something, I wouldn't know what to think. That leads us to the last track, "Slaves Whisper Your Name 6:14" which begins with a thunder but slows down as it quickens up again. It does that throughout the track as the vocals fade out with the album - take notice of that end riff. The last note you hear on the disc. That's a great way it to end it, instead of just amp noise or whatever.
Whatever it is in these eternal caves is certainly worth checking out for fans of horror inspired melodic death metal, and it goes without saying that I definitely recommend this one.
Highlights: All (9 Tracks, 44:00)
9/10
Devil To Pay - Fate Is Your Muse (PR2013)
- Devil To Pay has been through hell. The vocalist/guitarist Steve Janiak was hospitalized due to a drug induced coma right after the band formed and despite all of the other problems that range from revolving door musicians and tour buss issues - the band is still going strong. Apparently on this new one, the frontman has been studying quite a bit of the occult and metaphysics as well as quantum mechanics and such - the same places that people go to turn when they don't find a whole hell of a lot in modern religion.
The band plays a type of dirty hard rock, it's definitely got some technicality here and there with tinges of metal, but I would certainly consider this a little bit Alice In Chains, Clutch, Sabbathy doom with a Southern twang and modern hard rock like you hear on the radio today - except this is much better (I'll reiterate that point once again after hearing that dreaded LA rock countdown.)
It's really hard for me to deny songs like "Yes Master 7:06" and the track that comes right before it, "Already Dead 2:52." These two tracks show that the band can thunder down the doom tracks just as well as they can the grungy rock tunes. Let's take a look at the track that comes right after that, "This Train Won't Stop 4:46" with riff and drums structures that really remind me of a rockin' train coming down the tracks.
Even though it comes right after, it's going to be hard not to talk about the obvious bluesy Clutch influenced nature of Savanorola (3:08) and the wonderful amount of sheer technical skill that went into "Black Black Heart 5:13." These are all good songs. I don't really hear anything on this album that is filler and that's a great thing.
I'm not going to go through the whole disc, because it is pretty straight forward; but it's certainly strong. I'll be honest, this may not be heavy enough for you and maybe you might call this radio rock - but it reminds me of those nights where I would sit and listen to the radio to hear old Alice In Chains tunes. To tell you the truth, these guys are probably better than Alice In Chains are right now (Even though Black Gives Way To Blue was a great comeback) and Ripple Music must certainly think so too. So grab a copy from them and check this out for yourself. Definitely took me by surprise and there's a lot of people I'd recommend this to. You should probably check it out too.
(12 Tracks, 50:00)
9/10
October Tide - Tunnel Of No Light (PR2013)
- The new October Tide album is finally upon us, bringing the same sort of doom/death that we'd expect from the band in nearly an hour's time. Obviously, one can compare The Fall Of Every Season, Saturnus, Daylight Dies and Swallow The Sun to these guys, among many others going back to fucking Rapture (there they are again) so if you like those bands, then there's no reason why you won't add this album to your list of good melodoom/death this year. The album is composed of just eight tracks, but these are large tracks that seem to focus more on melody and vocals with opener "Of Wounds To Come 6:36" bull rushing in to show us exactly what's in store for the next forty-six minutes of playtime.
"Our Constellation 8:49" is the longest song on the disc, but it thumps. Yes, it's not as melancholy as the opener and still has some slow moments. Yet it definitely has it's moments of full-on death metal. Though you might not be paying much attention to it because of the melodies and vocals so much in the mix, the band's drummer definitely holds his own. Mute out the vocals and riffs for a minute and really pay attention to those hits. Alright, now we've got "Emptiness Fulfilled 7:07" coming in like a battering ram but slowing down just enough to get the sorrow communicated with the riff melodies and vocals (which again, play the biggest part of this album.) There's a section about 2:20 that I really like here too, when the band just has a real moment of fire - this really in all respects could have been a very dry doom/death record but the fact that there is some honest thunder on the disc gives me more appreciation from it. However, I think they might be milking the melancholy. November's Doom is able to make a song sound depressing but still keep it heavy (Take a few of the tracks on Into Night's Requiem Infernal for example) these guys show me that they can, but they just don't seem to want to.
"Caught In Silence 4:52" lights up the chugs with some beautiful riffs much in the same structure as the rest of the album... whew. This one's kind of filler. Other than the melodies, I'm not feeling this one - the frontman doesn't even seem like he's really into this one. I could honestly take or leave that track. "The Day I Dissolved 5:27" is where things appear to get even lighter and slower, much in the vein of early My Dying Bride - but I'll admit that I like the bipolar vocal style that (I also fancy in my own work) utilizes both the growl and the scowl with the scowl highlighting some of the heavier portions of the song. The musicality was a little weak, but the vocals were quite strong.
The next song "Watching The Drowners 5:05" seems to be a little heavier but still relies along the same formula. It's very much like the rest of the disc but I will say that the frontman seems to be more interested in this one and he really puts his signature on it. There's a little bit of horror influence creeping up in the riffs here also. I'm not really sure about the end riffs though, they seem a little plain. "In Hopeless Pursuit 7:49" sounds like it's already in progress from the very minute it opens up but slows down and lets a half-solo start up before a slight thump-thump-thump and another slow down. I know this band likes atmospheres and some people really enjoy that, there's a certain class to the subtleness; but I think that too many of them can come off as too processed or pretentious. This song is about two minutes of atmosphere before things really pick up, making me wish that I had a choice between the heavy October Tide and the light one. Thankfully, "Adorning Ashes 7:13" has some thunder to it too, with some light drum work that could be used in both a jovial track and a doom metal track (it's that tap-tap-tap, tap-tap-tap style he uses there.) The disc ends on a sort of heavy note that goes into about another minute of atmosphere.
So the riff melodies and vocals are strong, the drums are easily heard and hold their own and there's some heavy portions that separate with atmosphere. I wouldn't consider it one of the best doom/metal releases of all time, but I think that bands are doing too much of the same. Be'lakor, Insomnium, Omnium Gatherum, Swallow The Sun and these guys all seem to be playing the same sort of dark melodic doom/death or dark melodic death that comes off the same way and I've noticed a pattern on Metal Storm that shows every band that does these things (That Be'lakor album sounded just like the Insomnium that sounded just like the Swallow The Sun that sounded just like the Omnium Gatherum) rising to the top of that year's chart showing a sort of odd cycle of expectation. I love doom/death, but I just think that I might be hearing too much of the same old thing that has been done and done and done again.
So I'm thinking to myself, "What could these guys do differently? What hasn't been done yet?" Then I thought, well you could add prog - but that wouldn't help much. Electronics? Nah. Finally, I thought about mixing the sheer duality of brutal death metal and melodic doom together, creating a band that would not only bash the living shit out of the listener, but also add the melodies and slower nature of melodic death/doom metal. It would be like if Cannibal Corpse and Swallow The Sun or Saturnus got together. Why hasn't anyone done this? And if so, was it done right? These are questions I ponder as I contemplate my thoughts on the end of this album.
October Tide's Tunnel Of No Light is a great melodic doom/death album, but for some odd reason I wish that the tunnel was a little darker, more demonic, perhaps even a little brutal. Nonetheless, it's a solid doom/death album that you'll gladly welcome into your collection.
Highlights: Our Constellation, Emptiness Fulfilled (8 Tracks, 53:02)
8/10
Revelation - Inner Harbor (PR2013)
- Revelation is a trippy 70's prog-metal act with doom/stoner grooves quite like the Monobrow that I reviewed earlier, but this one is accompanied by vocals. There's only six songs here, so I'll go through this one rather quickly. "Inner Harbor 7:01" opens up the album but shows me that I don't necessarily like the vocals. I like the tone, but the inflection is a bit foreign. I'm not going to knock the guy for his accent though, it just sounds a little different than what I'm used to. But for the most part, this song is more about the 70's jam than just his vocals. We hear the same thing on "Terribilita 4:41" and I'm wondering if he's trying to emulate Ozzy here. I get that vibe, but it comes off nasally and turns me off the vocal portion - however, I like the keyboard effects.
Now I remember first listening to "Rebecca At The Well 5:56" and enjoyed it while I was cutting open boxes in the stockroom, saying "I want to hear more of this!" and I'm giving it a re-listen to make sure that I still believe that. The song has a dirty groove to it with the vocals a little minimal in the mix and it comes off much better. I like this approach a bit better. Two minutes in and I'm not hearing what hooked me just yet - I like this slight jam portion with light keyboard effect in the background, sounds sort of spatial and as you know, I like spatial. Oh yeah, things are really getting alien right now. That must have been what did it. If Rebecca is at a well, it must be some sort of alien ship in disguise. Yeah, this gets really trancey towards the end. Damn, listen to all that! That's what got me hooked. Yeah, I still stand by this one as a standout. That one might be fun to listen to on LSD. Not that I'm going to try it, but you can.
It was kind of funny while I was listening to "Eve Separated 4:52" because either a box or something kept hitting the mp3 player as I was working and it would change the track. Something must have not thought I would like this track, and I would say that it's right. Just seems kind of a minimal stoner rock track with a decent solo that relies primarily on the chorus. The vocals sound good here though. "Jones Falls 7:15" is next but it apparently didn't make much of a mark on me. Well, now I'm noticing the oddity about a quarter of a way through the track. Seems I only the track when the weird stuff is going on, not so much when the stoner riffs and vocals are in the front. The band does kind of throw in a slow jam portion here and that leads into a guitar solo that sounds right out of the 70's backed by a keyboard. Yeah, I guess I can highlight this one. That guitar solo is certainly worth hearing and then there's the sound of an alien choir shortly thereafter.
"An Allegory Of Want 6:09" sounds right out of Pink Floyd. It's going to be hard to say anything bad about this one, because it definitely delivers on all fronts. While a bit slower, it has to be to communicate the trippy atmosphere and fantastic guitar work. The vocals are also minimal here (I have no idea why they were so strong on the earlier tracks) and the final portion of the song is a spacey jam session worthy of closing it all out on.
There are about three songs here that I liked and three that I didn't. I really liked two of the songs a great deal however ("Rebecca At The Well" and "An Allegory Of Want") so I'm not just going to give this an alright 6. But I don't believe it's solid enough for an 8 and would consider it to be more or less a decent attempt of a 7. What will they offer next? Who knows. But at any rate, this is worth checking out for all you stoners and art rock fiends out there. If you are still under the impression that the seventies never ended, then go pick up this album.
Highlights: Rebecca At The Well, An Allegory Of Want (6 Tracks, 35:00)
7/10
Vera Grace - The Lucifer Effect EP (2013 Band Request)
- Though I usually don't like this brand of core that I would liken to bands like KEN Mode or The Dillinger Escape Plan, (although there are certain things I like from both of those bands) there is a sort of atmospheric post-metal sense on this album that I do like. I was skeptical at first - the band submitted to me a genre that I normally don't care much for in all actuality - but after listening to the disc I found myself quite surprised.
The disc comes in bludgeoning with "Carrier 3:49" but the track slows down to allow for melody and atmosphere. The frontman screams through all of this, but the playing is so much different then what I've heard from this genre in the past that I feel it adds an unusual element to the music. "Restless King 3:42" comes in a little thicker but also contains that portion of melody that really sets it apart from many other bands that would rather just go a million miles an hour. These guys really take their time and it allows the vocals to shine a bit more. The song really builds up towards the end and by the end of the listening, I highlighted it.
"The Father's Eyes 4:12" comes in next, much softer than the last track and makes you question what kind of band that you're listening to. But I like this, I think it's great that these guys are experimenting and trying to do different things than Band A and Band B. The vocals come in, but they come on top of a great melody that I would certainly lump with post-metal. Which is a good thing, by all means. The song ends on a sort of static in the background and upon it's listen I'll also have to highlight it. The disc's final track is the much heavier "Lucifer Effect 4:33" which kind of sounds by the numbers but has some technicality and a great melody throughout. There's a brief slowdown for atmosphere where the vocals go into the background... it's very hard to deny the melodies in this band. I only had this at a 4 star rating before, but after this second time I've really enjoyed it.
You know, these guys really have a lot of promise. They play along the same lines as what we've heard before, but it's seldom that you get as beautiful of riffs and as much experimenting that these guys do here on this EP. One can't say where this will lead them, but I hope they'll continue in this direction. As someone who usually only tolerates this kind of metal, I'd have to say that I like what they're doing here.
Check this one out on their bandcamp page:
http://veragraceband.bandcamp.com/
Highlights: Restless King, The Father's Eyes, The Lucifer Effect (4 Tracks, 16:00)
9/10
Odyssey - The Conscious Device EP (2012 Personal Interest)
- A personal interest is something that piqued my curiosity. Obviously, the Tower is overflowing with these but I found these guys on the recommendation page for The Odious. "Prog Metal For Fans Of Dream Theater." Well, I like Dream Theater so I'm willing to give them a chance. It's a couple songs, what's the harm in it?
And obviously, there's no harm in it. What I got was a twenty-four minute album composed of three songs. It's all instrumental but I couldn't see a place for vocals and it definitely works as an instrumental piece. The first track here is "Esoteric Synthesis 10:17" which seems to let prog and technicality play together like two young kids at the playground. The guitar melodies finally come in much in the same vein as Soul Cycle and really electrify the track. There's a light portion that comes right after, kind of mechanical but it works. But that's when the guitar comes back in, just laying down some really beautiful fucking melodies before something that sort of reminds of Metroid comes in along with pounding drums. There's a slight groove portion here now, kind of curious about that - but that's when some djent creeps up into the mix. Guitar comes back in to spark up the atmosphere some more. The djent portion seems a little weak and seems unnecessary. I also don't think it goes in well with the rest of the song. An atmosphere then begins as the track fades out.
"Via Domus 3:45" is a shorter track, showing that not all prog tracks need to be extensively long. Sometimes I do like to see what these guys can accomplish in radio-length. The track starts up slow but a solo breaks into it as it calms back down a bit. The solo portion comes back as the track warms up once again. I guess the realm point of orgasm comes towards the end with the guitars blazing and everything in high gear as everything calms for one last thump. I'd liken the whole thing to sex, with it's highs and lows and that final point of orgasm.
"The Conscious Device 10:43" is the title of the disc, so I would expect something powerful here. The track starts out a little ominous and then features some heavy d-tune as the structure changes to allow some more chug. This kind of reminds of the old Doom for some odd reason. Yes, I'm certainly hearing that kind of Id influence to the riffs here - not sure if that's intentional but it certainly makes me think of that base up on Phobos (and Deimos of course.) Some technicality comes into the mix as things begin to thunder. While heavier, I don't like this track as much as the opener. A light solo begins and erupts into a much heavier one - certainly sounds like something you'd hear in a shooter. More chug now, again not so sure where they're going with this one. Now we're thrashing a bit on the drums - now the drums are really pounding - then it all slows down. Something that sounds more like it might be featured as a wrestler's anthem from the 80's now plays - maybe it's Terry "Hulk" Hogan walking out to battle alien monsters or something of that nature - but then the technicality comes back as the wrestler anthem merges with the technicality making me think that Terry "Hulk" Hogan is wrestling these alien monsters. Then there's some more prog before we get back into the groove. Drums barrage giving way to one more groove riff. The song fades out with the disc.
All in all, I can say that there's something here. I really liked "Esoteric Synthesis " but "Via Domus" was kind of mediocre and "The Conscious Device" was too long and rather plain. There really wasn't really anything that lit up that track for me. It was just so/so.
If you're still curious, you can go grab this disc from their bandcamp page:
http://odysseyspokane.bandcamp.com/
Highlights: Esoteric Synthesis (3 Tracks, 24:00)
6/10
Hypocrisy - End Of Disclosure (2013 Limited Edition)
- Well guys, I think you got carried away on this one. The first four tracks are worth checking out and I like that they're anti-illuminati and trying to get people's attention (even though they're using the NWO and Aliens which seems a little cover-up for the real agenda - but I blame Nuclear Blast on that one, after all if THEY control everything, then some old guy probably has his hand in metal music too) about the secret orders controlling the world from behind the curtain. However, they seem to paint a message of "hopelessness" like we can't do anything about it because they'll nuke the world. Of course, if Peter had really been studying (or at least played the game Fallout) he would have realized that a nuked Earth would not even be a welcome place for these individuals because of the threat of radiation poisoning which would cause mass mutation, cancers and an undeniable nuclear winter (it would block out the sun) which would undoubtedly suck. Yes, there's an underground city that's built with the best to offer from technology but how long will it really last? Furthermore, who wants to live there? Karma will fuck them either way.
But I'm overanalyzing all this, I guess. It is a death metal album and this seemed like a good hook I guess. One of these days I'll find a band that wants to make the real thing, since my collaboration attempt with Scream Machine has apparently fizzled out.
At any rate, the disc is much along the veins of Abducted and The Arrival. Let's just call it another alien album and be done with it. The first five tracks on the album are really the only ones that seem to go with the concept, but after that it seems to go into material that was probably previously shelved. As for the concept material, it works well enough - I mean it's fierce melodic death metal with Peter in top form, the melodies in the same vein as we'd expect and beastly drums. Peter uses three vocal styles this time - a growl, a scowl and an odd high pitch yell that almost sounds like it goes back to thrash metal.
The problem is that I've already heard some of this. "End Of Disclosure 4:46" could have been on Virus or The Arrival, It sounds easily like "Eraser" in the chorus, same as "44 Double Zero 4:27." As for the other three of this set, I would consider them decent enough - but nowhere along the lines of Extreme Divinity. I guess "Tales Of Thy Spineless 4:36" works well enough and many will consider it a highlight.
As much as I want to like "Hell is Where I Stay 4:34" I can't because I've already heard that song when it was in another band called Bloodbath and the track was called "Eaten." It was much better in that incarnation. Peter, if you want to go back to Bloodbath, just do it. Those guys need you, especially after how boring that last disc was. (I hated Fathomless Mastery.) Michael butchered it so bad that it damned him to never growl again on a studio release. But there's also a problem with "Solider Of Fortune 4:52." While I like the riffs here (and will admit that there's one melody I like a fuck load on this one) I think it sounded better to them than it to everyone else. I mean, I like the lyrical content here - war is big business and such; but I don't think it hit as hard as it could have. "Death Calls 3:54" is the same way, returning Peter to growls, but doing little else.
The last track is here is "The Return 6:06" which is part of the concept and talks about the aliens coming back and us hailing them as Gods. It really depends on what you believe for that to be true. But according to Metal Archives, these guys write "Science Fiction" which is the same thing I novelize (and I enjoy science fiction games like Anachronox, Bioshock, Xenosaga and Omikron: The Nomad Soul as well. Don't see Mass Effect? That's because they ruined it.) and I'd hold the same half-truths to be viable. Apparently, Peter wants the aliens to return so they can fix what we screwed up and so he can worship them. I'm just kind of curious as to what kind of female species exist out there - I've always wanted to fuck a blue woman. But as far as the song goes, it's the sort of slower epic that you'd expect for a closer. I think it's certainly one of the tracks that the band put a lot of work into and it shows. Certainly a highlight.
Bonus Track:
Living Dead 3:51 - This track is actually quite strong. It could replaced any of the album's filler and is about standing resilient. It also hearkens back to classic Swedish death metal and could've made a good single in itself. Again, who at NB is making the decisions to cut off good tracks? They need their hands cut off. Definitely one of the disc's standout tracks and one of the more brutal tracks on the album, this one is definitely worth getting. Well NB, that's removing a Testament solo, killing some great Cradle tracks and then wiping out one of the better Hypocrisy tunes on a so/so album. What in the hell else are you guys planning to do to make extra money?
All BS aside, this is a decent Hypocrisy album that doesn't really hold a candle to 2009's A Taste Of Extreme Divinity. After 20 years, aren't you guys ready to hang it up and retire? There's nothing really new here. Nothing. I believe I expected way too much from this one and probably need to stop getting my hopes up that a band can always one-up their last disc. Sometimes, it just doesn't happen.
Skip this and go buy a copy of 2009's A Taste Of Extreme Divinity. It's been out a while, so you can get it on the cheap. If you want the bonus track (which is actually worth taking and throwing onto your newly purchased A Taste Of Extreme Divinity album where it will fit perfectly, I recommend that you just go download it somewhere. Musical DLC is for the birds. If you don't want to hear anything from Hypocrisy at this point, then just go purchase At The Caves Of Eternal from Zombification.
Highlights: End Of Disclosure, Tales Of Thy Spineless, The Eye, United We Fall, The Return, Living Dead (10 Tracks, 47:00)
7/10
MSI - How I Learned To Stop Giving A Shit And Love Mindless Self Indulgence (Deluxe Edition 2013)
- Oh, boy. Look at that cover. I wasn't aware that Jimmy Urine was an Illuminati puppet, but lo and behold he apparently is. Either that, or he's just making fun of the whole thing. Still, it's multicolored which symbolizes Illumination and the band symbol is a modified star of Thelema. But I knew that Jimmy was into the occult from day one, so that doesn't surprise me. I just hope these guys realize they're on the "we'll give you money to spread our agenda, make you famous and then kill you when no longer necessary" side of the occult. I'm not even sure if Crowley would have been on that side.
The new album is a product of Kickstarter and passed it's goal quite quickly. But looking at the album art in the booklet, (it's filled with symbolism, there's all sorts of shapes around the band member's faces with the third eye being highlighted with a six pointed shape in the center of their heads, you'll have to get the PDF to see it for yourselves of course) I'm pretty sure that all of the funding didn't just come from the fans. Also, the music has changed. Well, it's still the same band - just less inventive and more digestible.
MSI used to do many different things with their electronic rock style. But this album sees them very fucking tame. "Witness 3:16" opens the fucker with electro rock that leads to a catchy chorus. "Fuck Machine 3:24" comes next with something at first that sounds really weak, but gets more experimental and the effects have it. I'd highlight it but the chorus is pretty generic. "It Gets Worse 2:56" is about how the world is going to suck unless you're famous or beautiful or rich. Sort of a self-defeating prophecy made to make people think less of themselves. Comparing the world to hell is pretty much how he wants people to see it (damn this track sounds so adolescent.)
Then there's "I Want To Be Black 2:09" which mentions "from the palest grey, to the darkest day - from the whitest light to the blackest night" in the lyrics, something that sounds symbolic in of itself. It's made to make people think the singer wants to be black but I think there's a deeper meaning here.
I'm not going through all of this, but "Anonymous 2:03" has an odd set of leanings - I'm not sure if it's aimed towards the hacktivist group or not, but it's worth delving further into. Another one I'll mention is "Kill You All In A Hip Hop Rage 2:29" which is definitely one of my favorite tracks on the disc. Jimmy raps and does a good job of it, saying it right here "back in day when rap wasn't horrible and lyrics were poetry and not fucking awful" which is pretty much true of the modern genre of hip hop music. It's basically saying that if any of the old rappers came back to see what the genre has become, they would kill them all in a hip hop rage. Makes sense to me. Hip hop is on it's way out and I have no idea what's going to replace it. It better not be metal, because we already had the 80's scene. I think it'll be something really awful though.
I'm also going to mention "Stalkers (Slit My Wrists) 2:39" which is an odd track, I'm not sure what in the hell they're trying to incite here but hopefully it doesn't affect the minds of millions of depressed teens dealing with the chemicals in the air, food and water fucking their bodies and minds up as it is. I hate this fucking song, by the way. There are some more songs here, but they're unimportant.
Bonus Tracks:
You get three bonus tracks. It's seven minutes of music, so don't get too excited. The first one is called "Angel 2:13" and it's extremely weak and about doing drugs, which looking at Jimmy in the band's headshots - he should really start knocking it off. Dude's getting old. The next track is an instrumental called "I'm Not Here To Make Any Friends 2:52." I like this one and it definitely makes me think that MSI could fare as a strong electronic group without vocals. If you play this to any fan of electronic music who didn't know it was MSI, they wouldn't even know. This is some really good stuff in all honesty. I'd pay the money for them to do a full electronic album in this vein (with no vocals.) The last track is called "Last Gay Song 2:18" which I think will appeal to some people, but it sounds like an afterthought. I don't know how much the novelty of tracks like this can really last though. It's been years since he did material like this.
So that's it. Or all I want to review of it, anyway. MSI put out a new album after five years and it's filled with symbolism both in pictures and lyrics - despite some good electronics and promise that these musicians could continue as an electronic group. Yes, the electronics are good here. I will say that much. Sometimes they're great. Remove the vocals and the band might have more fans. But there are also some clear stabs at mainstream with the choruses and I think they're trying to reach the kid (teens) with this stuff. That's kind of fucked up.
Of course, with MSI all the symbolism could be intentional. I reckon a band like this is quite inquisitive and probably knows about the symbolism in modern music. At any rate, it's a decent record for electronic rock fans. If you haven't heard MSI, check out a youtube song before even downloading this. Yes, I wouldn't just buy this one first - MSI are an acquired taste. Some people can't digest them at all.
Highlights: Fuck Machine, Anonymous, Kill You All In A Hip Hop Rage, I Am Not Here To Make Any Friends (16 Tracks, 42:00)
6/10