Got some band requests this time, from Shadowgrave and Dying as well as some new material from the independent label No Visible Scars. Plenty of big names here too, as you can see. My apologies to Disfigurement for not spotlighting your disc at the top as normal. I promise that all future spotlights will be at the top of review week posts.

Review week posts will be added anywhere from Thursday to Saturday. So check back at the end of each week for another 12-15 reviews.



I'm also killing the .5 system. In NN we use .5's because it's technically a 1-10 system, where 0=1 and 5=10. So .5's essentially equal the numbers in between (.5=2,1.5=4,2.5=6,3.5=8,4.5=9). Here, the .5's don't necessarily stand for anything. They're unnecessary padding that isn't used much on other review sites. (Although Metal archives grades out of 100, plus the point system which is almost ridiculous!) At any rate, this I think makes the reviews a bit more structured and honest.
Khaos Aeon - Koenigreich (PR2013 SPOTLIGHT)
- Finally, the follow-up to 2008's Exitus has released, and I'm not sure if I reviewed that one earlier or not. It does sound vaguely familiar to me and I do remember the Enslaved cover for "Frost." Well, now things have changed a bit and there is no bonus cover to speak of. While not an awful long disc, Khaos Aeon gets the job done and do it in in a mid-era Samael/Rotting Christ kind of way. Which to me, is most intriguing. "Death 6:37" opens the album with a subdued approach and an opening riff melody that reminds me a bit of John Wayne's theme. As the song moseys on however, it welcomes clean vocals with a continued sense of grit. At any rate, it's a powerful opener. "Pyre 5:37" is a bit quicker in the beginning, but also follows the same subdued approach replete with melodies as "Death." In that fashion, the album is very easy to describe. The vocal lines, certainly remind me quite a bit of that mid-era Samael/Rotting Christ I was describing, of course this track also features a throaty growl in the background. A passionate guitar solo rises up from the muck, proving to be unexpected but completely necessary. The ending to "Pyre" also proves to be quite memorable.
"Night 5:48" unleashes a bevy of slightly darkened melodies, reminding me now of mid-era Rotting Christ. If you haven't already guessed it by now, Samael and Rotting Christ are a massive influence for this disc and everyone who loved those mid-era periods will walk home with bold enjoyment for this disc. Naturally, "Night" scores another five stars from me. "Koenigreich 5:54" comes next, with a ritualistic approach that further builds into one of the disc's brashest tracks. Of course, there's always time for another great solo. The ending really brings it home with impressive vocal fury. Nothing more can really be said, as this is the kind of black/death metal that I've always loved. I'm just glad to see that someone picked up the formula. "Sutech 5:39" warms my fucking heart as far as this music goes, with a dreadful set of slightly middle-eastern influenced riff melodies that couldn't be complete without the ever-memorable vocal rasps from the frontman. Yet another five star track. "Blood 4:10" brings back the muscle, as the band really kicks it into overdrive with this track. There's also a slight bit wherein some ritual enriches the piece, making for another ultimately memorable song. I certainly have used the word memorable quite a bit on this album, but it just certainly is that and more. This record is going to get trapped under the weight of other releases and be forgotten about, which is dreadfully terrible since it's so fucking good. "Khaon 5:38" continues much in the same fashion, very much the Rotting Christ/Samael influence, but with a bit of pounding from the drummer that slightly kicks it up a notch. The album ends with "Life 5:20" which fills the finale with beefed up melodies and some quite subtle areas. There's also a few hundred worthwhile solos on the piece that seem to bring a satisfying close to what is a very unexpected album.
Koenigreich is strongly different from 2009's Exitus and I say that with great pleasure. Exitus saw the band very much in the vein of Dissection, where as on this record they've channeled the energies of Rotting Christ and Samael during their nineties periods. Though I discovered those albums a few years later, there's no denying that those albums are absolute metal classics in this age and I couldn't even think of them to be emulated. But that's what Khaos Aeon did with this record, certainly putting their own spin on things. Even the band pictures emulate what I've seen from earlier Rotting Christ and it does the act sort of a tribute. But there is not a single thing wrong with that, as they've fucking done it justice. They've done it right. They've made it memorable.
(8 Tracks, 44:00)
10/10
Deathklok - The Doomstar Requiem: A Klok Opera (PR2013)
- First of all, I don't recommend that you buy this album. It's merely the soundtrack to the final episode of Metalocalypse and the only addition to the piece is the bonus track "Blazing Star 4:36" and "Doomstar Orchestra "23:22." which is merely just the orchestrations on the piece itself. Yes, it took a long time to make this and they did hire a large orchestra to compose it. But to be honest, I wasn't happy with this at all. Considered by Brendan to be a "metal opera" it didn't have a whole lot of metal to it, sans the guitar solo battle "The Duel 2:35" and the Corpsegrinder backed "Morte Lumina 4:07." There are some good ones however, like "Givin' Back To You 2:44" and it's good use of clean vocals, as well as "How Can I Be A Hero 2:28" which is an unexpected ballad. To be frank, this is definitely more Metalocalypse cartoon than it is Dethklok metal; and it doesn't really have much to offer if you're not a fan of the television show.
The only thing that really blew me away on the disc was in fact, "Blazing Star 4:36" which shows Brendan Small using his raspier chords that I always thought were much better than his gravel, as it sounds half-ass most of the time. I could do a much greater vocal performance on more than half of his material, including "The Hammer" which I've wanted to cover and show him from the first day that I heard it. However, the man can play guitar much better than I, so he has me beat there. Yet I've always thought that Dethklok would have been better if he just sat the vocals out and used a real death metal vocalist. Come on, Corpsegrinder would be more than willing to do a full album with these guys. Cannibal isn't really doing much at the moment, and I'm sure that The Dethalbum IV wouldn't take all that long to create. It would also give the project more metal credentials and not seem like so much of a death metal cash grab. I've always respected Brendan's sense of melody and will attest that Dethklok has some of the greatest melodies I've heard in the death metal genre, bar none. But with Brendan's sloppy approach, the work doesn't come off quite so well.
As for this disc, the fact that it isn't the "death metal opera" I expected was really disappointing. But then again, Eternium sorta made that disc this year, in a sense; along with Xanthochroid last year. So there's plenty of that to go around. But it you're not a fan of the Metalocalypse TV series, then it's probably better to just sit this one out and wait for the next Dethklok release. If Brendan sticks to guitar this time and stops trying to be the best metal vocalist who ever lived, maybe it'll come out much stronger than previous efforts. Hell, he could even have a different death metal vocalist on every song. Surely people have the time, and that's what file transferring is for anyway. "Yeah, Mr. Ihsahn would you be interested in doing vocals for track x? Yes, Mr. Fisher - I'd love it if you'd come back and do vocals on track y. Mr. Diamond, would you care to do vocals on track z?" These are easy emails to send out from musician to musician, from PR to musician, from musician to PR to musician. Text messages, Skype calls, something of that nature. Collaborations this day and age aren't nearly as difficult now due to the advent of the internet and social media. I just hope he does them, because this guy really knows how to butcher his songs with his own vocal chords.
Just skip this album and get a copy of "Blazing Star." Consider it a strong holdover for the next Dethklok album which we'll probably see next year as the show has finished it's run.
Highlights: How Can I Be A Hero, Abigail's Lullaby, The Duel, Givin' Back To You Morte Lumina, Blazing Star (21 Tracks, 75:00)
6/10
Sordid Flesh - Torturer (PR2013)
- Sordid Flesh deliver death metal in the old school fashion, much in the fashion of the greats. The music comes on thick and sounds like the whisk of the wind through a cemetery. Sharp but eerie melodies pervade through every inch of this thing, with the frontman's gravel serving as the unholy sounds of the dead. While the first two tracks, "The Thelema Way 4:00" and "Mark Of The Fallen 3:59" focus more or brutality, "Rites At The Cemetery 5:33" comes off as exponentially strong, with some powerful leads and solos to boot. "Gravebitch 4:16" manages to get a bit dirtier and at parts is subdued to encase the gravel. "Torturer 3:37" also dials up on the melodies, but still remains as grim as you might (and very well should) expect. "Where Art Thou, God? 4:11" completely pummels, while "Until You Are Dead 3:28" manages to come off merely solid, with a strong chorus. The disc finishes with "Rise From The Abyss 3:54" which ends on a thundering note.
Sordid Flesh do a respectable job on this album, but it's not really that memorable. It is a decent death metal album that some might certainly enjoy however, with the rough production just a dab of icing on the demonic cake. If you've got to have it, certainly pick it up. This is the sound of classic death metal at it's most grim.
Highlights: Rites At The Cemetery, Gravebitch, Torturer, Where Art Thou God? (9 Tracks 36:00)
7/10
Psychocalypse - Crying Moon (PR2013)
- With a name like Psychocalypse, this could have really been anything. And even though the drums start to sound like they're going to bring me into the Mortal Kombat intro, that is certainly not what this album offers. While admittedly raw in nature, it's got the best of intentions and sees this one man project having a great deal of fun with what sounds to me, like somber melodic death metal. As such, one may expect the melodies as highlighted heavily on "Stray Souls 5:28" the album's opener. Psychotic utilizes sharp vocal rasps with a bit of grit under his tongue, the Frenchman certainly getting his inspiration from latter Insomnium, Swallow The Sun and Black Sun Aeon among others. This is depressing and beautiful stuff, even if it is a bit rough. However, the rough quality of the material might also entail a slight bit of charm. The band also labels themselves as a bit thrash and you will hear that from time to time, but it is rather subtle hiding behind the symphonics and melodies. You know what? I'm also going to go ahead and throw the Dark Tranquility influence in here, because it's clearly unmistakable.
However, one gets to flipping through tracks while looking for a major standout piece and cannot really find a track that sounds differently from the others. While that's not a bad thing, it certainly won't appeal to everyone because of that factor, and most of us can just put in a CD of the influences to get the same style of atmosphere. So basically, it's an album that remains catchy, melodic and dismal all at the same time, but doesn't manage to really bring anything new to the table. That doesn't mean that you shouldn't check it out if you're a fiend for this style of music however, as some of us are. He's certainly made a worthy attempt with this album, as the melodies and performance are both memorable. Definitely check it out, if it's something you'd like.
(11 Tracks, 46:00)
7/10
Angelica - Thrive (PR2013)
- Angelica, known for being in symphonic metal band The Murder Of My Sweet; has decided to spin herself off into a solo effort which channels the AoR rock scene and artists like Pat Benatar, Bonnie Tyler, Ann Wilson, Robin Beck and Lisa Dalbello. It's very much a pop/metal act and won't be for everyone, but I can certainly say it's sugary sweet and will appeal to fans of things that aren't quite grim and rather catchy. "Breaking My Heart Again 4:51" is a perfect example of this, with Angelica really cashing in on the chorus - but Gods bless her, it's certainly a memorable enough one to get stuck in your head, no matter how tough and ruthless that Dying Fetus shirt portrays you to be. But one thing that I really like about this album, is that there's an awful lot of guitar influence on the disc as well as solos, which reminds me of those 80's female fronted rock ballads. Some of the tracks even feature slight bits of electronics like "To Your Rescue 3:23" and "Nothing Else You Can Break 4:41" bit the whole disc has a definite 80's nostalgia factor that will certainly appeal to those of us (like myself) who grew up with this kind of music. It's like a reinvigoration of an ancient era of music, a disc jam packed with the heart and soul of that time period, packed into an hour's worth of memorable tracks.
The disc doesn't offer any more than it is, but it doesn't need to either. It's a great throwback that really shows Angelica is a powerhouse to be reckoned with. It's been a long time since pop has sounded like this, way before the sugary cancer of Katy Perry who definitely rips off quite a bit from this era, but without the guitars. Which begs the question... would I like Katy's music if she added the guitar influence and thundering drums found here? Maybe. But that's probably not going to happen, since metal hasn't really found it's way into the mainstream in this country since the 80's. And we all remember the hair days. There was a reason they called them Poison, after all...
(12 Tracks, 50:00)
8/10
Benedictum - Obey (PR2013)
- California's Benedictum come right out of the gate with the thundering power of "Fractured 4:08" (and yeah, I use that word a lot too - but it fits) which comes with a high pitched vocal and some really unique melodies. There's also a hint of prog in the piece, right before the solo. If I bet my bottom dollar, I'd say that this one's a winner for sure. Might not be the crispiest thing as far as production but it'll find it's way into your head and get it banging. At the end of the day, isn't that what you want? Hell, she even utilizes a bit of a tortured scream on this one. How about that? "Obey 5:05" comes in next with some southern grooves. Wow, that's not something I expected. This is shaping up to be a memorable thing. Damn, now it's starting to sound like Alice In Chains a bit. You can't judge this one by the cover, that's for sure. These guys thrash and they do a good job of it. Nothing "pretty" here. "Fighting For My Life 3:07" brings in that middle-eastern influence, but the dirty (and I do mean dirty) vocal approach that has been coming into the album as of late certainly makes it all work together very nicely. "Scream 4:20" starts with hungry drums, almost harsh vocals and a great deal of oppression. At first, I thought this was a male fronted band, but it's actually been spear-headed by Veronica Freeman who does an immeasurable job on the disc, proving that the opposite sex can and will thrash with the best of them. Spynal pointed out that her image isn't necessarily so great, using words that I won't in this review - but she's said the same about Jill Janus of Huntress as well. Nevertheless, I was sort of shocked.
"Evil That We Do 4:01" features a bit of groove as the chorus rips in with a slight rasp. The spirit of thrash is with these guys for sure, and I think with more promotion they could really go far. Female fronted thrash acts are starting to gain more popularity these days and I think that this one definitely needs to join the ranks with the best of them. "Crossing Over 6:17" also showcases the best that these guys have to offer, with plenty of structure and just everything that I'd expect from great thrash. There are great melodies here, thumping riffs and powerful solos. Veronica also kills it on the chorus - you can't deny that. "Cry 4:15" features Tony Martin on guest vocals, but is a bit of subdued ballad that seems a bit off for all the thrash that's on here; but they definitely gave a good attempt. "Thornz 4:38" seems like it's from that Angelica album that I previously reviewed and I don't really like it all that much as compared to the other tracks on this disc. They try to get heavy, but it doesn't work so well in the end. "Die To Love You 3:50" is next, with a symphonic intro that delves into another of these power ballads. The symphonics continue in places throughout the track, but I hear this and I'm wondering... what the fuck happened? Did they tire of the thrash already? Granted these solos make the thing more viable, but what happened to the thrash? It's like a heavy ballad. Maybe there's a metal chick somewhere who likes this one. She's probably attractive too. Perhaps.
Alright, next we've got the real spirit of heavy metal with "Apex Nation 3:48." Now this is where things get quite intriguing, as Veronica makes herself sound extremely masculine with the rest of the band giving off a Judas Priest vibe that can't be denied. This is heavy metal, for sure. It definitely makes up for the confusion I had with the latter half of the disc. That solo also kills. But why aren't there any other songs like this on the album, guys? What kind of sound are you going for exactly? Then we've got this long closer at the end called, "Retrograde 7:18" which has a definite Brainstorm vibe. Yes, I know that I overuse those guys, but they're definitely one of my personal favorite power/thrash acts (especially Ambiguity) and this album sure doesn't sound like Iced Earth or early Falconer. There's a memorable solo at the end of the track, with some worthy leads and vocal acrobatics right towards the end of the song. It doesn't feel that it's overstayed it's welcome and I could very well listen to this one again. I daresay that it's my favorite song on the album. Once again, definitely making up for those "other" songs.
Despite what you think of Veronica's fashion sense, Benedictum is one hell of a band, with one hell of an album. They thrash like they mean it, they perform power metal like they mean it, they perform classic metal like them mean it, and they even managed to bore the shit out of me with those power ballads, because they also played them like they mean it; and those are hit or miss for me. So without another word, I do recommend that you check out this album from these California female fronted power/heavy (and certainly thrash) metallers; especially if you like other female fronted acts of this type like the more popular Huntress. I have a feeling that these two might be sharing the stage someday. Oh, but I said "not another word." Well, I fucked that one up. But go get the album, for further proof that female fronted thrash is here to stay.
Highlights: Fractured, Obey, Evil That We Do, Crossing Over, Apex Nation, Retrograde (12 Tracks, 51:00)
8/10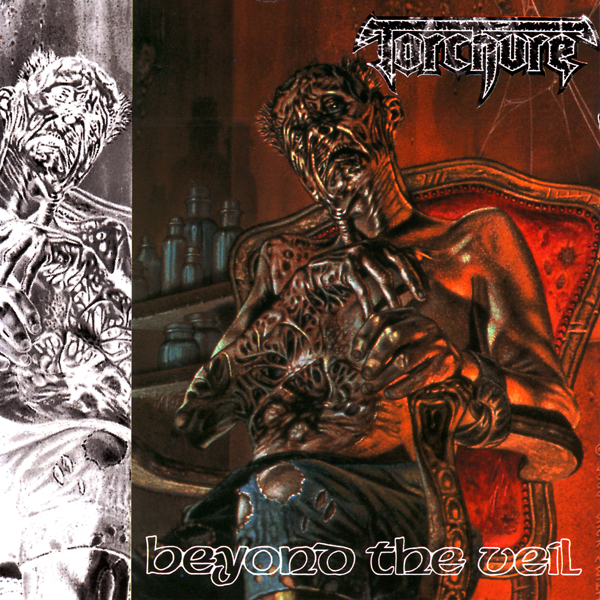 Torchure - Beyond The Veil (PR2013)
- Torchure is a legendary death metal act, one of those that got left behind in the wake of more popular material. But just like several of the other obscure death metal acts that are thankfully getting reissues, these guys are certainly worth hearing. As this album is filled with several different layers, a track by track observation shall determine the verdict.
The "Veil Of Sanity 1:52" intro is actually worth mentioning, due to it's creepy synths and odd use of vocal gravel. While one might say that these growls, screams and other otherworldly noises of the mouth were not necessarily needed, it certainly isn't something that one hears everyday. "In His Grip 6:52" starts us off with slightly synth-laden death metal of the raw, yet raucous variety. The song entertains many sections, from blazing solos to machine-gun fire bouts of percussion. It does tend to drone just a bit however. "Abysmal Malevolence 4:07" marches into the fray next, beginning with a Slayer-esque solo and moving into groovy jungle realms. As such, we can expect our moments of ferocity, although replete with satisfying guitar harmonies and more Hanneman emulation. But that's certainly not a bad thing. "Mortal At Last 3:41" is where the real experimenting begins, as it sees the band removed from elements of death metal as they instead rely on creepy synths and ghastly vocals. You can't call them clean, but they certainly aren't growls. (Even though there are a few strewn about the relatively short piece.) "Resort To Mortality 11:16" is the disc's longest track, but despite all that it attempts; it comes off a little slow in nature which really makes it drone and start to seem awful repetitive at that. "Genocidal Confessions 5:54" comes off as a godsend at this point, because anyone who trudged through that last menace deserves the onslaught that this track offers. Though we know where the riff melodies came from, there's no doubt that it all sounds just right packaged here. "Apathetic 5:38" offers another great slab of death metal, not really deviating from the path; but decent enough. "Depressions 6:56" plays around with prog a bit, but actually sticks to groove as it welcomes back the synths which seem to have been missing from this latter part of the album. "Vortex Of Thoughts 1:17" opens up to a bit of an unnecessary instrumental, it should have been used just once at the beginning of another track, quite possibly the closer, "Beyond The Veil 6:08." As for the closer, it seems to be an experiment in Death-laden prog/technical soundscapes with great attention to detail and a continuation of the vocal gravel that is ever enjoyable in this genre of music. A solo isn't really given the time of day, as thundering drums lead us to the end of the album.
While worth hearing, I wouldn't recommend these guys over other acts like Phlebotomized or Timeghoul. Though they perform terrific death metal, they seldom do more than that on this album, even though there are a few interesting things to be had on the disc.
Highlights: Mortal At Last, Genocidal Confessions, Depressions, Beyond The Veil (10 Tracks, 53:00)
7/10
Exivious - Liminal (PR2013)
- I'll never forget the time that I spent with Exivious's first, self-titled album. It was one that I'll refer to as a goddamned masterpiece, and one that these guys just can't jump over in terms of quality, passion and amazement. And apparently, even though Liminal tries, it just can't get over the hurdle without nudging a foot on the bar. While great music certainly surrounds the piece, I am now more reminded of acts like Animals As Leaders, Scale The Summit and many, many more. Liminal is truly an expression of art and speaks more as a painting than it does a musical piece that one can merely "jam" to. Although some of you might feel completely different about that statement and others are wondering what in the hell I'm going on about.
Eight tracks form this monolith of sound regardless, starting off with the subtle yet thunderous "Entrust 6:27" and the playful prog of "One's Glow 4:38." It actually sounds a little islandy to me, some of the melodies reminiscent of beach stages in video games. "Alphaform 4:51" has a bit more romance laden within it, one could probably make love during the track, which runs at about the speed in which most people do the act these days. It even has a moment for climax and cool down. "Deeply Woven 6:53" reminds me of a race. I'm not quite sure why, but I can just see cars neck and neck to the finish line whenever I hear this track. There's even a spot for some saxily sexy, sax. Yes, I just made up that word. "Triguna 5:09" sounds like a sunset, with bits of wild riffs injected into it. It seems like time starts to run out in the stage near the end of the song though and a game over is ensued. Sorry, Mario! "Movement 4:52" slows things down a bit, perhaps getting a little meditative, but still opening up for a bit of groove to back the clean melodies, which these guys revel in. There's nothing on the album that doesn't sound beautiful, peaceful, or euphoric. Even the racing cars still have a bit of cheer to them. "Open 6:34" has a lot of delay to it, but it still has melodies that sound like they're something from Sonic Team. The last track on the album however, seems the most erratic and well; it's not quite so beautiful. It reminds me of scribbling, or quickly doodling along a piece of paper. Even though it has a slight break in which to erase the mistake, the drawing begins again, with thick lines of shading before an all-out explosion of color experienced by the use of several different pens. If you can't hear the colors, then something is clearly wrong with you. After the rainbow ejaculate has been spewed, the album finishes, leaving you hungry for another foray. It's kind of like sex, but more satisfying as it lasts longer.
Though I've heard many albums like it in the past few years, Liminal certainly proves that it was worth waiting around for. Fans of progressive rock, beautiful melodies and classic video game music laden with guitars will find this most excellent. For some odd reason, I really want to play a Sonic The Hedgehog title now, just for the riff melodies. Damn you, Exivious!
(8 Tracks, 45:00)
9/10
Kill Devil Hill - Revolution Rise (PR2013)
- The sophomore Kill Devil Hill brings us right into the barroom, whether we wanted to go or not and it certainly reminds me of the same southern groove-laden alternative metal that we'd also expect from Hellyeah or Five Finger Death Punch. The band starts out with "No Way Out 4:01" which comes off as heavier number from the beginning, definitely reminding me a lot of Hellyeah. So if you like those guys, just pick this one up if you can't wait for the next one (Of course, I'm waiting for a new Mudvayne personally. Guilty!) they release. "Crown Of Thorns 4:39" sounds like Alice In Chains with a bit more southern comfort and it'll sound good on the radio. I could get into this one. "Leave It All Behind 4:41" tries to crawl it's way into greatness... hold on. What the heck was that? You call that a solo? That was a squeak from a guitar. Alright, so they do pick it up towards the end and really deliver at that point (I can certainly say that the solos on this one are noteworthy) but this is most certainly a hard rock track. "Why 3:30" is kind of filler more or less. If not for the solo, I'd not have cared. Alright, so there's a bit of a chorus there. But nothing ultimately special. "Wake Up The Dead 5:22" plays with Alice In Chains again. Boy, I had no idea that Kill Devil Hill was making an Alice In Chains album. But didn't the band just put out The Devil Put Dinosaurs Here? Why, if Alice had known that, they could have just stayed at home and let these guys make their album. Ah, but fuck it. I'll give them points for trying.
"Long Way From Home 5:34" is another hard rocker, you get the idea. Except it's not hard rock, it's hard ballad. "Where Angels Dare To Roam 5:05" throws in some electronics, so there's a good sign. And finally the guitars are attempting a little bit of crunch. While eating Cap'n Crunch no less. I'm gonna give this one some points to, there's obviously been some effort here and it sees the band really giving it their all. the chorus is the forefront, but he's doing a great job of it. "Stained Glass Sadness 4:43" is just about what you can expect, it's a hard rock track with some intriguing wah-wah's but as far as the rest of track goes, it's not the best I've heard. Still, they're putting in an effort. "Endless Static 4:01" just jumps right to the chorus if you let it. No need to chew folks, just drink this one right on down. Kudos on the classic rock solo though, however short it was. They could probably put this one in a Sonic The Hedgehog game. "Stealing Days 4:20" sees the band playing with Soundgarden now, getting to grunge for their own good. It's a bit melancholic though, like The Cure meets grunge and did anyone really want to hear that? The disc ends with "Life Goes On 9:53" which doesn't have to do anything with a "little story about Jack and Diane" unfortunately, as that cover wouldn't be too far out of their spectrum. After this hard rock ballad, a piano type ballad comes in right after a short pause. I would have rather heard the John Mellencamp cover, to be honest.
Sorry guys, but the disc was about an hour too long and it just didn't seem to catch my attention. The radio loves it though, as it's catchy and easy listening compared to most of the stuff I listen to in a day's time. I'd recommend the heavier acts over this one, but I'm still going to have to consider Alter Bridge's Fortress album to be my pick for hard rock album of the year. Yes, it's that good. But this... well, this is just run of the mill corporate rock.
Highlights: Crown Of Thorns, Where Angels Dare To Roam (11 Tracks, 55:00)
5/10
Necrophobic - Womb Of Lilithu (PR2013)
- This is my first Necrophobic album, though I've heard that they're a really great act for the most part. This album certainly seems to have me thinking in that fashion, as "Splendour Nigiri Scrolls 4:24" seems to meld black and thrash with ritualistic elements, doing every damn thing in the mixture justice. Next, they call down my good friend "Astaroth 6:01" for a little bit of a visit and take things into Rotting Christ territory. But they've done a much fiercer job of this than Rotting Christ did on their latest album. Plus, the solos - the fact that these guys still care about crafting well-written solos amidst the ritualistic chaos that is this disc, makes me smile with glee. "Furfur 4:08" definitely throws some punk into the mix, but doesn't forget the solo amidst those grooves. "Black Night Raven 6:56" has some good sections, but it doesn't come off as well to me as some of the other tracks. The latter part of the track is phenomenal, but it takes too long to get there. "The Necromancer" is heightened by it's use of background chants, which helps to really push the chorus forward. Necrophobic is certainly trying their best to push the bar with their music and I certainly applaud that effort. Yes, another worthy solo is packed in here. Somehow.
"Marquis Phenex 5:06" manages to end up solid, packing in the Satyricon grooves and little more. "Asmodee 4:01" also ends up as almost filler, minus the solos. This guy could make a record of just solos with black metal riffing to back them and I'd buy it. As I listen to the album, I'm also becoming reminded of Naglfar, particularly their Pariah album. It just has the same feel. Thankfully, "Marchosias 6:03" adds some nuances to the mix which see the formula working a bit better, though I feel that the album might be too long at this point. It's fast, it's vicious and certainly evil, but I've heard little else on this latter half of the disc; which worries me. If not for the solos serving to pepper everything up, I have a feeling that things might be rather bland. But once again, if you prove that you can wait, the band throws a few interesting nodes in later on the songs.
"Matanbuchus 4:40" start with light atmosphere and kicks up into a track that includes backing death growls. These serve to add well needed diversity, yet there is also the continuation of atmosphere on this piece that is not found on the others. The solo section also fits rather well on here, if it's not anything but too short. The track ultimately sounds like a confused experiment, but it's got more meat than some of the later tracks. "Paimon 4:49" is next, and one thinks that sooner or later, Necrophobic will run out of names to use from the Lesser Key Of Solomon. There's only seventy-two you know! But the song itself is much like the others, just with a bit more punch, melody and some points for atmosphere. At least they're trying again. "Opium Black 5:03" is the ultimate experiment however, as it opens for clean vocals. Yes, clean vocals. The song still has plenty of bite, but with the clean vocals performed so well; it hits much harder. As usual, there's also a solo. But the fact that clean are used and successful makes me hope that he'll use that vocal style a bit more in the future. Hell, I wish I had a deep tone like that. Have been trying to perfect that for a while now.
But the disc isn't over yet, as "Infinite Infernalis 6:15" seems to pull out the stops as it opens with a piano-laden atmosphere, that builds into blackened thrash which slightly adds the death metal growls and the operatic effects into place. It even closes with the piano driven orchestration. But that's not the last song, as "Amdusias 3:08" does that with a gothic piece that slowly allows for guitar and drums. It's a nice way to end the album and serves as a finale that they couldn't really find another place to add on the album. But you don't want to kill this piece, as it's too good. I hear many voices on the disc, one of them appears to be female and the other sounds like it could be from a stone golem. There's definitely something going on in this track, however.
Well, this is definitely one of the longer reviews I've had to do. But it's all just to tell you that Necrophobic's Womb Of Lilithu is a solid album at best. They have the right ideas, surely. Definitely. But they really need to trim the fat and not use everything that they though someone would want to hear. The album is almost an eighty minute undertaking, which is something respectable for prog, but there's just not enough substance here to last on someone that long. Eventually, you wish that it was just an hour long release and it very well could have been if the filler was removed. I do recommend that you check it out however, as it's much fiercer than the latest Rotting Christ, yet still in the same vain.
But again, it's just too fucking long. And where's a song about Lilith? The album is called Womb Of Lilithu, right? So where in the hell is a song honoring her dark majesty? Oh well, it seems he'd rather sing about Satan instead. Just like everyone else.
Highlights: Splendour Nigiri Scrolls, Astaroth, Furfur, The Necromancer, Matanbuchus, Opium Black, Infinite Infernalis (14 Tracks, 68:00)
8/10
Various Artists - No Visible Scars Promo CD (PR2013)
- This is an exclusive promo CD that arrived to me on a burned disc. It features music from five promising bands on the No Visible Scars label. I'll separate each band into a different subsection.
Satantic Dystopia
starts us off, with a raw and punky style of blackened thrash that's actually quite venomous and well worth hearing. The amplifiers are raised so high in the mix that you might complain of loose shrapnel shards flying into your ears. But these guys would have it no other way, as the frontman shouts with remorseless torment on scathing tracks like "Steel Breeze 2:49" and "Blood, Spit & Concrete 2:42." These guys are certainly masters at what they do and I'd definitely recommend that you give them a try on this release that's full of piss n' vinegar. Later, they dip their hands into more punishing realms like doom "Tombstone Queen 2:52" metal, as well as the astonishing closer in "Black Stallion 3:09."
9/10
Earthlord
starts next, with a trippy sort of stoner rock that smells like Sabbath from a mile away. "God Of Antiquity 4:22" is what you play when you've first lit the joint and while you're passing it around. "He Who Is Of The Water 3:51" is what you play after you've got nothing left but a roach, and you're thinking about ten million universal mysteries at once. It's a much slower track that lets you glide along the riffs, which you'll probably do; considering how whatever else was mixed in with the stuff that you just smoked. It's a short release that starts off rough, but has a smooth exit.
7/10
Scorched Earth
blaze in afterwards, bringing a raw blackened sense to what is a punky sort of thrash. These guys are a bit clearer than Satanic Dystopia, but they've clearly got bit and they're certainly memorable. The riffs are thick, the vocals on the cusp of black metal, making me think of later era Darkthrone and altogether bringing back much of what inspired the early black metal scene. Yes, there's certainly some Venom influence to be had here too. But there's that in just about all forms of black metal. The highlight of this one is "Thy Kingdom Doomed/Marauders 6:23" which also has that anti-elite theme lyrically that I'll stand by. My music is now out there, so you know how I feel about those guys in the Illuminati/NWO. Definitely check these dudes out though, as they're showing some definite promise. There's also a cover of Scepter's "Fucking Metal Motherfuckers 2:17" which is performed well enough to earn my vote.
7/10
Slumber Room
is the last band here, but they certainly aren't a snooze. Granted the opener and the band's namesake track is quite relaxing, "Some One... Everyone... No One... 9:10" is a moment of absolute grandeur, followed by "Under The Dying Moon 7:28" which sounds extremely nihilistic in approach. The band takes a minimalist approach that allows for slight electronic influence, but definitely delivers on the ultimately scathing vocals. "Stellar Death Rites 7:44" really puts forth the vocal pounding, coming off as both eerie and devastating all at the same time. While a bit long, it certainly gets the job done earning these guys (or guy) a definite high mark in my book.
9/10
Altogether, you've got some really capable bands on this sampler and I'd certainly like to hear more of these acts and others from the label. If you're interested in any of these bands, all you need to do is look them up!
Highlights: Satanic Dystopia, Slumber Room (17 Tracks, 71:00)
8/10
Abazagorath - Abazagorath EP (PR2013)
- Abazagorath is a promising black metal act from Pennsylvania. The music is much clearer than what some might expect for kvlt, but the music is also itself quite good and true to the spirit of black metal, providing a good showcase of eerie melodies, thick vocal rasps and solid drumming. This is how I would expect black metal to sound and they've done a memorable job with this short EP. "The Antigod 5:25" comes bursting outward with a fast-paced black metal performance that most certainly delivers, flowing right into "Lapse 4:23" which displays plenty of riff and structural changes, channeling the spirit of the black metal atmosphere. Certainly, Abazagorath is a name to familiarize yourself with. "Immortals 4:58" comes across like yet another page of the black metal handbook, with all of the Immortal and Emperor worship that one could ask, yet Mayhem have also found their way in. I really have to highlight the vocal performance from Nihilist, he's really got a great approach on the album and I'm guessing that I'd know what I'm talking about, seeing as my band also put out a sort of black metal album this year which has been well received (much more than I expected, to be honest.) This guy has the kind of vocal touch that really makes these riffs and melodies stand out, just as I'll mention Maelstrom's solos which help to pepper the atmosphere with melodic might. The final track on the disc, "Storms Of Destruction 6:21" also features some vocals by the album's producer, first beginning with a bit of a solo intro piece. The producer uses a thick death metal gravel which might kill the whole kvlt vibe that you wanted from the album, but fuck it. It sound's good and doesn't exactly feel out of place. There's also a slight acoustic and several other nods to the greats on this one. The disc itself ends with a frantic solo, truly showing the metal prowess of these guys. If this isn't black metal, than I don't know what is.
I certainly recommend this debut EP from Abazagorath and can't wait to hear what they've got to offer in the future.
(5 Tracks, 22:00)
9/10
Exmortus - Immortality Made Flesh (Single) (PR2013)
- Here's a single from melodic death metallers, Exmortus. It's not all that long, only being about six minutes in length (5:49) and featuring loads of melodic leads (some of them even a bit Dethkloky) that seem to be slathered over dirty bass chugs and even grittier vocals. The solos are the track's greatest achievement, with them almost being in the vein of Dragonforce; yet with more class and less cheese. Exmortus certainly shows that they've got plenty to offer with this forthcoming release and I look forward to reviewing it.
(1 Track, 5:49)
10/10
Shadowgrave - Demise Of The Forgotten (BR2013)
- It's no secret that I've waited for this release, after hearing them on a split that I reviewed some time last year. Now the band has given me a three part, hour long release which shows more of their death/doom side than ever before, with a definite splash of gothic architecture that makes the album come off quite like something you'd play in a candlelit castle. Even the album artwork suggest that it would look at home in a dark castle somewhere in the middle of the night with the moon shining high above.
The album starts with the first portion of the disc, marked "Ω" and begins with "Elegy Of The Moribund 2:01" which is a rather cinematic intro piece, replete with piano, choral effects and other fare that sets up the rest of the album quite well. "The Last Empire 8:20" then comes in with a rather morose and dry feeling, seeing the guitar bellow out a few nice melodies as the drums tap here and there and the gravel vocals illustrate the story. it's very comparable to acts like Saturnus and early My Dying Bride for example. I do believe that it runs a bit long however, and it takes far too long to really get to a proper change in the track. It's a bit much to expect for a person, and needs more meat. "Shrine Of Sins 4:15" wakes the drummer up, while light riffs illustrate the keyboard and dual vocal approach of the two vocalists (there's a growler and a scowler here) which sometimes duet on the track. It's definitely a solid track though, could use a light solo perhaps. "Carving Genocide 4:03" lets the scowler take over the mic for a bit, with the drums still wide awake and doing a great job in keeping beat with the melody. I just feel that it could use more kick. The bad thing about this track, is that's all it is. I mean, there's just not much fleshing out here; but you can tell that they are trying very hard and just need to find their bearings.
The next portion of the album, marked "Θ" begins with the title track (7:29) and begins with a well executed set of clean vocals as the growls take over after that. Again though, not much is going on here as far as structure is concerned. It's a bit too slow, too morose and despite the worthy vocal performance, I really wish they'd kick it up a notch every once in a while. There are sections where the drums feature a bit more, but other than that, it's like wandering through a desert in the dark. "When Death Comes Grieving 10:47" is next, the longest track on the album; although it does adds some nice nuances in the way of sound effects and piano interludes. Still, it's a bit too long; without much really going on in retrospect. "Lugubrious Silence 4:21" proves to be the most lively of the corpses on this album, with the drums a bit fiercer and the riffs a little livelier. The gothic organ is a nice touch too. "Windless Winter 5:31" comes right after, making the disc sound much livelier and a bit more black metal. Wow, there's actually something going on here! Definitely glad to hear that there's at least some variation on the disc.
The final portion of the disc is marked "ἀ" which begins with "The Omen 7:42" which goes back to the slower-paced nature of the disc. I do feel that people who really love dark funeral doom will love this album, as I've never heard a band that trudges as much as these guys. If you like your music as lifeless as a morgue, then you'll definitely love this music. And that's not a complaint, it's actually a compliment; because there are some people out there who really like their music as devoid of hope as it sounds here. The disc ends with "Ode To The Fallen 3:47" which is another melancholic instrumental. It ends the disc on the right note.
If you've got to have brooding funeral doom with an emphasis on brooding, slow and cadaverous, then look no further than Shadowgrave. These guys have made some of the most bleak and lifeless death metal that I've ever heard, yet there are sections of black metal and a few livelier portions that help the disc to breathe. I understand that they've tried their best on the album and you can clearly tell that an effort was made. It's just not as good as what I remember from the split. Nevertheless, this album is a stepping stone for the band; and surely they will get better with time. They do however, make some impeccably good instrumental pieces. If it's something that you'd be interested in, then head over to their Bandcamp page and try it out.
Highlights: Elegy Of The Moribund, Lugubrious Silence, Windless Winter, Ode To The Fallen (10 Tracks, 58:00)
7/10
Dying - Arkansas (BR2013)
- Arkansas' Dying have released what they say will be their final album as most of the band has spread apart and it's apparently going to be tough for them to get back together and make new music. But this final offering is called Arkansas and apparently seems to continue with the atmosphere of the previous album. "Cherokee Bill 6:59" comes off a little rough necked in the beginning, with it's hoary shouts and outbursts, yet it finds flavor in an unexpected series of progressive rock melodies that serve to soothe the harsh sentiment expressed in the beginning. It's reminds me of what happens to my angry stomach after I've taken a mint. "Hell On The Border 3:58" continues the band's foray into light melodies, but it seems to perk up like excited nipples and comes crashing into an approach that reminds me quite a bit of Clutch in their Transnational... days. The song later melts into a solo which rides right back into the realms of soft melodies. This album is much less abrasive than previous effort Born, but reflects the image of the kindly tree on the album cover. "Belle Starr 4:34" begins with a sense of bipolarity, as it switches between darks and lights and it seems a bit unsure of itself. Even so, the song still comes off as quite listenable and about as mellow as the rest of the piece. It's obvious that the band have heavily changed direction, switching from the fuzzy sludge scene that Arkansas is known for as they head into something altogether different, yet still interesting. "Reprise 1:25" ends the record on light noise, sounding in the way of spurs.
While much different than the band's previous effort, I would still recommend this album to fans of atmosphere. These guys obviously prove that they've still got it, even though this looks to be their last day in the saloon. But I guess that Born which focuses on The Dark Tower and newest release Arkansas which seems to focus on Cowboy lore are both admirable records in their own right. These guys have always tread their own path and this album is a result of that. Go pick it up on the band's bandcamp page.
(4 Tracks, 16:00)
8/10